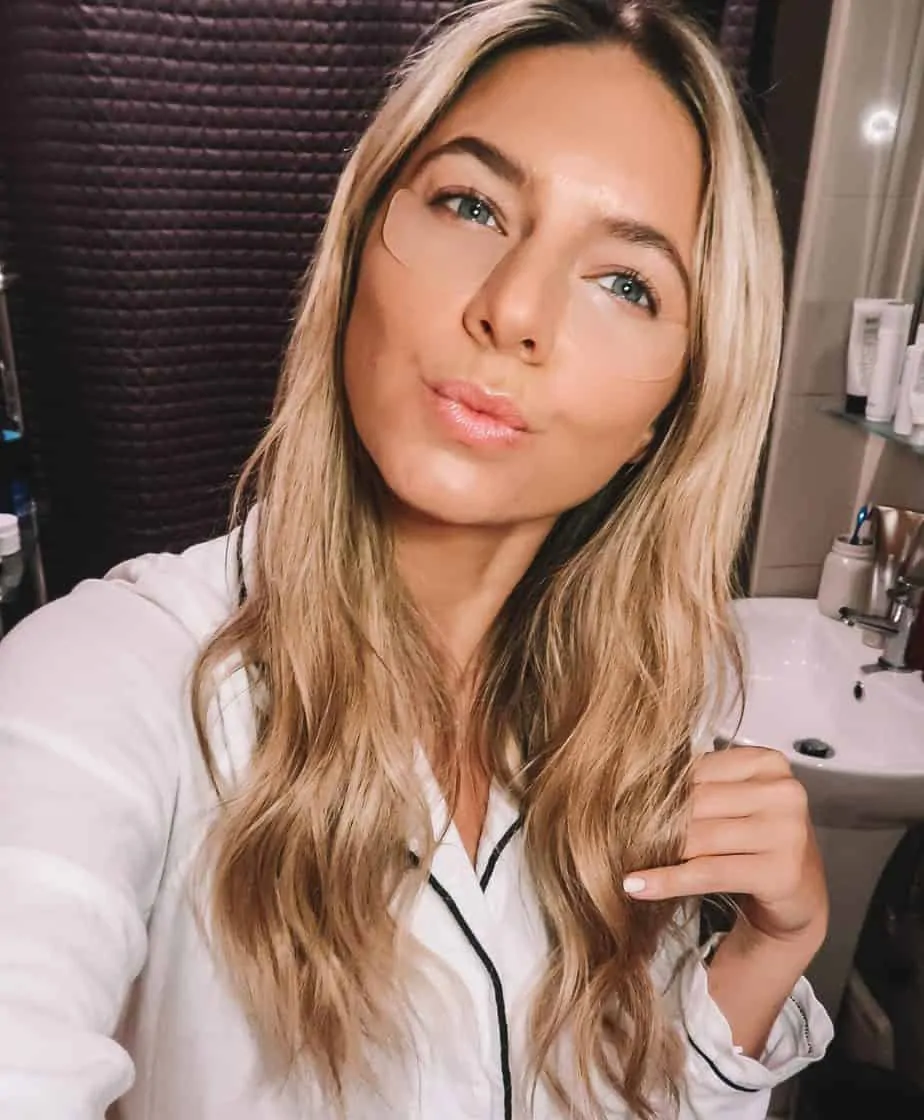 Is your skin as dry as the fucking Sahara? Ugh. I know the feeling. Looking all scale-y and snake-y sucks. (Not to mention trying to apply makeup on top of dry skin is a literal f-ing nightmare.) Wow, I'm FIRED up about this topic aren't I? Without further ado, my eight-step plan to battling Sahara face. You can thank me later.
---
1.

EXFOLIATE.
This might seem counter-intuitive, because why would you want to scrub a face that's already dry, right? Wrong. Dry skin = dead skin, and you MUST get the dead shit off in order to "start over." Plus, if your face is covered in dead dry skin, how can you expect your moisturizer to actually penetrate and do its job?
Also: play close attention to the corners of your nose. That area tends to get dry, and is often overlooked when exfoliating. As I've mentioned 9 million times, my favorite exfoliant is Dr. Dennis Gross Alpha Beta Peel Pads. If you know, you know.
One more thing on the topic of exfoliation: you guys are aware that there are two different kinds of exfoliating right? "Physical" exfoliation and "chemical" exfoliation.
Physical comes in the form of scrubs (the ones with little beads that you physically feel sloughing off dead skin)
Chemical comes in the form of chemicals (which remove your dead skin without you really realizing it.) Peel pads fall into the chemical category.
Often, dermatologists will say they aren't big fans of physical because scrubs can be too harsh and abrasive. But to each their own.
---
2.
SWAP OUT YOUR SERUM.
If you've been using a strong glycolic or retinol serum for anti-aging, you might want to take it down a notch during the winter. Or try using it every other night. Skin can be super sensitive this time of year, so consider giving yourself a break. A great option to use instead is a hyaluronic acid serum, which doesn't have any "active" ingredients but essentially works as a magnet for moisture, helping your skin stay as hydrated and plump-looking as possible.
This new one just came out from L'Oreal and I think it's great. (I actually went to the launch of the product and heard from a bunch of high-profile derms who vouched for its effectiveness.)
---
3.
SWITCH YOUR NIGHT TIME MOISTURIZER FOR A HEAVIER CREAM.
Take a look at the moisturizer you've been using at night. Is it thick and creamy, or is it lightweight? If the latter, it's time to swap ASAP. Below are a few of my favorites for night time during the winter. If you have the funds and can swing it, I really do LOVE Creme de La Mer (go for the mini tub which retails at $85) and La Prairie Skin Caviar. The consistency and texture is hard to compare to anything else.
Otherwise, Elemis Marine Cream is fantastic (still pricey, but less so), and my latest obsession is Dr. Jart+ Ceramidin Cream. It's SO GOOD. Didn't even realize it had such a cult following until I posted it on my IG story and got a flood of DMs about it. They recently reformulated and apparently it's now even better than it was before. Love the fact that it's in a tube, and also that it's REALLY rich and hydrating but not greasy at all.
Dr. Jart + Ceramidin Cream, $48
Elemis Pro-Collagen Marine Cream, $89
La Prairie Skin Caviar Luxe Cream, $485
---
4.
TOP IT WITH AN OIL.
A cream and an oil? You heard that right. I like to layer a few drops of oil on top of my night cream in the winter as a way to "seal it in." No need to spend a million dollars on something super fancy – this Josie Maran Argan Oil is a cult favorite and works really well. It also comes in a "light" version if you're hesitant to go for the regular stuff.
---
5.
USE A NOURISHING EYE CREAM OR PATCHES.
My undereyes get crazy dry during the winter, so I tend to stop using anything with strong actives that might cause irritation. I loooove this Kiehl's eye cream. It's so thick and goes on like butter. I'm also a big fan of Sio Beauty's under eye patches, which you wear while you sleep. I definitely notice a big difference in my puffiness and fine lines when I use them, and the nice thing is they can be reused like 15 times.
Kiehl's Avocado Eye Cream, $29
Sio Beauty Eye and Smile Lift, $29.95 for 4 pads
---
6.
STICK TO MOISTURIZING SHEETMASKS ONLY.
I usually avoid any kind of "detox" or "pore tightening" sheet masks when my skin is already dry and irritated. Instead, go for anything that says "hydrating" or "moisturizing." This Egg Cream mask worked wonders for me the last time I was struggling with crazy snakey skin.
Too Cool for School Egg Cream Mask, $24 for five masks
---
7.
TRY A LIP MASK.
I still swear by my go-to lip treatment from Algenist (which you can read my review of here) but I also love slathering this lip mask on before bed. The texture is hard to compare with any other balm—it's suuuuper silky and gorg. Plus, it smells amazing too.
Laniege Lip Sleeping Mask, $20
---
8.
DRINK WATER.
Ok, ok I know. This is literally the most annoying advice ever. But I swear it's an actual thing because I did a fucked up little experiment to prove it: one particularly boozy weekend, I decided to see what would happen if I didn't drink a single sip of water for 2 whole days—my liquid intake consisted solely of alcohol, coffee, and Diet Coke (this is gross, I'm aware, but stick with me.) Anyway, by Tuesday morning, I woke up and my face was literally PEELING off it was so dry. Like, I couldn't even put on foundation because I was such a scaley snake. That day, I chugged two liters of water, and did the same for the rest of the week, but I kept my skincare routine exactly the same because experiments need a CONSTANT, right? Well well well, what do you know…by Friday, my skin was right back to normal. THE POWER OF WATER IS REAL, YOU GUYS.