I'm often asked what products I would recommend for people who are skincare newbies, so I decided to put together my ultimate "starter pack" skincare routine for beginners. The truth is, a simple skincare routine doesn't need to be overly complicated—and it also doesn't have to be expensive.
At it's most basic level, the order in which you do your skincare can be boiled down to three steps: cleanser, serum, moisturizer. There are additional steps you can add—like toner, eye cream, or an oil—but if you really want something simple, just remember "C. S. M." (cleanser, serum, moisturizer.) That's it!
I will note that an important (but often overlooked) step is exfoliating, which you ideally should do 2-3x a week. I go into that a bit more below!
Here are my absolute must-haves for skincare beginners and the order in which you should use them:

The Perfect Skincare Routine for Beginners
MICELLAR WATER: If you prefer a more traditional liquid makeup remover, micellar water is great. It's gentle enough that it won't irritate your skin but effective enough to break down makeup (even waterproof mascara!)
Pour it on a cotton pad (these square ones are my favorite) to soak off mascara, then swipe all over face to remove makeup. Much better for your skin than makeup wipes, which leave behind a chemical film.
CLEANSING BALM: I am absolutely obsessed with the Elemis pro-collagen cleansing balm and its rich, buttery texture. The full-sized version might be considered a bit pricey for someone just getting into skincare, but there's a travel-sized version for $14 that's perfect for a beginner routine.
The balm should be applied to the skin while it's dry, and then you'll want to add a bit of water to emulsify. If you decide to go the cleansing balm route and you prefer to keep things simple, you can skip step 2—it works as both a makeup remover and cleanser.
2. CLEANSER:

Anything cream-based.
Most experts will tell you that the cleanser you use is the least important aspect of your skincare routine, and also the product you should spend the least amount of money on.
I prefer to stick with cream cleansers vs foams or gels (which tend to strip the skin.) Cetaphil—or anything you buy at the drugstore—works just fine.
If you're really keen to learn about skincare, I have an entire blog post dedicated to the proper way to wash your face.
Even if you think you've removed all of your makeup, you probably haven't. A quick sweep of this toner will guarantee there's not a single thing left on your face.
The toning step is definitely optional. If you really want a pared down routine, feel free to skip.
You guys know I'm obsessed with these—they're one of my "hero" beauty products for a reason. I consider them to be worth every penny and then some. I PROMISE. Everyone I recommend them to tells me that they notice a difference in their skin after using them ONE TIME. I like to use mine twice a week at night, after I cleanse but before I apply my creams and serums.
Another great (albeit significantly more pricey) exfoliant is Biologique Recherche P50.
5. SERUM:
Here's where things really get interesting! The right serum can seriously be a gamechanger for your skin. Depending on the active ingredient, every serum will theoretically do something different and target a different issue. So, before choosing a serum, you want to consider what your biggest skincare concern is.
If you're concerned with fine lines and anti-aging, you'll want a Vitamin A (aka retinol.) I have a big list of the best anti-aging serums here.
If you're struggling with dry skin, you might consider a hyaluronic acid serum, which helps restore moisture and keeps your skin looking plump and healthy. Hyaluronic acid products are typically expensive, but The Ordinary's version is jaw-droppingly affordable—and it actually works.
The aforementioned serums can be used at night before you go to bed.
In the morning, however, you'll want to use a Vitamin C serum, regardless of your skin type or skin concern. The benefits of Vitamin C are pretty mind blowing—it increases radiance, builds firmness, increases collagen, and helps prevent skin from the effects of pollution.
I have a blog post with a full list of my personal favorite brands, as well as additional info on how to properly apply your Vitamin C serum.
This is one of my favorite super rich, super luxe feeling night creams. (Matt is obsessed with it too—it's the only moisturizer he'll use.) The texture reminds me of some of my more expensive products, but it's way more reasonably priced.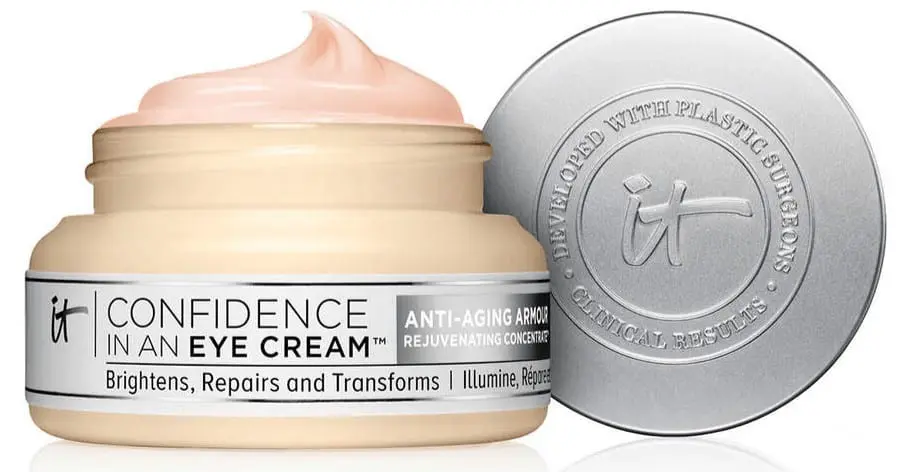 This is a great affordable eye cream option that actually works and isn't irritating. It even has a peachy tint that helps conceal undereye bags. You can use it in the morning before your concealer, and at night before you go to sleep.
Check out my list of the best eye creams for anti-aging and dark circles for additional options at different price points.
Have any other questions about how to build the perfect skincare routine for beginners? Leave them in the comments below!
Pin this post for later: