There are many people who take pride in collecting handbags or shoes—I am not one of them. Instead, I prefer to collect luggage. My husband often jokes that our apartment is akin to a baggage storage facility. We currently own 10+ pieces of luggage—and that's after downsizing! (I've gifted extra suitcases to friends and family members who were in desperate need of an upgrade.) All of this is to say: I'm a self-proclaimed expert when it comes to the best carry-on luggage.
People often ask me to recommend my favorite carry-on, but the truth is, I have different favorites for different categories. I've summarized what I consider to be the best carry-on luggage brands below. (You can click on each link for my detailed product review.)
Best Carry-On for Women: CALPAK
Best Softside Carry-On: Tumi
Best Luxury Carry-On: Rimowa
Best Hardshell Carry-On: Away
Best Fashionable Carry-On: Steamline
Best Ultra Lightweight Carry-On: American Tourister
Best Durable Carry-On: Bric's
Best Carry-On Luggage for Men: Samsonite
Best Budget Carry-On: AmazonBasics
Best Carry-On for Business Travel: Arlo Skye
Best Personalized Carry-On: Roam
Best Eco-Friendly Carry-On: Paravel
---

---
The Best Carry-On Luggage
I've dubbed Calpak's rose gold carry-on the "Instagram suitcase" because if you scroll through any fashion blogger's feed, you'll inevitably see her at the airport with this bag. I own it and can vouch that it is SUPER cute—arguably my favorite suitcase based on looks alone.
The bag is super lightweight, which is both a pro and con: it won't break your back when you try to put it in the overhead bin, but I'm also not sure how long it would last after years of being tossed around by TSA. Overall, though, I think this bag is a fantastic option for anyone in the market for a chic, reasonably priced suitcase.
CALPAK Ambeur Rolling Carry-On
Dimensions: 21″H x 14″W x 8.5″D
Weight: 6 lbs
---
The first piece of "investment" luggage I ever owned was a Tumi. I purchased a very similar bag nearly 10 years ago, and it still looks good as new to this day. The Tumi International Dual Carry-On has an expandable zipper to give you extra room for your belongings, as well as an external pocket for laptops, flat sandals, books, or magazines.
In my opinion, Tumi is the most reliable luggage brand on the market. When you invest in a Tumi, you can be confident that you won't need to replace the bag for at least a decade. Of course, this comes with a hefty price tag: the bags are expensive. But like most things in life, I truly believe you get what you pay for. The brand stands by their products, so if you ever have an issue, you can bring it into the store and have them assess the situation. I also love that they offer free monogramming for purchases made in-store.
Tumi Alpha 3 Expandable Carry-On
Dimensions: 22″H x 14″W x 9″D
Weight: 10.7 lbs
---
If you've ever seen a paparazzi photo of a well-dressed celebrity at an airport, there's a 99% chance they were rolling a Rimowa. The classic silver cabin case is synonymous with stylish, luxury travelers—and it's built to last.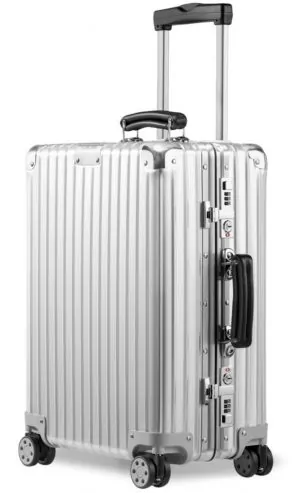 While some might criticize Rimowa's aluminum luggage for its tendency to get dinged in transit, most savvy travelers know that the "well worn" look of the Rimowa is, in a way, part of its charm—almost like travel bragging rights.
The ultimate sign of a fancy AF Rimowa owner? Anyone who rocks a cabin case that's covered in bumper stickers.
Rimowa Classic Cabin Case
Dimensions: 21.7″H x 15.8″W x 9.1″D
Weight: 10.2 lbs
---
---
When Away first launched, it was the only luggage brand anyone could talk about. I'll admit it: I was skeptical. But after trying a carry-on out for myself, I can officially say that I'm a believer. The bags glide through the airport like butter, and they're a great value for the price.
Away Carry-On
Dimensions: 21.7″H x 13.7″W x 9″D
Weight: 7.6 lbs
Inside, the bag accommodates a LOT more than many of my other carry-ons, and I also appreciate the fact that the ejectable battery pack it comes with will give you 5 full cell phone charges if you find yourself with a dying iPhone. I currently own 4 (or maybe 5?) Away suitcases—including the original style as well as the Aluminum Edition. The Aluminum Edition looks super chic, but bear in mind that it's almost double the price ($475 for the regular carry-on) and significantly heavier, weighing in at 10.7 pounds (compared to 7.6 pounds for the original.)
*Away Carry-On vs. Away Bigger Carry-On*
Another thing worth noting about Away's carry-ons is that there are two different versions. One is called the "carry-on" and the other is called the "bigger carry-on."
The bigger version gives you quite a bit more space, but keep in mind that on smaller, regional flights (i.e. NYC to Boston, Philly to DC, etc) you'll be forced to gate check the bag as it won't fit in the overhead bin. For regular domestic flights on and international flights, you shouldn't run into an issue.
---
Leave your carry-on luggage that has worn-out, squeaky wheels behind and opt for this sleek, vintage-inspired option instead. The silent-glide wheels are engineered to move smoothly across all types of surfaces. Plus, the printed interior fabric gives this bag a fun, tropical flair.
You can tell from the moment you touch the exterior of a Steamline bag that it's well-made. While the brand describes the material as "printed Japanese fibreboard," to me, it feels exactly like leather.
Inside, you'll find a hanging organizer with two zippered pockets that doubles as a flap to protect your clothing. What I love about this bag is that even when you're not using it for travel, it can be stored as an accent decor piece in your home or bedroom.
Steamline Botanist Carry-On
Dimensions: 20″H x 14.5″W x 6.5″D
Weight: 8.8 lbs
---
---
This stylish carry-on is the most lightweight of the bunch, clocking in at just 6.3 pounds. It comes with a ten year warranty in case of a mishap, and has the aesthetic of expensive luggage at a quarter of the price.
The bag has an expandable zipper, which is ideal for chronic overpackers, as well as a smaller interior pocket for things like underwear, deodorant, or socks.
American Tourister Tribute Spinner
Dimensions: 22″H x 14″W x 9″D
Weight: 6.3 lbs
---
TSA-approved locks, waterproof zippers, and spinning wheels make this a well-rounded option for every type of traveler. I love that it has a vintage, retro-inspired design with the functionality and ease of a modern suitcase. The bag comes in black, olive, blue, and cream (seen here). It has two interior flaps and is made of full-grain Tuscan leather.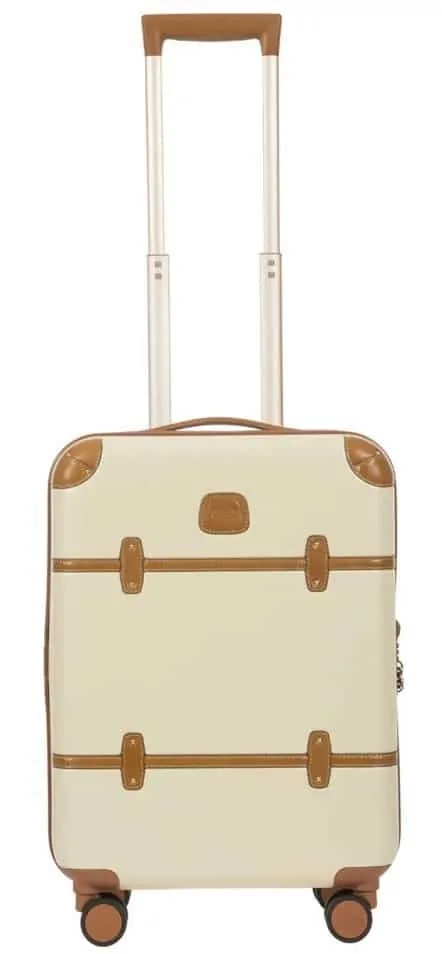 Bric's Bellagio Spinner Luggage
Dimensions: 21″H x 14″W x 8″D
Weight: 7 lbs
---
With over 2,000 five star reviews on Amazon, this hardside carry-on suitcase by Samsonite is a fantastic option for anyone in search of a utilitarian, reasonably priced piece of luggage. It has an expandable zipper closure, TSA combination lock, a scratch-resistant polycarbonate exterior, and a 10 year warranty that covers material defects. 
As I haven't personally tested this luggage, I'll defer to one of the more detailed Amazon reviews of it: "Suitcase held up perfectly over four flights over the holidays, on two of which it actually had to be checked because the flight was very full. Not a single scratch or dent, no signs of wear, and it was easy to travel with – rolled smoothly and easily, sturdy handle."
Samsonite Omni Expandable Hardside Luggage
Dimensions: 22″ H x 15″ W x 9.5″D
Weight: 6.81lbs
---
---
I didn't think it was possible to find a nice-looking carry-on for under $50, but per usual, Amazon has proven me wrong. This $49.99 hardside spinner has received rave reviews as being a great affordable choice. Reviewers noted that they liked the bag's compartmentalized interior, as well as the spaciousness, and the overall look of the luggage.

The cons? Several people noted that the bag is best for people who "only fly occasionally" as the wheels and handle don't seem to hold up with repeated use. That being said, the $50 price point is hard to beat.
AmazonBasics Hardside Spinner Luggage
Dimensions: 21.6″ H x 14.4″ W x 9.2″D
Weight: 8 lbs
---
Launched in 2015 by two fashion industry execs (they came from Tumi & Louis Vuitton) Arlo Skye is arguably the best under-the-radar luggage brand you've never heard of. Their products are exquisitely designed and I can personally vouch for the quality—I got one of Arlo Skye's carry-ons when they released their first bag four years ago.
The glide and 360 degree spin of the polycarbonate carry-on is unrivaled by any other bag on this list. It has a removable battery pack and TSA-approved combination locks in lieu of a zipper. One of the bag's best qualities is that unlike its aluminum counterparts, Arlo Skye's polycarbonate material doesn't ding or scratch easily.
Color options include black, navy (seen here), silver, champagne, and silver.
Arlo Skye Polycarbonate Carry-On
Dimensions: 22″H x 14″W x 9″D
Weight: 8.5 lbs
---
If you're looking for luggage that you can really make your own, this smooth-riding carry-on is an ideal choice. You can choose from a variety of color options for the front of the shell, back of the shell, and trim color. You can also add your monogram for an even more personal touch.
A telescoping handle with four height settings, water-repellent zipper, TSA-approved combination lock, and interior compression system are just some of the features that make this carry-on a solid pick. Plus, the company offers a 100-day trial period so you can feel confident about your purchase.
Roam The Jaunt Carry-On
Dimensions: 22″H x 14″W x 9″D
Weight: 6.6 lbs
---
This sleek suitcase was named the best eco-friendly carry-on by Afar magazine. The brand is committed to using sustainable and recycled materials wherever possible—the bag features a recycled polycarbonate shell, recycled zippers, a lining made from 15 recycled plastic bottles, and a telescopic handle made from recycled, aircraft-grade aluminum.
The carry-on comes in six different colors, can fit 4 to 7 days worth of clothes, and 2 to 4 pairs of shoes. It also comes with a 5-year warranty which covers manufacturing defects, wear and tear, and structural damage.
Paravel Aviator Carry-On Plus
Dimensions: 22.7″H x 14.7″W x 9.6″D
Weight: 8.5 lbs
---
PIN THIS FOR LATER: