With chic rooftop bars for sunset, idyllic island daytrips and salsa clubs serving up mojitos that'll blow your mind, it's no wonder that Cartagena has become a mecca for jetsetters. The South American city is at once sexy and exotic—bachata music clamors throughout narrow cobblestone alleyways; colonial plazas overflow with locals dancing after dark. And thanks to a burgeoning culinary scene that fuses Latin American and coastal Caribbean flavors, there's yet another reason to plan a trip.
I truly can not say enough about how much I adored it here. Cartagena is a place I've been itching to get back to for years—and one of the most compelling reasons? The food. Here's a recap I did for Vogue of my favorite restaurants in Cartagena, and what to order when you go.
La Vitrola
If you're in Cartagena and don't experience La Vitrola, you're missing the point. It's a Colombian mainstay frequented by tastemakers, dignitaries, politicians, and socialites that evokes 1950s-era Havana, with live Cuban music and impromptu dancing mid-meal. The menu is vast—ranging from seafood and steak to carpaccios and pasta—and while you can certainly find finer dishes elsewhere, the atmosphere is unlike anything else in Cartagena. La Vitrola is one of the hardest reservations to get in town, so be sure to plan ahead—or ask your hotel's concierge to pull some strings. Centro, Calle Baloco 33-201
Bogotá-born chef Alejandro Ramirez spent years under the tutelage of culinary kings—Daniel Boulud and Gordon Ramsay among them—before returning to his home country and opening María in 2013. The swanky restaurant is known for its expertly crafted cocktails and inventive seafood dishes, like cured salmon with a jalapeño infusion and sea bass with grilled bacon succotash. What's more, María's flamboyant dining room is filled with design eye candy: An oversize chandelier consisting of mini white pineapples is suspended from the ceiling, a psychedelic mural of a tiger covers an entire wall, and succulents accent each table. Calle del Colegio 34-60
The charming, no-frills eatery serves some of the city's best ceviche. (Anthony Bourdain famously fawned over the fresh fish here on an episode of No Reservations.) While you really can't go wrong with anything on the menu, the lobster ceviche—which comes in a bright, citrusy broth with two packets of saltine crackers on the side—is life-changing. Take a seat at one of the outdoor tables during lunchtime for prime people-watching.
On an unassuming street corner just outside of the walled city, you'll find Demente, a dimly lit hipster hot spot filled with trendy locals and well-informed visitors. It's located in the up-and-coming Getsemani neighborhood—ostensibly the "Williamsburg" of Cartagena. The Spanish tapas–style menu is designed to let you leisurely graze on dishes with friends throughout the course of the evening. Grab a table around 9:00 p.m., settle into an aluminum rocking chair (the restaurant is filled with them), and prepare to stay awhile. Getsemaní, Plaza de la Trinidad Calle Stuart 714
It doesn't get more romantic than dining late-night inside Alma's open-air courtyard. Candles scattered throughout the space make for sultry mood lighting, and the food—like conch croquettes and slow-cooked lamb—is sophisticated yet unfussy. On Fridays, live music lures locals and out-of-towners alike.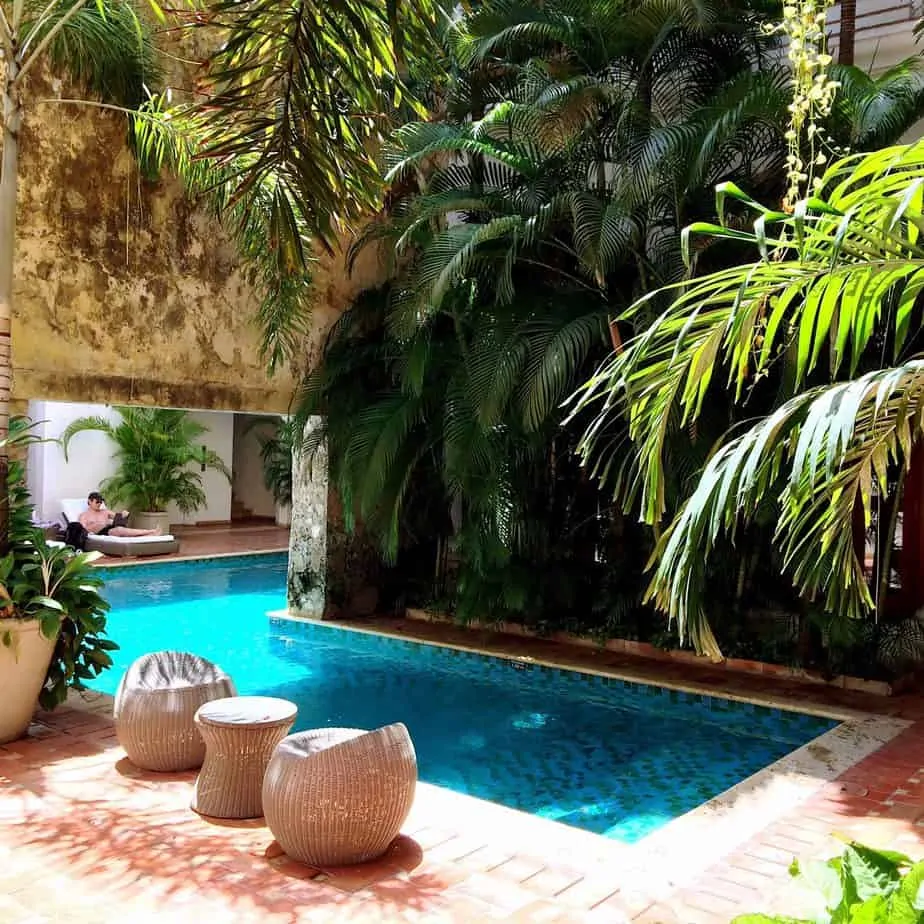 La Perla
Known for its signature tiraditos—raw fish marinated in yellow chili and served sashimi-style—the Peruvian-fusion eatery has become something of an institution in the old city. But the food isn't the only reason to go. The restaurant's owner also happens to be one of Colombia's top mixologists, which means the libations (like a housemade limoncello) are just as impressive. Centro, Calle de Ayos 4-42
A coastal South American city with authentic Italian cuisine? Believe it. Inside the Tcherassi Hotel—a colonial mansion–cum–boutique property with a fashionable cult following—Vera serves authentic dishes (like mushroom risotto and fettucine aragosta) in a cozy, 63-seat indoor-outdoor dining room. Calle del Sargento Mayor N 6-21