Keeping your hair healthy is an ongoing project, especially for those who reach for the blow dryer and curling wand every day. Overstyling, excessive product usage, or even just coloring your hair can cause it to look dry, brittle, and in need of a refresh. If your strands are looking damaged and lifeless, one easy way to revive them is by using a clarifying shampoo. 
So, what does a clarifying shampoo do exactly? Clarifying shampoos are more powerful, hardworking versions of regular shampoos that help remove product build-up, detox your scalp, lift mineral deposits left from hard water or chlorine, and eliminate grease and oil.

Clarifying shampoos are so easy to incorporate into your weekly haircare routine, and there are a ton of options out there for every hair type. A good rule of thumb is to use a clarifying shampoo once a week, but you can amp your usage up a bit if your hair really needs some help. Think of it as a way to hit the "reset" button on your hair and scalp.
I've read through tons of reviews, researched the ingredients that are most beneficial to damaged hair, and tested some of these products personally. Here, you'll find only the best of the best clarifying shampoos for every hair type.
11 Best Clarifying Shampoos
Best Drugstore Clarifying Shampoo
Neutrogena Anti-Residue Shampoo
Finding a good drugstore product is one of the best feelings. This clarifying shampoo is gentle and non-irritating, but is still powerful enough to wash away dulling residue caused by shampoo, conditioner, and styling products. Use it once a week for shiny, healthy results.
This has been my clarifying shampoo of choice for years—and the best part? It's under $6 and available on Amazon. (Check out the nearly 6,000 reviews!) It is also safe to use for anyone with bonded or tape-in hair extensions.
Best Scrub
Christophe Robin Cleansing Purifying Scrub with Sea Salt
If you're the kind of person who lives for a scrub (rather than a shampoo), this best-selling detox treatment by Christophe Robin is about to be your new best friend. It was developed by the eponymous celebrity hair stylist and has gained a cult-like following due to its ability to cleanse and purify the scalp without making hair dry or brittle. It's also ideal for anyone struggling with an oily or sensitive scalp.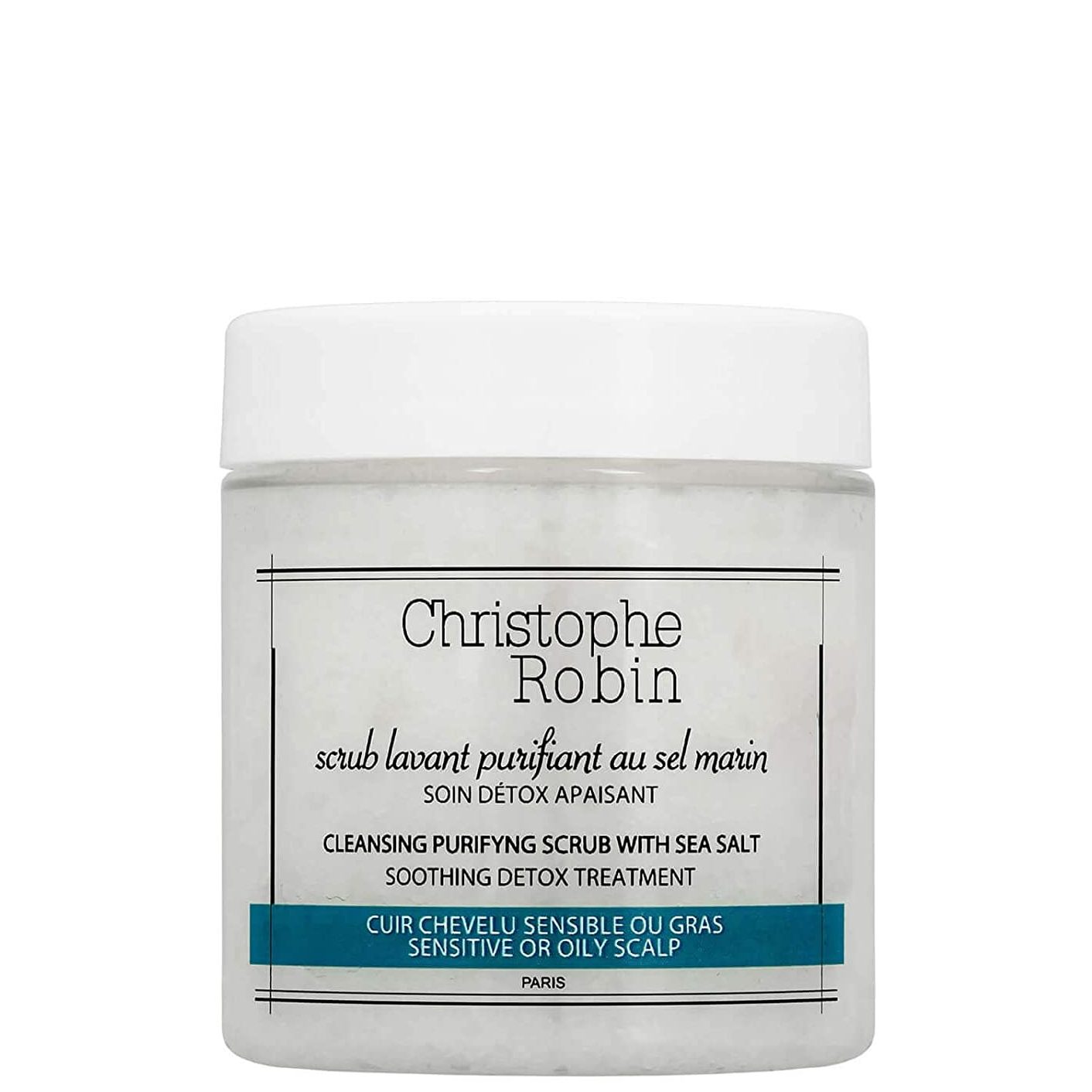 Best Overall
R+Co Acid Wash
This cleansing shampoo is made with apple cider vinegar, which is a total powerhouse when it comes to getting rid of impurities. Apple cider vinegar has become an increasingly popular ingredient in haircare products due to its ability to strengthen dry and damaged hair in a natural way. It's also made with aloe vera leaf juice, which strengthens hair while adding a ton of moisture.
This pick works great on every type of hair, and it lasts so long because you just need to use a tiny amount in order to get a good lather.
Best for Fine Hair
Bumble and Bumble Sunday Shampoo
Ideal for use once a week, this shampoo works best on fine to medium hair. It has really great reviews and is perfect for people who frequently use a lot of styling products in their hair. It's also known to help with the common problem of oily hair—several reviewers said they had to wash their hair less frequently when they started using this shampoo as a part of their regular routine.
Bumble & Bumble also makes a really good heat protectant oil that helps keep frizzy hair under control and less likely to feel dull and dry. (It's one of my holy grail products!)
Best for Curly Hair
Ouai Detox Shampoo
With nearly 600 five-star reviews, this lightly rose-scented shampoo detoxes severely damaged hair. It's ideal for curly hair because it's made with keratin, which helps soften and smooth down ends while adding loads of shine. So, whether you have dry curls that are in desperate need of some moisture or curls that always tend to frizz, this shampoo is an all around winner.
Best for Colored Hair
Kenra Clarifying Shampoo
This clarifying shampoo by Kenra safely removes any dulling deposits that have built up in color treated hair. While it frees your hair of product build-up, it adds tons of shine and promotes restoration. Reviewers noted that it even made their scalp feel less dry, and appreciated that it left their hair soft and easy to style.
Best for Natural Hair
Amika Reset Clarifying Gel Shampoo
The gel consistency of this clarifying shampoo just makes it so much more fun to use. Made with strengthening ingredients like pink clay and charcoal powder, it feels lightweight, cooling, and hydrating as it changes from a smooth gel to a frothy foam as you massage it into your scalp.
Reviewers love that it gives their hair so much volume, and say that it's also great if you shower with hard water.
Best for Transitioning Hair
Aveda Purifying Shampoo
Aveda products are known to smell amazing, and this rosemary mint shampoo is certainly no exception. It's formulated with white vinegar, which leaves dull, over-treated hair feeling squeaky clean and refreshed. I love that you can really feel this shampoo working as notes of peppermint and spearmint give your scalp a light tingle while you're washing.
Plus, it has almost 2,000 five-star reviews on Nordstrom and is only $17, which makes it the perfect pick if you're looking for something new to try.
Best for Hard Water
Redken Hair Cleansing Cream Shampoo
Redken Hair Cleansing Cream Shampoo removes copper, iron, hard water minerals, and styling product build-up on all hair types. Formulated with fruit acids to add shine, purify, and ultimately refresh, this shampoo contains a high concentration of chelating agents that surround minerals and wash them away.
Best for Dandruff
Drybar On the Rocks Charcoal Shampoo
While charcoal is a beneficial ingredient to incorporate in your skincare routine, it can also strengthen dry hair. This clarifying shampoo is perfect for those who are struggling to combat dandruff, as well as those who frequently use hot tools.
The activated charcoal works by purifying and deep-cleansing your hair and scalp, removing any irritants and build up. Use the accompanying On the Rocks Lightweight Conditioner to seal your hair cuticles, boost shine, and limit frizz. Both products are scented with notes of ginger, mint, and sandalwood, which will leave you feeling like you just left the spa.
Best for Thick Hair
Paul Mitchell Shampoo Two
Paul Mitchell is the OG of haircare, and this shampoo is certainly another crowd-pleaser. It came highly recommended by several women in my Facebook group who mentioned it helps to keep their thick, greasy hair at bay.
This is because it's made with high-quality ingredients that help minimize oil production, so your hair becomes less oily over time. Just use it once a week for optimal results.

If you make a purchase through one of the links included in this post, I may make a small commission. As you know, I only feature products that I genuinely love.