Warmer days are ahead, and if you're anything like me, you know it can be a struggle to find a great pair of denim shorts. Sure, some might fit when you first slip them on, but then you get that unpleasant surprise of finding out they ride up or get baggy throughout the day.
I'm also all about shorts that are not too short because… well, I'm not exactly 19 anymore.
In my experience, the best denim shorts are flattering, youthful (but age appropriate), don't get baggy throughout the day, and don't ride up so high that the cheeks of your derriere are exposed if—God forbid—you bend over to tie your sneakers. Those are pretty much my qualifications.
Of course, every woman has their own preference, and it's all about finding the best denim shorts for your body type. A pair of jean shorts that works well on someone with curves might be a total disaster for a woman who's super petite.
In order to make sure I had every category covered, I featured a wide range of brands and cuts based on the most popular recommendations of my readers and followers.
Below, you'll find a variety of different styles and washes, including the best high-waisted denim shorts, white shorts, cut-off shorts, and stretch denim shorts, as well as the best denim shorts for thick thighs and even the best jean shorts for moms.

---
THE BEST DENIM SHORTS FOR WOMEN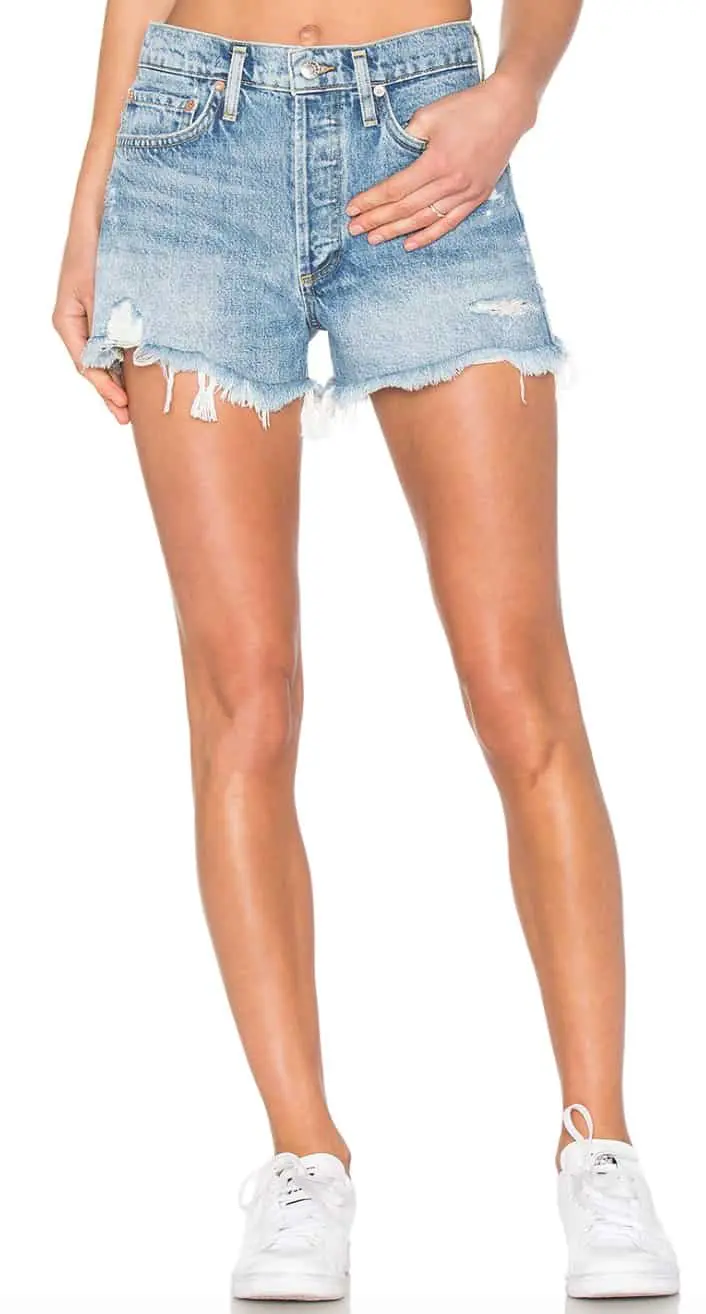 Agolde has become increasingly popular in the last year or so, and the brand's cut-off denim shorts certainly hold up to the hype that their traditional jeans do. These particular denim shorts are always sold out, but right now, there are ten sizes available for order or preorder on Revolve.
What makes these such a great option is that they work on every body type and wash well so you can wear them for several seasons. I've had mine for years and they still look good as new!
They also aren't too short or too long, have some slightly distressed character, and are made with quality material. Grab a pair while you can!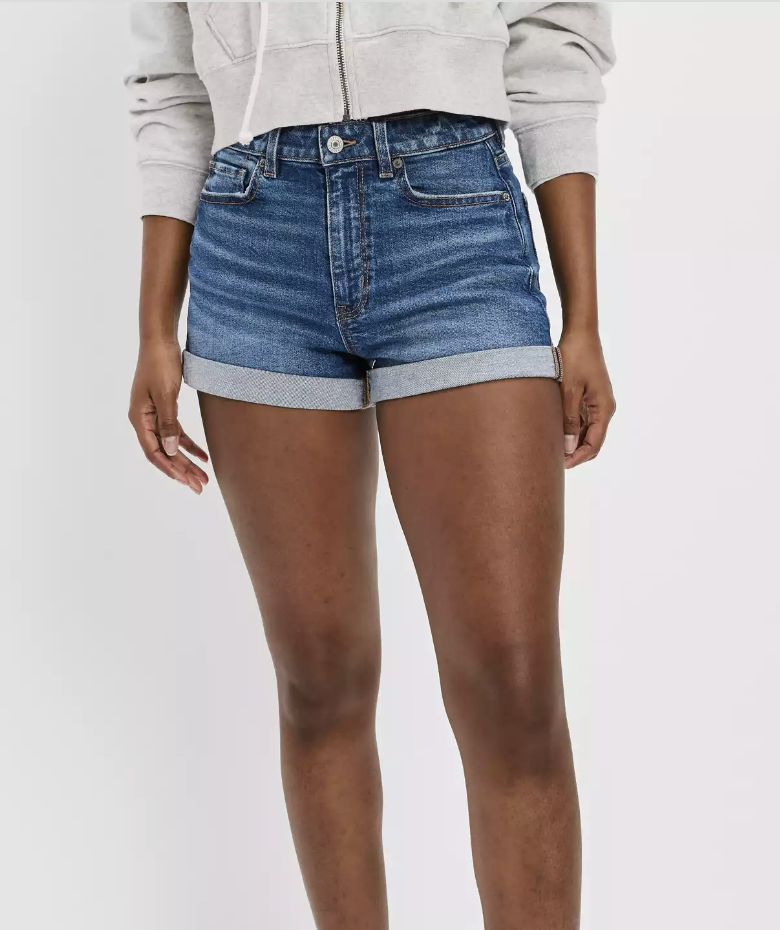 These mid rise shorts from AE are not only affordable—they're also super cute. Fans of the style have noted that they're the perfect casual shorts for summer, and that they also tend to be a bit more fitted. You might consider sizing up if you want something with some more give.
They come in several different washes, including black denim which makes for a fun closet staple!
2. Best Madewell Denim Shorts: High-Rise Denim Shorts [Editor's Pick]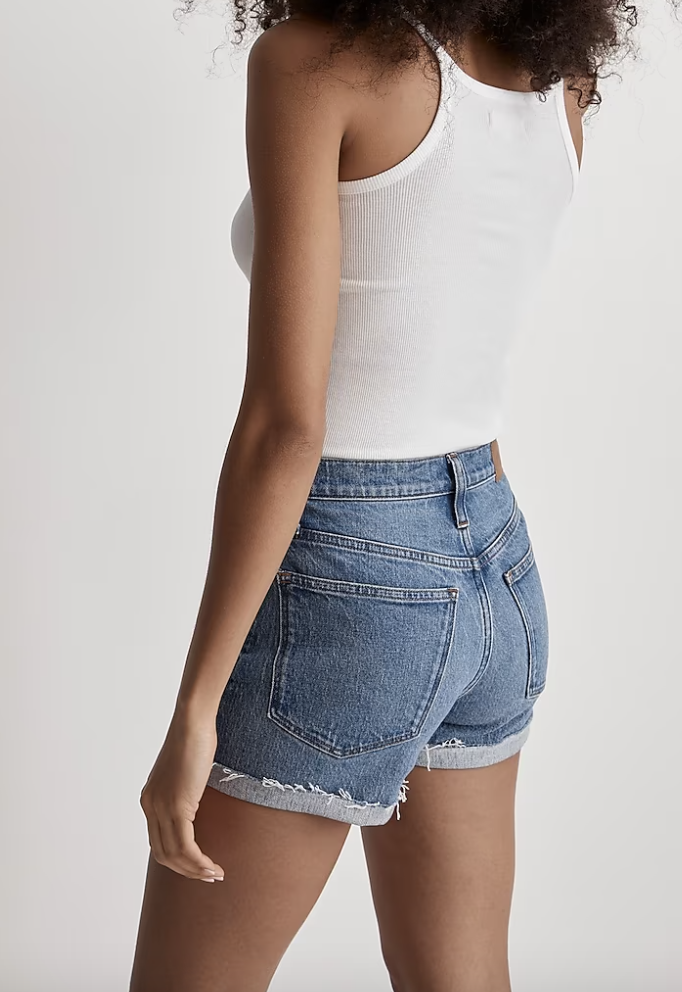 It's probably not surprising that denim shorts from Madewell made it onto this list since their jeans are a go-to for comfort. These high-rise shorts were recommended by women with varying body types, but it was noted that you should go up one size if you have a bigger butt or thighs.
Several women in my Facebook group suggested these and pointed out that they don't gap in the back like so many other jean shorts do. Finally, a pair of denim shorts you can feel good wearing.
Mother is a well-known brand that I often feel is a bit overlooked. With a 4.7/5 rating, these slightly distressed shorts provide a soft and flawless fit without getting too baggy throughout the day.
81% of buyers say that they run true to size, but if you're in between, I'd recommend sizing up.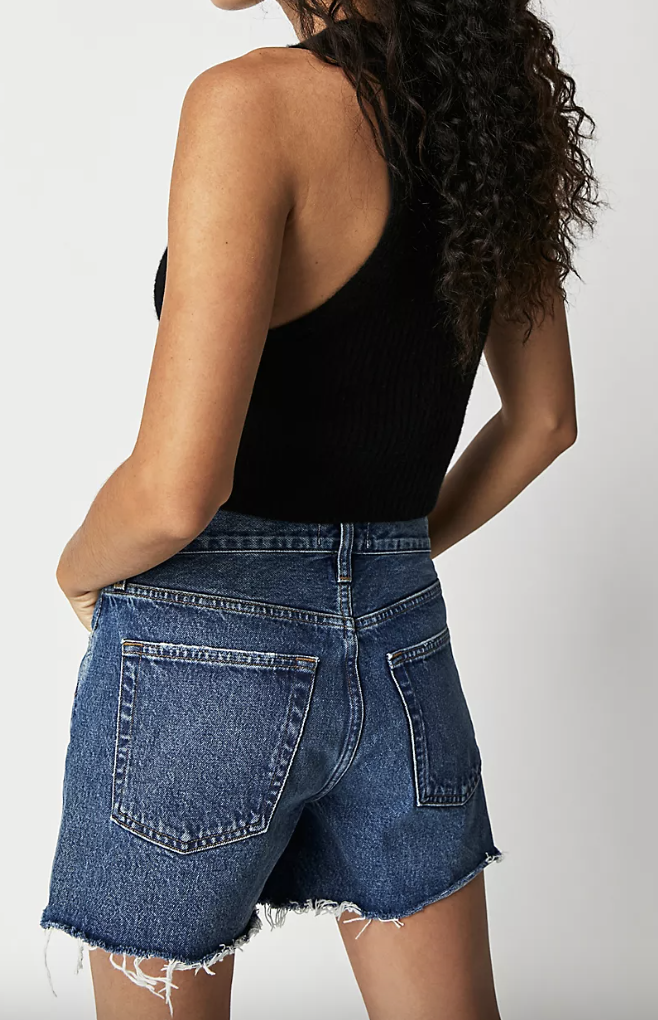 If you've been blessed with a big butt, you know all too well that shopping for shorts (or pants for that matter) can be even more frustrating than usual. Having a big butt makes it feel like you're always in between two sizes, and if you're not careful, you can end up with an uncomfortably tight fit or something that looks way too baggy.
These shorts are ideal for girls who have a little more to flaunt since they have a lower hem that sweeps across the back, resulting in the perfect no-show fit. The vintage-inspired design also creates a worn in, stretchy feel so you have a bit more room to start with.
Levi's are a go-to denim brand for many, but the 501 Original is an extremely popular style in the denim shorts world. I personally own these and LOVE them. (Bonus points for the fact that you can get similar styles on Amazon!)
Other reviewers raved about their perfect length and liked that while they fit well, they weren't skin tight. Another bonus: they have front and back pockets.
Pair them with a plain white tee and some comfortable sneakers for a relaxed yet polished look.
Pro tip: they also look good when worn over a one-piece bathing suit or bikini!
Abercrombie shorts came highly recommended by several women in my Facebook group. Some mentioned that they thought their days of shopping at Abercrombie ended after middle school, but that they were simply OBSESSED with these shorts when they found them.
The brand offers a ton of different styles and fits, but these shorts are part of their Curve Love line, which means they have more room through the hip and thigh than their classic shorts. One fan of the brand loves their shorts so much she ordered six pairs of them and said they were all "solid" and that the fit had her "shook."
Good American denim is known for being super stretchy and soft — and for offering a wide size range. These dark wash shorts were designed to fit a variety of body types and have a slightly distressed look to them.
The high waist will hold you in comfortably, they don't create any huge gaps, and the material doesn't cut into your legs when you sit down — a total win in my book!
Moms can rock any length of shorts, but these are a practical pick for when you're chasing kids around all day. One mom mentioned that she's always hated wearing shorts because they ride up throughout the day, but that these are super stretchy, hold you in, and definitely don't ride up.
A few people have asked me for some family-friendly shorts, and these certainly fit the bill. Plus, a good Target find is always a win!
White shorts scream summer, so I certainly couldn't discount that when curating this list. These shorts have such great reviews that note how comfortable they are. Reviewers also pointed out that they aren't sheer, which is extremely important when buying white denim.
I also love that they aren't too long or too short. They're a versatile staple that would complement a variety of body types.
Another Abercrombie pick! These hug your waist nicely while maintaining length that can stop your thighs from rubbing together. I like that they're still short enough to show a little leg.
4-inch denim shorts seem to be the sweet spot for those who don't want Bermuda style shorts but also don't want something too revealing.
If your jean shorts aren't stretchy, they probably aren't comfortable at all. These daisy duke shorts are slightly loose around the legs so you don't feel restricted as you walk or sit. Another added perk: the material is buttery soft. So much so that you won't want to take them off at the end of the day.
Paige denim is known to stretch quite a bit, so consider sizing down if you don't want them to be too loose.

Do you have a favorite pair of denim shorts that aren't on this list? Let me know in the comment section below!