Here's how you know I'm obsessed with Palm Springs—last year, I was there THREE SEPARATE TIMES. Three times! It's a major pain in the ass to get to from New York and I usually hate going to destinations I've been to before, but I make exceptions for places like this. I could go on and on about why I love it, but instead, I figured I'd give you what you really want to know: the best Instagram spots in Palm Springs.
THE SAGUARO PALM SPRINGS
This isn't a hotel I would necessarily recommend staying in, but it is an absolute MUST for amazing #content. The scene is honestly a bit overwhelming and (how do I say this nicely) maybe not the most "refined"—however, I could see it working for a bachelorette party. Still, even if you're not staying here, you can totally wander around and take photos. (I usually recommend at least buying a drink at the bar so you feel like gross/creepy about it.)
Address: 1800 E Palm Canyon Dr
THAT PINK DOOR
Arguably the most Instagrammable location in Palm Springs. It even has its own IG account (!) Ok, so in the time since I was there and took this photo, apparently The Pink Door house now has a "no photography" sign on the lawn. I'm not sure how strictly this is enforced, so if you're going to attempt it, do so at your own risk.
Address:  1100 E. Sierra Way
ICE CREAM & SHOP(PE)
This place is SO. GOOD. Amazing flavors + toppings, plus the most adorable little boutique/gift shop situation. It's attached to a hotel called Arrive, which I don't know very much about. Pro tip: if you want your photo to be bright and colorful, choose your flavors accordingly. (I'll be honest: I wasn't exactly dying for this lavender flavor but I knew it would look cool so… #sacrifices.)
Address: 1551 N Palm Canyon Dr
THE PARKER PALM SPRINGS – Orange Doors
I had literally fantasized about taking this photo for YEARS before I actually pulled the trigger and booked a room here. It's iconic.
THE PARKER – Lemonade Stand Bar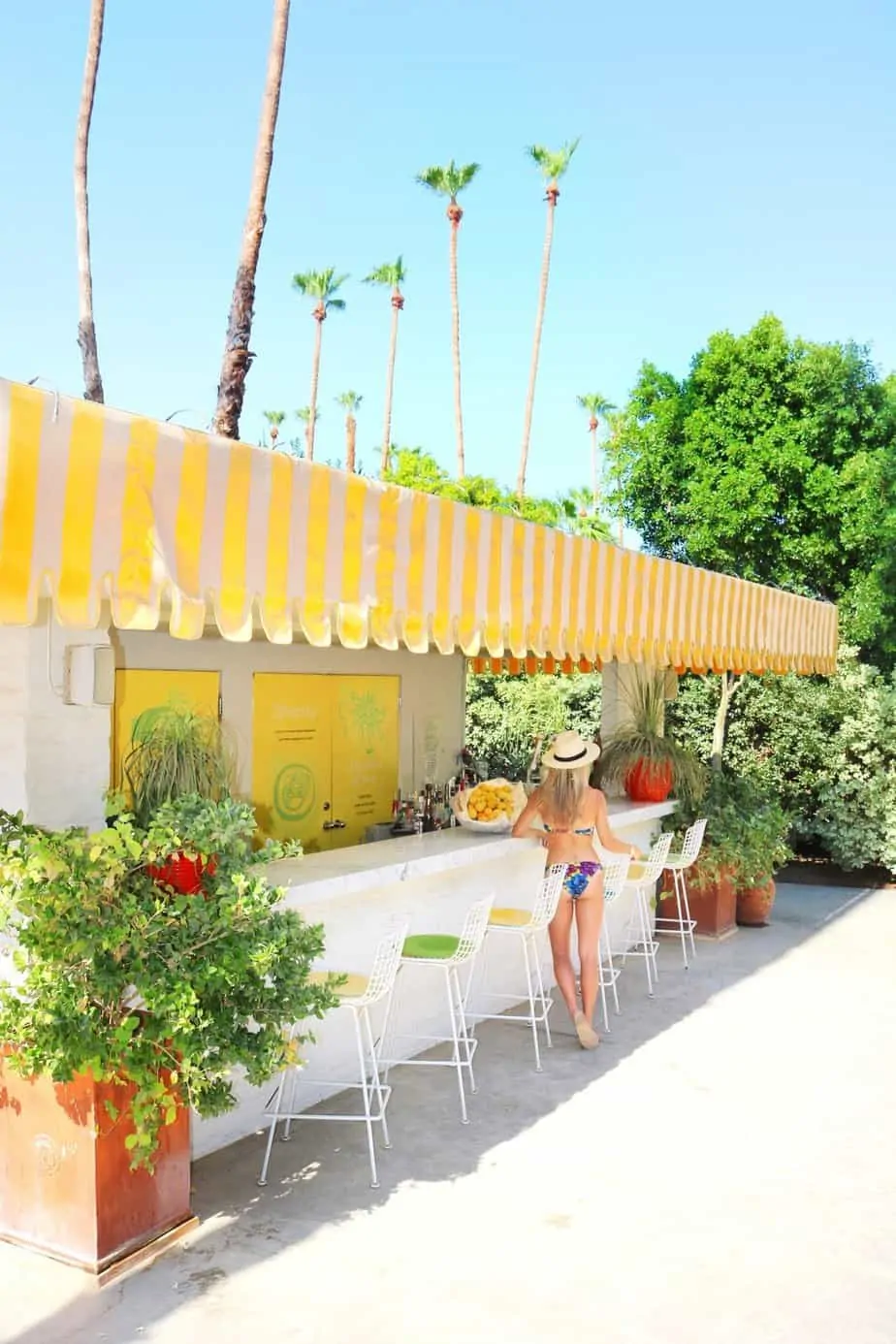 The Lemonade Stand Bar at the Parker is located right by the main pool area, and serves up the most deliciously refreshing Muddled Lemonade cocktail. (Recipe below!) I believe you have to be a hotel guest to access it, but I would imagine if you made lunch or dinner reservations at the property and floated over here you could probably get away with it.
MUDDLED LEMONADE🍋
3 slices of lemon
2 oz of Citrus Vodka (4 oz if you're me)
Splash of Limoncello
Splash of sprite
Muddle the lemon with ice. Add vodka and limoncello. Shake. Top with sprite. Garnish with a lemon wheel.
Address: 4200 E Palm Canyon Dr
THE PARKER – "Drugs" Sign
You'll find this vintage-looking sign in the lobby of the hotel. If you want the shot, I'd recommend grabbing a drink first at "Mini Bar" which is exactly what it sounds like—a tiny little bar right in the hotel lobby.
Address: 4200 E Palm Canyon Dr
THE COLONY PALMS HOTEL – Pool at Sunset
I had seen gorgeous sunset photos of this property all over Instagram, so when I went with Matt last summer, I insisted we pop in for a drink. It did not disappoint. We've never stayed here, but I've heard great things about it—and the price point is definitely a bit more reasonable than the Parker.
Address: 572 N Indian Canyon Dr
THE SHOPS @ THIRTEEN FORTY FIVE – Pink Wall
I can't even remember where I heard about these shops—I think we might have just been driving by—and the second I saw the pink wall I knew it would make for an awesome photo. Be mindful of the time of day you're going though…the wall was somewhat in the shade when we went in the morning, so I had to edit the shit out of this pic. Would have been a lot easier with good natural light.
Address: 1345 N Palm Canyon Dr
CABAZON DINOSAURS
Ok so these are technically in Cabazon, not Palm Springs, but they're SO close I couldn't not include them. These babies are touted as the "world's biggest dinosaurs"—they're essentially just massive replicas of t-rex, brontosaurus, and some others. Pro tip: you absolutely MUST also go to the Cabazon Outlets if you're in this area. Hands down the best outlet shopping I have ever experienced. Designers you didn't even think had outlets have stores here—Gucci, YSL, Prada, etc.—and it's all AMAZING stuff. Not weird leftover shit.
Address: 50770 Seminole Dr, Cabazon, CA 92230
THE ACE HOTEL
I stayed here for a friend's wedding and we had a blast. The rooms are no-frills (almost reminded me of a camp bunk) but the vibe is fun and the location is great. Loved the IG-worthy sign they have at the entrance.
Address: 701 E Palm Canyon Dr
The Palm Springs Welcome Sign
This photo kind of sucks because I took it while in a moving vehicle, so do me a favor—and get yourself a better one! You'll come across this sign right as you're entering into Palm Springs. It's by the Visitor's Center.
Address: 2901 N Palm Canyon Dr
Other Notable Spots That I Don't Have Photos Of:
– Old Tramway Gas Station
Address: 2901 North Palm Canyon
– Palm Springs Aerial Tramway
Address: 1 Tram Way
– Moorten Botanical Garden
Address: 1701 S Palm Canyon Dr