Like most people, I'm a big fan of the summer and all it entails — nicer weather, fun travel plans, and less structured days. However, one thing I'm not a fan of is the dry and crepey skin that the warmer season can bring.
Between working out, being in the sun, and showering, we all put our skin through a lot on an everyday basis. Plus, if you're someone who loves a good self-tanning session (I'm with you) then you might need to give your skin even more TLC.
I am admittedly obsessed with all things skincare — having a clear complexion that's free of fine lines, dark spots, and blemishes is important to me. While I have totally nailed down the perfect skincare routine, I realized that I've been neglecting to care for the skin all over my body (rather than just my face).
As your skin ages, it becomes more and more important to make the time to care for it — including the skin on your arms and legs. If you're hoping to have soft, smooth skin all over your body, using these lotions will help you get there.

12 Best Lotions For Crepey Skin on Arms and Legs
Let's start with the basics: what exactly is crepey skin?
Crepey skin is just what it sounds like — skin that appears thin, wrinkled, sun damaged, and oftentimes dry. It can also demonstrate a loss of firmness and elasticity, making it look more mature than it might be. Sounds not so great, right?
Some common causes of crepey skin include hormonal changes, weight loss, and dehydration. Crepey skin is often found in areas that experience more sun exposure, like the arms and legs.
Luckily, these lotions can help you combat the look and keep your complexion hydrated and smooth.
Sol de Janeiro Bum Bum Cream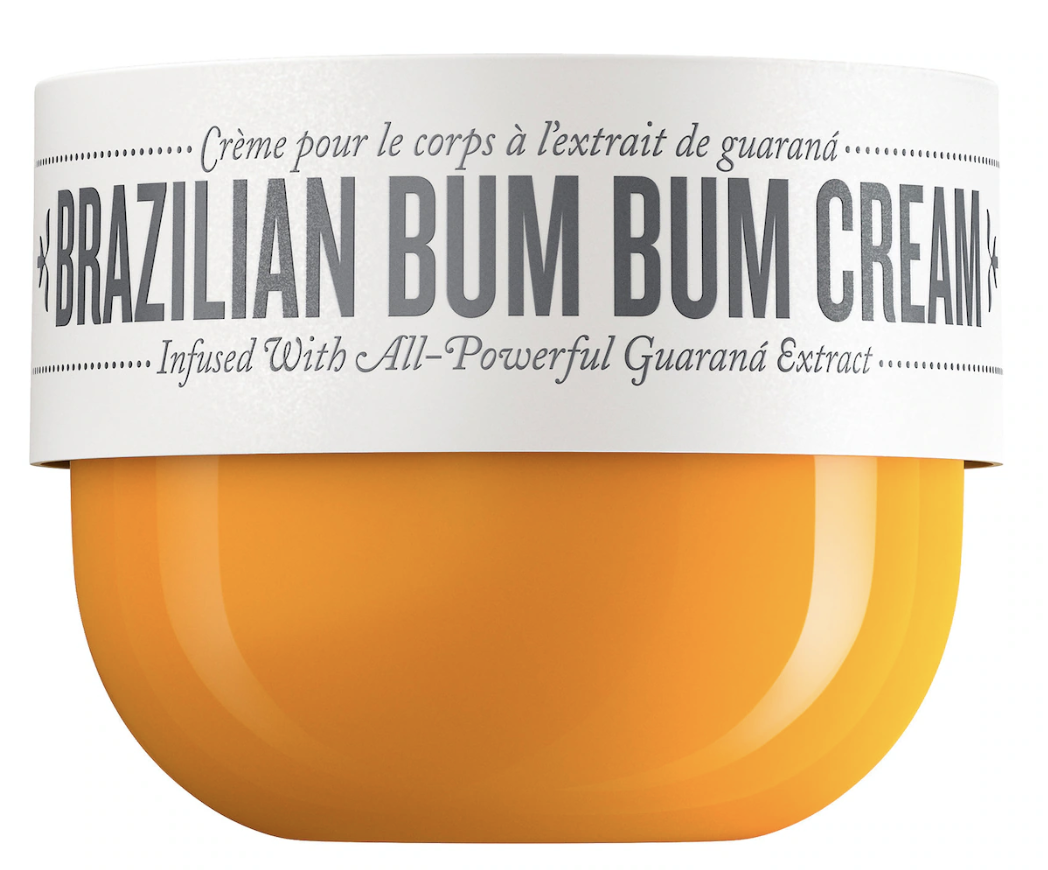 I will never stop talking about how much I love this body lotion. In fact, I'm such a big fan that I dedicated an entire Instagram reel to it (lol).
It smells like summer in a jar, or as my husband describes it, "a day at the beach" and I swear that it will leave your entire body silky smooth. This is a good choice for all skin types, whether you're hoping to treat dry skin or you want something luxurious to apply after a warm bath or shower.
Nécessaire The Body Lotion
If you're wanting to improve your skin firmness (who doesn't?), this fragrance-free pick would be a good starting point. It's super gentle yet is packed with niacinamide — an ingredient that can help strengthen and support your skin barrier.
Other key ingredients include peptides, which work to firm the skin, and vitamin C and E, which will replenish your overall skin texture.
Drunk Elephant T.L.C Glycolic Body Lotion
To really make an impact on crepey skin, you'll want to reach for body lotions that exfoliate and promote cell turnover. Enter: Drunk Elephant T.L.C Glycolic Body Lotion.
It's made with a blend of glycolic, lactic, tartaric, and citric acids, which all work together to resurface dull, uneven, and damaged skin. The result? A brighter, smoother, and more youthful look.
The lotion is also made with shea butter which can help heal and protect your skin barrier over time.
If you're new to using acids on your skin or if you haven't done much exfoliating in the past, I'd recommend applying this every other day. Once your skin gets used to it, you can increase as needed.
Ouai St. Barts Moisturizing Cream
Hydrated skin will become the norm if you regularly apply this body cream. It's super rich and soothing and will leave your complexion with a subtle glow.
Reviewers note that they love the smell and consistency of the product, but I'll let their words speak for themselves:
"I quite literally can't believe how good this smells. A little goes a long way, it's thick and creamy without leaving a sticky or greasy residue, and the smell lasts on my skin."
"I absolutely love this!! It's hydrating, smells amazing, and does not leave a grease feel on the skin."
"This stuff is so thick and creamy, it'll moisturize you back 10 years and have you smelling like a tropical island. Soooo worth it."
Summer Fridays Summer Silk Lotion
This vegan body lotion feels creamy and luxe, yet it's perfect for everyday use. It's formulated with hyaluronic acid, plant-derived butters, natural oils, and ceramides that melt into your skin while providing a healthy dose of hydration.
Grapeseed, argan, linseed, and rosehip oils nourish and protect the skin while the ceramides and hyaluronic acid deeply moisturize. A win-win!
CeraVe Moisturizing Cream
We all love a good drugstore beauty product find and this product from CeraVe might be the OG body lotion for sensitive skin. It's affordable, has a thick consistency, and is fragrance-free. An added perk: You can buy it on Amazon.
Isle of Paradise Brilliantly Bright Moisturizer
Isle of Paradise is known for their self-tanning products, but this body moisturizer is becoming increasingly popular. It absorbs quickly into your skin and it doesn't mess with or distribute any color on your skin, making it one of the best lotions to use after a spray tan.
Moroccanoil Body Lotion
If you've ever used Moroccanoil hair products then you know that their stuff lives up to the hype. Truthfully, some of my favorite and most hydrating styling products are from this brand, so I wouldn't expect anything less from their body lotion.
It's lightweight, rich in antioxidants, and is ideal for skin that's dry, dull, or uneven. With over 2,000 4.5-star reviews, my suspicion that it's a good find rings true:
""If you love the hair oil, you'll love this lotion."
"Love the scent of this lotion. It's a little thin but still nourishing and nice for a body lotion. I like that the scent actually lasts."
"The smell alone is worth buying! It goes on light, non greasy and hydrates beautifully!"
Dr. Barbara Sturm Anti-Aging Body Cream
I know that anti-aging products that actually work are hard to come by, but this lotion from Dr. Barbara Sturm is a good investment if you're hoping to combat fine lines and wrinkles. I would consider this one of the best body lotions for crepey skin.
It's made with ingredients like Indian almond, shea butter, and purslane extract, which can help tighten the skin as well as improve loss of elasticity.
Some review highlights:
"The Dr. Barbara Sturm Anti-Aging Body Cream is my favorite every day post-shower non-negotiable. My favorite areas to focus this anti-aging body cream on are right above my knees, my chest and neck, and my arms!"
"I love this body lotion. It's likely the best body lotion I've ever used. It sinks into your skin and leaves no residue. I don't feel it on my sheets the next morning."
U Beauty Super Body Hydrator
This body lotion is certainly a splurge but thanks to a blend of powerhouse ingredients, it delivers noticeable benefits. Argan and avocado oil, hyaluronic acid, peptides, niacinamide, and walnut extract all work together to provide skin with deep hydration.
If you have mature skin or feel like your complexion needs a hefty dose of moisture, this is a good choice.
StriVectin Crepe Control Body Cream
I'm always weary of products that claim to offer somewhat miraculous results, but the reviews on this body cream honestly check out.
When used twice daily, it has been noted to reduce skin crepiness while tightening and restoring elasticity. Plus, if you consider the benefits that it can provide, you get pretty good bang for your buck.
Gold Bond Crepe Corrector Lotion
With over 26,000 raving reviews and an under $12 price point, it's a no-brainer to test out this lotion from Gold Bond. It's made with antioxidants and omega fatty acids which work to restore the integrity of your skin's barrier.
Reviewers mention that it works really well on wrinkles (on the arms specifically) and that it can provide lasting nourishment to dry and scaly skin.