We all know retinol is the holy grail of anti-aging ingredients (if you don't, you might want to read my post on how to use retinol correctly), and, luckily, it is found in a plethora of over-the-counter creams and serums.
While not as strong as prescription retinoids, even over-the-counter retinol products can help to increase the turnover of skin cells and collagen production.
Over time, users may notice a reduction in the appearance of fine lines and wrinkles, a reduction in age spots and hyperpigmentation, and a generally fuller and more radiant complexion. Retinol can also help lighten dark spots. The same benefits will also be found with the consistent use of a retinol eye cream.
But with so many options on the market, how do you know which one is the best for you and your skin type?!
Which one is worth splurging on? Which is the best for sensitive skin? For acne? Which is actually packed with quality retinoic acid?
It can definitely be somewhat overwhelming. But if you're on the hunt for the perfect retinol addition to your skincare regime, we're on a mission to make it easy for you.
The Best Over-the-Counter Retinols

---
Things to Know When Purchasing an OTC Retinol:
1. Work retinol into your skin care regime gradually.
Because retinol can be somewhat of a shock to your skin, you'll want to introduce it to your skincare routine in a slow and controlled way. I'd recommend starting with two or three times a week, depending on your skin type and whether or not you've used retinol before. Use these expert tips to incorporate it into your routine with ease — no irritation or redness needed!
2. Check the ingredients of the product.
As with everything, there are heaps of creams and serums that claim to be retinols, yet rely on plant-extracts as alternative sources of vitamin A.
Their effectiveness is debatable. And you'll recognize this by seeing alternatives like beta-carotene, rosehip oil or seaweed extract (amongst others) in the ingredient list.
Unfortunately, these do not trigger the same collagen production as retinol.
True retinol will appear in the ingredients list as retinyl acetate (naturally forming), retinyl palmitate and retinaldehyde (synthetic form of retinol) and the lesser known propionic acid. Retinol is a vitamin a derivative, so be sure the one you're using is the real deal.
3. OTC retinols cost less than prescription retinols, however the price range remains quite vast.
The price of OTC retinols can be as low as $10 and as pricey as $500! It all depends on the concentration of active ingredients, the brand, and packaging.
I will say that from experience, you don't have to splurge on the most expensive retinol to reap the benefits. There are plenty of options that work wonders on aging skin, without having a terribly offensive price tag. It might take you some time to figure out which brand and product is the best for you and your skincare concerns. But be patient, I promise that it's worth it!
4. The FDA does not require OTC retinol products to list the concentration of retinol in the products.
Fret not, anything that you'll be buying over-the-counter will be much lower in concentration than anything your doctor or dermatologist will recommend.
A retinol concentration of around 1% is considered a high percentage in OTC retinol products.
If you have skincare concerns that require guidance from a doctor, like cystic acne or stubborn dark spots, a prescription retinol might be a better fit for you.
Strongest Over-the-Counter Retinols
Paula's Choice Clinical 1% Retinol Treatment
As a huge fan of Paula's Choice, I knew that the Clinical 1% Retinol was going to make the top ten list.
The brand makes a handful of retinol products. But the Clinical 1% Retinol Treatment is the one that really packs a punch.
It contains 1% pure retinol, making it one of the strongest over the counter retinol options on the market. While retinol is the powerhouse ingredient that will treat visible signs of aging, the formula also features soothing licorice root extract, which acts as an antioxidant.
The result is a wrinkle-smoothing, brightening, and firming treatment that you'll wonder how you lived without.
Due to the strength of the retinol, it's important to slowly work it into your skincare routine.
One reviewer said it best, "it takes a good while to slowly acclimate your skin to this product, but the results are unbelievably worth it."
A similar product is also available in the form of a booster. Use 2 to 3 pumps of Paula's Choice 1% Retinol Booster, and add it to your favorite moisturizer or serum.
---
---
Sunday Riley A+ High-Dose Retinoid Serum

Sunday Riley A+ High-Dose Retinoid Serum has become a little bit of a cult classic thanks to its 6.5% blend of both chemical (stabilized retinol) and natural (retinol-like botanicals) ingredients.
It's one of the most bio-available, non-prescription retinoid products on the market. With most of the 800+ reviews on Amazon being 5-star, this product makes it to our top ten list of OTC retinol creams and serums.
It is not advisable for beginner retinoid users. But, for the OGs of retinoid, it comes highly recommended by users of all ages and worth trying if you haven't already!
---
Drunk Elephant A-Passioni Retinol Cream
Drunk Elephant's A-Passioni Retinol Cream combines 1% vegan retinol with "superfood-rich ingredients." 1% vegan retinol makes it one of the strongest over-the counter-retinols. Yet, it is 100% free of silicones, fragrance and essential oils.
Instead, it's packed with comforting ingredients like passionfruit, apricot, and jojoba oils, which replenish moisture and prevent redness and irritation.
One user noted that she has had bad experiences with retinol in the past, but claimed that thanks to Drunk Elephant A-Passioni, her "skin is reborn. Pores are almost non-existent and skin tone is even."
---
Best Retinol for Beginners and Sensitive Skin
Kiehl's Retinol Skin-Renewing Micro-Dose Serum
The serum (which is Kiehls' first-ever retinol) delivers all the benefits of retinol (like cell turnover, visibly reducing the appearance of wrinkles, and visibly softening fine lines etc) without side effects people typically associate with retinol, such as irritation and dryness.
This makes it a smart choice for anyone who might be starting retinol for the first time, or for anyone who has sensitive skin. Also, if you used to apply retinol regularly but have fallen off track (we've all been there), I'd recommend easing back into the process with a retinol like this one. Irritation arises when you try to do too much too fast!
---
No7 Advanced Retinol 1.5% Complex Night Concentrate
This product can proudly say that it had over 100,000 sign-ups for the waitlist at Boots when it initially launched!
The No7 Advanced Retinol 1.5% Complex Night Concentrate not only includes 0.3% pure retinol as one of its ingredients, but also the skin-firming peptide Matrixyl 3000+. The major selling point is that it's effective and affordable, making retinol suitable for anyone.
The formula includes a calming chamomile extract called bisabol, which is designed to cause a slow retinol release, therefore preventing skin irritation from too quick a hit.
Before releasing the product, No7 tested retinol concentrations of 0.3%, 0.5%, and 1%. And from their studies, 96% of the market could tolerate 0.3%, making it a perfect choice for beginners.
This would be one of the best retinols for beginners and those with sensitive skin.
---
CosMedix 16 Rapid Renewal Serum
"Magic serum!" and "easy path to retinol" are just some of the reviews you'll read about the CosMedix 16 Rapid Renewal Serum.
The formula consists of a lovely mix of hydrators and retinol, ensuring that it won't dry out your skin.
Clinical trials show that after 6 weeks of usage, 90% of users reported a brighter and more even skin tone, 88% reported noticeably firmer skin, and 75% reported less apparent wrinkles!
---
First Aid Beauty Skin Lab Retinol Serum 0.25% Pure Concentrate
First Aid Beauty Skin Retinol Serum is another one of the best retinol products for sensitive skin or beginners.
Thanks to its low concentration of 0.25% pure retinol, the formula is gentle enough not to cause irritation, yet still delivers those anti-aging results we all want.
It's free from any alcohol, artificial colorants, and fragrance, as well as being gluten-free, nut-free, and vegan friendly!
It gives an immediate soothing and comforting sensation upon application, thanks to the added hyaluronic acid, vitamin C, and aloe.
A first-time user of First Aid with sensitive skin said, "I struggled finding a retinol that didn't cause a negative reaction to my skin. This is one I can actually use a pea size amount two or even 3 times a week and not have my skin freak out."
---
SkinMedica Retinol Complex 0.25
The SkinMedica Retinol Complex 0.25 is another great introductory serum for anyone with sensitive skin looking to start using retinol.
The lower percentage of retinol (0.25%) means it is a lot gentler than those with higher concentrations, making it ideal for anyone with sensitive skin.
A huge plus is that it doesn't contain any artificial fragrance, which can be cause irritation for some people.
Admittedly, it's not the cheapest on this list for such a low concentration. But it's definitely an investment for those that struggle to find a retinol product that does not aggravate the skin.
One reviewer with sensitive skin noted that after using it for a year, her skin has "never looked so good!"
---
---
Best Retinol for Acne
SkinCeuticals Retinol 0.5 Refining Night Cream
In addition to reducing fine lines, retinol is also great at regulating oily skin and minimizing breakouts. SkinCeuticals Retinol Night Cream is a great example of a product that does both.
It counts chamomile as one of its ingredients, which is a traditional healing plant that provides soothing benefits and helps comfort the skin.
SkinCeuticals Retinol Night Cream is fragrance-free, and remains hydrating and calming due to ingredients like frankincense. This counteracts the irritation that may be experienced from using retinol.
When starting on retinol while you're dealing with active acne, keep in mind that your skin might go through a brief purging period. This should only last a couple of weeks and shouldn't cause anything major, but it's worth noting in case you start to feel discouraged. Keep up with using the retinol (as long as it's not causing irritation) and your skin will thank you in the long run.
"My skin is looking and feels smoother," writes one SkinCeuticals user. "I've noticed my foundation applies much more easily now as well. I only wish I would have started using this years ago."
I'd consider this one the best retinol for acne-prone skin.
---
Best Retinol on Amazon
SkinMedica Retinol Complex 1.0
I am admittedly obsessed with Amazon and always think that it's an added perk when I can purchase something from the site. It's just so convenient to use, there's no shipping fees (for Prime members), and there are always a ton of reviews on each product.
Reviews of SkinMedica Retinol Complex 1.0 frequently say it could be the "best non-prescription retinoid" out there.
This is definitely not one for beginners, but if your skin has become accustomed to retinol without suffering from irritation, this could make a fantastic upgrade.
It helps to fade wrinkles while improving tone and texture for softer, brighter skin.
One user suggests mixing it together with an equal amount of moisturizer for the perfect night cream.
---

There you have it — the best over the counter retinol serums for every skin type. I know that adding retinol into your skincare routine can feel intimidating, but I promise that you'll be so happy you did it once you give your skin some time to adjust.
Keep in mind that it's not uncommon to go through a few different retinol serums before finding the right one for your skin. Everyone's skin texture and concerns are unique, so stay optimistic as you search for your perfect fit. Reading this list was the best place to start!
Pin this for later: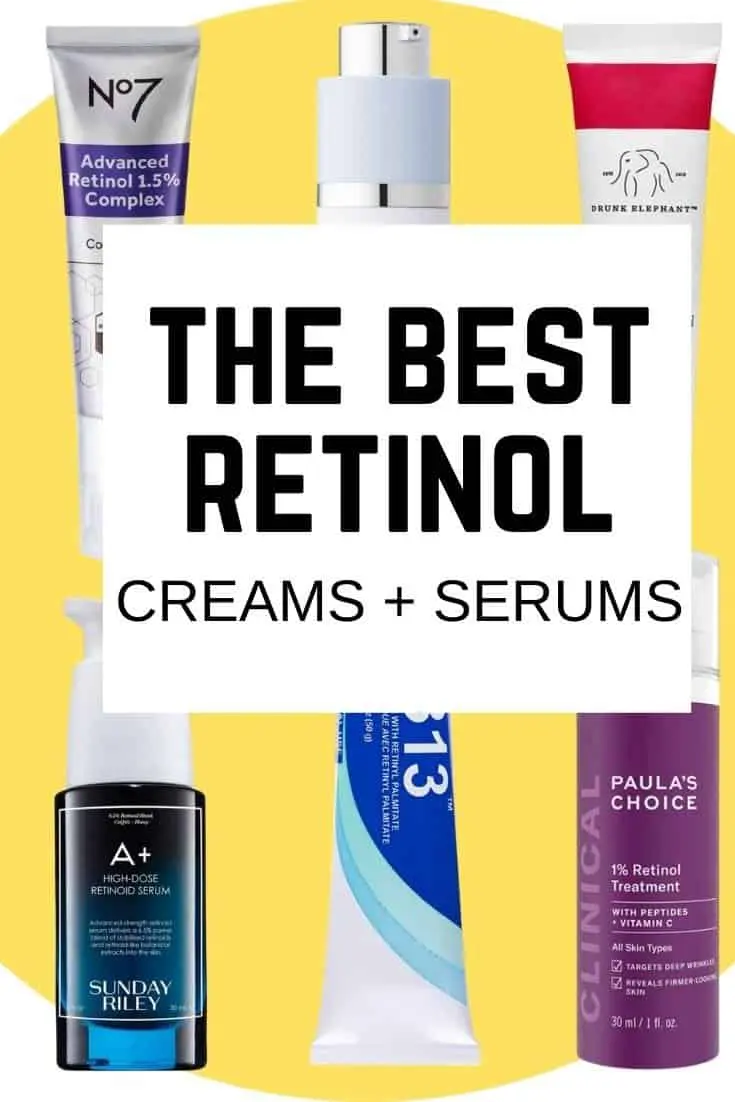 Sarah Barthet is a travel, luxury and lifestyle blogger who gave up the world of high finance to follow her passions. She hopes to share her love of luxury travel, fashion, beauty and the odd piece of career advice to fellow successful women who like to enjoy the finer things in life, over on her blog Dukes Avenue.
If you make a purchase through one of the links included in this post, I may make a small commission. As you know, I only feature products that I genuinely love.