Not to toot my own horn, but I can confidently say that I know St. Barths better than I know any other destination in the world. Over the course of my 10 or so trips to the island, I've stayed at all of the best hotels in St Barts (or Barths, depending on who you ask), eaten at almost every restaurant, and drank rosé at every single place that serves it (which, as you might imagine, is a lot of places.)
I've also written about the island for big outlets like Vogue, Town & Country, and Departures…so if you're reading this post because you're considering a trip to St. Barths, well, you've come to the right place.
My guide is an adaptation of an email I've been sending around to friends (and friends of friends) for years. It's fairly informal, which I think you'll like, and also includes tidbits that I would have never gotten away with including in a story for magazines like those listed above. MY WEBSITE = MY RULES! Wow that feels good.
Anyway, I'm SO excited to share my "special place" with you. Safe travels!
---
HOW TO GET TO ST. BARTHS.
Figuring out how to get to St. Barths can seem overwhelming, since there are no direct flights from the States. (Unless of course you're flying private—in which case, I'M COMING.) I have a separate post dedicated to explaining your options, so if you haven't sorted out your flights yet, I'd recommend starting here.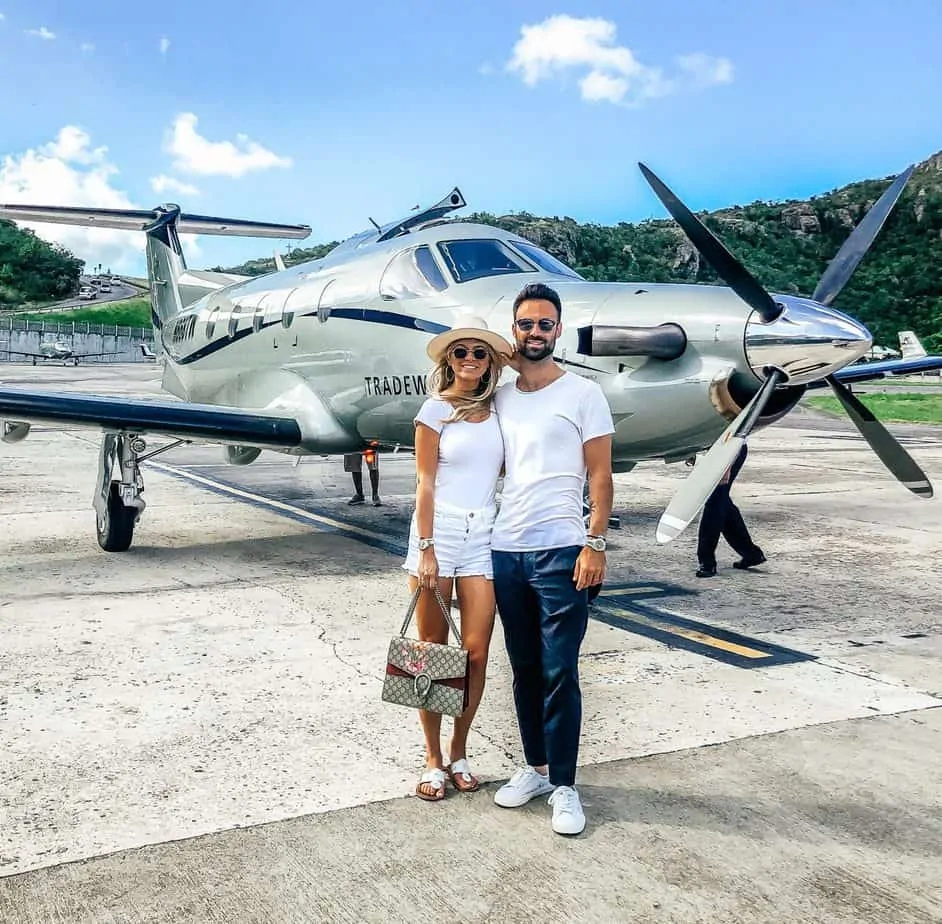 ---
---
BEST HOTELS IN ST BARTHS.
People often ask me what I think is the "best" hotel in St. Barths. It's almost an impossible question—they're all incredible (seriously) but it really just depends on the kind of vibe you're going for. Here's my take on the places I've stayed.

Hotel Le Toiny
Vibes: understated elegance, beautiful villa-style rooms
Best For: people who like big rooms and privacy
Cheval Blanc
Vibes: the epitome of sophistication
Best For: couples, babymooners, honeymooners
Eden Rock
Vibes: glitzy and glamorous; a place to see-and-be-seen, uniquely designed rooms each with their own style and charm.
Best For: couples, groups of friends, anyone who loves people-watching (it's the best place for it)
Le Sereno
Vibes: hip, cool, chic, with one of the most iconic pools on the island.
Best For: couples, weddings
The Christopher
Vibes: the best sunset spot on the island; affordable luxury
Best For: people who want to spend under $1,000 per night on a room, but don't mind the lack of beach


Rosewood Le Guanahani
Vibes: approachable, unpretentious luxury
Best For: families or people traveling with young children
Hotel Manapany
Vibes: eco-chic, cottage-style living
Best For: people who like fancy things but also care about the environment
Villa Marie
Vibes: jungle vibes and a design-lover's paradise
Best For: anyone obsessed with attention to detail

Le Barthelemy
Vibes: chic, gorgeous beach, huge rooms, great energy
Best For: groups, birthday celebrations, couples
Hotel Tropicale
Vibes: no-frills, boho, and budget-friendly
Best For: anyone who wants to St. Barths experience on a budget
Hotel Le Carl Gustaf 
Vibes: boho-chic meets an at home feel with nautical touches inside each room.
Best for: stunning views of Gustavia, the island's capitol, and it's renowned marina.
Full review of Le Carl Gustaf here.
If you have questions about hotels, or you're having trouble deciding which to book, feel free to drop me a question in the comments.
---
WHERE TO STAY IN ST BARTHS:
HOTEL OR VILLA?
I've had both the hotel experience and the villa experience, and I've thoroughly enjoyed each for different reasons. I'd recommend staying in a villa if…
You REALLY like your privacy
You're traveling with a big family
You're traveling with a big group (40th birthday, bachelorette party, couples retreat, etc)
You want a cheaper alternative to a hotel

Hear me out on this one: most of the "villas" on the island are big. I mean, really big. Which also means that they're priced accordingly. ($$$$) However, there are a handful of small cottages, 2-person villas, and apartment-style condos that you can find for a reasonable price—especially if you're willing to go off-season. Matt & I stayed in one that was a guest house belonging to a larger property. It was amazing! We had our own pool, our own kitchen, and complete privacy.

You like to cook or you're trying to save money on food

I know this probably sounds weird because…who cooks on vacation right? Well, when Matt & I stayed in our little guest house, we actually had SO MUCH FUN hitting up all of the markets for cheese, fresh fish, wine, and produce. We also ended up spending WAY less money by eating breakfast and lunch on our own, so we didn't feel guilty about splurging on nice dinners at night.
There are a number of villa rental companies on the island, and to be honest, I'm not entirely sure what differentiates them because I've only used one company. A few that are worth checking out: St. Barth Properties and WimCo.
Price-conscious travelers might consider looking at VRBO, HomeAway, and Airbnb.
---
BEST PLACES TO EAT IN ST BARTHS.
The food in St. Barths is so insanely good, I had a hard time narrowing down my list. All of these places are amazing, but I put a * next to my personal favorites.
*Nikki Beach – BRUNCH
An absolute must. Sunday brunch here is so fun and entertaining, make a reservation for the 3:30 seating. There are two seatings – the earlier is more chilled out, the 3:30 seating is more fun. We usually order a sushi boat and a magnum of rosé.
Stalk them on Instagram: @nikkibeachsaintbarth
*The Beach Club @ Hotel Le Toiny – LUNCH
Great for a laid back lunch. Order the grilled lobster and the pea salad (just had this, one of the best salads I've ever had in my life!) 
Stalk them on Instagram: @hotelletoinystbarth
Pearl Beach – BRUNCH/LUNCH** [update as of 1/29/21 – I have a new favorite spot for a Saturday brunch; see below!]
Fun vibes on a Saturday for a daytime lunch.
Stalk them on Instagram: @pearlbeachsaintbarth
GypSea – LATE LUNCH
Newcomer to the island that's giving Nikki Beach a run for its money. Feels like a Mykonos Beach club in St. Barths. Super fun! Highly recommend making a late lunch reservation on a Saturday
Stalk them on Instagram: @gypsea_beach
Kiki é Mo – BREAKFAST or LUNCH
Best fresh juices and healthy eats.
Stalk them on Instagram: @kikiemo_stbarth
Maya's To-Go – LUNCH/PICNIC
Great spot for salads and sandwiches to go. Perfect to bring in a cooler to have a beach picnic!
Stalk them on Instagram: @mayastogo
Le Select – LUNCH or DINNER
A quintessential St. Barths dive restaurant and bar. Low-key a spot for locals.
*JOJO Burger – LUNCH or DINNER
A no-frills burger joint, classic St. Barths! Also right next to the cemetery. My new tradition is to go there for drunk late night eats after partying at Nikki Beach.
Stalk them on Instagram: @jojoburger97133
*Orega – DINNER
An absolute must for dinner, such an intimate experience. Make a reservation! The owner's name is Greg and he is usually there. It's a French-Japanese fusion restaurant – so unique and delicious. The tuna caviar appetizer is bomb.
Stalk them on Instagram: @oregastbarth
Black Ginger – DINNER
Great if you're in the mood for Thai. Located in Gustavia.
Stalk them on Instagram: @blackgingersbh
*Bonito – DINNER
A very cool dinner scene with a DJ and good looking people. Definitely my favorite dinner spot, plus the atmosphere is stunning. Order the salmon tiradito and any cocktail (amazing mixologists!). We like going on Friday and Saturday nights, but honestly it's chic any night of the week.
Stalk them on Instagram: @bonitostbarth
Tamarin – DINNER
Fabulous French food in a stunning "secret garden."
Stalk them on Instagram: @tamarinstbarth
L'Isoleta – LUNCH or DINNER
A casual Italian/pizza place in Gustavia.
L'Isola – DINNER
Sister restaurant to L'Isoleta. A more high-end, sit down restaurant.
Stalk them on Instagram: @lisolastbarth
Kinugawa – DINNER
Traditional Japanese food meets Parisian "art de vivre" at one of the newest restaurants on the island.
Stalk them on Instagram: @kinugawasbh
La Guérite – DINNER
Serves up fresh Mediterranean-style dishes with an equally impressive cocktail menu. It's also the place to be and be seen on Wednesday nights (party from 10pm-late).
Stalk them on Instagram: @la_guerite_stbarth
Eddy's Restaurant – DINNER
Casual restaurant in the heart of the Gustavia disguised among lush greenery with an impressive wine list.
Stalk them on Instagram: @eddysghetto

Victoria – LUNCH or DINNER
Chic new indoor-outdoor restaurant located in the heart of Gustavia along the marina. Perfect for a casual breakfast or brunch duringor to watch the people stroll by at night.
Stalk them on Instagram: @victoria_stbarth
La Petite Plage – DINNER
Victoria (mentioned above) has changed ownership and is now known as La Petite Plage. It's a VIBE for dinner and gets rowdy certain nights of the week. Amazing DJ, great food, great atmosphere. The floor is covered in sand, so choose your footwear accordingly!
---
BEST BARS IN ST. BARTHS.
Photo: @shellona_bycelavi
Shellona at Shell Beach
This is more of a bar/restaurant – completely open air on the beach. Perfect for sunset cocktails. Order the "Shell Spicy Dream."
Stalk them on Instagram: @shellona_bycelavi
WTF
Rooftop bar at Le Barthelemy. Good for cocktails and a pretty beach setting.
Stalk them on Instagram: @lebarthelemy
Bagatelle
The place to be on Friday nights. Arrive at midnight for the most buzz. Unless you want the FULL experience, I wouldn't eat dinner here—just go for an after-dinner party/cocktails. You can usually walk in and don't need a reservation (as long as it's not during crazy peak season.)
Stalk them on Instagram: @bagatellesb
TIP: YOU ABSOLUTELY MUST RENT A CAR. CABS ARE FEW AND FAR BETWEEN ON THE ISLAND, AND THEY'RE INSANELY EXPENSIVE. ODDLY, ONE OF THE ONLY "BUDGET-FRIENDLY" THINGS ON ST. BARTHS IS CAR RENTALS. YOU CAN GET THEM AS LOW AS $30 A DAY, AND DRIVING AROUND THE ISLAND IS 90% OF THE FUN.
---
BEST THINGS TO DO IN ST BARTHS.
Colombier Hike
Go early in the morning before it gets too hot. It's a very private beach that you can only get to by foot or by yacht.
Grand Fond
Google "grand fond washing machine" and you'll understand. It's just a mini hike to the natural pools.
Gustavia
This is the MAIN town. Go to the Marche (supermarket) for snacks and wine if you need. Gustavia is where all of the fancy designer stores are (Louis Vuitton, Cartier, Hermès, etc.) but there are also some amazing small boutiques here. I love Poupette St Barth & Clic St Barth.
Sunset at The Christopher
Those "in the know" know that The Christopher hotel is home to the best sunset viewing spot on the island. They're easy-going about welcoming nonguests…just drive up to the property, tell them you're here for drinks, and the valet will gladly park your car for you.
---
BEST BEACHES IN ST BARTHS.
Saline
We think this is the most beautiful beach on the island. Very simple – no bars or restaurants. Just sun and sand. Bring lunch, a sun umbrella (it gets hot because there's no shade) and a bottle of wine.
Shell Beach
The most unique beach on the island. Covered in crushed shells instead of sand. Shellona (bar/restaurant) is located on this beach.
St Jean Beach
This is where the "action" is. Good for people watching. Eden Roc & Nikki Beach are both here so it can be sceney. But it's still very lowkey with lots of locals and people just hanging.
Photo: @er_stbarths
---
Sample 6-Day St Barths Itinerary:
Thursday
Afternoon: Arrive to St. Barths, and pick up your car rental.
Evening: Have a low-key dinner and drinks at your hotel.
Friday
Morning: Spend the morning hanging out at the hotel.
Afternoon: Head to Shellona on Shell Beach (gorgeous beach and beautiful restaurant mentioned above). Take a break from the beach and do some shopping in the town of Gustavia, which is walking distance from Shellona. Head back to the hotel to change for a late dinner.
Evening: Make a reservation at either Bonito or Bagatelle.
Late Evening: Bagatalle starts heating up just after midnight.
Saturday
Morning: Chill out at the hotel or take a drive to Boulangerie or Petite Colombe (two fabulous bakeries) for some croissants and coffee.
Afternoon: Have lunch at Le Toiny Beach Club or Pearl Beach.
Evening: Watch sunset at The Christopher. Late dinner at any of the restaurants mentioned above, then head to Le Ti after 12:30am (but first, talk to hotel staff and find out if it will be dead or not – it's been hit or miss lately.)
Sunday
Morning: At your leisure. Rest up. You'll need it.
Afternoon: Make a "second seating" brunch reservation at Nikki Beach. Expect to get pretty drunk, and don't make dinner reservations.
Evening: Grab a quick bite at JOJO Burger or The Hideaway for late night eats.
Monday
Morning: Drive to one of the beaches you haven't visited yet—like Saline or St Jean. If you're feeling up to the task, hike Colombier or Grand Fond.
Afternoon: Grab a quick bite to eat at any of the lunch restaurants mentioned above, before heading to the airport.
---
THE BEST TIME TO GO TO ST. BARTHS
Here's what you should know about the different times of year…
Late November – early January: HIGH SEASON. Rates for hotels and villas will be significantly higher, as will flights. Some properties require that you book 2 week minimums as you get closer to Christmas and New Years. If you're on an unlimited budget, by all means. Otherwise, pick another time to go.
Mid-January – February: Still high season, but prices will be slightly less inflated.
March – April : The St. Barths Bucket Regatta takes place in March, and two other regattas take place during April, making it a particularly desirable time to visit for yachties. Coupled with Easter vacation and spring break, expect somewhat inflated prices throughout March and April. There are, however, a few sweet spots in between the holidays and events, where you'll be able to find decent room rates.
May/June: Personally, I love going this time of year. It's still buzzy and fun, the weather is great, but the island isn't totally inundated with people. So you can walk into restaurants without a reservation, and not worry about planning anything in advance.

July/August: Because this is considered hurricane season for most of the Atlantic, rates drop significantly during the summer. However, it's entirely possible to book a trip during the summer and not experience a single drop of rain—but since there are no guarantees, you have to be OK with potentially questionable weather.
September/October: Here's when it gets a bit dicey. You're up against hurricane season, and in October, most of the hotels close down for maintenance, so your options will be fairly limited.
TIP: DOWNLOAD THE ST BARTH ULTIMATE APP. IT GIVES YOU MENUS FOR EVERY RESTAURANT, ACCESS TO RESERVATIONS AND EVERYTHING YOU NEED TO NAVIGATE ST BARTH.
---
WHAT TO PACK FOR ST. BARTHS
Believe it or not, the island is far more casual than you'd imagine. Check out my packing guide here!
---
Pin this for later: