As the largest city in Canada's Quebec province, Montreal is a bustling hub of culture, fantastic food, rich history, and so much more. Wander through the cobblestone streets of Old Montreal, and you'll feel as if you're in Europe—which is exactly why many people describe the city as the Paris of North America.
Looking for the best things to do in Montreal? This list—a combination of my own recommendations as well as tips from fellow travel experts—has your entire Montreal itinerary covered, whether you're going on a girls trip, a romantic vacation, or a getaway with the entire family.
From the city's top-rated poutine spot to a can't-miss light show at Notre-Dame Basilica, you'll want to add everything below to your itinerary.
Be sure to scroll to the bottom for brunch, lunch, and dinner recommendations, as well as the app that will get you last minute reservations in an instant.
---
THE BEST THINGS TO DO IN MONTREAL
1. Hike Up Mount Royal.
View Montreal from above with this quick 45-minute hike for an amazing vantage point of the city.
The scenic photos overlooking Montreal are at Parc Mont-Royal, a park enjoyed equally by locals and tourists alike. It's a must on any Montreal to-do list.
The actual lookout is called Belvédère Kondiaronk and is located next to the Mount Royal Chalet, a social and artwork space, which is what the lookout is most commonly associated with. You can use either name to navigate to it.
Many people enjoy the hike to the lookout. There are many trails that lead to it, allowing you to pick a route closest to your starting point.
Thankfully Google Maps displays most of the entrances to the trail. I recommend you look at Google Maps to find the pathway closest to you. Most people begin at one of the entrances near McGill University as the distances are often shorter from there.
One starting point, with minimal distance, is near the Rue Peel Steps. It's about 1/3rd of a mile, or 600m, to the lookout and should take about 15 minutes. (The route has some signs to guide you.)
The hike is quite steep and includes a lot of steps, so allow yourself plenty of time to complete it and still enjoy the view at the top. Bring water and wear comfortable shoes!
If hiking isn't your thing, you can still enjoy the Montreal views! Take bus 11 to the Remembrance/Chemin du Chalet bus stop. Then you'll walk about 10 minutes, or 750m, to the overlook.
Compared to the other routes, the route from the parking lot is paved and relatively flat. Although it's a longer distance, the actual walk is faster and more accessible than the hiking routes. Entrance to the park and lookout is free. — Getaway Girl
2. Visit the Old Port & Old Montreal.
This is a great area for exploring the history and stunning architecture of Montreal's rich past.
From the quaint cobblestone streets to the cozy restaurants and cafés, you'll definitely want to dedicate at least a half day (if not more!) to walking around Old Montreal.
3. Indulge in Poutine.
One of Quebec's signature dishes, this indulgent combination of french fries, cheese curds, and gravy rose to popularity in the 1950s and can still be seen all throughout the province to this day.
While many restaurants in the area claim to serve the city's best, you'll want to head to La Banquise or Greenspot for the best poutine in town.
4. Ride La Grande Roue de Montréal.
You can't not see the local ferris wheel when traveling somewhere new, especially when it's the tallest ferris wheel in Canada. Go at sunset for the most spectacular sweeping views of the city.
5. Explore The Biodome.
One of the best things to do in Montreal with kids, at the Biodome is a described as "an oasis of nature in the heart of the city." The sprawling space showcases replicas of four ecosystems found in the Americas, and you could tour it in its entirety in around two hours.
Inside, it houses more than 250,000 animals from approximately 220 different species (including penguins!), as well as 500 plant species.
There's also a Planetarium nearby, which is a great additional activity for kids.
6. Eat your heart out at Time Out Market Montreal.
Located in the Underground City (more on that below) Time Out Market is a 40,000-square-foot food hall featuring cuisines from Montreal's top restaurants and chefs.
With 16 different food concepts, you'll want to grab a bite from multiple places, so be sure to come hungry.
7. Attend Aura Lightshow at Notre-Dame Basilica.
One of the most visited monuments in North America, this impressive church offers a unique light show for you to experience.
The Notre-Dame Basilica is located in Old Montreal's Place d'Armes square. The Basilica is renowned for its 4 keyboard, 7000 pipe organ, concerts, and Aura. Aura is a light show created by Moment Factory set to music composed by the Montreal Symphony.
Upon arrival, you are given 20 minutes to explore the interior of the Basilica. The interior is very different from the 19th Century Gothic Revival exterior. You will find a deep blue vaulted ceiling covered with gold stars, an altar of carved wood lined with gold and an interior décor of purples, blues, reds, silver, and gold.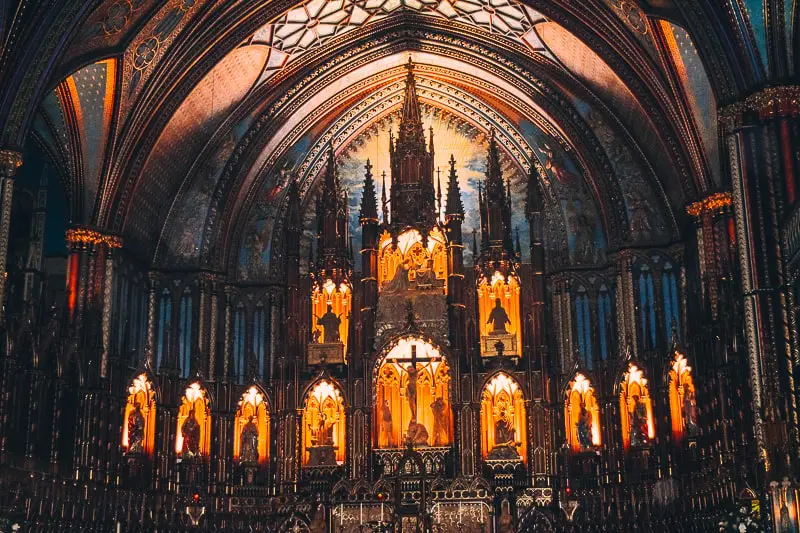 When asked to take a seat, ensure you snag a spot that has a good view of the altar.
The show begins with a "changing of the seasons." Trees sway, snow falls, and then the rain begins. The rain increases, thunder roars, and lightning flashes. Floodwaters rise up the walls onto the stain glass windows, and then… all is calm.
Photos are not allowed during the light show. Tickets are $28—and you'll want to buy them in advance, since the show often sells out.
Montreal is described as The City of Lights and has many public art installations and light shows. Aura is undoubtedly one of its best. — Out of Office
8. Visit the iconic Schwartz's Deli.
You can't miss a visit to this iconic deli; order their signature smoked meat sandwich served on rye bread with yellow mustard.
9. Marché Atwater.
Get picnic supplies at this market and take them to Mount Royal.
10. Marché Jean Talon.
This is an incredible open farmers market in Montreal's Little Italy district you shouldn't miss.
11. Pay a visit to The Satosphere.
Explore new sensory territories in the Satosphere, a dome forming a 360-degree spherical projection screen for a unique audio-visual experience.
12. Stroll St Catherine.
If you're on the hunt for a bit of shopping in Montreal, head straight to St. Catherine, which some consider the "little sister" of Paris's Les Champs Elysées. St. Laurent is another can't-miss spot for great cafes, bars, and boutiques.
Finding the perfect pair of denim can be frustrating as hell. Enter Jeans Jeans Jeans. All the denim you can imagine and great service make shopping here a breeze.
14. Dig in to the best salad on earth at Mandy's.
Have a salad at the most Instagrammable healthy food spot in Montreal. This was by far the most recommended places to eat amongst my readers, and it did not disappoint. There are 8 locations throughout the city.
15. Become one with nature at the Montreal Botanical Garden.
The botanical garden of Montreal is one of the most beautiful gardens in North America. Located in Hochelaga, right next to the Olympic Park, the Jardin Botanique is definitely a must-see in Montreal. It is spread on 75 hectares and home to more than 22,000 plants.
With over 20 thematic gardens to explore, you'll need at least half a day to discover this amazing place. Don't miss the three main gardens: the Chinese , Japanese, and First Nations garden. In summer, the botanical garden bursts with life.
Indeed, there are many activities, exhibitions and concerts organized at this time of the year, which make the place even more enjoyable.
The Botanical Garden of Montreal is open every day from 9am to 6pm in summer. The price of a ticket is $20.50 per adult, and $16 if you're a resident of Quebec. If you plan to do several activities in the area, you can buy a combo tickets for both the botanical garden and the Planetarium for $35.50.
If you are looking for a beautiful place to spend a sunny afternoon in Montreal, I definitely recommend visiting the botanical garden. I promise, it will be the highlight of your trip. — Crafty Explorer
16. Unwind at Bota Bota Spa.
Enjoy nordic water treatments on an old boat in the middle of the city.
17. Grab two of the top bagels Montreal has to offer.
Have a bagel at one of the top two competing bagel spots in Montreal: St Viareur Bagel Shop and Fairmount.
18. Stay warm in the Underground City.
There are plenty of things to do in Montreal in winter, so don't let the cold weather stop you from booking a trip in December, January, or February. The Underground City, for instance, is virtually designed to keep visitors entertained indoors.
Down beneath the streets of Montreal, you'll find a network that spans 20 miles, and includes shopping plazas, restaurants, nightclubs, bars, cinemas, a library, and plenty of markets—like the famed Time Out Market, which you shouldn't miss.
The best place to start is at Complexe Desjardins, as it's centrally located and close walking distance from many of Montreal's hotels.
---
BEST PLACES FOR BREAKFAST & BRUNCH IN MONTREAL
Olive et Gourmando: arguably the best breakfast in Montreal.
Le Cartet
Beauty's Luncheonette
L'Avenue: worth the long lines!
Arthur's Nosh Bar
Cafe Olympico: attached to The William Grey Hotel.
Foie Gwa
Ritz Cartlon Palm Court: one of the best things to do in downtown Montreal. Go for tea!
---
BEST PLACES FOR DINNER IN MONTREAL
Le Bremner
Barroso Restaurant
Moishes Steakhouse
Ferreira Cafe
Grade Manger
La Banquis
Liverpool House
Gibby's Steakhouse
L'Express
Au Pied de Cochon: a temple to all things meat.
Les Enfants Terrible at Place Villa Marie: highest restaurant in city with gorgeous views.
Da Emma: the best Italian food.
Toque: high-end farm-to-table tasting menus and robust wine list.
Lemma
The Little Plateau: BYOB.
---
Pro Tip: Use the DINR APP to make day-of reservations at the trendy hotspots.
---
BEST PLACES FOR DRINKS IN MONTREAL
Looking to experience a slice of Montreal nightlife? These bars, pubs, microbreweries, and speakeasies should do the trick.
Microbreweries: Dieu du Ciel, Benelux
Philemon
Le Vin Papillion: great wine bar.
Bar Le Mal Nécessaire: tiki-style cocktails.
La Distillerie: HUGE mason jar cocktails.
Bar Furco
Dominion Square Tavern: located in downtown Montreal; get the Gin Fizz.
Coldroom Speakeasy
---
Pin this post for later: