A few days ago I got back from an absolutely incredible trip to Vail, and as promised, I wanted to share my itinerary with you.
Whether you're an avid skier, a beginner on the slopes, or planning your trip during the summer (sans snow!) there are so many amazing things to do in Vail.
Below, you'll find a detailed day-by-day itinerary of everything I did on my recent trip, including the best restaurants, an unbelievable spa, several hotel recommendations, and plenty of tips about how to get the most out of your Vail experience (while also saving money along the way.)
Things to Do in Vail + Sample Itinerary
DAY 1
Morning: Arrive in Denver.
Note: Denver is about a 2 hour drive from Vail, but there are significantly more direct flight options depending on where you're flying in from. Alternatively, you could fly into Eagle Country Regional—EGE—which is 30-40 minutes from town. For us, it would have required a connecting flight, so we stuck with DEN.
I would highly recommend Epic Mountain Express, which is a shuttle service that offers both private rides and group transfers. We opted for the private ride and had an amazing experience both there and on the way back.
The drivers were incredibly professional, the cars were luxury SUVs, and the whole thing felt seamless from beginning to end.
Afternoon: Check in to hotel.
We stayed at The Arrabelle at Vail Square, A RockResort and absolutely LOVED it. The vibe was super luxurious but cozy and approachable, and the service felt really personalized and five-star.
Plus, the hotel's greatest selling point is arguably its location. The Arrabelle is in the heart of Lionshead Village at the base of the Eagle Bahn Gondola, so you can literally be skiing within minutes of leaving your hotel room.
Also… they have the most insane rooftop hot tubs and pool!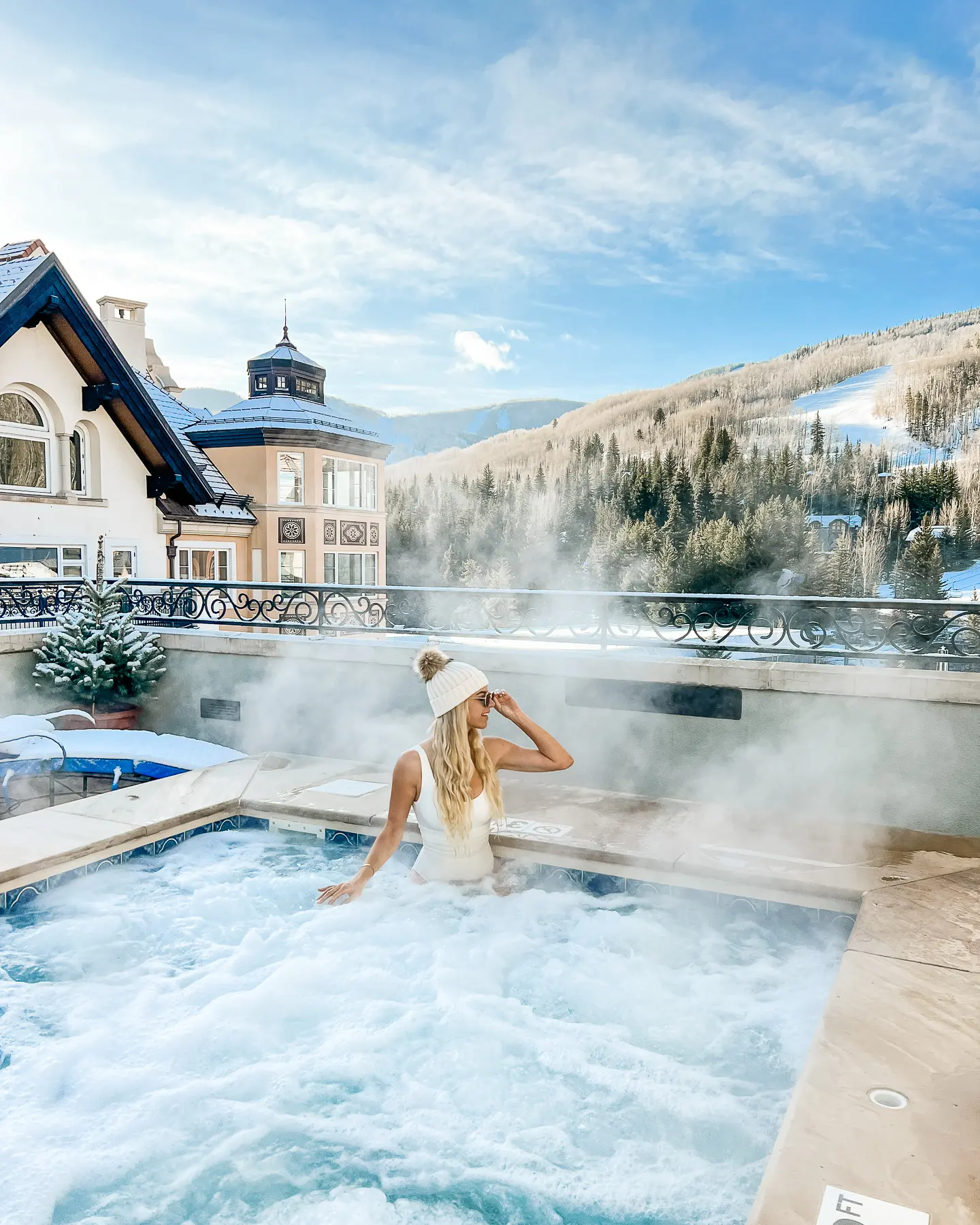 Lunch at Tavern on the Square, onsite at The Arrabelle
Quintessential après-ski vibes with both indoor and outdoor seating, right at the base of the mountain. Everything we ate was delicious. (We ordered the burger and the grilled cheese + tomato soup!)
3pm: Get fit for rentals (if you're renting skis/snowboards)
We rented everything (skis, boots, helmets, poles) from Epic Mountain Rentals, and since they have a location at the hotel, it could not have been more convenient.
Once we were fitted, they tagged our items with our names, held everything overnight, and then had it waiting for us at the gondola "valet" the next morning, so we didn't have to worry about lugging anything around. So insanely easy and seamless.
PRO TIP: If there's ONE piece of advice you take away from reading this article, it's to BUY AN EPIC PASS before your trip, rather than single-day lift tickets. Epic Pass is an annual ski pass that comes with unlimited access (yes, even on holidays) to 40 resorts around the world, including Vail, Breck, Park City, Whistler Blackcomb and more. If you plan to ski for more than two days—or if you want to visit other ski resorts throughout the year—the pass pays for itself and then some. There are also a ton of other perks: if you're an Epic Pass holder, you automatically get 20% off on-mountain food, lodging, group lessons, and rentals, as well as discounted tickets for friends and family. And in the summer, there are offerings like free gondola rides, discounts on bike rentals, and golf depending on the location. (If you buy now for 2022/2023, it's currently the lowest price of the season.)
Pick up your lift tickets (or get yours in advance via Epic Pass)
EDITOR'S NOTE: If you're already onboard the Epic Pass train… you're in luck. Passholders will get exclusive early access to the Summer Escape Sale beginning May 19, plus an additional 20% off the already discounted rates, for more than 30% savings at Vail Resorts owned and operated properties in North America.
NOTE: Memorial Day is the last chance to get the lowest price on a 2022/23 Epic Pass and (secure two Buddy Tickets.)
Spa Treatment at RockResorts Spa at The Arrabelle
I'm very into spa experiences (so much so that I even made a candle inspired by spas!) and when I tell you that the massage I had at The Arrabelle ranks in my top 3 best massages of all time… I'm not kidding. Make an appointment (even if you're not staying here) and ask for Samantha!
Happy Hour: Cocktails at Fall Line
Super chic spot that we went to for drinks before dinner. Located in Vail Village.
When I asked people to share their absolute "must-dos" in Vail, a meal at Sweet Basil was top on everyone's list. I'm so glad that we made a point to have dinner here. The food was incredible and we loved the cool, buzzy atmosphere.
PRO TIP: Another thing I'm SO glad that we did was rent our ski clothes from Kit Lender, which has a partnership with Vail Resorts. It's almost like a "Rent the Runway" but specifically for ski/snowboarding attire. You pick out your outfit(s) online before your trip, and they'll ship it directly to your hotel, along with a return label so you can send it right back when you're finished. A full "kit" (aka jacket, pants, gloves/mittens and goggles) starts at $30/day for adults and $16/day for kids—which is less than you'd spend checking a bag of your bulky stuff. Insanely reasonable considering the time and hassle it saves you.
---
DAY 2
We ate at the hotel each morning because it was the most convenient (and the breakfast spread they had was amazing), but there are plenty of nearby options if you choose to venture out.
9:00am: Hit the Slopes (Optional: ski school or private lesson)
As an intermediate level skier, I always feel more comfortable taking a "refresher" lesson or skiing with a guide, especially on my first day when I'm navigating a new place.
Matt and I did a half day private lesson and it was the best decision ever. Our guide was insanely knowledgable and not only gave me tips to help me feel more confident, but he also took us on runs that were perfect for our ability level and showed us secret areas that we never would have discovered otherwise.
If you're able to request, I would highly recommend our guide Nick Alexander—he's been a Vail ski instructor for 20+ years and knows the area like the back of his hand.
PRO TIP: If you're skiing with a guide or taking a ski school lesson, you're able to use a dedicated lift lane, which helps to get you the most possible time on the mountain.
Afternoon: The Lounge at The 10th (if you prefer to stay on-mountain) or Explore Vail Village (if you're done skiing for the day)
Unfortunately The 10th was closed for the season when we were there (in mid-April) but it was a top recommendation that we'll definitely plan to do next time.
Instead, we headed to Vail Village to shop and walk around, and we had an awesome lunch at Mountain Standard.
Happy Hour: Drinks at Root & Flower
This cute little wine bar is tucked away down a side street in Vail Village. We went for a drink before dinner.
I will never miss an opportunity to have dinner at one of Chef Nobu's restaurants. Matsuhisa was just as incredible as expected, and the atmosphere was really different from all of the other restaurants we ate at during our trip—much more large-scale and expansive, like something you'd expect to find in a big city.
Order the spicy tuna crispy rice, the sunomono salad, the black cod, and the rock shrimp.
---
DAY 3
Afternoon: Lunch at El Segundo
Something I learned on this trip is that tacos and a spicy margarita taste SO MUCH BETTER after a day of skiing. El Segundo, which is a tequila bar and taqueria in Vail village, truly hit the spot.
Late Afternoon: Spa Treatment at The Hythe, Well & Being Spa
Matt and I got a couples massage at the Well & Being Spa at The Hythe (which is located within walking distance of The Arrabelle) and it was an absolutely amazing experience. The treatment itself was great, and we enjoyed all of the post-treatment bells and whistles just as much.
They have a Salt Therapy Lounge as well as a "recovery" lounge, which is equipped with Theraguns, heating pads, and other post-ski recovery items.
Happy Hour: Revel Lounge at The Hythe
It's definitely worth sticking around for a drink at The Hythe (or staying here!) The hotel officially opened in November after a $40 million renovation and it is absolutely stunning (as evidenced by these photos!)
The upstairs bar, Revel, has fabulous cocktails in a really elevated hotel bar setting. What's also nice is that if you're a Marriott Bonvoy loyalist, the hotel is part of Marriott's Luxury Collection.
Dinner: Montauk Seafood Grill
A classic surf 'n turf seafood restaurant that feels like fine dining in a cozy, approachable setting. The perfect place to go if you're in the mood for a martini, oysters, and a vast raw bar menu (among other things!)
---
Things to Do in Vail During the Summer
I thought I would include a few ideas for things to do in Vail during the summer as well, since it's an amazing destination year-round—even if you don't go for the ski season. The summer opening dates and activities run from June 17 to October 2.
Outdoors-enthusiasts will find endless opportunities to do things like scenic gondola rides, gondola-accessed hiking, biking, and fishing. There are also a ton of outdoor concerts scheduled throughout the summer (you can check out the lineup here)… and of course, all of the dining and spa options I mentioned above would make for great things to do during the summer in Vail.
EDITOR'S NOTE: Vail Resorts recently announced its biggest hospitality sale of the summer season, where you'll be able to save 15% on at hotels, condos, and chalets across its portfolio—including The Arrabelle, where I stayed (it was incredible) plus other properties like The Lodge at Vail,  A RockResort, centrally located in Vail Village; and The Hythe, a Luxury Collection Resort, both located in the heart of Lionshead Village.
The Summer Escape Sale rates will be available from Tuesday, May 24 through Tuesday, May 31.
That's a wrap on my Vail trip! I know this itinerary didn't cover everything, so if you have other recommendations beyond what's listed here… drop them in the comments below!
Thank you to Vail Mountain and Epic Pass for partnering with me on this trip! As always, all opinions are my own!