Choosing the right concealer is all about understanding what your specific needs are, and addressing them appropriately—it's not a "one size fits all" situation! Different circumstances call for different levels of coverage, brightness, and staying power. If you're not quite sure what it is you need, here's a little breakdown of the best under eye concealers for every issue. (Not quite sure if it's time to replace your current concealer? I have a blog post on how to tell if your makeup products are expired.)
---
BEST SPLURGE-WORTHY CONCEALER:
While Clé de Peau's concealer is no doubt the priciest on the list, I genuinely believe it's worth every penny. The product is so pigmented that you could literally swipe it once under each eye and be left with extra concealer to spare. Also: it lasts FOREVER. (Although you shouldn't keep any concealer for more than a year.)
An added bonus is the fact that it has SPF25 and can pretty much cover up anything—whether it be dark circles, a blemish, or even a bruise. Don't take my word for it though—just check out the insane five-star reviews.
---
BEST OVERALL CONCEALER:
For me, Shape Tape is the gold standard. (In fact, I should probably add it to my "Hero Beauty Products" list.) It's the concealer I keep coming back to no matter how many other ones I try. The consistency is fairly heavy duty, so if you're looking for something light-weight or sheer, this wouldn't be the best option for you. But there's a reason why every single beauty blogger and YouTuber considers it their holy grail. Bonus: it comes in 30 shades. I prefer a brighter undereye, so I use the shade "light neutral."
---
BEST LONG-LASTING CONCEALER: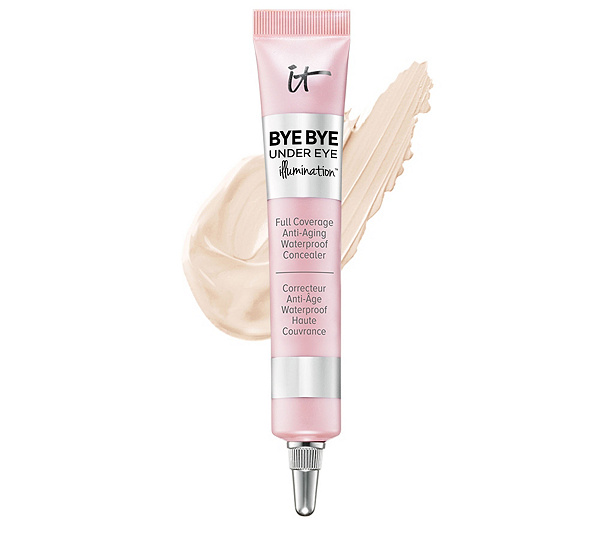 This is a new favorite of mine. I used it all summer while I was traveling/sweating my ass off in Greece, and it SERIOUSLY does not budge. Even in 95 degree humidity. Plus, it gives you crazy brightness. This is a great option for those who are looking for added brightness, and want a concealer that lasts all day.
---
BEST HEAVY DUTY + BLEMISH COVERAGE CONCEALER:
I'm obsessed with the silky texture of this product. It's almost comparable to a thick paste, which sounds frightening, but it's actually AWESOME if you need to cover a blemish or a serious under eye situation. (Also, FYI: it's pronounced "OH-KWAN" – not "AH-COIN" like how it's spelled.) What I also love about it is that the tiny tub will last you FOREVER because the smallest bit goes a long way. I probably got mine 6 years ago and I'm still not even halfway done with it. I'm guessing this is terrible from a hygiene perspective, but alas…
---
BEST FOR LIGHT BUT EFFECTIVE COVERAGE:
This baby has been a favorite among makeup artists for years. I love its tiny paintbrush applicator, and the fact that you can actually layer it on top of other concealers for extra brightness. It's lightweight, but still makes a notable difference. Also, if you're super into nose contouring (I'm kind of obsessed) this stuff is ideal. The brush is the perfect shape for drawing that thin line down the bridge of your nose to give you an amazing contoured shape.
---
BEST CONCEALER FOR DARK CIRCLES:
I find this one to be almost identical to Shape Tape. It has a similar texture and coverage. The only difference is that All Nighter has a thinner, more traditional concealer wand (better for precision) and Shape Tape has a thicker one (for more coverage), so if you're deciding between the two, I'd choose based on which wand style you prefer.
What are your fave concealers? Let me know in the comments below!
PIN THIS FOR LATER: