Summer might be right around the corner, but in my opinion, sneakers are quickly becoming the new sandal. Honestly, sneakers are a must-have wardrobe staple that work for any occasion, outfit, or outing. You can wear them with just about anything — and they're insanely comfortable if you find the right pair.
If you need some convincing that sneakers are the OG wardrobe staple, consider the fact that a more elevated white sneaker pairs perfectly with a summer dress while athletic kicks look great with an athleisure set (the ideal travel outfit!)
In addition to their versatility, sneakers are a great comfort option when you're walking for extended periods of time. Sneakers provide more arch support than a sandal or heel, and when needed, they can help keep your feet dry.
Depending on where you like to travel or what type of activities you enjoy, you might need to invest in some sneakers that can hold up in a variety of terrains. No matter where your travels take you, it's smart to be prepared for any weather. Maybe you're heading to a costal city where summer showers can come out of nowhere, or you're jetting off somewhere tropical where hiking and waterfalls are on the agenda. Nothing is worse than stepping in a puddle and having soaking wet shoes for the rest of the day.
These 10 waterproof sneakers should help you avoid a soggy shoe situation. From 100% waterproof to water repellent, these picks range from platform to performance and will ensure you are comfortable (and dry) no matter where you go.

10 Best Waterproof Sneakers For Women
1. Sorel Out N About III Low Sneaker
Who knew waterproof shoes could be so cute?
These shoes remind me of the old-school, chunky 90's sneakers (but a much more fashionable version). The mixed fabrics, like the mesh upper combined with suede and webbing overlays, gives this classic kick so much character.
2. Allbirds Women's Trail Runner SWT
If you're looking to invest in multiple pairs of waterproof sneakers, add these to your list. It's important to note that these are water resistant — not waterproof.
If you think you might encounter only a little bit of water, these are a great option to have in your closet. Not only are they weather-resistant, but they're also tear resistant.
3. Vessi Weekend Sneaker
You might want to keep your feet dry, but you likely don't want your sneakers to feel like a sauna for your feet either.
Vessi is all about water technology when it comes to their sneakers. The same technology and fabrication that keeps the unwanted water out allows the heat and sweat to escape for all-day wear (minus the sweaty repercussions).
4. Cougar Sayah Waterproof Sneaker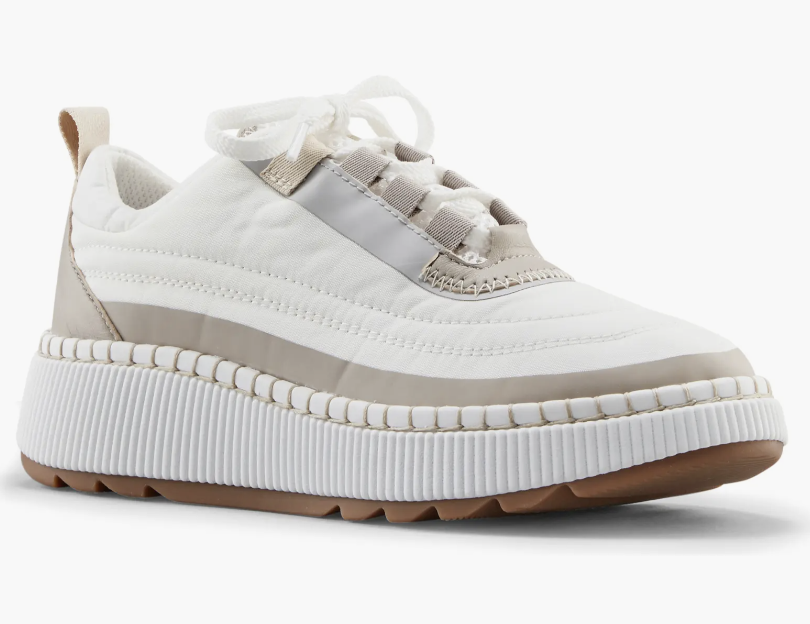 Platforms, please! Make a statement in these waterproof platform sneakers all year long. Paired with wide-leg jeans or your favorite leggings, these shoes are sure to make you feel put together.
The combination of suede and nylon gives this chunky sneaker a lot of character. Plus, if you're looking to add in some color, there are four other variants that bring in a subtle pop.
5. HOKA Clifton 9 Running Shoe
Running around all summer calls for a classic athletic shoe to add to your repertoire. Whether you're running around with kids, running errands, or running to catch the train, HOKA created a shoe to get you there with dry and comfortable feet.
These running shoes honestly look so chic and they've become super popular in recent years. The cushioned heel gives these shoes a platform look, which is also very trendy right now.
Even though they look like they're on the chunkier side, they're extremely lightweight and feature a foam design that will leave you with long-lasting comfort.
6. ON Cloudvista Waterproof Trail Running Shoe
If a high-quality waterproof shoe is what you're looking for, you simply can't go wrong with these ON Cloudvista sneakers.
Trail shoes can help you tackle any terrain coming your way, whether you're casually cruising the cobblestone streets of Charleston or you're looking for extra grip to scale a hiking path.
Oh, and did I mention comfort?! The CloudTec sole really makes it feel like you are walking on cloud 9!
7. Columbia Summertide Water Shoe
Sustainable sneakers that double as a waterproof walking shoe? That's the best of both worlds.
Stylish, sustainable, and synthetic materials make these shoes comfortable enough for a variety of activities, including walking and light hiking.
Although these aren't as durable as a traditional hiking boot with the mesh "bootie" construction, they're a great option for more rigorous summer adventures.
8. Reef Water Coast Shoe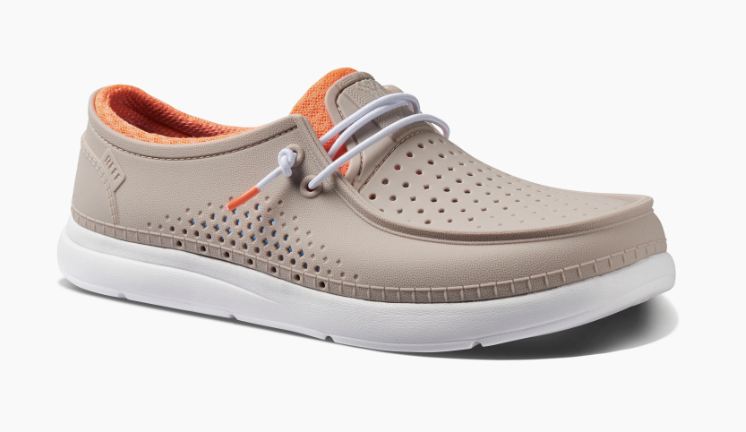 No boating trip is complete without a pair of water shoes. With a classic boat shoe look, these shoes will keep your feet feeling fresh because they're designed with breathable, perforated sections.
In five different color options, these classic water shoes will keep you looking and feeling great from boat rides to beach walks.
9. ECCO Soft 7 Water Resistant Slip-On Sneaker
If you're on the hunt for leather shoes that can handle some light sprinkling, look no further! Keep in mind that these are a weather resistant sneaker option rather than 100% waterproof.
These shoes have a removable cushioned insole (which is great for additional arch support) and they're ultra-lightweight. What more could you ask for in a slip-on sneaker?
10. Sea Star Beachwear Espadrille Water Shoe
From the beach to the boardwalk, these neoprene slip-ons offer a fun twist on classic espadrilles. They'd be perfect to pack for a summer vacation or to wear with denim shorts.
The rubber sole and synthetic textiles make these a breeze to clean. One thing to note is that these aren't available in half sizes, so be sure to size up for the best fit.