When Matt and I bought our apartment last year, the thing I was most excited about—more than anything else—was having an office. (Matt, on the other hand, was most excited about the in-unit washer/dryer…a true NYC luxury.)
Our old apartment on the Lower East Side was a one-bedroom, so when I left my corporate job and found myself working from home, things got tricky.
I resorted to using our dining room table as my "office" and constantly dreamed about what it would be like to have a work space that I could call my own.
Suffice to say, once we moved into our current apartment, I couldn't WAIT to get started on the office design.
The Inspo: Beverly Hills Hotel-meets-Brooklyn
Must-Haves: Two-person desk; pull-out couch for guests; lots of storage
Biggest Challenge: Finding a pull-out couch that fit my design aesthetic and also fit the dimensions of our space was a near impossible task. More details on what we ended up with below!
Favorite Element: The wallpaper & gold cabinets
Best Advice: Hire an interior designer! It actually ended up saving us money in the long run for various reasons. (If you're on a tight budget, our designer Megan Hopp offers one-hour virtual consults too.)
From the very beginning, I knew that I wanted it to be a little…funky. I've always been inspired by the aesthetic of places like Palm Springs and The Beverly Hills Hotel, so I figured: why not turn my office into a palm-printed paradise?
To help bring the vision to life, I decided to hire an interior designer—the incredible Megan Hopp, who I found on Instagram! It was by far the best decision I made throughout the entire process.
Megan not only elevated my ideas, but she also came up with so many things that I would have never even considered. (I mean…we LACQUERED the walls—I didn't even know that was a thing.)
The office isn't exactly a huge space, but she helped figure out how we could make the most of it.
I'm so excited to share the final result with you. The full tour of our home office space is below! Be sure to check out Megan's tips throughout, and links to every single item featured in the space.
The Workspace:
Two-Person Desk & White Leather Office Chairs
One unique challenge of the design for the space was that we needed a desk to fit two people comfortably.
It made most sense for us to sit side-by-side along one wall, but most desks that are designed for two people were way too big for the space we had.
DESIGNER TIP: Think outside the box when it comes to work spaces. Can't find a desk that suits your needs? When browsing furniture sites, consider looking at "tables" and not just desks. A table paired with a chic filing cabinet makes for the perfect work space.
We looked into individual desks, but they all started to feel too cumbersome (and looked weird pushed next to one another.)
This is where Megan's expertise came in. She recommended this custom "Parsons table by the inch" from Room&Board, which you can order to your exact measurements, in a ton of different materials and colors.
Of course, when I heard "custom" I immediately thought "expensive," but to my surprise, the desk ended up being less than buying two individual desks—and still looks really really high end.
We went with a marbled white quartz top and black legs. I noticed that with some of the Parsons styles you can even add a USB and power outlets to the legs! (I think the legs we chose were too thin to accommodate, but it's an awesome option.)
I love how the desk turned out, and the overall experience with Room&Board was fantastic.
In terms of desk chairs: we wanted something chic but comfortable, so went with these white SOHO leather padded chairs. They're an affordable dupe of the (much more expensive) Eames designer version.
The office chairs are SO comfortable (I sit in them for 8+ hours a day) and I've recommended them to a ton of my followers.
---
The Wallpaper:
Palm Print Inspired by the Beverly Hills Hotel
One of the first decisions we made was about the wallpaper.
I knew I loved the palm print, but if I'm being honest, I was terrified to go with such a bold wallpaper choice. Megan helped convince me that I wouldn't regret it, and she was 100% right.
DESIGNER TIP: Worried about committing to a bold wallpaper? Go with an accent wall. Wallpaper isn't a "forever decision," so if in a few years you change your mind, you can always just remove it and replace it with something else. — Megan Hopp
There are a lot of palm print wallpapers on the market, but Megan suggested this one specifically because the white panels would give us the bright look we were going for, without making the room look small and dark.
The original Beverly Hills Hotel Martinique Banana Leaf print is gorgeous, but it's VERY dark.
One question I've gotten from a lot of people is whether we installed it ourselves: we most DEFINITELY did not. Unless you're an expert, hanging wallpaper—especially non-removable wallpaper—is tricky to say the least.
DESIGNER TIP: If you're a renter, they make a removable version of this exact wallpaper!
Megan highly encouraged us to have it professionally installed, and I'm so glad she did.
---
The Closet
I have an entire post dedicated to our custom California Closets experience, so head over to that post for all the deets.
As you can see, I decided to create a beauty closet to organize all of my makeup and products. No, I don't actually use all of it—the majority of these things I end up gifting or donating.
If you're curious, I did a Q&A about the free products that bloggers receive—and what we actually do with it all.
---
The Storage:
Floating Ikea Cabinet with Gold Reform Covers
This was yet another one of Megan's cool finds. We wanted cabinets that looked gorgeous, but would still conceal all of our stuff. A lot of the shelving options we looked at were ugly, bulky, and bland.
Then Megan introduced us to this Denmark-based company called Reform. They have a service called "the Ikea Solution," where they'll make custom covers for almost any cabinet or drawer from Ikea.
It's basically a way to get fancy custom cabinetry without the insane price. They're most known for their work with kitchens—check them out on Instagram here.
---
The Couch:
Pink Velvet Tufted Sleeper Sofa
I had my heart set on a pink velvet couch from the very beginning; it was pretty much a non-negotiable for me. Bless my husband for agreeing to this, since we share the office.
Believe it or not, there are seemingly endless pink couch options on the market, but when you have limited space—and you want it to double as a sleeper—those options become almost non-existent.
I found some that I loved on Anthropologie, and this one from Urban Outfitters—but none of them worked for our small space.
I was ready to give up until a late-night Google search led me to Apt2B, a company that has couches and sleepers specifically designed for small spaces.
When I saw the Nora Sleeper Sofa, I knew it was the one. (You can even upgrade the built-in mattress to be memory foam, which we did.)
---
The Art:
Custom LED Neon Sign
We always wanted a neon sign, but we couldn't figure out what we wanted it to say! Eventually we settled on "Enjoy Your Stay," which was partially inspired by our hotel-esque design, and also inspired by our luxury candle brand Hotel Lobby Candle.
For a while we debated leaving the accent wall alone, but (rightfully so) Megan really felt like the wall needed *something.*
I received a ton of great neon sign recommendations but we ended up doing with NameGlo and they were fantastic!
It's a small Brooklyn-based company and they've done work for a lot of really cool brands. Highly recommend.
---
The Window Treatments:
Flat Roman Shades from the Shade Store
We worked with The Shade Store on these custom roman shades and we're SO happy how they turned out.
I would never have thought to do a white linen fabric with a black border, but I'm *obsessed* with it.
The treatment we chose is called a Flat Roman Shade with an upholstered valance, and the fabric is called Luxe Linen (in Optic White.)
---
The Walls:
High Gloss Lacquer by NYC Fine Finishes
One of the coolest, and most unique aspects of the office are the lacquered walls. Rather than keeping them plain white, we decided to have them painted in a super shiny high gloss.
They look SO COOL in person—photos don't even do them justice! The company we used is called NYC Fine Finishes, and as far as I know, they're the only people in the area that do walls like this.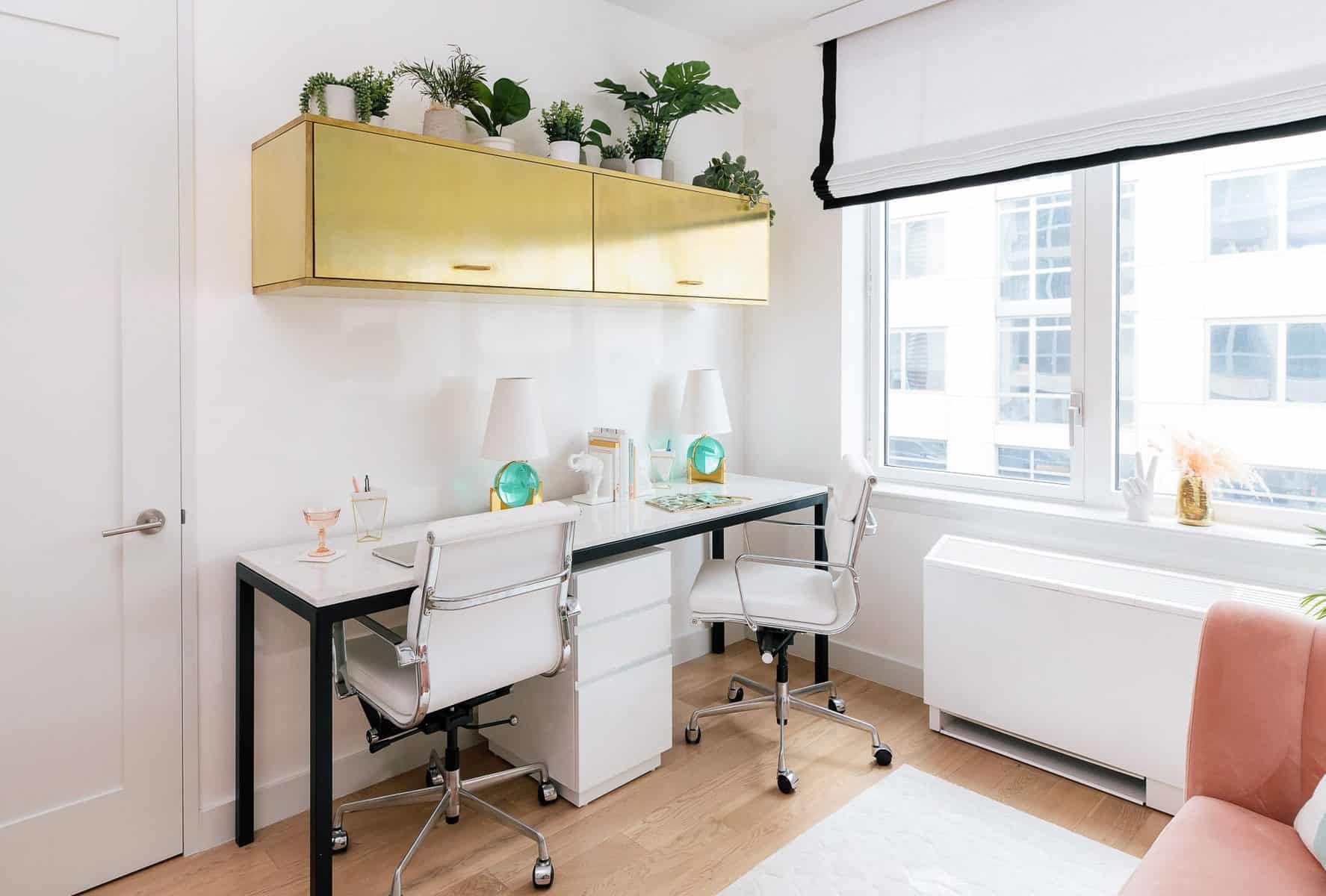 It took a VERY long time because the process involves dozens and dozens of coats of a specific type of paint (from Fine Paints of Europe), but it was totally worth it.
You can check out some more of their work here. (They've done some really incredible projects around the tri-state area, including the Four Seasons downtown.)
The Accessories:
Side Table, Pillows, Plants, & Decor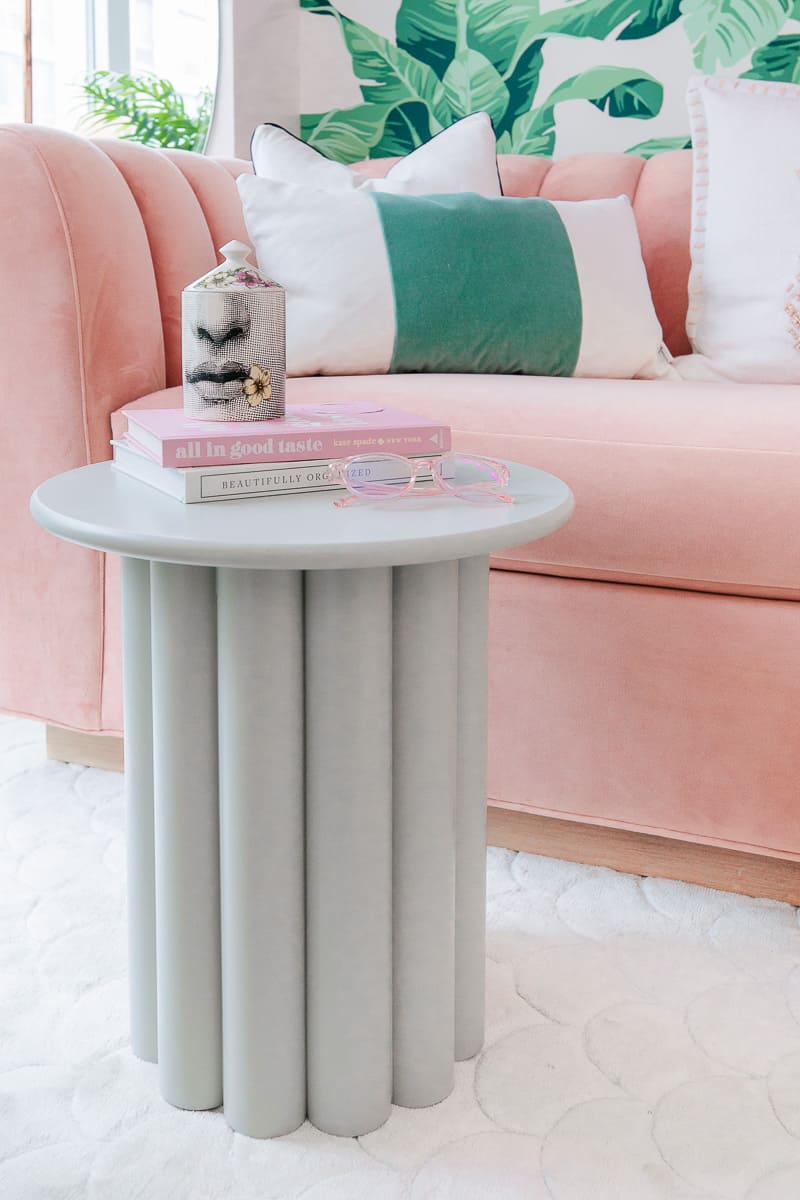 Here's Where We Purchased Every Item in the Office
The Couch:
The Pillows:
The Side Table:
The Coffee Table Books:
The Candle:
The Magazine Holder:
The Floor Lamp:
The Accent Wallpaper:
The Beverly Hills Hotel Print:
The Desk:
The Chairs:
The Desk Lamps:
The Pencil Cups:
The Plants:
The Rug:
Truthfully I wouldn't recommend this rug because it has not held up well, but I'm linking it in case you're curious.
The Finishing Touches: