When my husband and I bought our first apartment last year, one of the things we were most excited about was the fact that we had a lot more closet space than we were used to. ("A lot" being a relative term, of course, because we live in New York City.)
The only problem was that the two main closets—a small walk-in in the master bedroom, and a reach-in in the second bedroom—would definitely need some work if we wanted to maximize the space as much as possible.
When we moved in, I unloaded all of my hanging clothes, bags, and shoes into the master bedroom closet (below), and (surprise surprise!) there was virtually no room left for Matt's belongings. The closet had 2 rods and no shelving—so with all of our stuff crammed into it, it was basically a mess.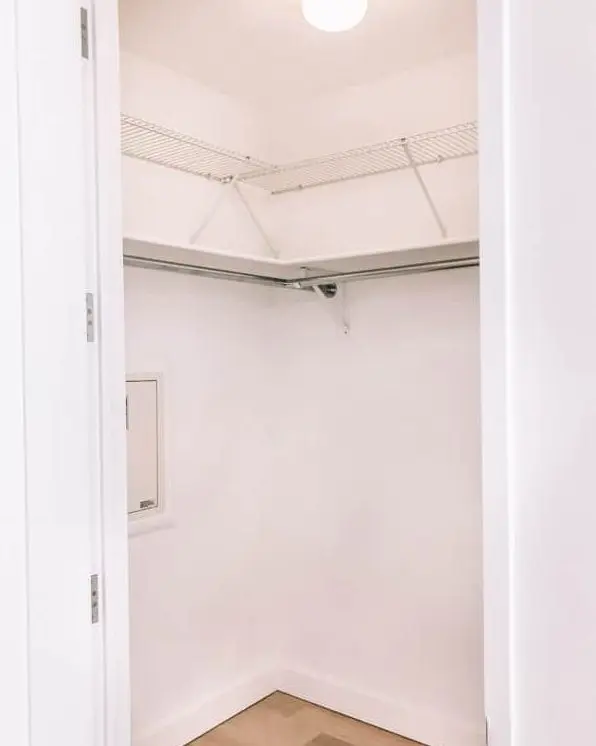 We decided to start looking into custom closet options, and to be honest, I knew nothing about them. Our previous apartment was a rental, and our version of a "custom closet" was cheap Closetmaid shelving we ordered from Amazon. (It did the trick though!)
Since we were now in a home that we owned, we were ready to invest in something that would be a higher-end, more permanent solution—something that we'd have forever and that would ultimately increase the value of our apartment down the road.
I started doing research on how much custom closets cost, how long the process takes, and what our options were for closet design companies in New York. I'd heard amazing things about California Closets, so I reached out to them for a bit more information.
Ultimately, after shopping around, we decided to go with California Closets for a number of reasons, which I'll go over in this post.
Below is a full review of my experience, as well as information on how the process works, how much California Closets cost, and whether or not I think custom closets are worth it.
---
CALIFORNIA CLOSETS REVIEW
---
How does the design consult work?
On the California Closets website, there's a form you can fill out for a free design consultation. These are offered both virtually and in-person (though I believe it depends on where you're located.)
Truthfully I assumed there was some sort of catch—like you needed to put down a deposit in order to have the in-home consultation—but I was wrong. It is actually 100% free, and they didn't pressure me or hard-sell me AT ALL, which I really appreciated.
I heard back from a design consultant rather quickly to schedule, and she gave me the rundown via email of what to expect from the consult:
The consultation will take approximately 1 hour.
After discussing the spaces, the consultant will take measurements.
Then, you will sit and design the space together in real time.
My consultant's name was Kim and she was amazing. (I'd highly recommend her if you're based in the NYC area!)
Reach-In Closet Rendering
Master Walk-In Closet Rendering
When she came over, we first sat down and talked about different finishes, hardware, bells and whistles, etc. She was super clear about how my choices would impact the overall cost of the project (more on that later.)
I walked her through each space, and told her what I had in mind. She weighed in with suggestions about what was possible, what wasn't, and what my options were in order to best maximize the space.
---
---
What is the design process like?
During my consultation, Kim took a bunch of measurements, input them into a program on her computer, and POOF—within 10 minutes, she had a 3-D mock up of what both closets would look like.
I was honestly blown away because I had NO idea that I'd be able to see potential designs that quickly. Watching the closet come to life in real time was so exciting. I literally took 100 pictures and videos of her laptop screen as she made little adjustments and modifications so I could send them to my husband who wasn't home the day of the consult.
3D Design of Reach-In Closet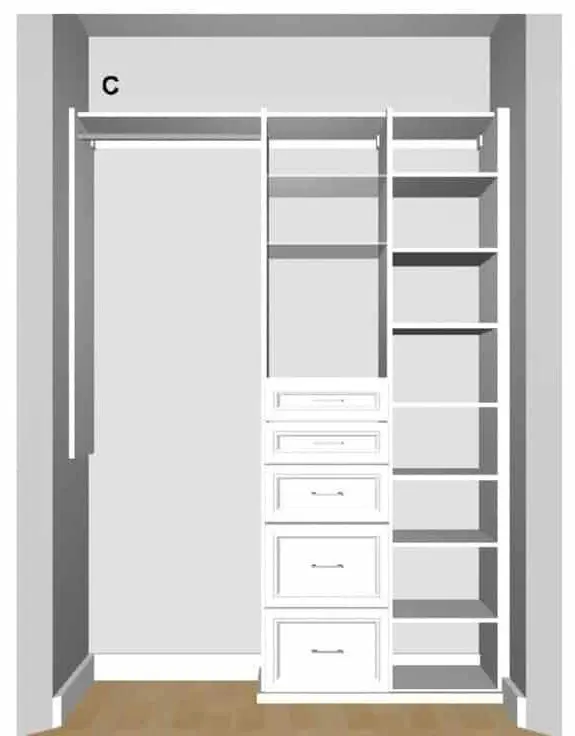 3D Design of Master Walk-In Closet

She was super thorough and meticulous about everything, which I really appreciated, and made me feel confident that I was in great hands.
After we were both happy with the designs, she started to crunch the numbers so that she could give me a ballpark price…
---
What is the average price of California Closets?
In all of my research on custom closets, I was still left wondering: how much does a typical California Closet cost? I found one article on BHG (Better Homes & Gardens) that said typical systems range from $1,500 – $5,000—but the post didn't go into any other detail, so I truly had no idea what to expect.
What I now realize is that there's really no "average" price because it varies so much—depending on your space, what product line you choose, the finishes you select, how customized you want it to be, accessories you'd like incorporated, and even where you live. There are literally hundreds of different options and combinations.
---
How much did California Closets cost me?
I'm not going to sugar-coat it: it wasn't cheap.
Even though my closets aren't huge, I was fairly specific in my "must-haves."
SECOND BEDROOM CLOSET COST:
I chose to turn the reach-in closet in our second bedroom/office into a "beauty closet," which included one hanging rod, five drawers, a combination of glass and white wood shelves, and a mirrored back-panel. We chose the same white wood material as the master, as well as chrome hardware.
Including materials and install, this closet cost $2,585.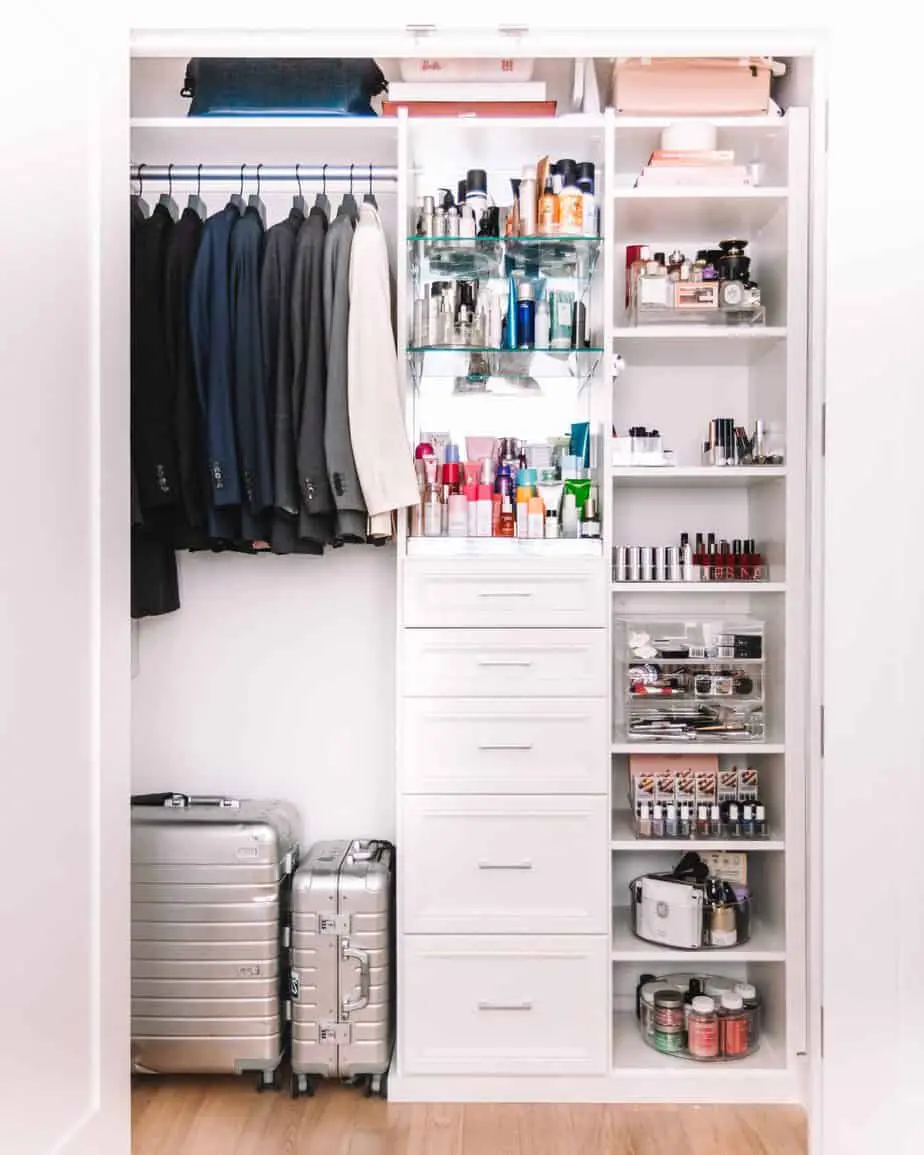 MASTER CLOSET COST:
I wanted white wood, chrome hardware, two jewelry drawers, a dozen cubbies for shoes, double rods for hanging clothes, lots of adjustable shelves for shoes and bags, and a pull-out belt/tie-rack.
Including materials and install, the closet cost $3,640.
Click to Shop:

After we got the quote, I chatted through everything with Kim and we looked for different things we could remove or downgrade to lower the cost, but ultimately there wasn't anything I wanted to give up, so we decided to keep the designs as is.
[Disclosure: California Closets offered me a discount for the collaboration that lowered the price slightly, but all in, we still ended up spending around $5,200.]
I will say that if you have a specific budget in mind, it's a good idea to mention it to your consultant ahead of time so that they're able to steer you in the right direction to help keep the price down.
---
What is the installation process like?
After we signed on the dotted line, we had to put down a 50% deposit in order to book the installation date. We were told the lead time would be 6-8 weeks. I'm not sure whether that's standard across the board, or specific to our location/dates.
The day before our install, California Closets scheduled a "rip and paint" day, where someone came in to (quite literally) rip everything out of the closet, spackle, and then paint it to prep for the install.
This service is optional (and an additional cost), as some people prefer to have it handled by their building maintenance/super. The only thing we had to do to prepare for it was empty the entire closet prior to the their arrival.
The following day, a team of two came over for the install and it was a lot faster than I expected. In total, I think they were here for 3-4 hours.
After everything was completed, my design consultant Kim called to check in and make sure we were happy—which we were!
About a month later, once we had everything back in the closets and had lived with them for a bit, we decided we wanted to add a second hanging rod to the master to help accommodate more clothes. (Initially we had nixed the idea because I thought I needed more room for long dresses.)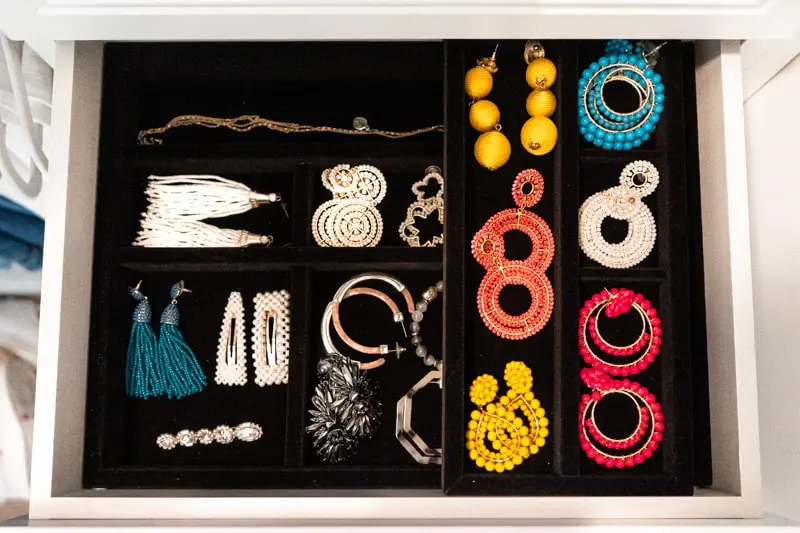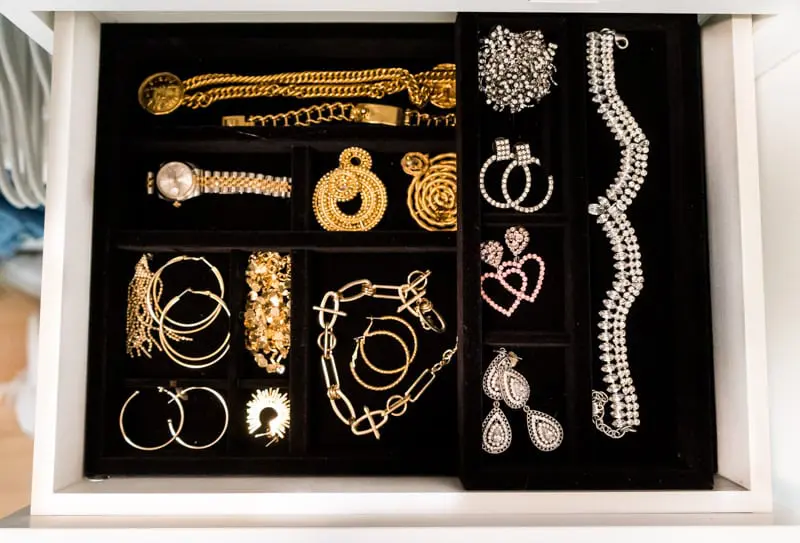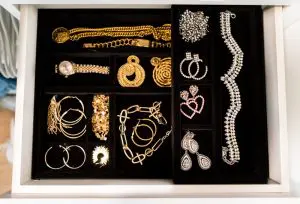 I also decided I wanted to add jewelry trays to the jewelry drawers, so the team scheduled a time to send a technician back to make the adjustments. Those add-ons were an additional $355.
---
Are custom closets worth it?
Now that everything is said and done, I definitely feel like getting custom closets was worth it. Not only are they beautiful to look at—they've also helped us to maximize our space SO much.
And I have no doubt that when we're ready to sell our home, having the custom closets will definitely help increase the value.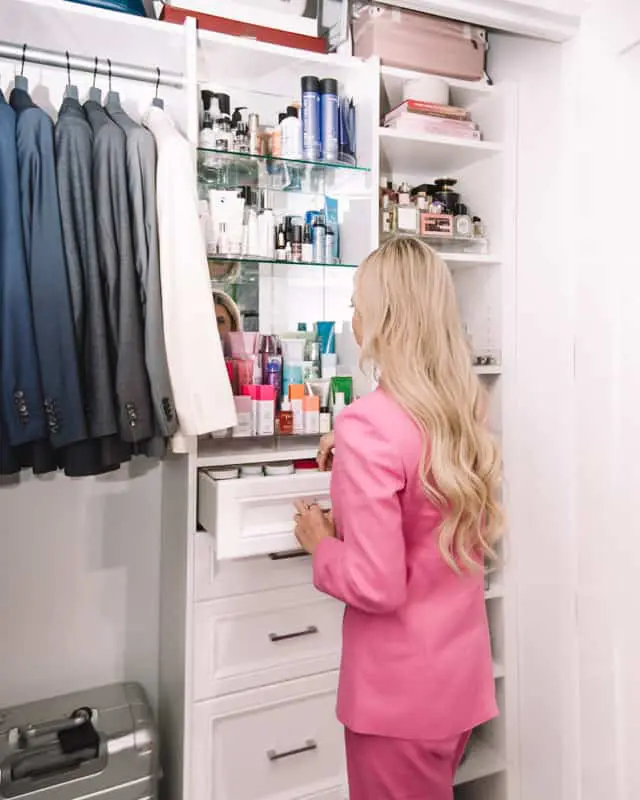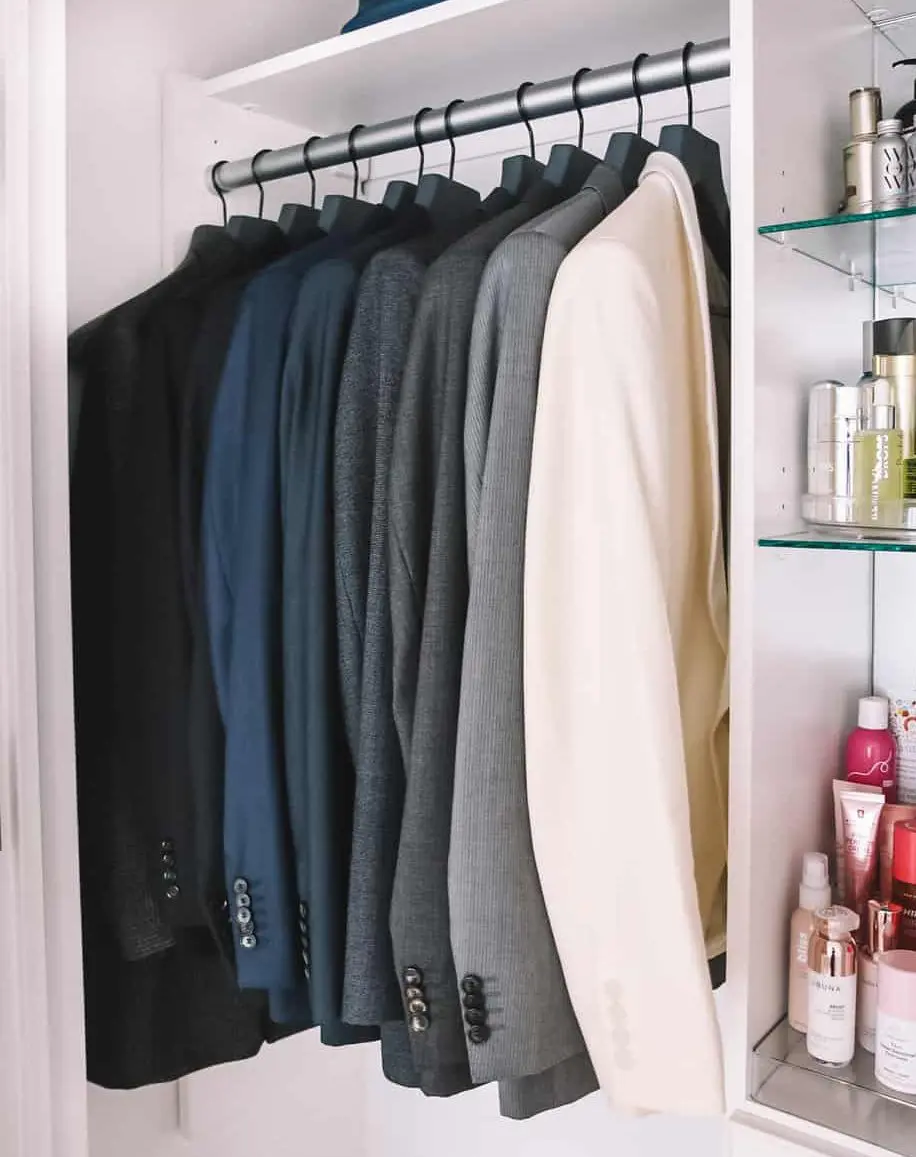 There's no denying that the closets are pricey. It was a steep jump for us, especially considering that the last closet system we had in our rental cost $100 and we installed it ourselves.
Could we have saved money by going with a cheaper option? Absolutely. But I'm a firm believer in "you get what you pay for," and in this case, I feel like we did.
---
California Closets Before and After
MASTER BEFORE

MASTER AFTER
BEAUTY CLOSET BEFORE
BEAUTY CLOSET AFTER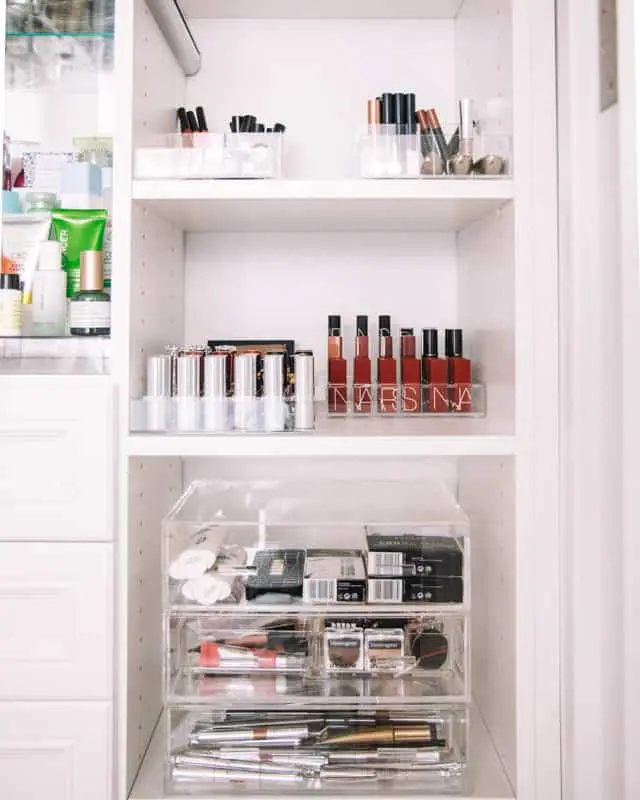 Pin this post for later: