If you've followed me for a while, you know about my love for Caudalie.
I first discovered the brand when a former colleague of mine had Caudalie's iconic Beauty Elixir on her desk at work. She would mist it on her face throughout the day to keep her skin refreshed, and I remember thinking it was the most fabulous thing ever. Eventually I tried it for myself, and have been hooked ever since. (Now, I also use it as part of my in-flight beauty regimen.)
Since I loved the Elixir so much, I figured I would also love Caudalie's other products, and—unsurprisingly—I did!
The Radiance Serum was one of the first products that appealed to me, since it specifically addresses dark spots and uneven skin tone—two of the biggest skin concerns I struggle with.
After using it as consistently as I have been, I decided it was time to do a proper Caudalie Vinoperfect Radiance Dark Spot Serum review.
Below, you'll find all the deets: what I specifically like about it, how to use it, what it's intended to treat, how much it costs, and before and after photos. Read on for the full 4-1-1!
Caudalie Vinoperfect Radiance Dark Spot Serum Review
What is it?
Caudalie's Vinoperfect Radiance Dark Spot serum is a light-weight and oil-free serum that contains ​​Viniferine, a vitamin C alternative. It's non-greasy, and surprisingly moisturizing.
The serum is gentle enough to use every day, and a great option for those with sensitive skin.
I personally have been using it in the morning in lieu of Vitamin C serum.
What Does it Do?
The Vinoperfect Radiance serum brightens dark spots, illuminates skin tone, and helps to give your complexion a healthy glow.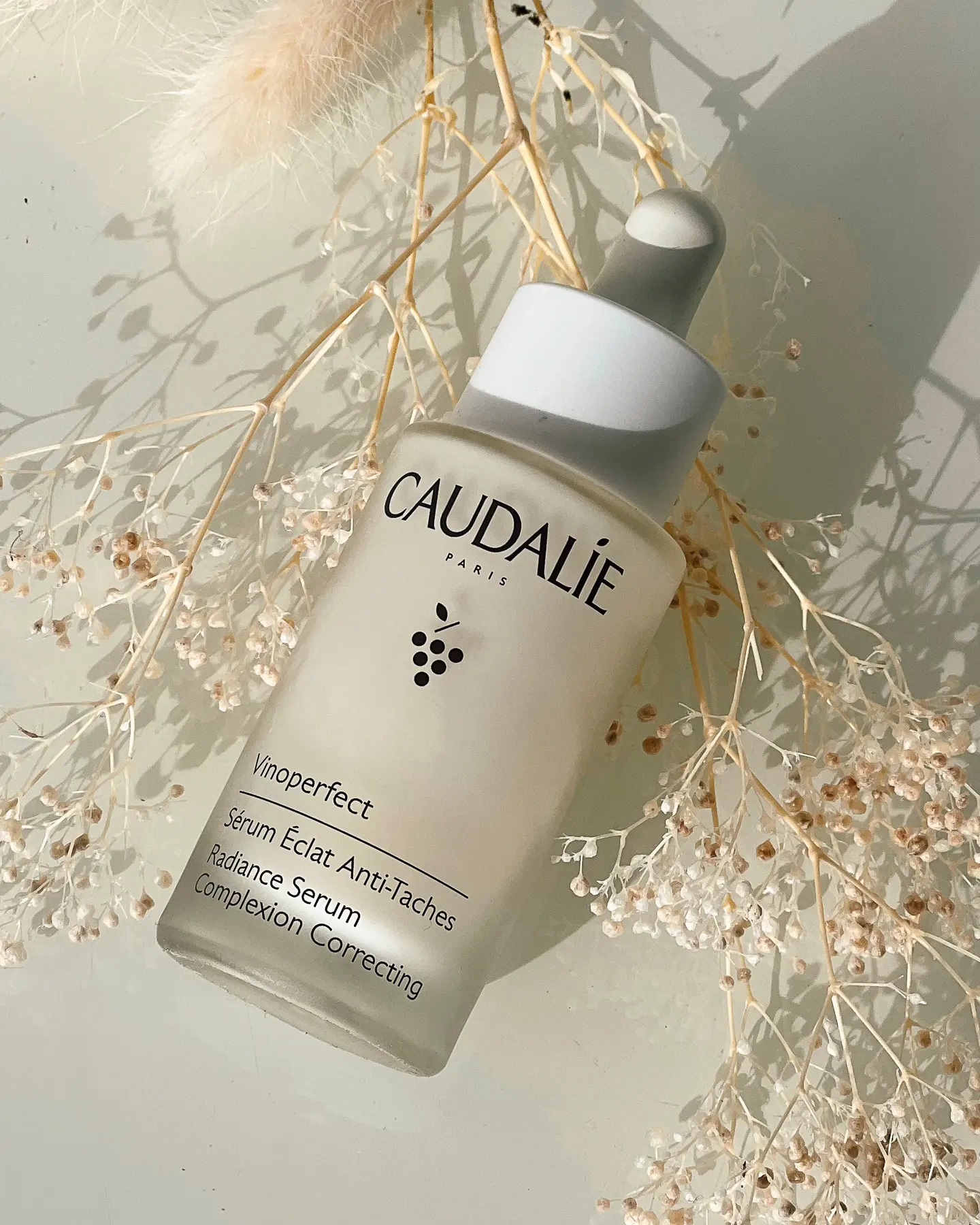 Who is it Recommended For?
Anyone with normal or combination skin who struggles with dark spots and uneven skin tone. It's also a great option for people with sensitive skin.
How Do You Use It?
The nice thing about the Vinoperfect Radiance Serum is that it's versatile enough to be used in your AM skincare routine or your PM routine. You can even use it morning and evening if you prefer.
Personally, I like to use it in the morning. Since it's so lightweight, it's perfect to layer under my moisturizer, SPF, and makeup. I also find that since it's a creamy, milky texture, it doesn't dry out my skin at all, so it's fine to use year-round—even as part of my winter skincare routine.
Sample AM Skincare Routine:
My Thoughts
As someone who is constantly testing out new serums and products, I've become very picky about what gets permanently added into my routine. The Caudalie Vinoperfect Radiance Serum is something that I continue to come back to, no matter how many new things I try (which is why it has earned a permanent spot on my Sephora Master List!)
There's a lot of things I like about it. As I mentioned before, the texture is really, really nice. It's not sticky. It's not too thick, but it's also not too watery. It doesn't dry my skin out, and it "plays well with others" (aka – I can layer it under other products and it never pills or makes my makeup look weird.)
But most importantly, I really do notice a difference in my skin when I use it. Below, you'll see a before and after photo taken at the same exact time of day, in the same exact spot, several months apart.
While it's sometimes hard for a camera to pick up every little detail, I can tell you that my skin definitely looks glowier. You'll also notice that my dark spots have faded and my skin tone is slightly more even.
It's a serum that I really do stand behind, and am confident recommending to others! Below, you'll find more details about the ingredients that make the formula so unique.
Ingredients
Patented Vine Sap Viniferine: Corrects dark spots, prevents new ones from forming, and evens out your skin tone.
Olive Squalane: My love for squalane oil runs deep. There are many benefits that come with incorporating it into your routine—for starters, it repairs your skin barrier and seals in moisture. Another perk? It's non-greasy.
Biomimetic Emulsifier: Enhances the effects of Viniferine.
Price: $79, available now at Sephora
Thank you to Sephora and Caudalie for sponsoring this post! Fun fact: Caudalie was the first major brand that offered me a partnership after I left my full-time job in 2018. They believed in me from the very beginning, and for that, I'm immensely grateful!