My obsession with Colorescience started when a friend turned me on to their brush-on powder sunscreen many years ago (which I talk more about below!)
I love a product that multi-tasks. Give me skincare, makeup, and sun protection all at once, and you'll have my loyalty forever.
As it turns out, multi-tasking is what Colorescience does best. All Colorescience products are packed with mineral sunscreen that protects skin from sun damage, free radicals, blue light, and pollution (so your skin doesn't have to pay the price for UV exposure later).
Another perk: the products are made with only 100% natural minerals, antioxidants, and botanicals.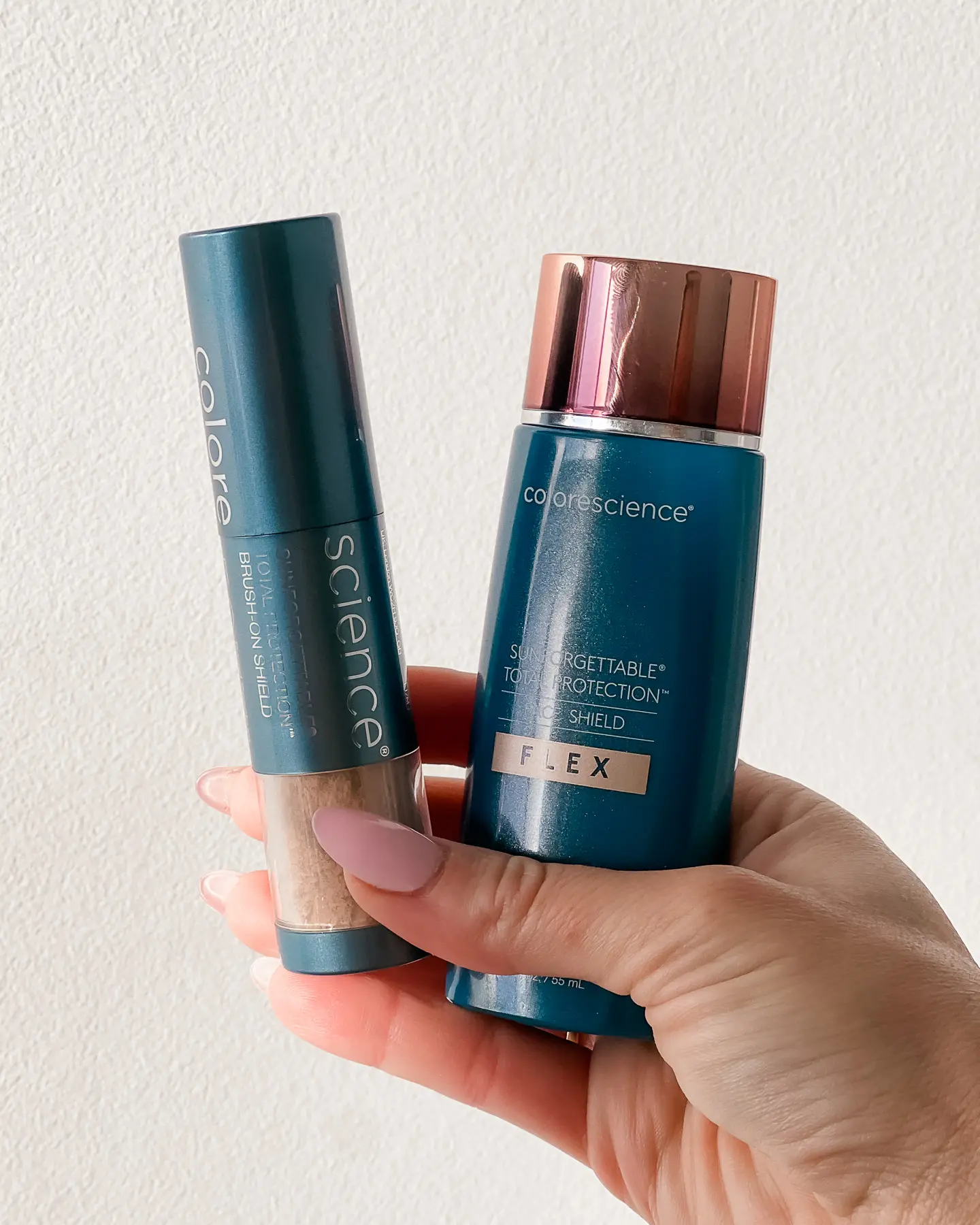 Plus, by combining SPF with makeup that's long-lasting, high-quality, and non-comedogenic, what's normally a multi-step skincare process is made substantially easier.
Below, I'm sharing my review of two standout Colorescience products: the Sunforgettable Total Protection Brush-On Shield SPF 50, and Sunforgettable Total Protection Face Shield Flex (which is a new-to-me product that has truly rocked my world.)

Colorescience Sunforgettable Total Protection Brush-On Shield Review
Years ago, I was at the beach on a girls trip when I noticed one of my friends digging into her tote. She pulled out this tube that had a little makeup brush attached to it. She then shook it and started applying it to her face.
"Want some? It's sunscreen," she said as she handed me the tube.
I was aghast. It was the most genius thing I had ever seen. First of all, I didn't even know that sunscreen could come in powder form… and secondly: it was such a convenient and clever way to be able to re-apply your SPF on-the-go.
Immediately I googled the product — Colorescience Sunforgettable Brush-On Shield SPF 50—and then bought two of them. (One for myself, one for my mom.)
I've been using it consistently ever since, and for me, it solved an issue that I'd always had with SPF: how do you re-apply throughout the day without ruining your makeup?!
The answer, of course, is Sunforgettable. I keep one in my purse, one by my desk (which faces a very sunny window), and I also bring it with me on every vacation (it saved me during a safari in Kenya!)
I have it in two shades—one that matches my natural skin tone (medium), and one that I use as a sun-protecting bronzer (tan.) It's also nice knowing that it's the only powder sunscreen product endorsed by the Skin Care Foundation.
You know I preach the importance of SPF, and I feel like this baby just makes it sooo much easier to be "sun smart."
Tempted to try it? (You should be—it's amazing.) Use code SKIN20 for 20% off on Colorescience.com until 11/17.
Colorescience Brush-On Sunscreen: How to Use It
This conveniently-packaged skin shield can be used on its own or over makeup (it should be the last step of your morning skincare routine). It will leave your skin protected from sun damage throughout the day. It's also water and sweat resistant.
Just toss it in your makeup bag to take on-the-go and reapply throughout the day as needed.
Colorescience Sunforgettable Face Shield Flex
Because I've had such a positive experience with the Brush-On shield, I recently decided to try another Colorescience product that intrigued me: Face Shield Flex. I had actually seen a TikTok video where someone showed how the product starts out looking like a standard white sunscreen, but once you rub it in, it's supposed to change to match the color of your skin tone.
While it seemed somewhat too-good-to-be-true, after trying it, I can now confirm it does exactly that.
I wish I had been filming my reaction the first time I put it on my face, because I'm pretty sure I let out an audible gasp. I even called my husband into the room to tell him all about the magcial sunscreen, but he didn't seem interested.
And thus, I'm sitting here, writing about it for all of you instead (since you're a group who would presumably care more it than my husband.)
Imagine a lightweight/sheer foundation that looks like it was literally custom-formulated to match your exact skin tone—that's what Face Shield Flex is like for me. It still doesn't make sense to me. But I'm not asking questions…
I typically prefer full-coverage makeup, so I was shocked by the fact that I felt like my skin looked amazing wearing sunscreen only (no foundation needed!)
It feels SO nice and silky on my skin, and it gives me that juicy, hydrated look with a hint of coverage. Coupled with the fact that it has SPF 50… and you've got yourself a holy grail skincare/makeup product.
Both of these are the kind of products that I ENTHUSIASTICALLY recommend (if you couldn't already tell from my review above.) They're linked for you here and here—and are eligible for 20% off with the code SKIN20 until 11/17.
FACE SHIELD FLEX – Before and After Photos
On those days that you don't want to wear a full face of makeup, this lightweight mineral sunscreen offers the perfect amount of coverage. It evens out your skin tone while leaving it with a natural matte finish. Aside from SPF 50, it's also made with niacinamide to soothe skin and balance sebum production.
This post was created in partnership with Colorescience. I'm thrilled to have the chance to work with them after spending so many years as a fan of the brand. As always, all opinions are my own.