I'm a woman and I shave my face. There, I said it. But it's not what you're thinking. Don't worry, I didn't use my boyfriend's Mach III—because I have my own my secret weapon: an at-home dermaplaning tool called the Tinkle.
You see, dermaplaning has been all the rage recently and for good reason. The benefits of dermaplaning will blow your mind. It gives your complexion a glowier look, helps your makeup and skincare products settle better on your face, and it has even been known to help reduce the appearance of fine lines and wrinkles.
But if you're still not quite sure what dermaplaning is, we've got you covered. This guide will walk you through how to dermaplane at home, key things to keep in mind to ensure you're dermaplaning safely, and the best dermaplaning tools to use for every budget.
What is Dermaplaning?
Dermaplaning is a cosmetic procedure that involves using a scalpel-like device to scrape along the top layer of your dermis, removing dead skin cells and that pesky, unwanted "peach fuzz" so many of us have. It is a fine, delicate process that can make a huge difference in the overall texture of your skin.
So you might be wondering: how much is dermaplaning? Typically, if you were to go to a spa or dermatologist, it would cost between $75-200, depending on where you live, of course.
But the good news is that—with proper guidance—you can actually do this at home yourself, and it's relatively easy and pain-free.
The first time I "shaved my face" was at an expensive Upper East Side dermatologist's office. For years, I was really self-conscious about those baby hairs on my face and under my neck. I was borderline embarrassed about it and was always researching ways to get rid of it including plucking, waxing, bleaching and other measures.
Every time the sunlight hit my face at a particular angle I wanted to hide. I was at a loss. That is of course, until dermaplaning came onto my radar.
Anyway, after paying over $200 for a specialist to shave my face, I soon realized I could do this myself for much cheaper. So I researched how to do it at home, and voila, here I am, months later, a dermaplaning at-home pro… for free. Minus the cost of the tools of course.
Dermaplaning Benefits
There are so many incredible benefits of dermaplaning. Here are just a few:
It creates a smoother overall appearance of the skin's surface.
By removing the top layer of dead skin, it allows skincare products to penetrate deeper and therefore enhances their efficacy.
Creates a smoother, more even "canvas" for makeup to be applied.
Reduces the appearance of fine lines and wrinkles.
Gives the complexion a brighter, more radiant look.
Helps reduce the appearance of acne scarring.
Dermaplaning at Home: A 3-Step Guide
So, I'm sure you're asking "Ok, how do I do it?"
Lucky for you, I've got a simple step-by-step guide for DIY dermaplaning from the comfort of your home.
Since you are basically shaving the top layer of dead skin off, your face will be more exposed than usual.
Step 1: Choose your dermaplaning tool.
The first obvious step is obtaining the tool. There are endless options out there (referenced below), but I love the inexpensive, disposable version by Tinkle.
The Tinkle is widely considered the best-kept-secret among fellow dermaplaning fanatics, and at less than $5 for three blade sticks, you can't go wrong. You can get multiple uses out of each razor, so depending on how often you choose the shave, a three-pack should last you a few months.
Step 2: Prep your skin.
Next, you want to make sure to prep your skin. Your face should be clean, bare and dry (not just washed) for optimal effect. This will really allow you to lightly scrape along, exfoliating your skin and collecting all the nasty stuff.
But before you start the process, you'll also want to apply a toner. This step will even out your skin and hydrate your skin from underneath. Just make sure the toner is completely dry before you start dermaplaning.
Step 3: Hold your skin taught and shave at a 45 degree angle.
Once you've prepped your skin, you want to start on one side of your face and shave upward at a 45 degree angle. You'll want to keep your skin taught by holding it between two fingers (on the same hand), while you hold the tool in the other hand and execute the stroke.
You'll want to continue this motion all around your face, or at least the areas you think need it. One thing to keep in mind is that some areas will need it more than others, or some not at all. Everyone's skin is different. For example, I don't shave my forehead. Instead, I dermaplane my cheeks, chin, upper and lower lip, and neck.
The whole process shouldn't take you more than five minutes. It's a quick, painless process and almost impossible to cut yourself. After all, these hairs you're targeting are too fine to either create a rash or cause you to shave so deeply you'd cut yourself.
What to Do After Dermaplaning at Home
Once you've finished the process, apply your favorite serum and moisturizer. But make sure they're not too harsh, as your skin will be sensitive.
You'll feel a big difference in your skin when applying these skincare products because your skin will be more receptive to receiving all of the product and won't be blocked by dead skin cells and hair. It feels amazing!
And if you don't trust me, you'll see once you do it yourself.
How Often Should You Dermaplane?
This is completely up to you. Some people do it once a week; some do it much less frequently. Professionals recommend dermaplaning either every 3-4 weeks or every 4-6 weeks, as doing it too often can cause skin dry-out and irritation.
Does Dermaplaning Make Your Hair Grow Back Thicker?
When I first heard about it, I seriously questioned the process because—let's face it (see what I did there)—we've all been warned that shaving makes hair grow back thicker.
But I can tell you definitively that dermaplaning will not cause hair to grow back thicker or darker. It also does not cause stubble. It grows back exactly the way it was before you shaved.
The hairs on your face you are removing, vellus, are so fine, they will actually grow back at the same texture and speed as before.
This is something that aestheticians have confirmed.
Dermaplaning vs. Shaving: What's the Difference?
Technically, dermaplaning is not "shaving" your face. The difference is that the dermaplaning blade is much smaller and finer than a traditional razor blade, and is only designed to skim off the top layer of dead skin, rather than thick hair.
Essential Dermaplaning Tips
Make sure your blade is sharp. If after one pass, you don't see the baby hairs coming off, it's time to throw the blade out.

It is recommended you dermaplane every 3-4 weeks as every time you dermaplane, you are removing 2-3 weeks worth of dead skin cells.

Dermaplaning can cause ingrown hairs, but it's not common.

After dermaplaning, your skin will be more sensitive than usual, so it is recommended you do not wear makeup or use harsh topical treatments/products for at least 24 hours.

Don't do it because it's trendy. Do it if you feel comfortable, and want to try something new, not permanent and not damaging to you.
Best At-Home Dermaplaning Tools to Use
Budget-Friendly
As described above, the disposable options are a really great, affordable solution for those of you who want to try it and not commit. Two of the top selling options under $5 include the Tinkle (mentioned above) and Feather Flamingo Touch-up Razor.
The Schick Silk Touch-Up Tool has an eyebrow extension for eyebrow shaping which is a great perk!
With more than 1200 reviews on Amazon and 4.5 stars, another great budget friendly power operated option is the Conair Satiny Smooth Ladies Lithium Ion Precision Trimmer for just $10!
Mid-Range
If you want to spend a little more because you'll be doing it more often, the Tweezerman Bright Complexion Facial Dermaplaner ($30) is a great option. The Tweezerman tools are great quality for the price and so this is a great mid-range option.
Also, the Stacked Skincare tool won "Best Overall" in a recent poll by Byrdie for its durability, chic design and sturdy aluminum handle. Coming in at $75, it's another good mid-range option.

Luxury
The DermaFalsh Luxe Device comes at a hefty price tag, $199, but is basically the Ferrari version of the dermaplaning tool options. Founded by a medspa owner, this tool has 2 speed settings for its stainless steel blade that vibrates (aiding in better hair removal), comes with it's own moisturizer and includes several blades.
Pin This Post for Later: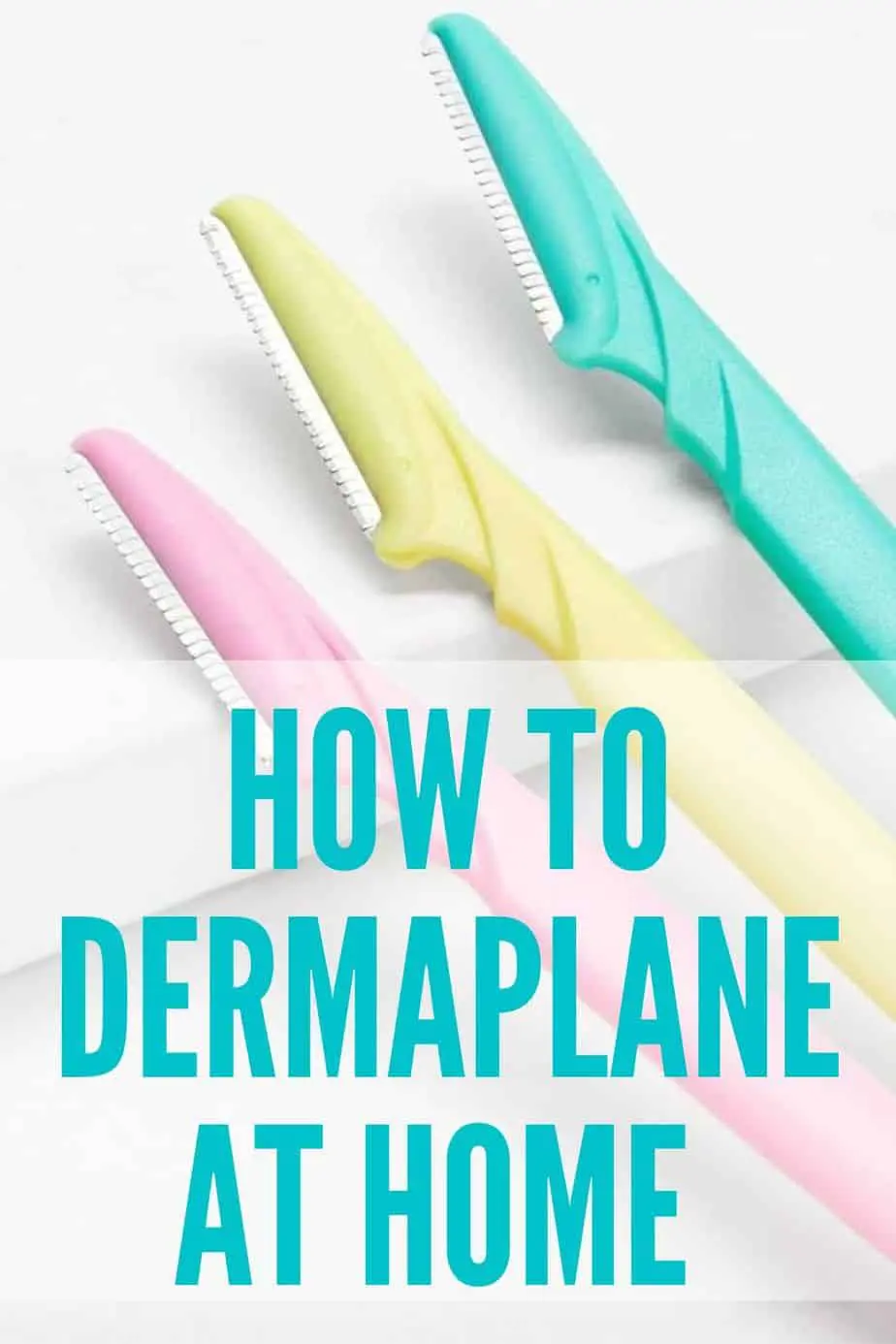 Nikki Marie, a Cuban American Miami native, moved to her dream city, NYC, in 2015. Her penchant for adventure and travel have taken her to more than 30 countries. A PR pro 9-5, Nikki Marie uses her free time to share her travel hacks and high-lo fashion inspo via her instagram @TheCubanCarrie – a play on words of her all-time favorite character, Carrie Bradshaw.