In 2012, I sat across from a girl at work who had the most amazing skin. I remember every day when I would come into the office, I would stare at her skin and admire how glowy it was (no shame.)
Eventually, I decided to ask her what she used in her skincare routine because I had noticed that her skin was always so glowy and pretty. That was when she told me that she swore by Dr. Dennis Gross Peel Pads.
I went out and bought them that day and I've been using them consistently ever since. That is 11 years, and I always say that it's probably the most loyal I've ever been to a single skincare product in my life.
I truly think these peel pads should be part of everyones basic skincare routine. But if you're not fully convinced yet, I'm dedicating this post to give you a thorough review on the Dr. Dennis Gross Alpha Beta Peel Pads.
Spoiler alert: I hope you add them to your lineup because I swear your skin will thank you. They are SO good.
Dr. Dennis Gross Peel Pad Review
I'll never forget the first time that I used the Dr. Dennis Gross Peel Pads. I used them at night and I remember when I woke up in the morning, I actually could not believe how different my skin looked. The results were honestly incredible even after just using them one time.
It's fair to say that after that, I was totally hooked. I've been raving about the peel pads ever since and every person that I have recommended them to has essentially had the same reaction that I had.
I consistently get messages about what a game changer they have been for people and they are always a hot topic in my Facebook group.
After using them for as many years as I have, I still notice a difference in my complexion every. single. time. Now, I use them about two to three times a week, and I have worked my way up to the extra strength version.
However, if someone is new to the peel pads or has sensitive skin, I always recommend starting with the universal version, which is sort of like a medium strength of the AHAs and BHAs that are in them.
I think the thing that I like most about the peel pads is that they do such a great job of removing dead skin as well as exfoliating. They leave your skin so fresh and glowy and kind of give it a new life. Using them regularly also allows your pores to be more clear and your overall complexion to be more even.
Also, while I haven't personally struggled with acne, I know that people who do say that it these peel pads have helped significantly. If you're dealing with blemishes, that's something to consider as well.
Like I said, I noticed a positive impact the very first time I used them, but your skin will also continue to look healthier and more radiant over time (the more you use them.)
Dr. Dennis Gross Peel Pads Ingredients
This holy-grail skincare product is a two-step AHA/BHA peel pad that contains seven acids and 12 antioxidants. Here's more info on the main ingredients and what they do:
Glycolic Acid (AHA): Works to visibly reduce fine lines and wrinkles.
Lactic Acid (AHA) and Malic Acid (AHA): Supports cell turnover and cell renewal while evening out skin tone.
Resveratrol and Green Tea Extract: Extends skin cell lifespan and protects against free radical damage.
How Does Dr. Dennis Gross Alpha Beta Peel Work
As you can see in the photo above, people are crazy about these peel pads. The magic comes from the combo of ingredients and how they work to address a variety of skincare concerns.
For starters, the AHA and BHA exfoliate the outer layer of the skin while clearing pores and reducing fine lines and wrinkles in the process.
As if that wasn't enough on its own, the 12 antioxidants in each pad offer anti-aging benefits and protection. Plus, hyaluronic acid works to hydrate and protect the skin.
This combo can obviously benefit any skin type, and it can be used as a preventative measure that promotes cell turnover. The result is clear, smooth, and healthy looking skin — and who doesn't want that?
Dr. Dennis Gross Peel Pads Before And After
Because I started using these peel pads so long ago (11 years!) I don't really have a good "before" photo. However, like I mentioned above, using them regularly only has made my complexion better and better.
I cannot imagine my skincare routine without these and I definitely recommend using them consistently for the best results.
Also, I think that using these are just about as effective of an at-home peel that you can get when compared to doing something in office. They're also a more affordable option when compared to office treatments, which is a major perk.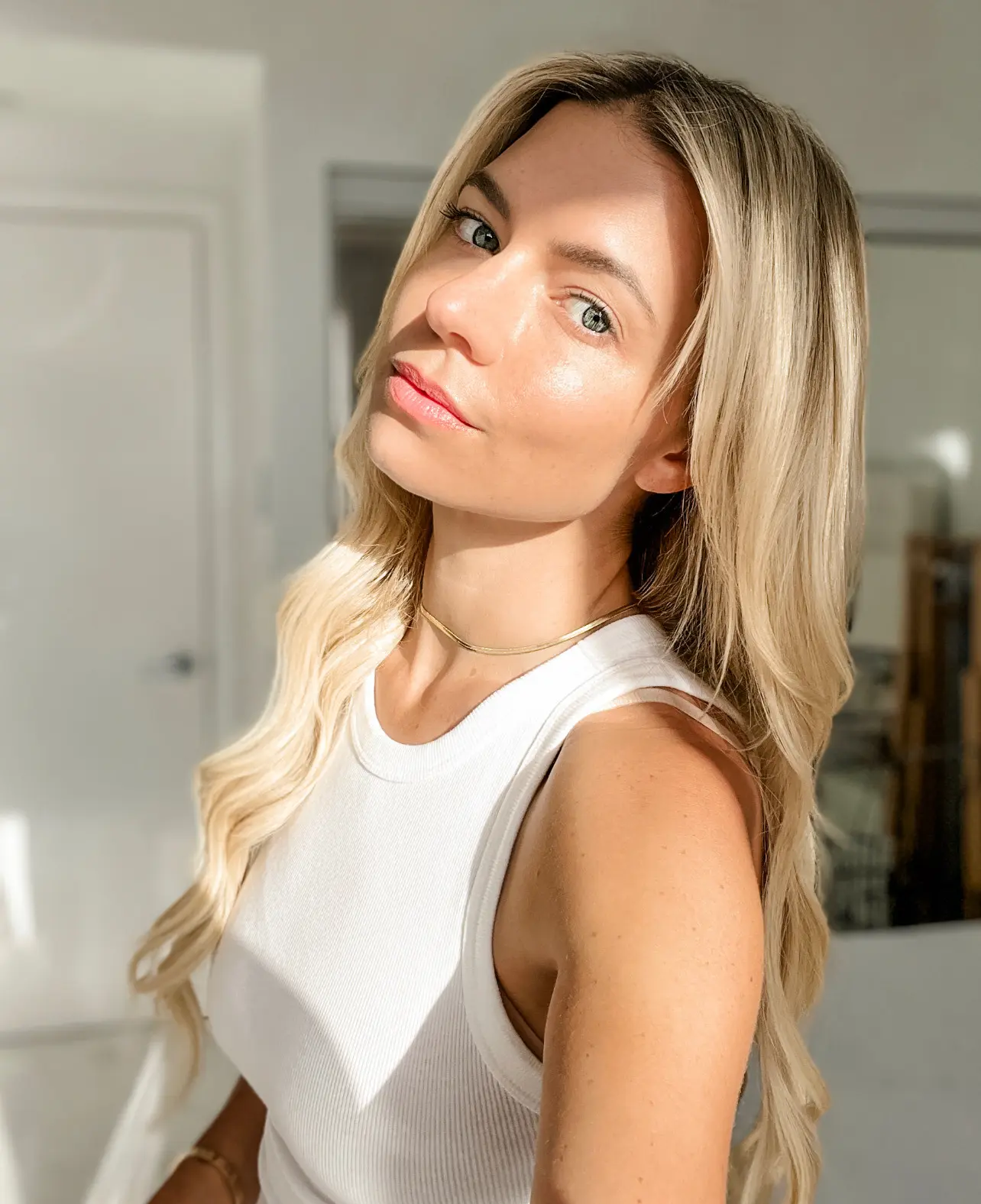 How to Use Dr. Dennis Gross Peel Pads
How to Apply the Peel Pads
Learning how to use the peel pads is really simple. The pack comes with thorough instructions for step one and step two.
During the first step, you wipe the entire pad over your face and your neck and then you wait two minutes for it to dry.
In step two, you use the second wipe and you swipe it all over your face. It contains a neutralizer that keeps your skin from turning red or having a bad reaction.
The most important thing to keep in mind is that you should always make sure that your skin is prepped and clean before using the pads.
What to Use After a Dr. Dennis Gross Alpha Beta Peel
I get a lot of questions about what to use after applying the Dr. Dennis Gross Peel Pads, and I totally understand that it can be a bit confusing. Afterward I have used them, I usually use a hyaluronic acid serum to just help with overall plumpness and hydration.
After that, I will end with a really nice and thick night cream/moisturizer and my regular eye cream.
How Often to Use Dr. Dennis Gross Peel Pads
I use these peel pads two to three times a week and feel like that has been my sweet spot. However, you might have to work your way up to that frequency if you have sensitive skin.
Have you tried these peel pads yet? Let me know what you think in the comment section below!