The Elemis Cleansing Balm has been one of my holy grail skincare products for years, so I decided it was finally time to do a proper cleansing balm review for you.
After hearing from a number of dermatologists about why makeup wipes can be really bad for your skin, I decided to quit using them a few years ago. (I do keep them on hand in a pinch, but they're no longer part of my nightly skincare routine.)
---
If you're just here for the promo code, here it is: LINDSAY20 for 20% off Elemis products.
---

Basically, makeup wipes tend to leave behind a chemical film that sits on your face—not to mention, scrubbing too aggressively with a wipe can cause redness and irritation.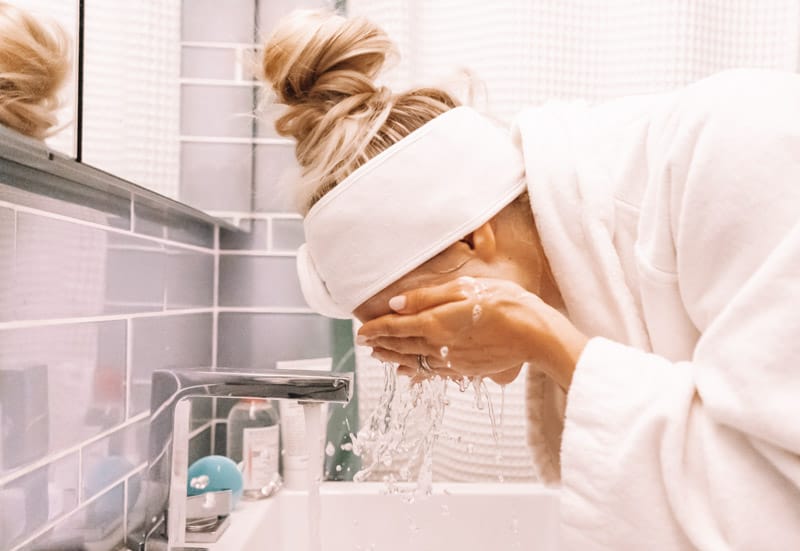 Ditching my wipes meant I needed to find a better way to remove my everyday makeup.
The general consensus among experts is that cleansing balms, oils, and micellar water are much safer and more effective methods of makeup removal. I now dabble between all three. (If you're curious I have a blog post that details all the do's and don'ts of washing your face!)
Sometimes I'll use this micellar water on my favorite cotton pads, but when my skin needs a little extra TLC—especially in the winter—I swear by Elemis' Pro-Collagen Cleansing Balm.
The brand makes a travel-size cleansing balm (for $14) that I LOVE throwing into my carry-on when I travel. It's great to use when your skin is dehydrated after a long flight.
Here's my review and everything you need to know about it.
Elemis Cleansing Balm Review

What is it?
Elemis' cleansing balm is exactly that—it's a balm that cleanses your skin. The texture is very unique and a bit hard to describe, but I always call it "buttery." It's like a rich, emollient butter.
What does it do?
The balm removes dirt, oil, and makeup (it literally melts off) while also cleansing and moisturizing your face.
How to Use Elemis Cleansing Balm:
I typically like to start with a small amount—like a 1/2 teaspoon—because I find that a little bit goes a long way.

You'll want to smooth it over your face *when it's dry* (very important!) and massage it into your skin. (This amazing $7 spa headband is what I use to keep my hair out of my face.)

When I have eye makeup on, I'll also gently rub it over my lids and lashes to loosen my mascara, but I'm careful not to get it into my eyes.

Then, add water—you'll notice that the consistency of the balm changes when it's mixed with water, and it becomes more like a cleanser.

Finally, the instructions recommend that you remove the balm with a warm, damp washcloth (which comes in the package when you buy the full-size) but I don't always have one nearby, so I'll usually just rinse the cleanser off, splash my face with cold water, and pat dry with a towel.
Of course, you'll then follow with the rest of your skincare routine.
At night, mine typically involves an exfoliant—like AHA or BHA—followed by hyaluronic acid… OR a retinol. I alternate these because using them together can cause serious irritation. More deets about that in my "How to Use Retinol" post!
Rose Cleansing Balm
You've probably seen the pink version of tub, which is the Elemis Pro-Collagen Rose Cleansing Balm. It's the same as the original except that it's infused with English Rose Oleo Extract.
It also has a pronounced rose scent that I personally love, but if you're super sensitive to fragrances, I would opt for the new Pro-Collagen Naked Cleansing Balm, which is fragrance-free.
Naked Cleansing Balm
This new version of the cleansing balm was recently released as a limited edition fragrance-free version of the original.
Elemis Cleansing Balm as a Mask
PRO TIP: The balm also doubles as a mask. For an added moisture boost, you can let the balm sit on your face (use a teaspoon) for 10 minutes while you're in the bath or shower. Elemis also has a bunch of different face masks that offer a variety of benefits.
Elemis Cleansing Balm Ingredients
The brand is big on clean ingredients and transparency. Here's a list of the active product ingredients and what they do:
Padina Pavonica: A unique Mediterranean algae with proven outstanding anti-aging benefits
Starflower Oil: Grown and pressed in the UK, it is the richest natural source of gamma linolenic acid, which promotes good skin health by helping to maintain skin metabolism
Elderberry Oil: Contains high levels of essential fatty acids and other micronutrients, key elements of skin health
Have you tried the Elemis Cleansing Balm yet? Let me know how you like it in the comment section below!