When I first posted on Instagram earlier this year saying that I was planning a trip to Bora Bora, there was a resounding message amongst my followers: YOU MUST STAY AT THE FOUR SEASONS BORA BORA.
It's a hotel that had already been on my bucket list for years, and when I saw how enthusiastic people were about it, I was even more excited to experience it for myself.
There's definitely a reason why people are so die-hard over the FS Bora Bora. It is breathtaking in every sense—and no matter where you find yourself on the property, the views are enough to knock you off your feet.
So, if you're considering booking a trip here but you're doing your due diligence first, this detailed review has you covered.
Below, I'm addressing all of your burning questions like "What does the Four Seasons Bora Bora cost per night?" "What are the restaurants like at the Four Seasons Bora Bora?" and perhaps most importantly "Is the Four Seasons Bora Bora worth it?"
Also, if you're deciding on the St. Regis Bora Bora vs. the Four Seasons Bora Bora, I have a post on that too.
Read on for all of my candid thoughts.
Four Seasons Bora Bora Review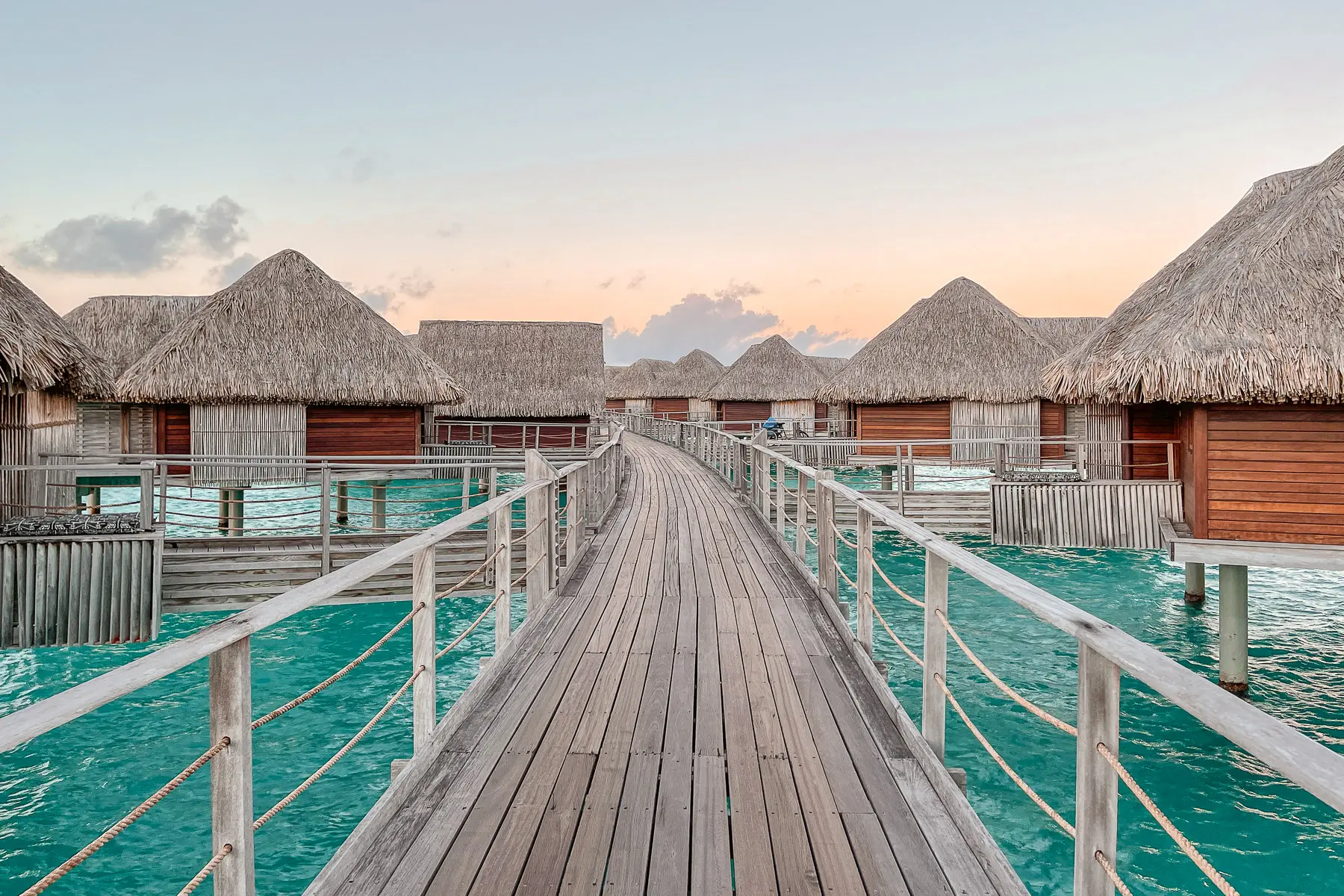 Getting There
Here's the route we took:
NYC > LAX > PPT > Bora Bora
We spent the first half of our trip at the St. Regis Bora Bora, and then switched hotels to check in to the Four Seasons.
Quick Tip: Because our flight from LAX arrived into Tahiti (PPT) late at night, we decided to stay overnight there (at the no-frills Tahiti Airport Motel) so that we could catch the first flight to Bora Bora in the morning.
I would recommend doing it this way, because it'll give you the entire day to spend at the hotel, rather than arriving at night.
We also took the last flight our of Bora Bora on our way home, and the Four Seasons gave us a late check-out, so we were able to enjoy another full day at the property!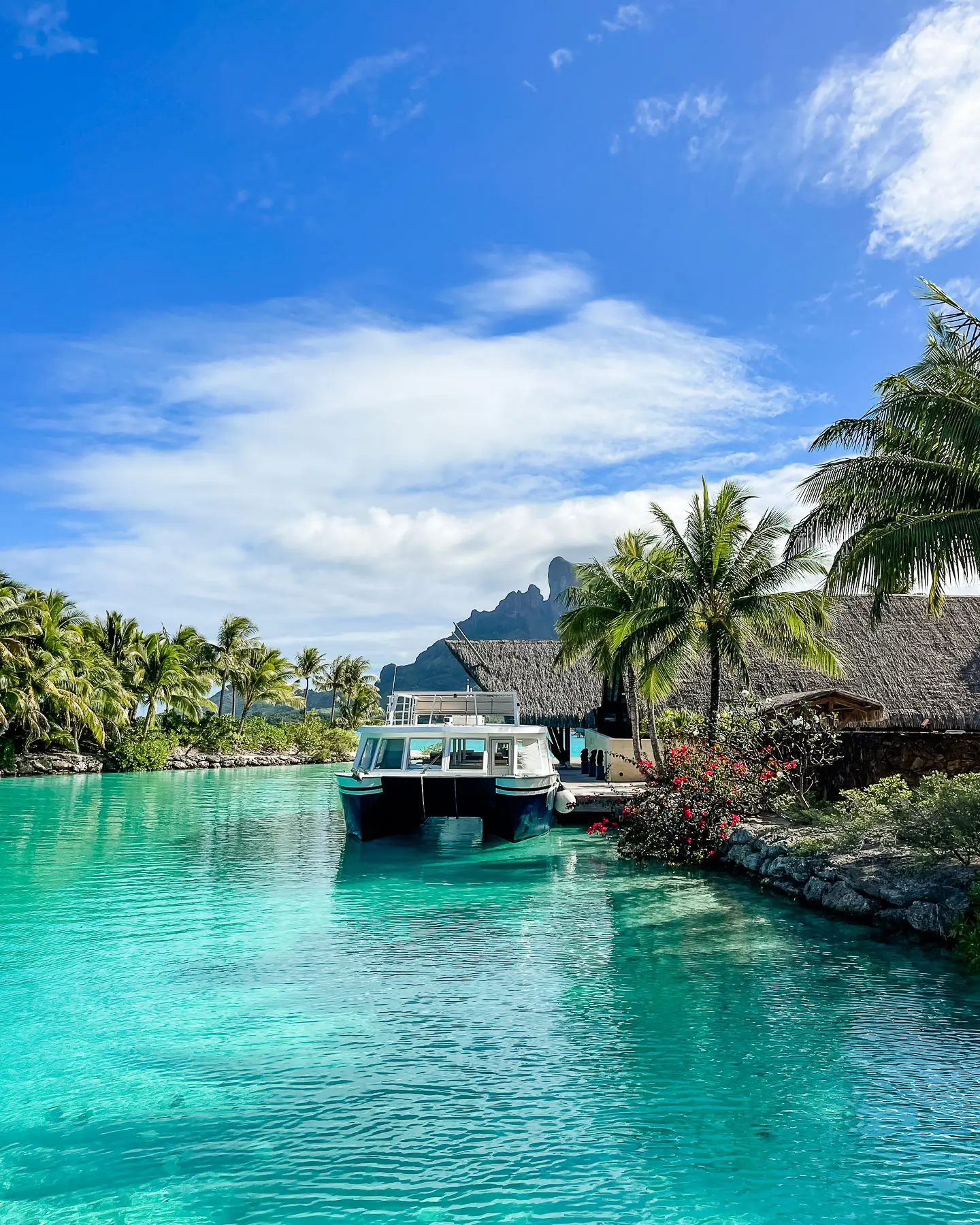 Four Seasons Bora Bora First Impression
When we arrived to the property by boat (we had come from the St. Regis) it was early evening, and we were immediately greeted and then whisked away to our room by a member of the staff.
Throughout the ride from reception to our villa, we were given a short tour/overview of the property.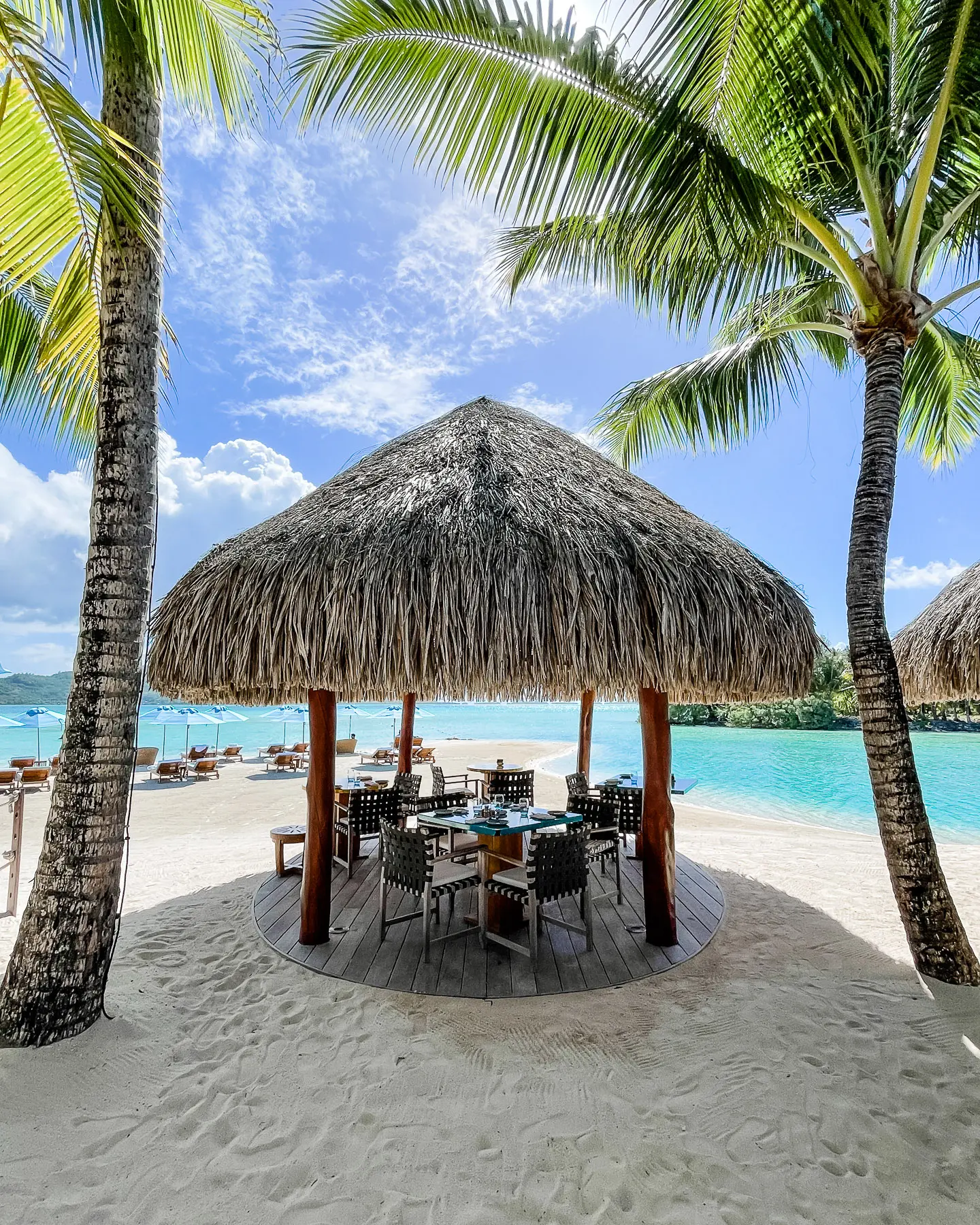 My first thought: OMG this resort is stunning and HUGE. I'm probably going to get lost at some point! In my mind it seemed like double or triple the size of the St. Regis (as it turns out, the number of rooms are actually quite similar.)
The Concierge
During our first breakfast the next morning, our dedicated concierge Thibeaut came over to our table to introduce himself, see if we had any questions, and ask if there was anything he could help us arrange.
He would periodically check-in with us during the trip to help with suggestions for activities, restaurant options, spa appointments, etc. and was a nice point person to have throughout our stay.
There was one morning where I wanted to take a specific photo on one of the outrigger boats, so he helped organize that for me (and then kindly followed us along the lagoon to help with photos & make sure we were OK navigating, since there was a strong current that day!)
The Four Seasons also has an app, where you can chat with a concierge to schedule appointments and activities virtually.
The Room: Overwater Villa at Four Seasons Bora Bora
The layout of the room was railroad-style and extremely unique. We had an indoor and outdoor seating area, a large bathroom and tub (where you could take an open-air bath) and then a bedroom that opened up to the outdoor deck.
Our room (328) was a bit further out, but with that came a lot of privacy and unobstructed views, so we had no complaints!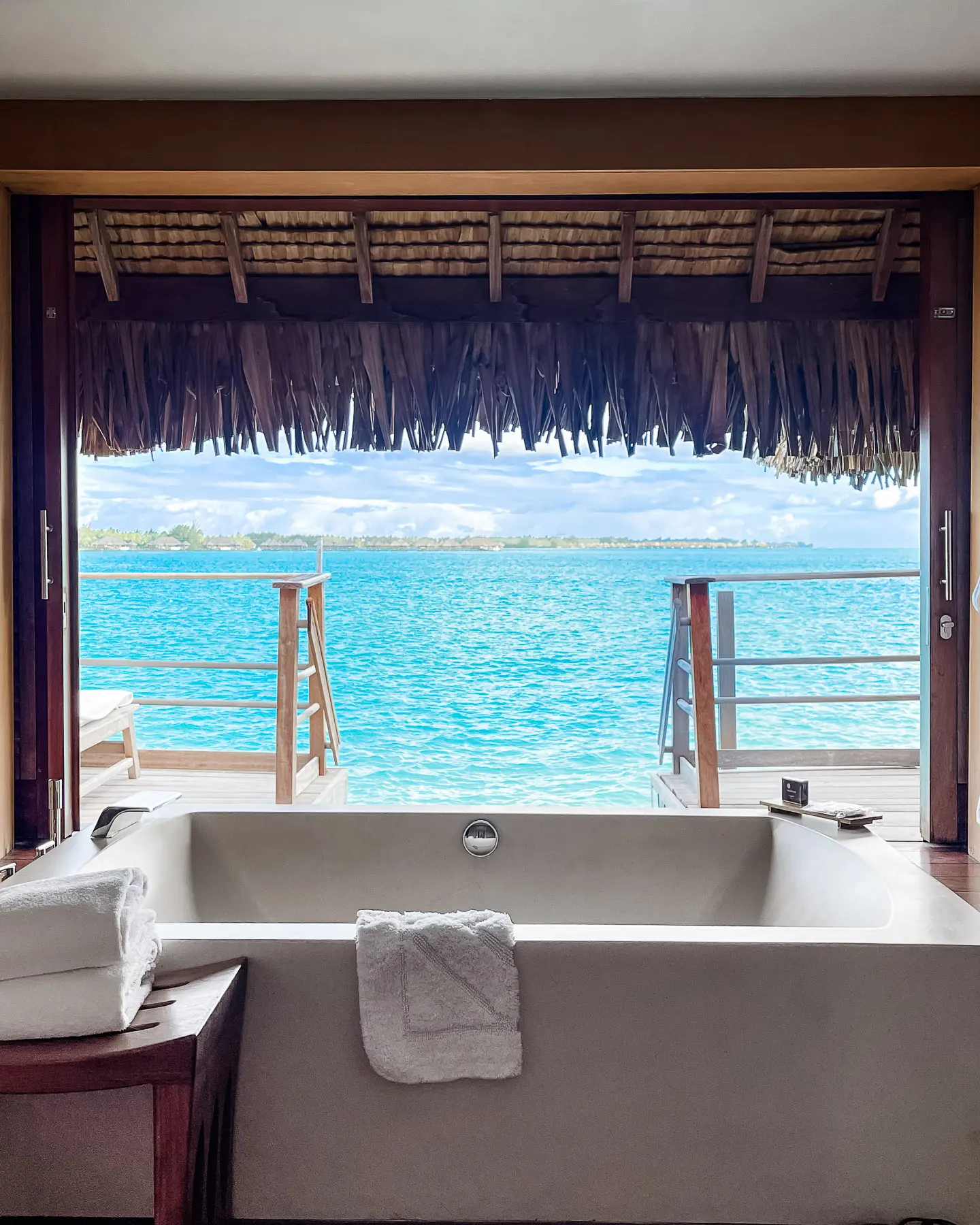 The bathroom area was a total standout, because there were two separate sinks/vanities and the most incredible light-up mirror I have ever used in my life. (That's saying a lot when you consider that I shoot content with light-up mirrors for a living!)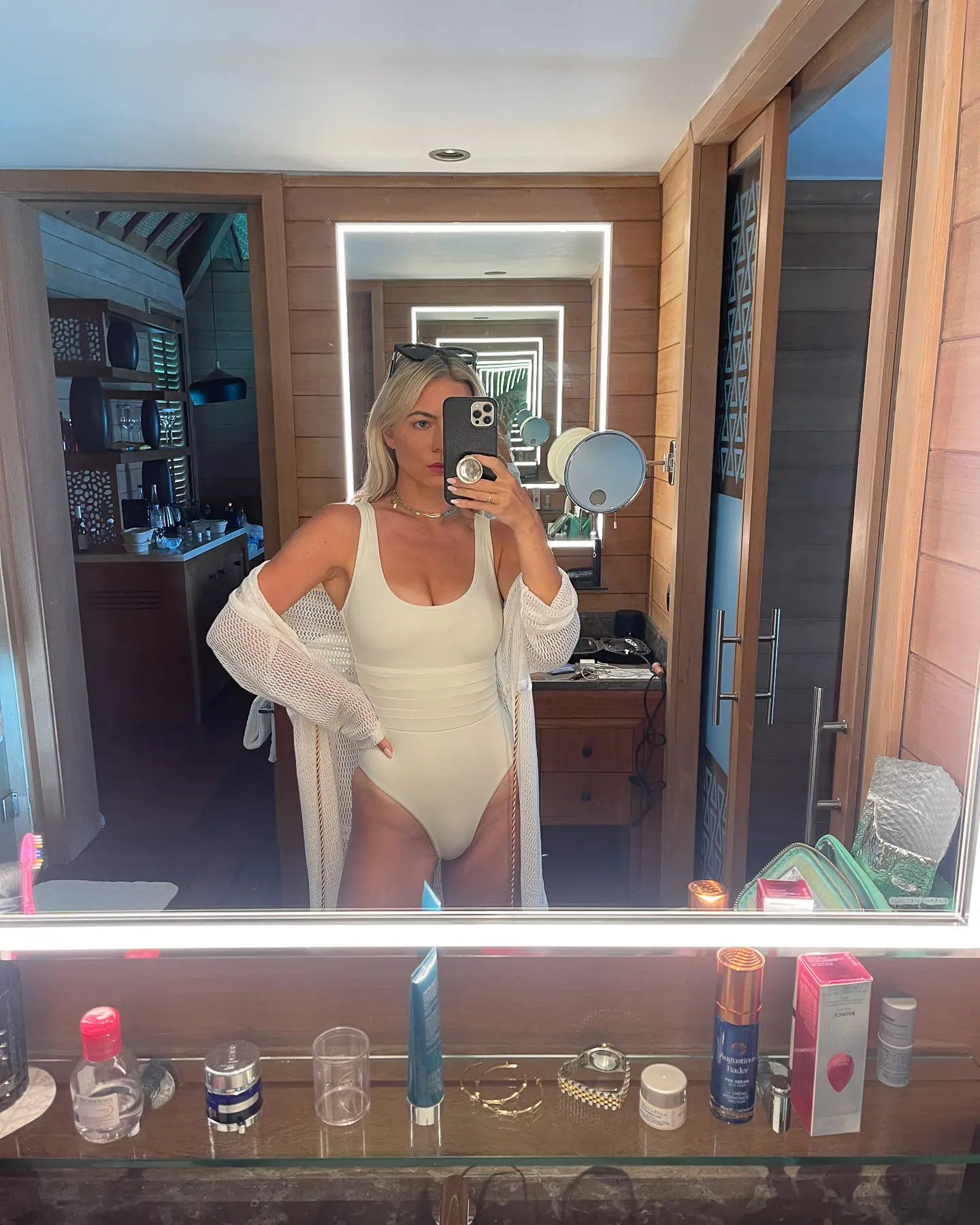 The Resort
The Four Seasons Bora Bora as a whole is spectacular, and there's a breathtaking view from literally anywhere on the property—whether you're eating breakfast, having a happy hour cocktail, or enjoying a day at the beach/pool… you're in full view of Mount Otemanu (the extinct volcano located at the center of the island).
We also felt that there were a ton of options in terms of activities, which was great for my husband, who is a must-be-doing-activities-at-all-times guy.
We took a flower crown making class, and a palm weaving class. We also kayaked, had massages, did a 3-hour shark & stingray tour (arranged by the hotel), and took two tennis lessons.
The tennis pro Eric was INCREDIBLE and if you're into tennis, spending an hour with him is a real treat.
What We Loved:
Completing the check-in process in our room, rather than in the reception area, was SO NICE. Matt & I both commented about how much more relaxing it felt to be able to go straight to the room rather than filling out paperwork at reception.
Note: I'm not sure if the in-room check-in process at FS Bora Bora is standard, or if it was just a one-off. (During our stay, there was a 100-person corporate group at the hotel, so I could tell that certain things had to be adjusted accordingly.)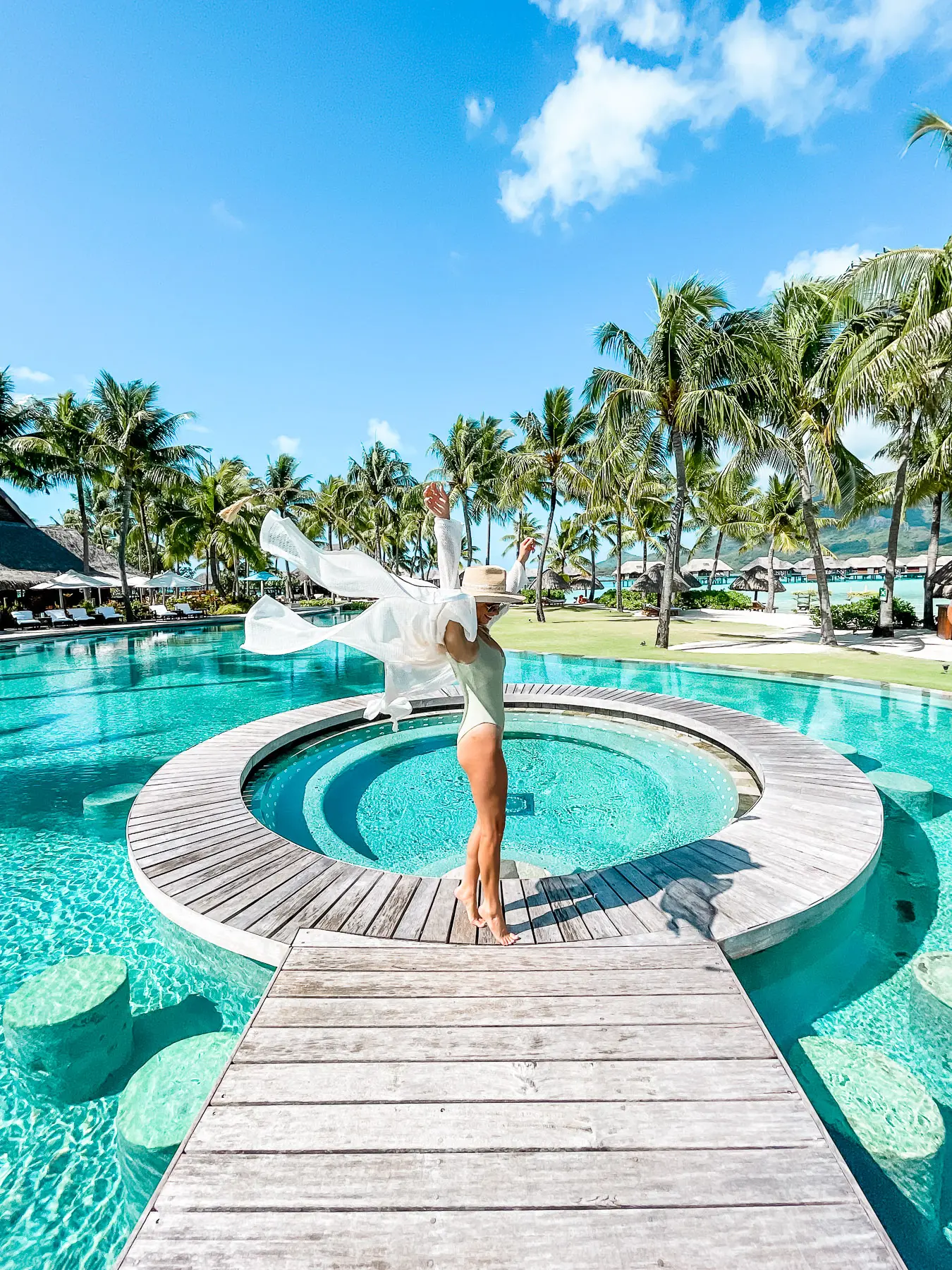 Eating lunch at the beach bar (Fare Hoa) was a daily highlight. We loved the menu, loved the drinks, loved the staff.
The spa. It was gorgeous and my massage was phenomenal. Request to have your treatment in the overwater bungalow if it's available! It was truly one of the most unique experiences.
Our tennis instructor Eric from PBI Tennis! You wouldn't think you could learn a lot over the course of just two lessons, but there were techniques he taught both my husband and I that we're still using every time we play.
Four Seasons Bora Bora Restaurants and Food
As I mentioned in my comparison post, I think the dining options overall at the Four Seasons provided a bit more variety than at the St. Regis. We had some seriously incredible meals during our stay!
I also would be remiss if I didn't point out the fact that the cocktails at the Four Seasons were truly top notch. And that's coming from a person who really likes a good cocktail.
My go-to drink is a skinny spicy margarita, which is a pretty widely-known drink order in the U.S., but I wouldn't have assumed they would know what I was talking about when I ordered one in Bora Bora.
Not only did they know, they actually made it to perfection every single time. The drinks were strong, fresh, and consistent—which is important when you're paying $20+ a pop.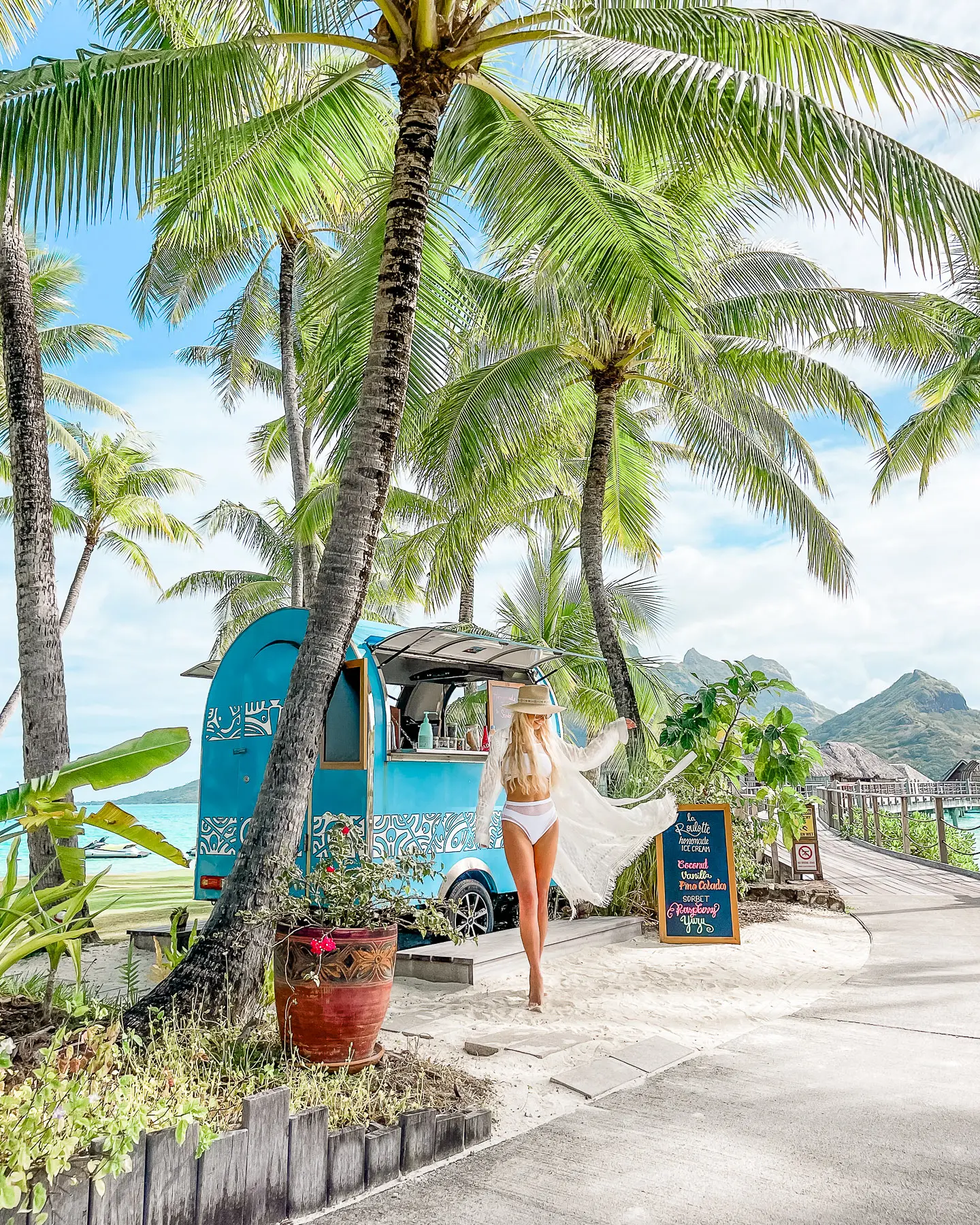 Wine-wise, I was actually surprised that prices weren't insane. They were on par with prices in NYC where I live.
Quick Tip: You can bring your own alcohol to Bora Bora. Yep, you heard that right. You're allowed 3 bottles of wine per person, or 2L of hard liquor. If you plan to drink during your trip, I would highly highly recommend bringing your own—or buying at duty free in PPT. It's a great way to save a little money without compromising your experience, as wine and booze prices at the hotels are pretty steep.
However, we did take advantage of the "bring your own" policy (which applies to all of Tahiti and not just Bora Bora) and enjoyed bottles of rosé in our room during sunset. The mini bar in the rooms have an impressive selection of glassware! Here's a list of some of my favorite wines if you need a little inspo.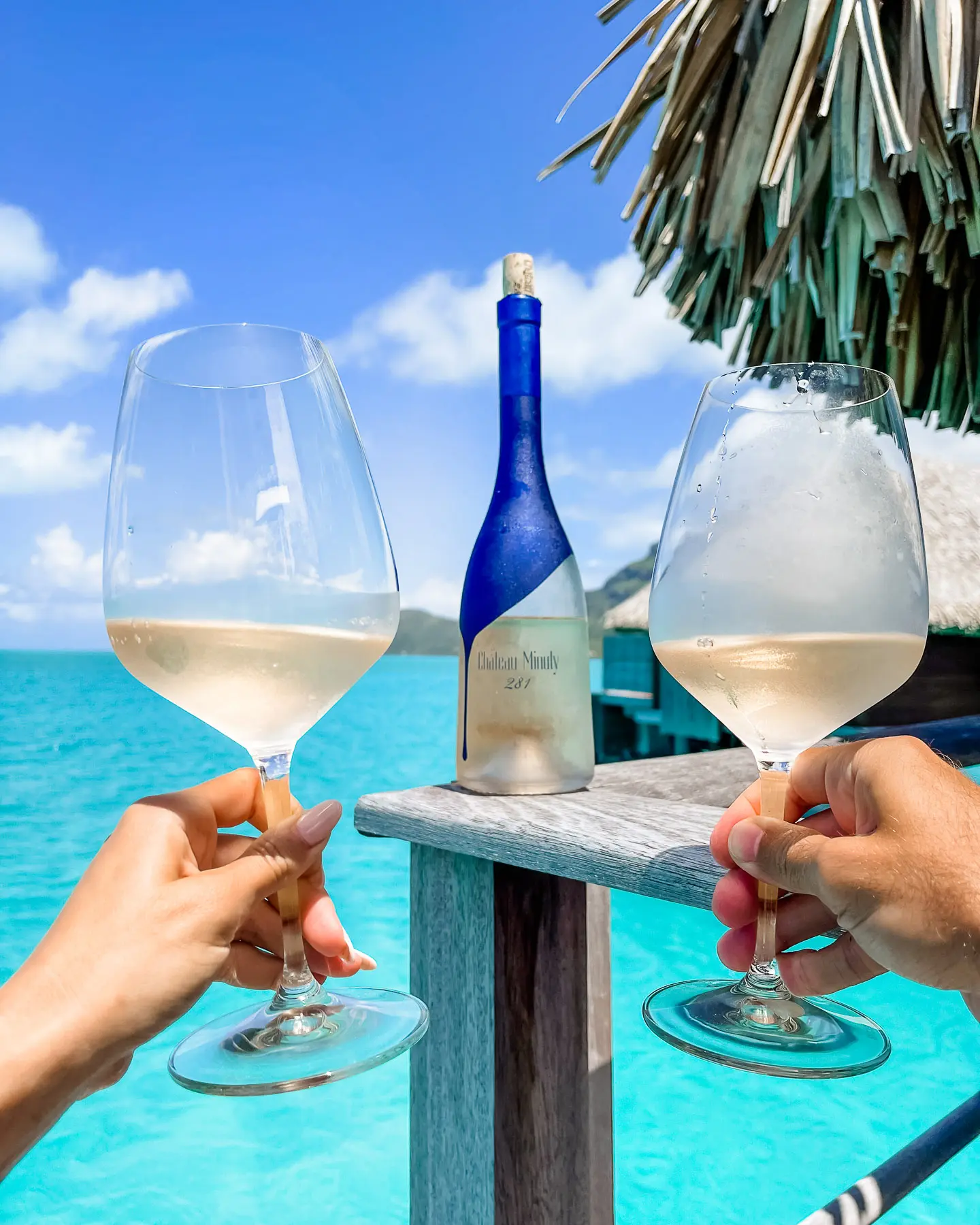 Dinner-wise, each of the restaurants felt like the perfect mix between upscale & casual, and menus had plenty of options. We stayed for 7 nights and we really never felt like we had run out of places to eat.
If you're planning to stay at the Four Seasons for more than just a few nights, I would definitely recommend making a reservation off-property at the St. Regis' Jean Georges restaurant Lagoon.
It was a spectacular absolute-must. You can read more about it my St. Regis Bora Bora review.
How Expensive is the Food at Four Seasons Bora Bora?
This is a question a lot of people ask, and the truth is — it's EXPENSIVE. Bora Bora definitely isn't the type of place to go to if you're looking for a deal.
Similar to the St. Regis, dinner will run you around $100+/pp (with alcohol); and lunch can be slightly less (or more) depending on how many beach cocktails you're downing.
Cocktails, on average, were around $20; glasses of wine started at around $15.
Four Seasons Bora Bora Price
Rates at the Four Seasons start at around $1,100 during the low seasons and can go up to as high as $4,300, depending on the time of year that you book.
Check Rates: Four Seasons Bora Bora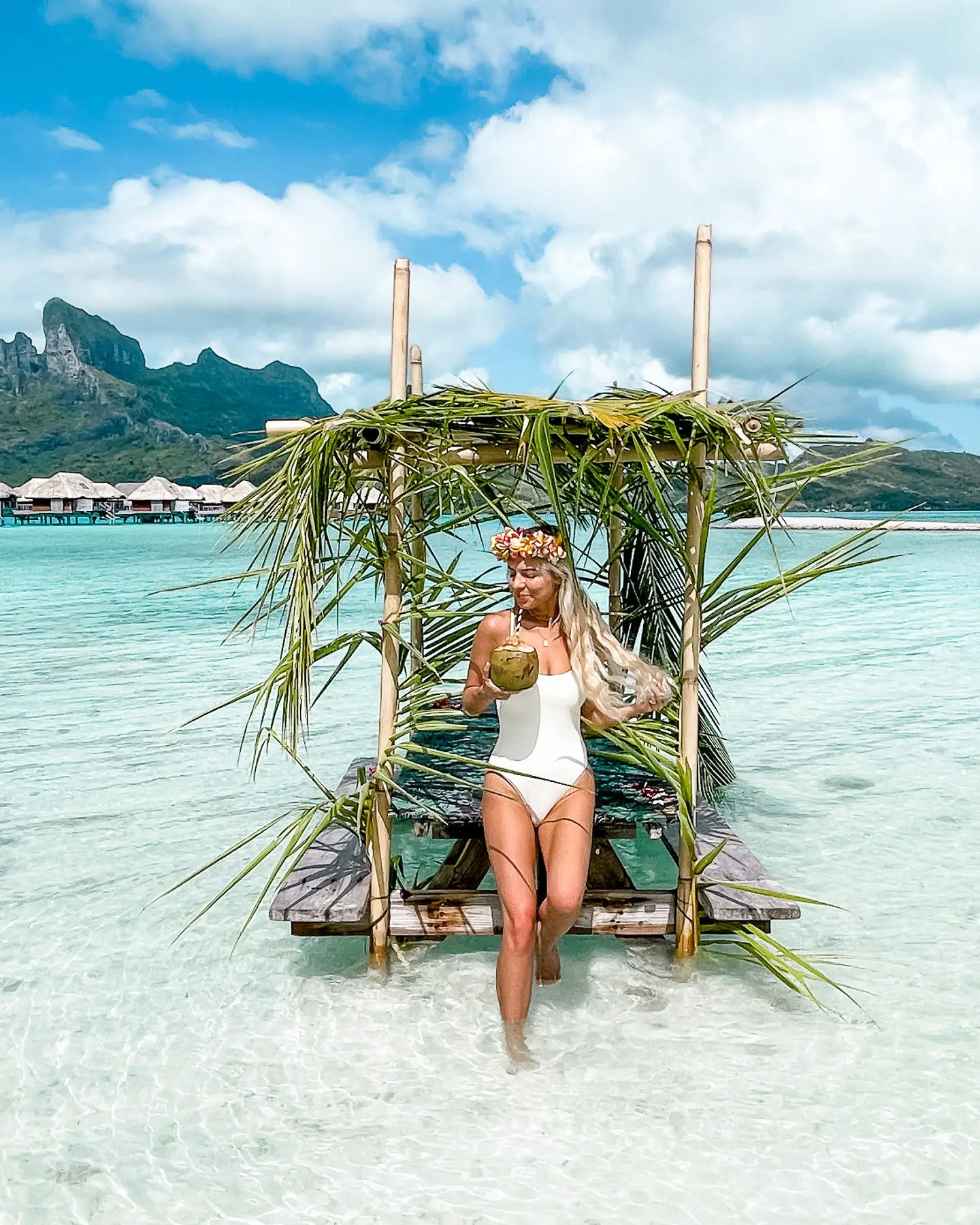 ---
Four Seasons Bora Bora vs. St. Regis Bora Bora
Wondering which hotel to choose between the St. Regis Bora Bora and the Four Seasons Bora Bora? You're not alone. We were in the same boat, which is why we ended up splitting our trip between both hotels.
I have a separate post comparing the St. Regis to the Four Seasons here!
---
Is the Four Seasons Bora Bora Worth It?
There's a reason why so many people told me I couldn't possibly go to Bora Bora without staying at the Four Seasons.
It's truly a once-in-a-lifetime hotel that promises incredible views, high-end service, and a relaxing, luxurious vacation experience. (And of course, the prices reflect that.)
But in short, if you're planning a honeymoon or a special occasion trip, yes the Four Seasons Bora Bora is absolutely worth it.
---
What to Pack for Bora Bora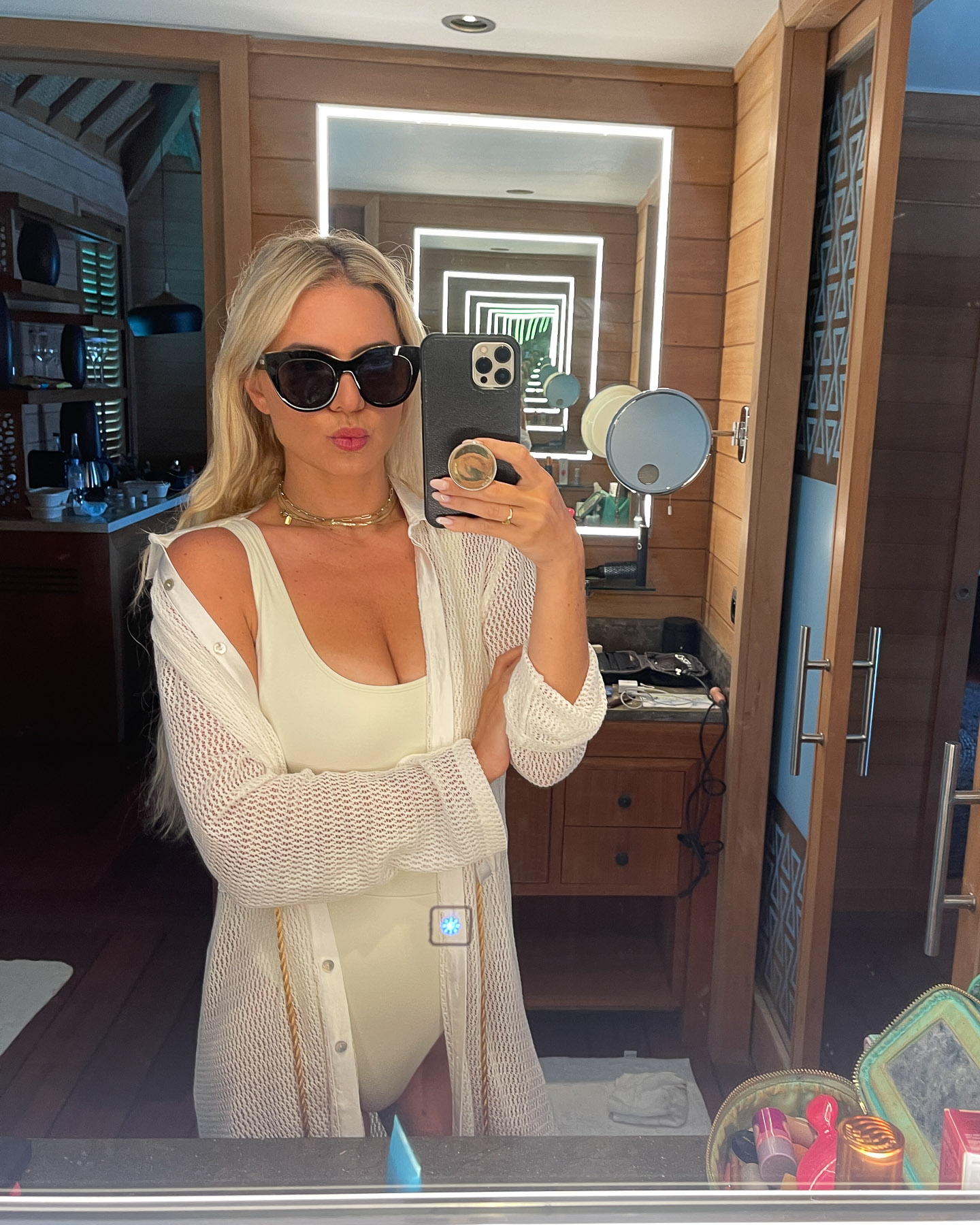 Below are some of the outfits I brought with me to Bora Bora.
For more ideas check out my Beach Vacation Packing List, my favorite swimsuit cover-ups, the best denim shorts, and some favorite swimsuits (especially for women with full chests.)