For those who've never visited before, the prospect of planning the perfect girls weekend in NYC seems fairly daunting. There's so much to do…and so little time!
It's called the "city that never sleeps" for the obvious fact that you can literally be doing something all day—everyday—for the rest of your life and still never get bored.
As a self-proclaimed queen of all things NYC, I take special pride in putting together guides and lists for friends visiting from out of town, so I decided it was time to share all of my secrets with others as well! 
I'm here to digest it all and break it down for you: below you'll find the ultimate 3 day NYC itinerary, plus lists including where to stay, what to do, where to eat (my personal fave), plus how to do it all depending on your budget and who you're with.
[NOTE: Some suggestions below may have changed. Be sure to check individual websites for up-to-date info before making your plans!]
For the last five years, I have been doing the experimenting for you—testing out all the corners of the five boroughs (and even the unofficial sixth borough, Long Island). I've exhausted (almost) every last penny to be able to share my undying love for the place I am so fortunate to call home.
Ok, enough about me, let's get down to business so you can go and explore like the NYC pro you're about to become! —Nicole Cueto
The Best Time to Visit NYC
New York City is magical no matter what time of year you come. Although, depending on the type of experiences you like to have, it's very different season to season.
For example, if you love the cold temperatures and dressing up in your finest cozy gear, the city comes alive (especially when it snows!) during Christmas, and really brings out the magic of the holidays.
If you're inspired by nature or appreciate how it enhances a concrete jungle, Spring or Fall boasts some of the most beautiful views you've ever seen, peppering the city with vibrant florals or bold hued leaves.
And of course, there's always summer and an abundance of outdoor activities to partake in. But not to fret, the itinerary I've created for you can be done almost any time of year!
Here are a few events to consider planning your NYC girls trip around:
WINTER
Christmas (holiday markets, Rockefeller Center tree lighting, festive bars)

New Year's Ball Drop
SPRING
Orchid Show

St. Patrick's Day Parade
SUMMER
Veuve Clicquot Polo Classic

Governors Ball

Fourth of July Fireworks
FALL
New York Food & Wine Festival

NYC Marathon

Thanksgiving Day Parade
(Note: These events will cause accommodations/flights to be more expensive)
---
Girls Weekend in NYC Itinerary
Whether you're headed to New York for a bachelorette party, a quick girlfriends getaway, or even a trip with your mom, I can guarantee you that if you follow my guide, you'll be able to see as much of NYC as humanly possible during your time here. This can be spread out as a 4-day itinerary if you prefer to move at a slower pace!
Pro Tip: I highly recommend heading to Broadway4BrokePeople, a website where you can sign up for the lottery of almost any broadway show you've ever been dying to see! My suggestion is to sign up for multiple shows to increase your chances. You'll have to keep an eye on your email throughout the afternoon because that's when you'll have to claim your "lottery" tickets if you've won, but you can see some of the world's most famous shows for less than $40!**
---
Friday, Day 1: FiDi, Soho, West Village
Regardless of where you stay—Uptown, Downtown or somewhere in between (more on that below)—New York City is not as difficult to navigate as you'd expect.
Pick Up a Metrocard.
Before you even arrive at your hotel, I'd strongly recommend you stop at a subway station and grab an unlimited subway pass for the whole week (7 day unlimited option) even though you'll only be here for three days.
Not only is it "worth it," and not only will you use it the entire weekend (including the bus to get across town), but it's definitely part of the experience and you'll get around town much quicker so that you'll be able to pack in more fun!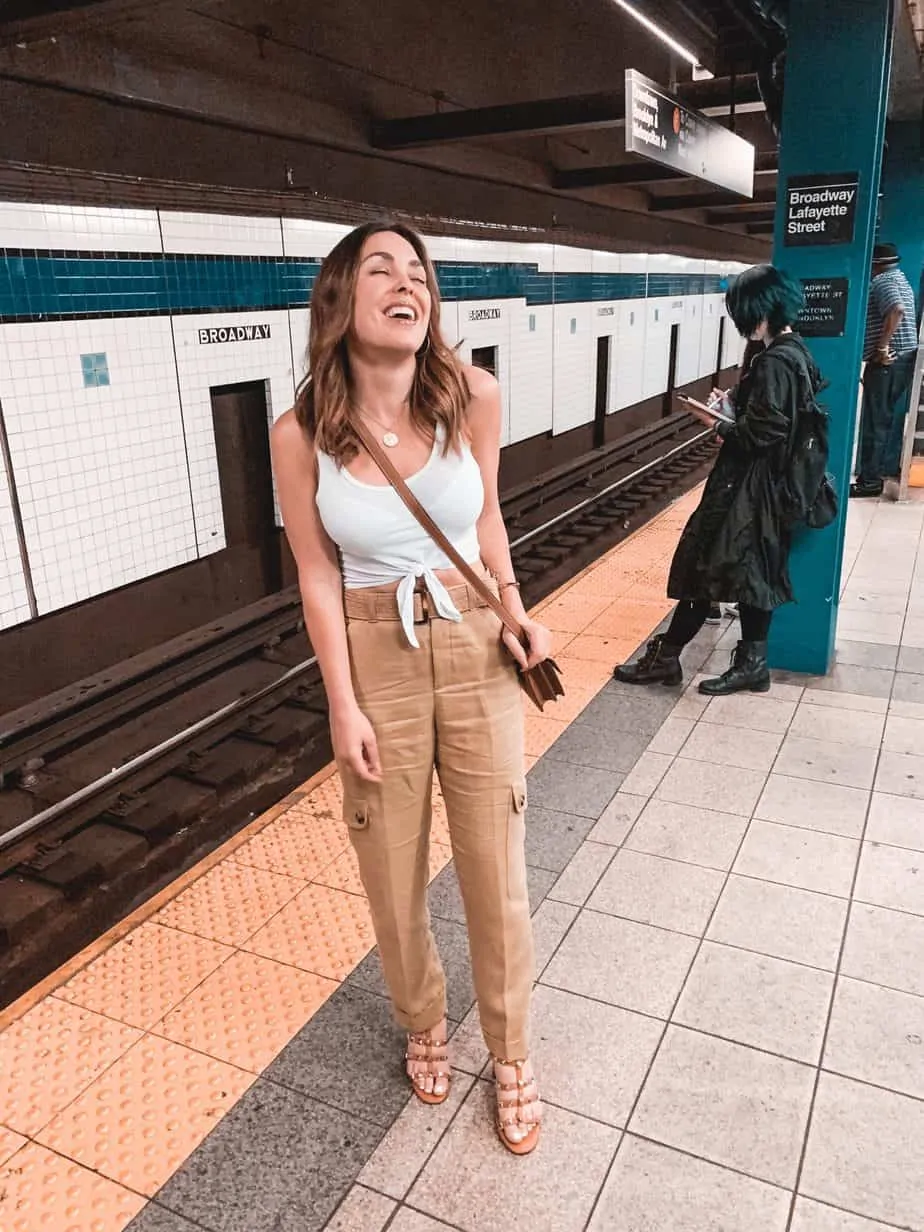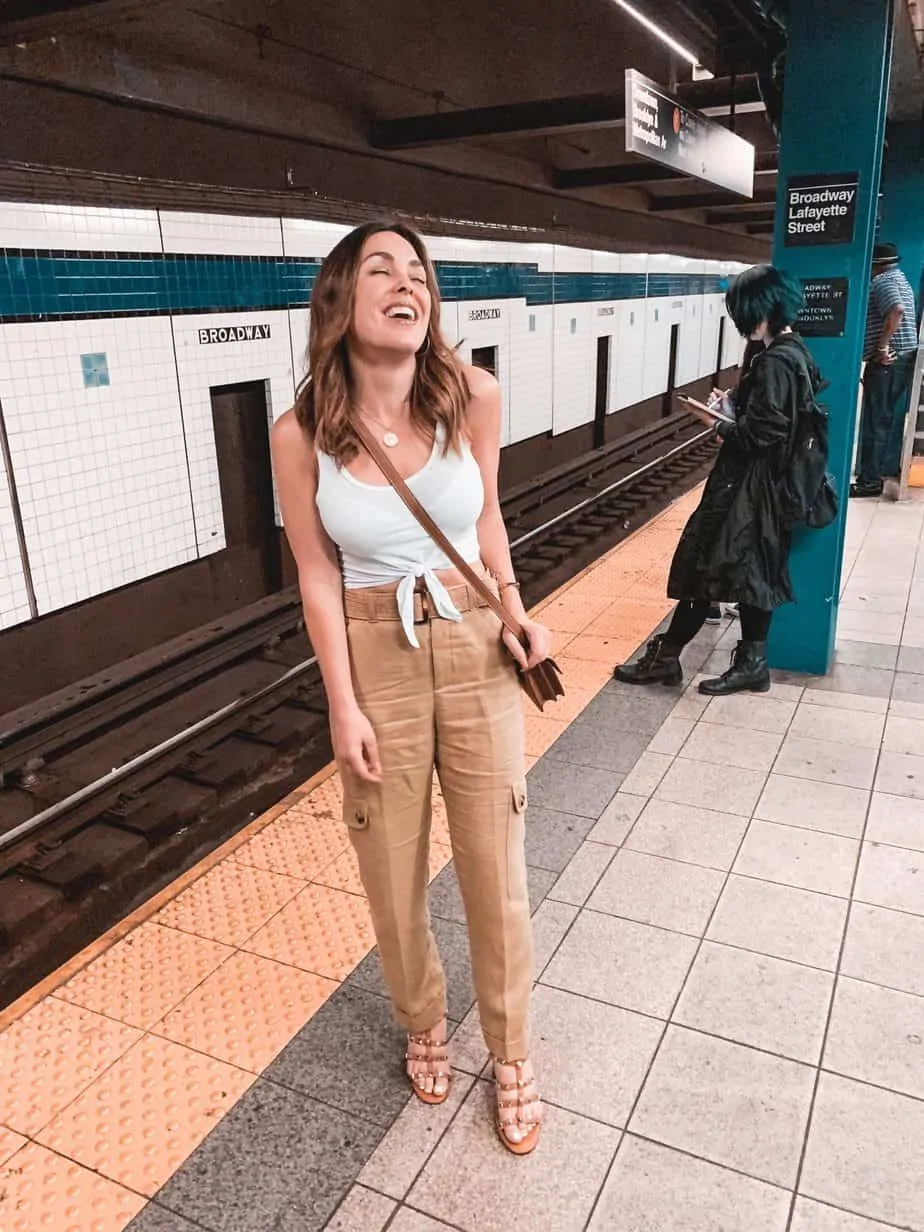 Check in to your hotel.
Now that you have your "golden ticket" and you've checked into your hotel, let's get this adventure going!

Assuming you've flown into NYC on a morning flight to take advantage of a full day of fun, quickly unpack, take a quick shower, and get ready for a packed day ahead.
NOTE: If you arrive in the afternoon, you should skip ahead to the "Soho" portion of today's itinerary.
Take the subway to the Financial District.
Ready to finally explore NYC? Let's go! Today, you're going to where it all started, the Financial District. Now, it might sound boring, but this is where NYC (originally, New Amsterdam) was founded in the 1600's and where the country's first "nation's capital" resides.
It is rich in history, has tons of great little lunch spots, and a plenty of eye-candy on Wall Street (if you know what I mean).
Explore the Oculus and Freedom Tower.
Depending on what time it is (assuming it's before noon), consult your handy Google Maps trip planner and head down to the Fulton Street stop.
From there, head to the incredible Oculus structure (one of the most Instagrammable spots in NYC!) and site of the Freedom Tower (the 9/11 memorial). 
It's not a huge area, but it's definitely worth a visit. If you like views from above, you can snag a ticket to the observation deck of the World Trade Center. Otherwise, make a quick stop, take your pics, and head down toward Wall Street (about a 10 minute walk).
Walk down Wall Street.
Once you arrive, you'll be greeted by tons of landmarks such as the New York Stock Exchange, the famous Wall Street Bull (and newly installed "Fearless Girl" statue), Alexander Hamilton's grave, Trinity Church, Federal Hall, and you'll even be able to catch a glimpse of Lady Liberty on the fringes of Fidi (that's the unofficial name of this neighborhood).
Exploring this area could take a couple of hours, but it's easy and there are tons of signs everywhere explaining what you're looking at.
Now that you've worked up an appetite, there are a few great spots you can stop at for lunch:
Industry Kitchen: If you want waterfront dining, you can head over to this indoor/outdoor spot for some sick views of the East River and the Brooklyn Bridge. 
Crown Shy: If you're a huge foodie (and a 90's hip-hop lover), you can head to this dope spot for some amazing eats and Biggie beats.
Temple Court: If you're like me and want something super Instagram-worthy, head over to The Beekman Hotel for some seriously gorg restaurant aesthetics.
If you're in the mood for a liquid lunch (ahem, here's looking at you, rosé), head over to Eataly Downtown, Le District at Brookfield Place or the Rooftop at the Conrad Hotel.
Pro Tip: Download the Seated App to book your restaurant reservations during your stay in NYC and get paid to dine. That's right, you'll get money back into your account for instant use at online retailers like Delta, Amazon, LuluLemon, Zara and more, as soon as you upload your receipt!
Make your way to Soho!
Now that you're fueled (and maybe a little tipsy), it's time for some sights and shopping. An absolute must for any girls weekend in NYC, Soho is the epicenter of all things chic.
You can take the 4,5,6 (green) subway line—heading uptown—just a few stops to Canal Street and make your way through Chinatown and Soho.
Here, you'll have the chance to explore tons of cute shops, art galleries, boutiques, cafes, and you might even find yourself having an afternoon aperitif! 
Depending on what you like to do, this area can take anywhere from 2-3 hours.
For some mainstream shopping, head down Broadway (the main street in Soho) and for some more boutique-style shopping, walk down the side streets including Mercer, Greene, Prince, Spring and Broome. 
Stop for a bite to eat.
If you're feeling a little peckish…
BEST PLACES FOR LUNCH IN SOHO:
Lure for a yummy (and swanky) sushi spot
The Butcher's Daughter for some healthy eats
Felix for a fun French indoor/outdoor brasserie vibe
Tacombi for a cute taco spot with a v. instagram worthy interior
Prince Street Pizza for one of the best slices in the city
Ruby's for an awesome Aussie meal
Or, if you're still on that liquid kick, head to Cipriani on West Broadway for the best bellini in town (and some serious sidewalk people watching to match), Jimmy at The James for a great rooftop and amazing views, or Gitano for some enviable Tulum-style vibes.
---
**If you opt to do a Broadway show on Day 1 instead, here are some of the BEST SPOTS IN THE THEATER DISTRICT for dinner or drinks after your show:
The Edition Hotel: Love all of their dining options but 701 West is my fave restaurant in NYC
Hudson Yards: All the restaurants here and in the surrounding neighborhood, just 10 blocks south
Restaurant Row: You're bound to run into a Broadway star at any of the spots here
Sushi by Bou: If you can snag an reservation early on), go for some speakeasy style (amazingly priced) omakase
Indian Accent: Just 10 blocks north, some of the best high-end Indian fusion you'll ever have
---
Head back to your hotel, or continue on…
By the time you're done, it might be 6:00PM, or so. Depending on your energy level or interest, you can either go back to your hotel and freshen up (no sleeping, ain't no one in NYC got time for that!) or you can keep the party going!
Pro Tip: Regarding attire, when all else fails, you can't go wrong with what we call the New York uniform—black jeans, a black tank-top or bodysuit, pumps, and some jewelry.
Next stop! The West Village.
If you decide to keep the party going, I recommend you head to the West Village for some amazing cocktails, great dinner spots and live music.
Now, the West Village is perhaps the most popular neighborhood in NYC for some serious girlie vibes, so expect every place to be at capacity. If you walk there from Soho, cut through Washington Square park for a real feel of what it's like to live (and hangout) in NYC.
Plus, a pretty spectacular view of the Empire State Building can be seen through the arch!
Once you've got your daily NYC living fix, just spend time strolling the cobblestone, tree-lined streets of the West Village. You'll really feel like you're walking in Carrie Bradshaw's shoes (aka Manolos).
You can head down Bleecker, West 4th, or even Hudson Street for all the local boutique and cafe vibes. Keep your eyes open because there are tons of undercover celebs in this 'hood, including Mrs. SJP, herself!
Grab an early evening cocktail.
For pre-dinner drinks, stop at:
Bar Pisellino
While We Were Young
Fedora
Cafe Cluny
The Happiest Hour
Rosemary's
Next, head to dinner at one of these cute West Village spots.
If any of these have a long wait time, just put your name on the list, go explore (the Friends' apartment and Carrie Bradshaw's apartment exteriors are both nearby) or grab a cocktail, and come back. I promise you won't be disappointed!

Joseph Leonard
Sant Ambroeus
The Spaniard
Via Carota
Waverly Inn
Sushi on Jones
Hit the town.
After all of this, and if you still have some energy, here are some fun late-night options for you:
Blue Note for some live jazz
Marie's Crisis for some piano-bar Broadway tunes
Employees Only or Little Branch for amazing cocktails in a speakeasy setting
Anfora for a cute, low-key wine bar
Due West for a high-end sports bar vibe
If you want more of a party atmosphere, just keep heading northwest to the "Meatpacking District" where the city comes alive at night. Here, you can check out:
Pastis or Catch/Catch Steak: Manhattan's most beautiful people in a restaurant setting (with a swanky bar area, of course)
The Standard Hotel and it's famous rooftop, Boom Boom Room (if you can get in): some of the most gorgeous views
PHD at the Dream Hotel: late-night rooftop dancing and bottle popping
---
Saturday, Day 2: Brooklyn, Boozy Brunch, Girls Night Out
It's time to rise and shine for a full day ahead. Today you'll want to wear something super cute, because there will be plenty of opportunities to snag those instagram-worthy shots you've seen all over the 'Gram.
Make sure you wear comfortable shoes though—you'll thank me later. (You can always take your cute heels in your bag and put them on for the photo opp.)
Head to the Brooklyn Bridge.
Now that you're ready and have your hypothetical coffee and bagel in hand (I love a good ol' fashioned toasted sesame bagel with cream cheese and sliced tomatoes), it's time to take the train back downtown to the City Hall stop to see the world famous Brooklyn Bridge.
I recommend getting there before 8:00am if you want shots with (almost) no one in your pictures. 
Once you've arrived at the base of the bridge on the Manhattan side, you'll head east on the bridge toward Brooklyn. Don't get overwhelmed by all the amazing views while you're on the bridge because you'll want to reserve some of that phone power for the other side. 
*Pro Tip: You may want to hire a photographer for an hour to capture your best shots. It's not that expensive and you'll have those memories forever. It's definitely worth the investment. 
Also, if you're someone who loves guided tours, New York City 4 All and A Slice of Brooklyn Pizza Tour are two awesome suggestions for you.
Explore DUMBO/Brooklyn Bridge Park.
Ok, back to business. Now that you've made it across the bridge (it really only takes like 20 minutes, depending on how fast or slow you go, of course), you'll be in DUMBO/Brooklyn Bridge Park. This is personally my favorite area of Brooklyn.
Its charming vibe, incredible views, and all around cool-factor get me every time.
When here, you can head down toward the waterfront to capture some sick views of the Manhattan skyline, pretty pictures in front of Jane's Carousel, or frame-worthy snaps of "Washington Street," the cobblestone street made famous by Instagram. 

Having taken all the pictures your heart can handle by this point, you might want to check out Empire Stores for some cute boutiques and cafes, or The 1 Hotel Brooklyn Bridge for some seriously enviable hotel aesthetics (and rooftop to match).
Otherwise, feel free to keep it moving to Williamsburg where all the cool kids are. You can get there by ferry, Citi bike, or a quick Uber ride.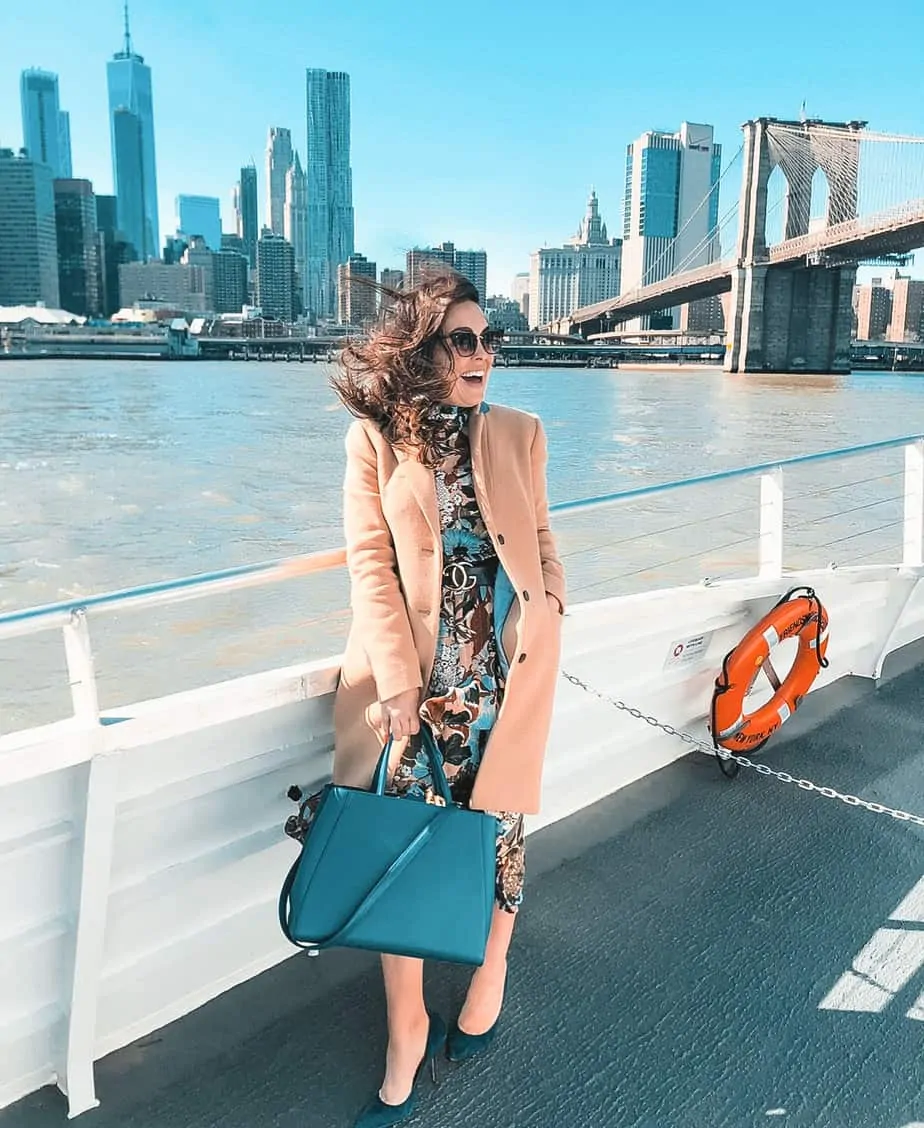 Indulge in a classic boozy brunch.
No girls weekend in NYC is complete without a boozy brunch. This neighborhood is chock full of amazing spots for grub—almost too many. Here are a few neighborhood recommendations for your fancy.
BEST PLACES FOR BRUNCH IN WILLIAMSBURG:
Sundays in Brooklyn
Maison Premiere
Pies-n-Thighs
Cafe Mogador
Now that you've quenched your thirst and satisfied your hunger, you can either opt to stroll the streets of the 'Berg, including popping in and out of the multiple vintage and second hand shops in the area, or you can head to one of the area's fab rooftops to hang. 
BEST ROOFTOP BARS IN WILLIAMSBURG:
Westlight at the William Vale
The Watertower Bar at the Williamsburg Hotel
The Hoxton Hotel
You've got options! A park, a brewery, a winery, a bowling alley, or a street art collective.
Take a rest down by the water at Domino Park, take a tour of the Brooklyn Brewery or Brooklyn Winery, or even head into Brooklyn Bowl for some friendly competition, if it's a rainy day.
And, if you're feeling super artsy, head inland a tour of some of the best street art NYC has to offer at the Bushwick Collective.
Here, you'll find an ever-changing array of street murals, including the giant Biggie rendering you may have seen on social media. You can even stop at the famous Roberta's pizza after your art fix for a seriously cool indoor/outdoor pizza joint.
Head back to your hotel.
At this point, you might be wondering if you can handle any more…but hey, you've only got a few more hours in NYC, why not make the most of it? Make your way back to your hotel for a quick refresh and gear up for another night of Big Apple bliss. 
Have cocktails at a hotel rooftop bar with a view.
Tonight, you'll be exploring the magic of midtown. So many people avoid it like the plague, but there are tons of hidden gems!
First, we'll get started with a rooftop visit to Refinery Hotel or the Arlo Nomad. They each sit just a few blocks from the Empire State Building, so you'll have the most gorgeous unobstructed views of this world-renowned beauty.
Grab a cocktail and a few light bites, but you won't be here for long. This is the pre-game. 
Explore NYC's nightlife scene.
As the night goes on, you'll have a few options that are great for large groups—like Fleur Room, where you can dance above the city in a space enveloped by the most beautiful floral decor.
Another option is Paradise Club inside the Times Square Edition Hotel. Each night they have an interactive show created by none other than the legendary Ian Schraeger, of Studio 54 fame. Note that you'll have to make reservations in advance.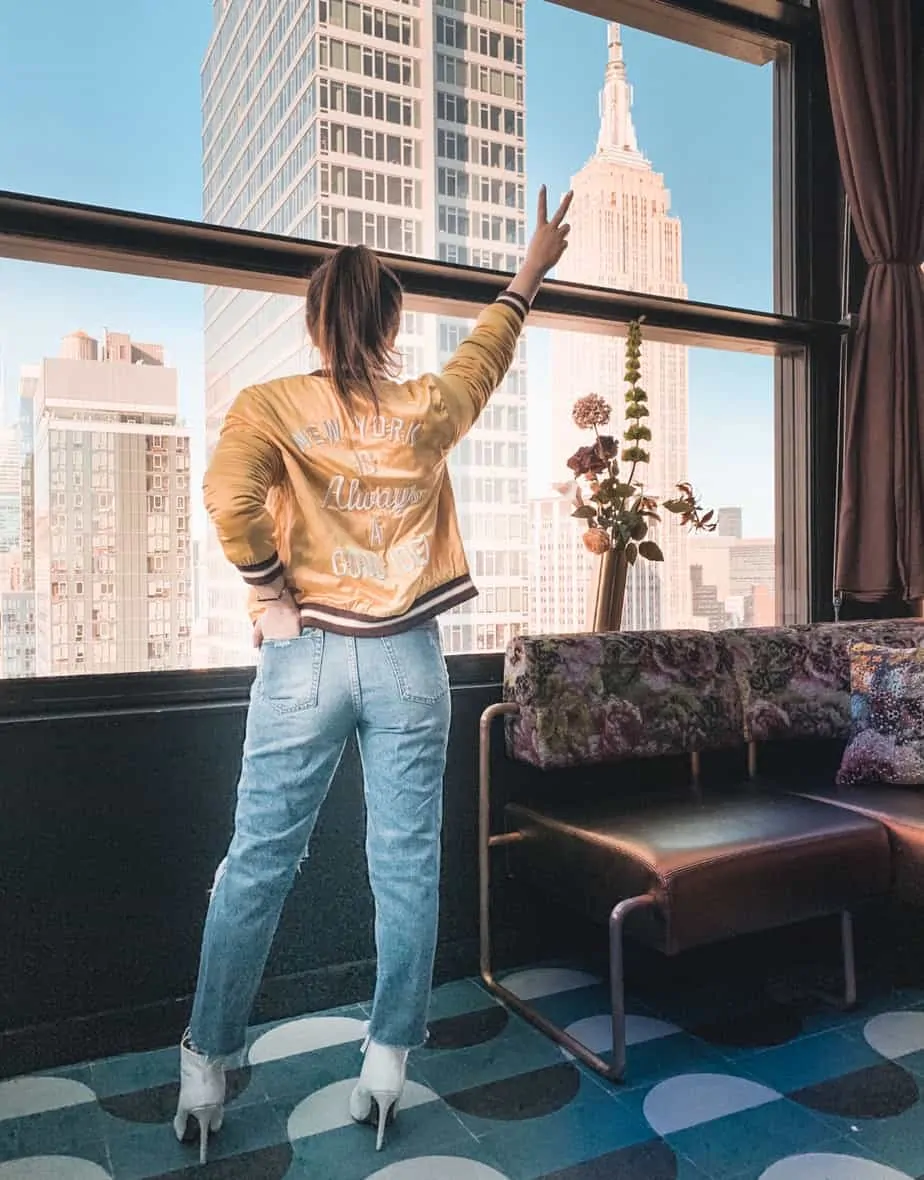 If neither of these is your vibe, you can also hit up one of two insanely cool magic shows: Chamber Magic at the Lotte Palace Hotel, or Speakeasy Magic at The McKittrick Hotel. They also have an incredible immersive theatre experience, Sleep No More.
There are a number of other live acts in the area as well: Broadway, tons of comedy clubs, live music at BirdLand and other similar entertainment venues.
End the evening with a late-night jaunt to Times Square.
Finally, as your night comes to an end, you'll want to head to the middle of it all: Times Square. If you've never been, it's truly a site for the senses. I always recommend going later in the evening when the crowds tend to "thin" out (that's a relative term, of course).
As you marvel at the bright lights of the Concrete Jungle, you'll want to make your way to the "red stairs" for some epic picture taking angles.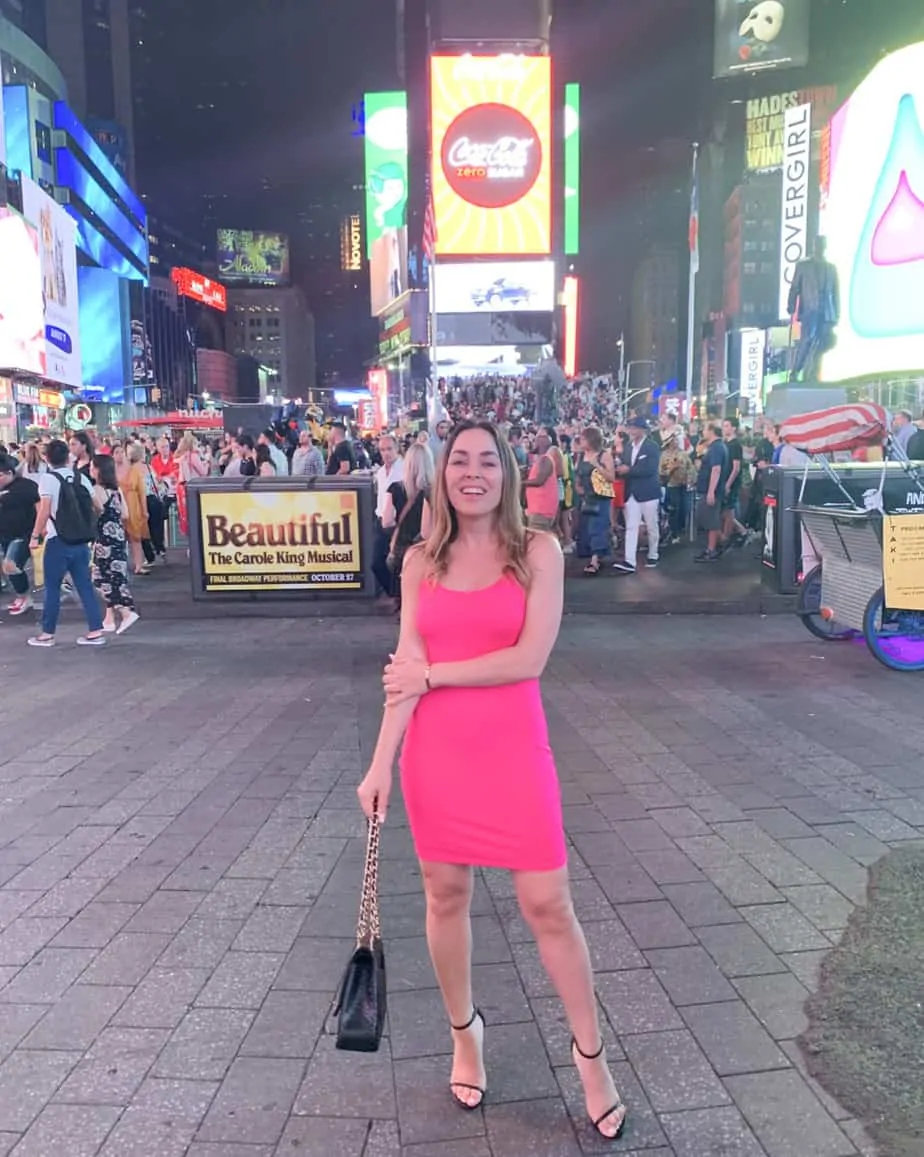 Pro Tip: If you're like me and like seeing things from above, 701 West at the Times Square Edition has an entire outdoor dining deck where you can see and feel Times Square from above. It's definitely a magical experience.
---
Sunday, Day 3: Central Park, Shopping, Museums, Fancy Cocktails
Pick up breakfast at Blue Stone Lane.
Today, we're headed to Central Park for an early morning stroll. But, not before getting coffee and a yummy breakfast at Blue Stone Lane.
This Aussie cafe has tons of locations around the city, but none as special as the one on 90th street, as it's set in a gothic style church!
Head to Central Park.
Once you've grabbed a quick bite and your much needed caffeine, head into Central Park, just across the street. While you could literally spend an entire day in this massive urban oasis, here's a few points of interest I recommend:
The Alice in Wonderland bronze statue

The Jackie Onassis Reservoir

Sheep's Meadow

Strawberry Fields (you'll find the John Lennon "Imagine Circle" here and people paying homage to him

Wolman's rink (now Trump ice skating rink)

Bow Bridge
Try to accomplish all this before 10:00 AM because the next stop is the Met Museum and lines are long! 
Pro Tip: It's a free museum, but if you buy a yearly membership, you'll get a pass for two and will be able to enter through the member's line.

Make your way to the Met.
Depending on how much you love museums, I would suggest picking one or two exhibits (perhaps one that is not permanent) and moving through the museum within a couple hours.
You could spend days here, but since there's too much else to do, you'll just want to get a taste of what this stunning historical landmark has to offer.
Definitely check out Tomb of Dendur for some ancient Egyptian vibes and stunning interior architecture work, and don't miss The Roof Garden and Martini Bar—yes, the museum has a rooftop!—for some of the most beautiful aerial views of Central Park, and perhaps even a rooftop art installation.
Have brunch or lunch at one of these NYC institutions.
By this time, you might be ready for some lunch. Head over to the West Side for some great brunch/lunch options:
Jacob's Pickle for some serious southern-inspired food
Barney Greengrass for some bagels and lox at an old-school Jewish deli (mentioned in The Marvelous Mrs. Maisel, the perfect homage to all things vintage NYC)
The Smith for a cool, sceney bistro type of vibe
Check out Lincoln Center and Rockefeller Center.
Once you've enjoyed a yummy lunch, you can head down the West Side to Lincoln Center to catch a glimpse of one of the most iconic performance venues in the world: the home of the New York Philharmonic, the opera, the New York City ballet and so much more.
And because there's no shortage of landmarks, you can keep heading down towards midtown to experience all that is Rockefeller Center.
If you're there around Christmas time, this is the epicenter of all things holiday, but otherwise, it's just a quick stop for a few snaps, including the new Tiffany's store. (If you're able to snag a rez, you could even do the quintessential Breakfast at Tiffany's experience, which is currently available at the flagship.)         
Walk south toward Bryant Park.
You'll end the (almost) final part of your Sunday Funday around mid-afternoon at one of my favorite areas of New York: Bryant Park, the New York Public Library, and Grand Central Terminal.
Within a few blocks of one another, this area is the perfect location to go slow and take it all in. You'll have plenty of time to wander the whimsical halls of Grand Central, get lost in the library or just lounge in the park.
There are also plenty of opportunities for picture taking, so make sure you saved enough battery power. 
Stop for coffee or cocktail.
If you need an afternoon pick-me-up, you can head over to the Library Hotel for their cute, but small, rooftop.
Head back to your hotel to rest.
Pop into your hotel to take a quick shower and a snooze (if you wish!) Tonight you'll want to throw on something sophisticated and "uptown chic"—because you're going to have a night fit for a queen.
Dinner on the Upper East Side.
If you're open to a splurge, these restaurant options are the Upper East Side are to-die-for.
Antonnuci Cafe for some amazing home cooked Italian
Daniel for a once-in-a-life-time splurge
Marea for see-and-be-seen dining
For something less pricey, try these instead:
The Penrose
Boqueria
La Esquina
Have a drink at New York's most famed hotels.
If you're like me and love sophisticated, classic New York City, you can start by heading to The Mark Hotel (the site of Megan Markle's baby shower) for a swanky vibe and a cocktail to match.
Then, head up a few blocks to Bemelmans Bar at the Carlyle Hotel (home of Woody Allen's jazz band) for some jazz, martinis, and a taste of what it's like to live the "Uptown" old-timey life.
This one will cost you (there's a cover charge and drinks don't come cheap), but it's a place to remember. If you decide to go, pay attention to the walls—they're bedecked in original murals by Ludwig Bemelmans, the same artist who created Madeline! 
Pro Tip: On the complete opposite end of the spectrum… another fun group alternative is to catch any one of number of NY sports team games including the Knicks or Nets, the Yankees or Mets, the Islanders or Rangers, the Jets or Giants.
---
Best NYC Hotels for a Girls Weekend
If you're wondering where to stay in New York City for a girls weekend, I have you covered. NYC is chock full of hotel options, but if you like unique experiences, I always recommend one of the many boutique hotels the city has to offer.
Some of these properties are an incredible value if you know how to use credit card points. (If not, I highly recommend reading our post on How to Use Points and Miles for Free Travel.)
Here's a few places broken down by location:

Uptown
Midtown
Downtown
Brooklyn
---
15 Fun Things to Do in NYC with Girlfriends
MSG/Barclays Center for a concert

Aire Ancient Baths for relaxation

Muse Perfume Parlor for curated scent experience

Essie Flagship Salon for manicures

The Highline

Tea at Palm Court (Inside The Plaza Hotel)

The Whitney Museum

Madison Square Garden

Carnegie Hall 

Radio City Music Hall 

MOMA

Empire State Building

Statue of Liberty

Governor's Island



Breakfast at Tiffany's
---
Best Bars for Large Groups in NYC
La Esquina for cool speakeasy
Brandy's Piano Bar for belting out tunes
Beauty & Essex for cocktails
Drag Brunch for well, drag brunch
Bar 65 (Top of the Rock) for drinks with a view
Terra Tribeca for a cozy yet spacious wine bar
---
Weekend Getaways Outside of NYC
And just like that, your 3-day jaunt to the "City that never sleeps" is over!
But don't worry, NYC isn't going anywhere, and there's plenty for you to do, see, and eat when you come back.
Here are a few honorable mentions for your next visit:
For the Bougie Girls: Day trip to the Hamptons
For the Hiking or Antique-Loving Girls: Day trip to Cold Spring
For the Beachy Girls: Day trip to Asbury Park
For the Artsy Girls: Day trip to Storm King Art and Nature Park 
For the Culture Curious Girls: Day trip to the Bronx (New York Botanical Garden and Arthur Avenue)
For the Soul-Seeking Girls: Day trip through Harlem
For the Seasons Loving Girls: Day trip to go apple picking upstate


Nikki Marie, a Cuban American Miami native, moved to her dream city, NYC, in 2015. Her penchant for adventure and travel have taken her to more than 30 countries. A PR pro 9-5, Nikki Marie uses her free time to share her travel hacks and high-lo fashion inspo via her instagram @TheCubanCarrie – a play on words of her all-time favorite character, Carrie Bradshaw.
Pin this post for later: