With so many different travel apps and websites available, it's now easier than ever to keep yourself organized while planning a trip. One of my favorite tools to use is Google Maps Trip Planner.
If you're the type of person that gets easily overwhelmed when putting together an itinerary, you'll want to follow this step-by-step guide which details exactly how I use it. Google Maps Trip Planner is not only a highly-visual way to get your bearings of an area, but it's extremely useful for figuring out where you can realistically travel to during the duration of your trip.
It's a fantastic way to use google maps for multiple stops in a single itinerary, and also comes in handy if you've received a TON of recommendations from friends, because you can add all of them to the map, and then refer back to it as you're out and about exploring.
For example: if you're visiting NYC and find yourself in Soho looking for a cute cafe, rather than endlessly scrolling through Yelp or TripAdvisor, you'll be able to pull out your trip planner to see if you're near places that your friends have recommended!
Here's the step-by-step outline that we'll go over:
Create a new Google map for your destination.
Choose categories for your map.
Start adding your locations and ideas.
Customize and color-code your map.
Decide which activities to group together.
Plan your day-by-day itinerary.
Download the Google Maps app on your phone.
Share your map with friends.
This will all make more sense once I walk you through everything with screengrabs.
Whether you're thinking about a girlfriends getaway or a honeymoon, Google Maps Trip planner will be a game changer for you. Take my word for it! Here's a step-by-step guide for planning your first Google Maps getaway.
---
How to Use Google Maps Trip Planner
1. Make a New Google Map.
To get started, you'll need to create a new Google Map by visiting this link.
It will take you to the main maps page, which you've likely seen before. (Make sure you're logged into a Google account, and if you don't already have one, you can sign up for free here.)
Once you're signed in, click on the three bars icon in the top left corner and select "Your Places" from the menu.
Next, you'll want to click on "Maps" in the far right corner of the menu.
You won't see anything listed yet, unless you've created a map previously.
Click "Create Map" (which is at the bottom of the menu.)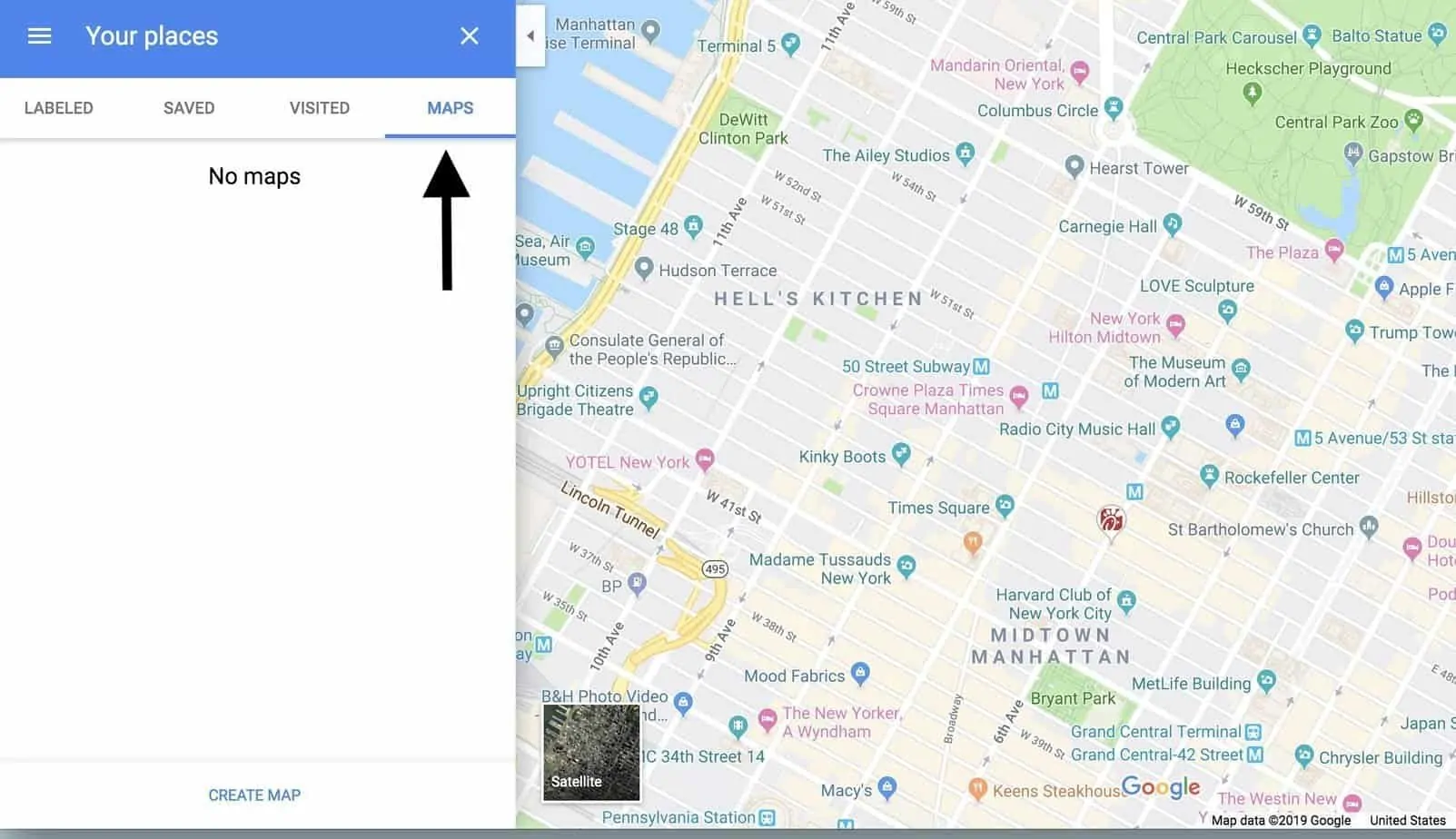 After that, you'll be directed to an untitled map that you'll want to name and add a description to.
Do this by clicking on "Untitled Map" and a text box will appear and allow you to fill out this information. Remember to be as specific as possible so you stay organized throughout the entire planning process.
---
2. Categorize Your Map.
Create a list of all the things you want to spend your time doing on your trip. Here are the categories I typically use:
Restaurants & Bars
Cafes
Shopping
Cities & Towns (this is good if you're road-tripping or visiting multiple destinations during a single trip)
Hotels (I'd only use this category if you're staying in more than one)
Activities (beaches, hikes, Instagram spots, etc)
Now that you have your category ideas solidified, you'll create a "layer" for each one by clicking on the "Add Layer" button on the left hand-side of your screen.
Be sure to name each individual layer by clicking on "Untitled Layer" text box, just like you did when you first named your map. I named my first layer "Hotels" as an example.
---
More: How I Use Points & Miles to Travel for Free
---
3. Add Your Ideas to the Google Map.
If you're planning a trip to a destination you've been thinking about visiting for a while, it's likely that you already have some things on your bucket list, whether it be from friends, bloggers, travel sites, or Instagram.
This is your chance to put those thoughts in one organized space and see which ones you'll be able to make time for. (Shameless plug: I have guides for Tokyo, Maui, New York City, Thailand, Mykonos, Santorini, Positano, Miami, St Barths, and more. Feel free to use them for inspiration should you be heading to any of these locations!)
To add an idea you have for your trip, click on the layer (the category) that you want to add a location marker to.
For example, I added this hotel to my map by checking the box on my "Hotels" layer and then typing the hotel name into the search bar. When the place you're searching for pops up on the menu, click "Add to Map" and you'll see that a marker is placed on the map. You'll also notice that the name of the location is added underneath the layer description on the left side of the screen.
If you accidentally put a location into the wrong layer: not to worry. You can easily drag the location and drop it into the correct category.
If the place you're searching for doesn't auto-populate: it's probably because Google hasn't made a location for it yet. But don't fret! You can just as easily add that spot to your map by typing the address into the search bar and writing the location name manually.
---
Need some trip inspiration? Check out my travel guides, go-to airport looks, and carry-on essentials here.
---
4. Customize Your Map.
One of the best ways to keep things visually organized is by color-coding your markers by their category.
To do this, click on the paint bucket that's located at the bottom of the location marker's pop-up window.
You can also add additional notes about a location (i.e. "LindsaySilb's favorite bar; order their signature Bloody Mary) or write down other ideas that you have for that place by clicking on the pencil icon directly next to the paint bucket.
To remove an idea from your trip, just click the trash can icon that's on the same panel.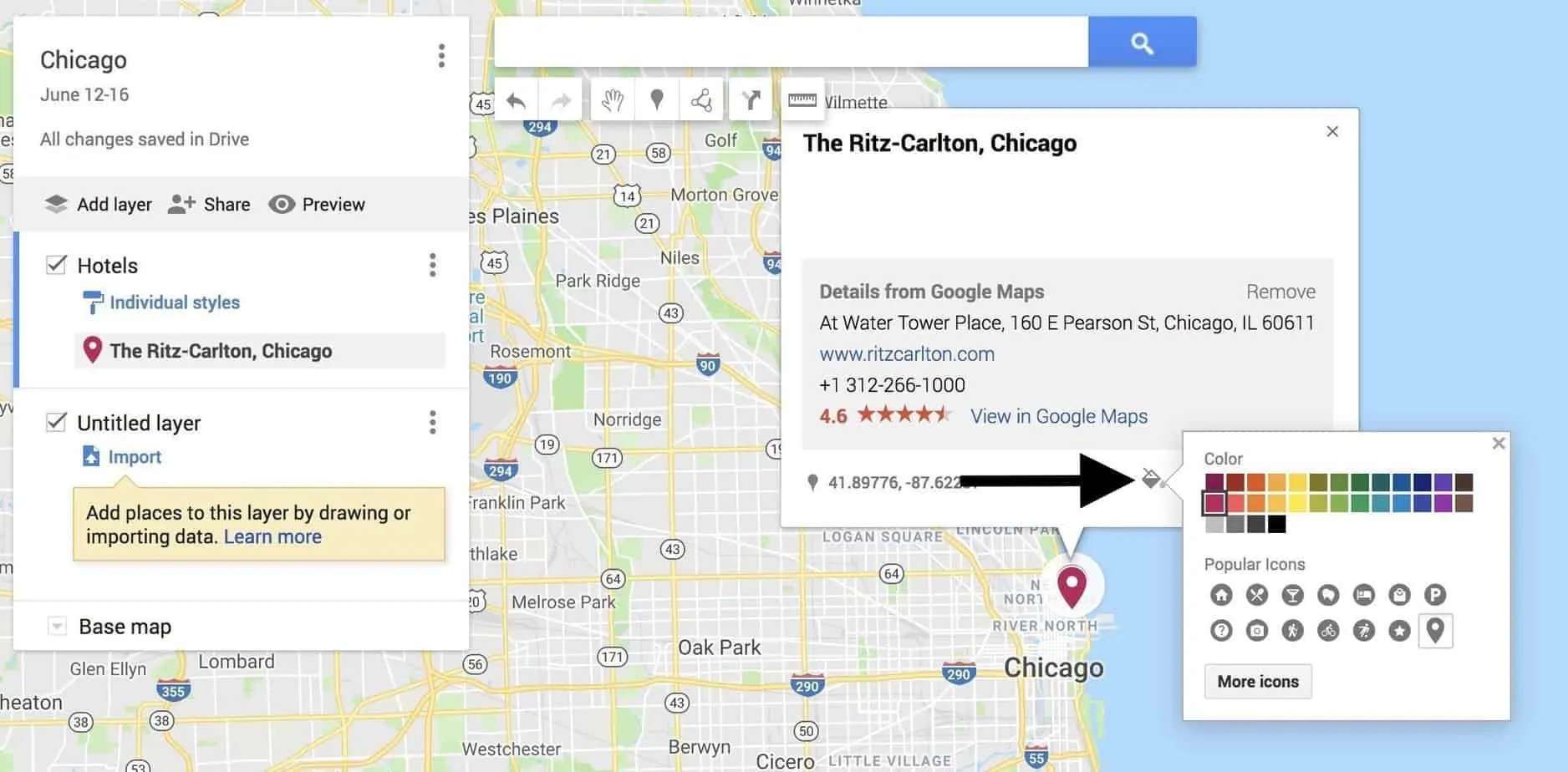 There are a number of ways to use color coding:
You can color-code things by priority.

For example, you could mark all the restaurants that were on your "Must Visit" list in red, the ones you'd like to go to in yellow, and the ones you would stop by if you have the time in green. This will help you make sure that you get everything checked off of your "must-see" and "must-do" list first.
You can color-code restaurants by price or formality.

For example, pricier sit-down restaurants can be marked in blue, while casual "grab and go" places could be labeled in green.
You can use color-coding to further break down your categories.

You might have just one layer named "Activities" but instead of color coding all those places green, for example, you could mark the museums in purple, mark parks in blue, and stores in gray.
Pro tip: Even if you don't want to color code everything, I recommend changing the default color from blue to something brighter, like red or yellow. In my experience, the blue location markers can be a bit hard to find on the map.
When you're done organizing your categories, hit the save button and you'll notice that they all show up underneath their accompanying layer.
Each location should be saved along with its phone number, address, and website information. This is super helpful because if you decide you want to make a reservation at a restaurant or purchase tickets to a theater show, you have all the tools you need to get there in one space.
---
5. Decide Which Activities to Group Together.
At this stage, you'll be able to see a zoomed-out version of the map, with all of your points of interest plotted.
This might help you make decisions about which neighborhood to stay in, which hotel to book (if you've been debating between a few), which restaurants you can walk to, or which activities should be grouped together.
It's nice to see your entire itinerary on a map and use a process of elimination approach to determine which pitstops make the most sense on which days. Seeing things on a map also makes it easier to keep track of the amount of time you'll need to dedicate to get from place to place.
---
6. Plan Your Day-by-Day Itinerary.
I like to create a Google Doc that has a little outline of each day of the trip. I also use the doc as the place to store hotel confirmation numbers, car rental info, and flight info.
If you're planning on driving when you get to your destination, you can easily pull up directions to your first stop by clicking on the arrow icon on the bottom of the pop-up's panel.
This will automatically create a new layer on the left side of your screen with the location's name on it. You'll need to type in your starting location, like the airport, in the text box above it that's labeled "A" and then click on the icon with the three dots to get step-by-step driving directions.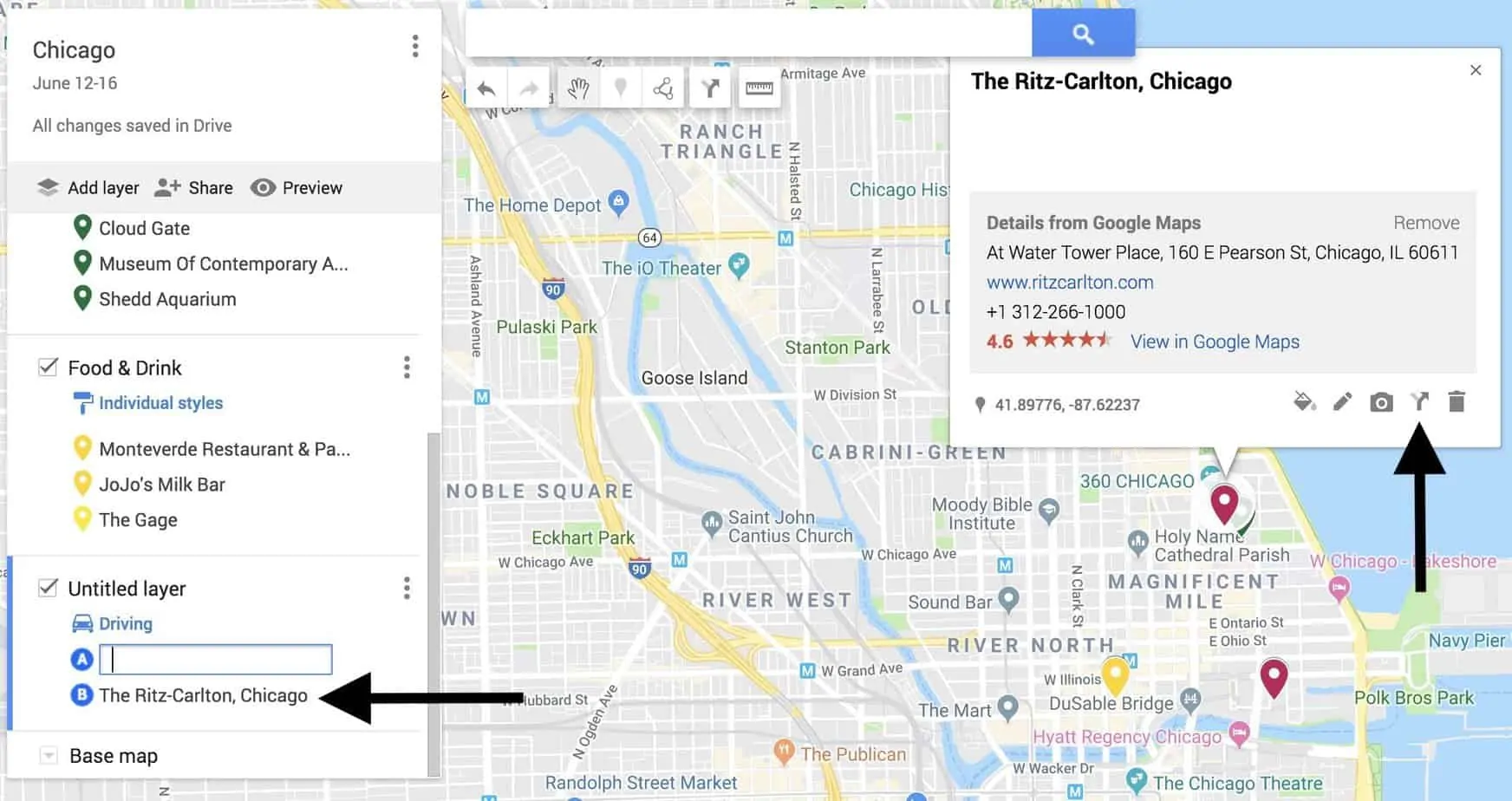 ---
7. Download Google Maps on Your Phone & Log In.
Finally, to make the map you created accessible on your phone while you're traveling, you'll need to have Google Maps downloaded if you don't already.
Then, be sure to sign in with the same Google account that you used to first create the map. Once you're signed in, go to "Your Places," and scroll to the last tab on the right called "Maps."
VOILA!
---
8. Share Your Map with Friends and Travel Buddies.
One of the best parts about using Google Maps Trip Planner is being able to share the map. If you're traveling with a group, sharing the map ahead of time will ensure that everyone is on the same page about where things are located.
And better yet, after you've returned from your trip, you now have a full list of everything that you can share with friends who are headed to that location.
To share the map on desktop, simply open the map like you've done previously. You'll notice the "share" button directly underneath the title of your map. Click it, and you'll have the option to share via Twitter, Facebook, or email.
To share the map on mobile, open the Google Maps app, then click the three bars > your places > maps. Select your preferred map, then select "View Map Legend," and finally click share. You'll be able to share your map via text, airdrop, Facebook, Twitter, email etc.
If you're feeling particularly generous, I recommend going back into the map and adding notes about places that you went, what to order there, places that were worth skipping, etc. Your friends will thank you for it!
---
Are there other apps or hacks that you use to plan trips? I'd love to hear about them. Drop your suggestions in the comments below.
Pin this post for later: