As someone with fine, color-treated hair that—for whatever reason—doesn't grow longer than my collarbone, I've dabbled in just about every type of hair extension on the market. From the absolute best clip-in extensions (more on that later) to micro-beaded extensions and tape-ins, I've truly tried it all.
So I decided it was time to share everything I've learned over the years in a thorough, detailed blog post.
In this post I've also included some expert advice from Christina Oliva Cinque, aka the Hair Goddess, who is the founder of the best hair extension salon in NYC, Olivia Christensen. (If you live in the NYC area and considering extensions, I can NOT recommend her enough.)
Below, you'll find the answers to all the questions I previously had before I dove head-first into the world of weave. If you're getting hair extensions for the first time, or if you've been thinking about them for a while, you'll find everything you need to know in this guide.
If there's anything you're curious about that I haven't answered here, feel free to ask me in the comments!
Hair Extension Guide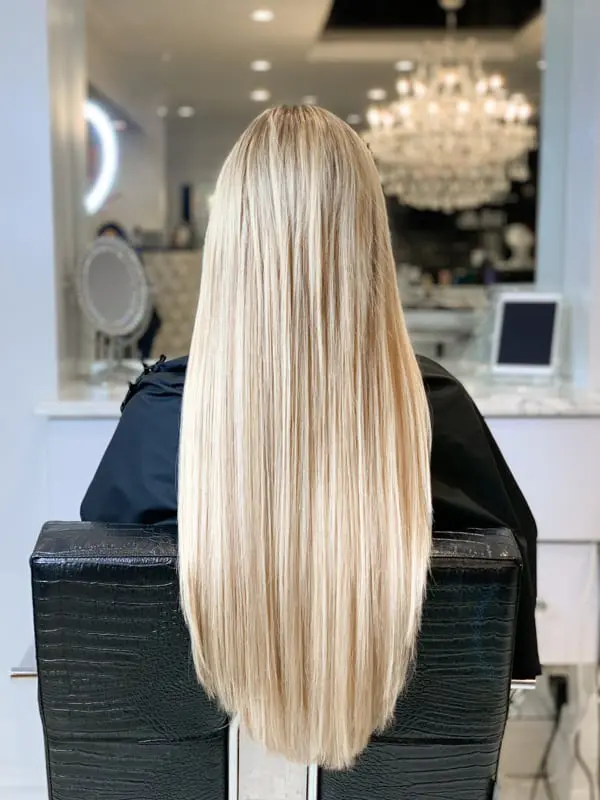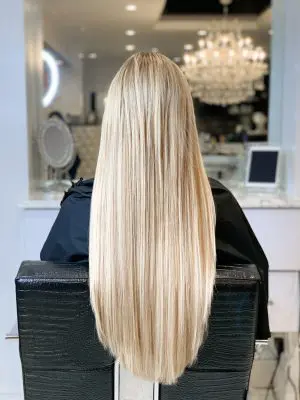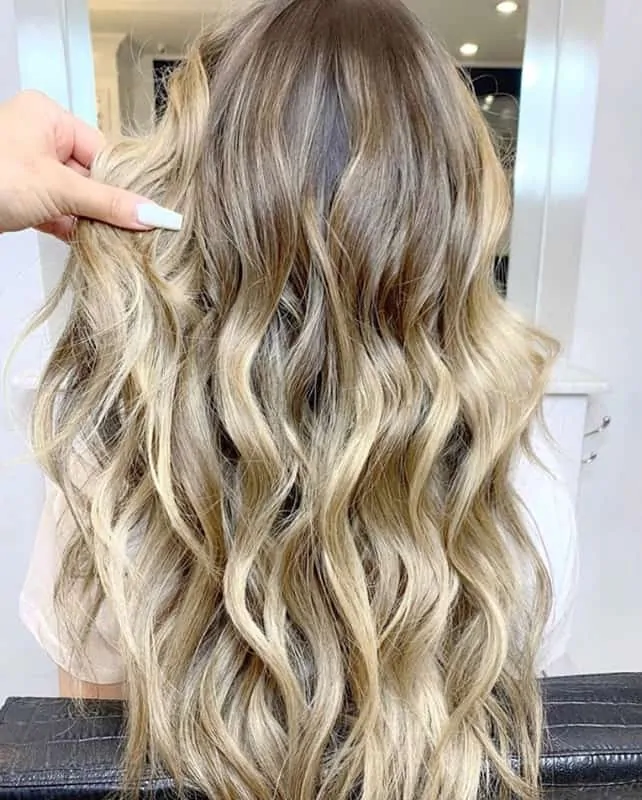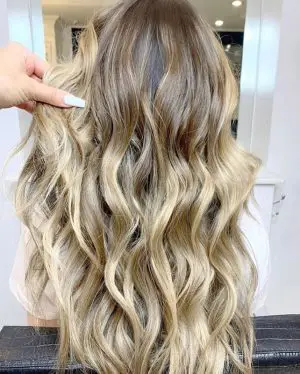 ---
How Much Are Hair Extensions?
Hair extensions typically start at around $100 for clip-ins, but can cost upwards of $3,000 for professional installation at a high-end salon.
Hair extensions range in price based on a variety of factors, like the quality of the hair, the type of extension, the amount of hair, and whether you're installing them on your own (i.e. clip-ins, halo, etc) or having them professionally installed at a salon.
---
Different Types Of Hair Extensions
Clip-In Hair Extensions
Clip-ins are temporary extensions that can be easily clipped in and out for daily use or special occasions (like weddings.) The wefts of hair are either sewed or glued onto small barrettes that you can secure at your roots underneath your natural hair.
These extensions are a great option for anyone who wants added volume or length, but doesn't want to commit to the cost or maintenance of permanent hair extensions.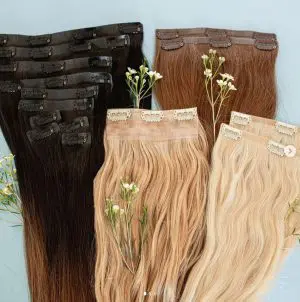 How Much Are Clip-In Extensions?
As noted above, prices vary based on the quality of hair and how much of it you purchase. It also depends on the method of hair extension being applied. Good clip-in hair extensions start at around $100 and can cost upwards of $350 – $400.
What Are the Best Clip-In Hair Extensions?
In my opinion, the best clip-in hair extensions are these.
Before I started getting mine done at a salon, I wore 18-inch clip-ins for years (and I would usually trim them to be around 16 inches.)
The quality is amazing for the price and they come in a wide variety of colors. Plus, after trying other brands of clip-ins, I personally feel that they're the best hair extensions for fine hair because they're not super thick.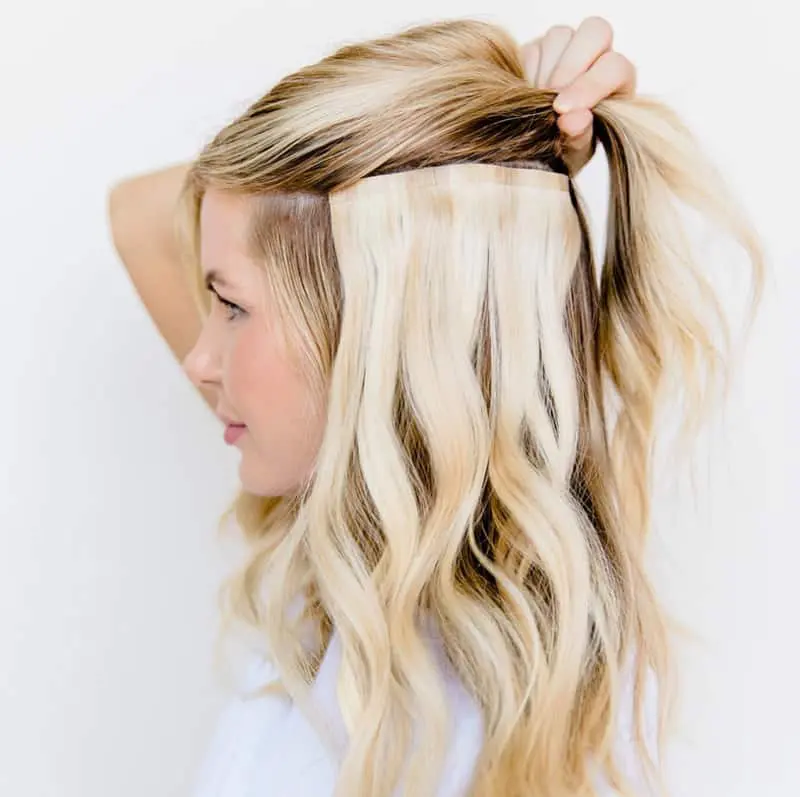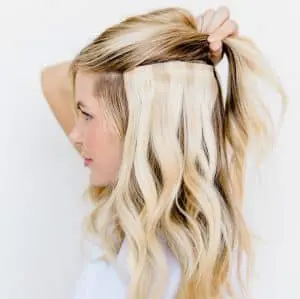 If you have really thin or fine hair, thicker clip-ins won't blend as well, and they definitely won't look as natural.
For girls with thicker hair who are looking for added length, the best clip-in hair extensions I would recommend are Bellami. They're a bit pricier because of the amount of hair that comes in the package, but they're super high quality and come in a wide range of shades.
How Long Do Clip-In Hair Extensions Last?
It depends how often you wear them. Mine would usually last 6 to 8 months, and I wore them every day. If you don't wear them as frequently and take good care of them, they could easily last a year.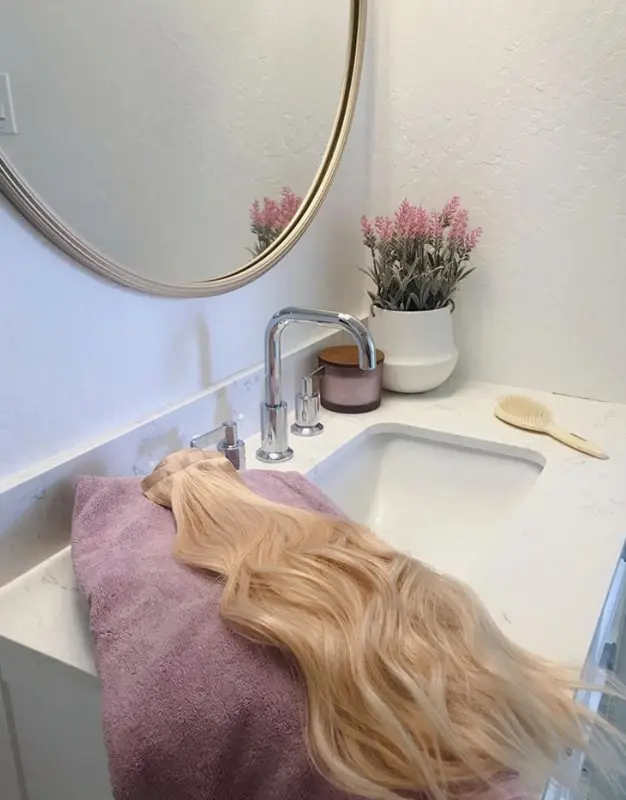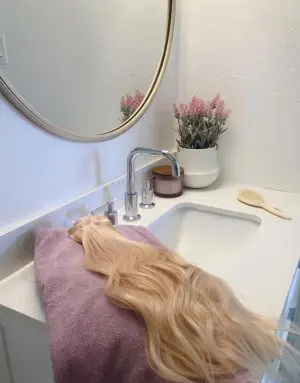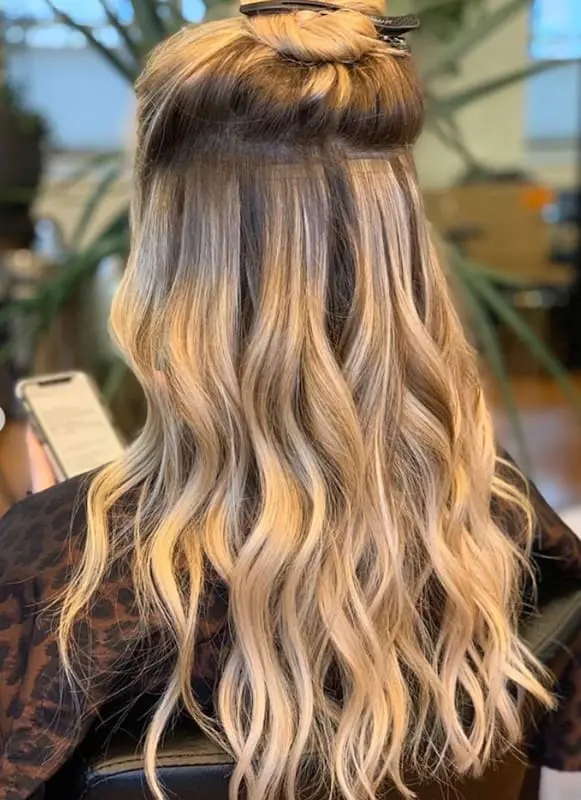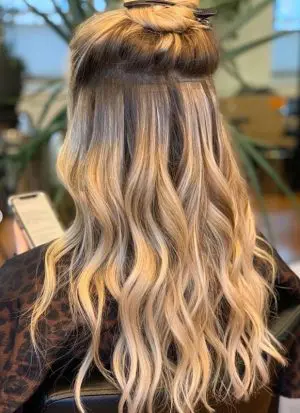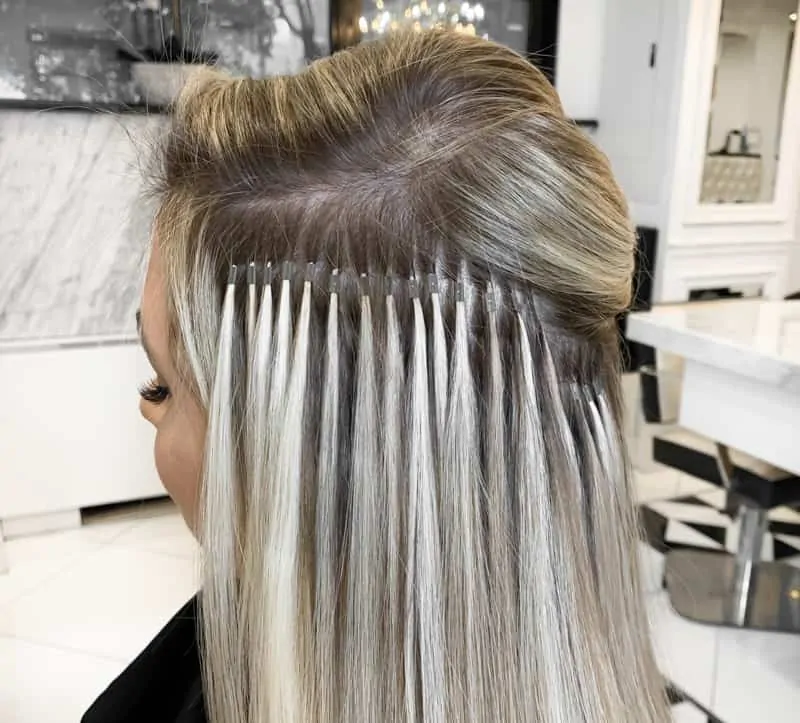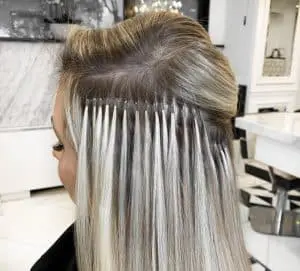 Tape-In Hair Extensions
Tape-in extensions are a method of semi-permanent hair extensions that are installed in a salon. (I wouldn't recommend attempting to install them yourself at home, unless you're a professional.)
Small, 1-inch wefts of hair are taped to pieces of your natural hair via a "sandwiching" method. Because the tape is thin and flat, the bonds are easily concealed.
They can also be pulled up into a ponytail without being seen, as long as they're not applied too close to the hairline.
How Much are Tape-In H
air

Extensions?

The price for tape-in hair extensions varies depending on your salon, the type of hair you purchase, and how much of it you want installed.

Typically, during your initial appointment, you'll pay for the cost of the hair as well as a fee for the installation. At subsequent appointments, the salon will reuse the same hair and you'll just be charged for the removal + installation.

When I had mine done at a high-end salon in NYC, my initial appointment (hair and install) was around $1,000 (not including tip.) Follow-up appointments for removal + installation were around $400.
How Long Do Tape-In Hair Extensions Last?
It really depends on how fast your hair grows, but tape-ins generally last for 8 weeks. However, the hair itself can last between 6 months and a year.
Beaded Hair Extensions
Beaded hair extensions (which are sometimes referred to as micro-ring hair extensions, microbead hair extensions, beaded weft hair extensions, or microlink hair extensions) are applied by using tiny beads to attach small wefts of hair to the natural hair.
The bead is clamped down to secure the extension in place, and does not require glue, heat, or sewing.
As is the case with any method, there are pros and cons of microbead hair extensions.
The Pros: they don't require glue or heat, they look extremely natural, and they can be easily hidden by your natural hair.
The Cons: beaded hair extensions can be very pricey, and they require maintenance every 6-8 weeks.
These are the type of hair extensions I currently have, and—not to be dramatic—but they've changed my life! As I mentioned, I currently go to Olivia Christensen, which (in my opinion) is the best hair extension salon in NYC.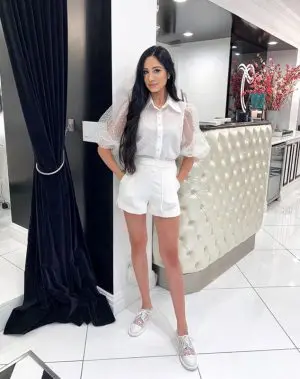 The salon was founded by Christina Oliva Cinque and she's been specializing in the beaded hair extension method for 15 years. I asked her some of the common questions associated with her method. Here's what she had to say:
Beaded Hair Extensions
How Long Do Beaded Hair Extensions Last?
Our hair extensions last 1-2 years with proper care. You will also need to come in for upkeep ever 6-8 weeks. 
How Much Are Beaded Hair Extensions?
Our extensions range anywhere from $600 to $2500 and maintenance from $300 – $600.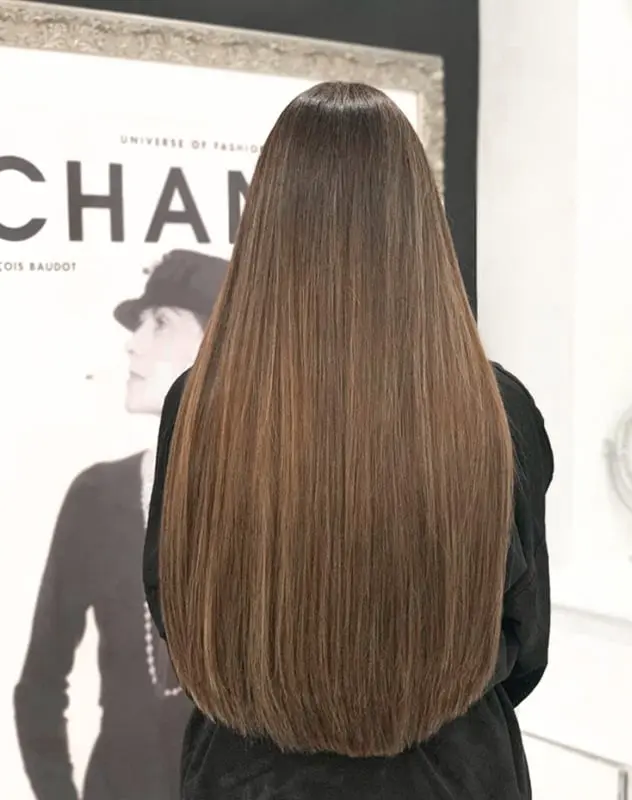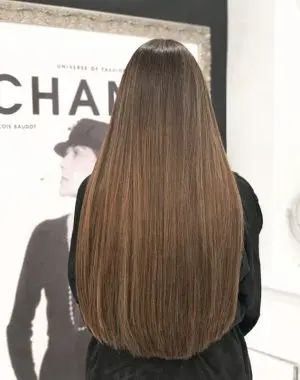 How Do Hair Extensions Work?
Our natural hair extensions are crocheted onto a bead and clamped down to secure them in place for long term wear.
Will Hair Extensions Ruin My Hair?
It won't ruin your hair as long as you come back for maintenance every 6-8 weeks. We don't recommend anything beyond that because otherwise the hair starts to mat up at the roots. Extensions needs to be maintained properly.
I've been specializing in beaded extensions for 15 years because I strongly believe that this technique doesn't damage the natural hair as it is not bonded (using glue). So many people worry about hair extensions causing hair loss, but if you're taking care of them properly, this shouldn't be a concern.
How Do You Care for Beaded Extensions?
You can treat your extensions as natural hair, which means that yes, heat styling is fine. You can blow dry and curl or straighten your hair as usual. Washing and drying your hair will also be pretty much the same. We recommend the Dyson Hair Dryer or the T3 because it doesn't put a lot of heat on your natural hair or extensions.
For sleeping, we recommend a low pony or a braid so that the extensions aren't all over your pillow and getting tied up.
Don't use full hair masks and only apply conditioner halfway down the hair shaft to the ends only. If you wash your hair once a week or less, you wouldn't be a good candidate for this method, as it leads to natural oil build-up and causes the extensions to slip out.
This also applies to someone who is used to applying a lot of hair products, as they contain oils and extracts that could cause the extensions to slip out as well.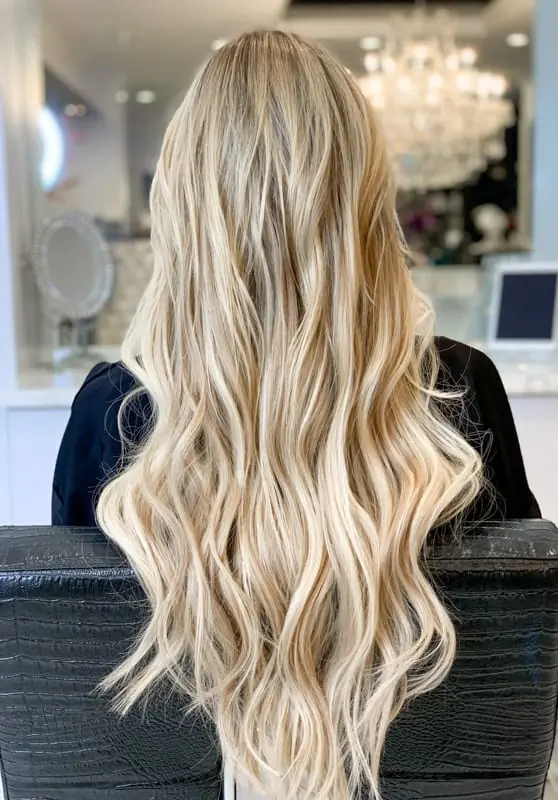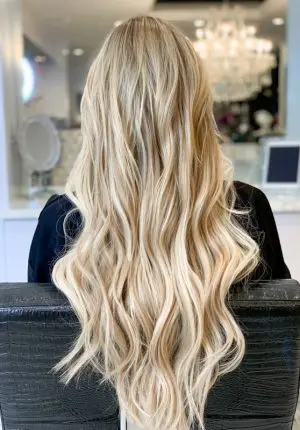 What's the Best Brush for Hair Extensions?
I recommend the Wet brush and the Spornette brush that contains loops, so you'll be able to brush your hair from the top.
How Do You Find the Right Hair Extension Color?
We specialize in custom blending. We blend two colors—sometimes even three colors—into one strand to get the exact match.
A lot of other salons will alternate a dark strand to a light strand and it ends up looking like a chunky striped highlight. That's why our blondes look so natural, and it's what sets us apart from other salons. It's also why we're priced higher.
How Do You Hide Hair Extensions in Very Short Hair?
Adding enough extensions to the entire head is key for achieving a long haired look! A precise haircut is also important to blend the extensions in with your natural hair.
When Should I Get Extensions for My Wedding?
Many brides like to wear hair extensions on their big day — which I totally understand. You'll want to have a hair trial with your extensions in, so I recommend getting them 2-3 months in advance, because you'll probably want them for your bridal shower and bachelorette party.
Most of my brides end up coming in a bit before so they're able to have them for those events. Then you would get them re-done once before the wedding — wearing hair requires some upkeep!
---
Pin this post for later: