So, I'm going to be 100% real with you. I know that we're in the era of self-love and acceptance, and that we're not supposed to be insecure about things. But I'm only human… and I have insecurities just like anyone else.
Ready to hear one of the things I've always been most self-conscious about?
THE SHAPE OF MY FACE.
I know this probably sounds ridiculous, but please reserve your judgement. It's my truth, ok?!
For as long as I can remember, I've been envious of girls with perfectly angular jawlines, defined chins, and beautiful heart-shaped faces.
As the lifelong owner of a face that skews a bit, shall we say, "circular," I had all but accepted that the angles I craved were never in the cards for me.
That is… until I discovered makeup. By learning different tips, tricks, and techniques, I've figured out how to give my round face the definition I've always wanted.
I'll go out on a limb here and say that if you're reading this, you can probably relate. So without further ado, I present you with my four-step routine for contouring a round face.
How to Contour a Round Face
Step 1: Apply a cool-toned contour.
Product: Tower 28 Sculptino Soft Contour Cream (shade 3)
The first step in my process is by far the most important one if you're looking to contour a round face—and choosing the right product is half the battle.
A cooler-toned contour is going to create more natural-looking definition, and it'll help you to carve out and define your features.
You're going to want to draw your contour lines in the following spots:
just beneath your cheekbones
along your jawline
side of temples
sides of forehead
along the sides of the bridge of your nose
In terms of application, it really depends on the type of product you choose.
For the Tower28 cream contour I'm using in this tutorial (seen below) I really like to use my fingers. It's incredibly creamy, and applying it with my fingers gives me the ability to control the placement.
SHOP NOW: Tower 28 Sculptino Soft Contour Cream (shade 3)
After you've placed your contour lines, blend them (upwards) with a brush or beauty sponge. Blending in an upward motion will help give you lift, as opposed to dragging your face down.
Step 2: Add warmth with bronzer.
Product: NARS Laguna Bronzing Cream (Original)
Next, take a medium-to-large size fluffy brush, and apply a warmer-toned bronzer all over your face and neck. The warmth of the bronzer will help to soften the harsh lines of the contour and create a a more seamless look.
SHOP NOW: NARS Laguna Bronzing Cream (Original)
I've been loving this creamy version of the original fan-favorite NARS Laguna powder bronzer. It gives me a beautiful, natural-looking wash of color.
If you have oily skin, I'd recommend choosing a powder bronzer over a cream.
Step 3: Pop a bright blush onto the apples of your cheeks.
Product: Dior BACKSTAGE Rosy Glow Blush (001 soft pink)
One of the things I find that helps to define my face the most is emphasizing my cheekbones.
I do that by applying a bright, highly-pigmented blush onto the apples of my cheeks. I then blend upwards into my temples.
The color contrast between your bronzer and a bright blush will help to make your cheekbones really pop. I love Dior's Backstage Rosy Glow Blush in shade 001 (soft pink.)
SHOP NOW: Dior BACKSTAGE Rosy Glow Blush (001 soft pink)
Remember: when it comes to your makeup's lifespan, blush is the first thing to fade, so don't be afraid of applying a bit more than you think you need.
Step 4: Tap your highlight onto the high points of your face.
Product: Kosas Glow I.V. Vitamin-Infused Skin Enhancer (shade 1)
Last step! Highlighter is going to add even more shape and definition, as it reflects light wherever it is placed.
I'd recommend tapping your highlighter onto the following areas of your face:
top of cheekbones
bridge of nose
beneath brow bone
above cupid's bow
center of forehead (between brows)
center of chin
SHOP NOW: Kosas Glow I.V. Vitamin-Infused Skin Enhancer (shade 1)
This Kosas Skin Enhancer is a new favorite of mine. I love how natural it looks, and how easy it is to apply. Rather than pumping it directly onto my face, I place 1 pump onto the top of my hand, and then swirl the product around with my fingers before pressing it into my skin.
I recommend pumping it onto the top of your hand first so that you don't end up with a huge glob of product in just one spot.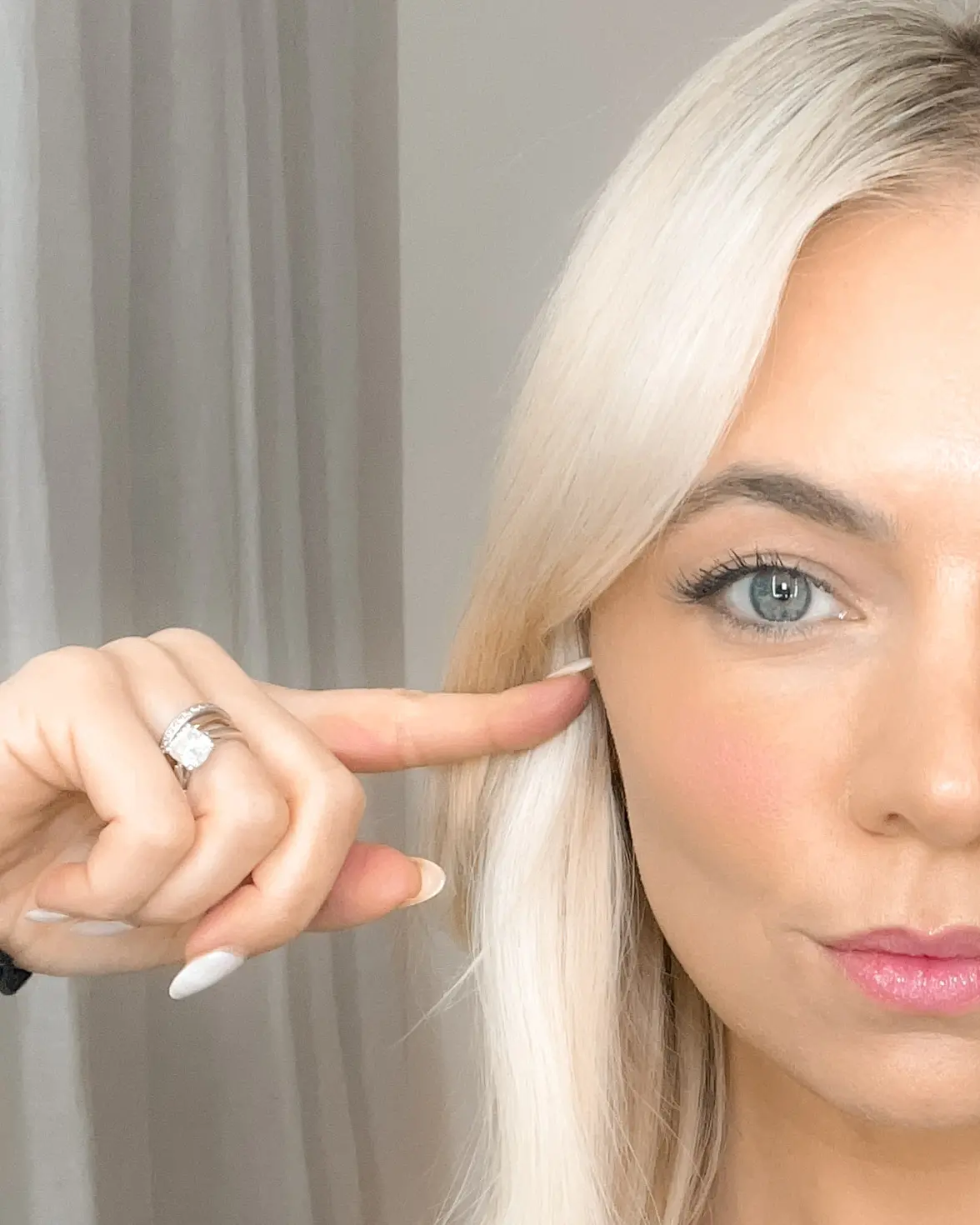 I hope you found this tutorial helpful! Be sure to check out my Tiktok to see it in video-form. All products listed here are available now at Sephora!
This post was created in partnership with Sephora. All opinions are my own!