As part of my exhaustive travel guide, I'm giving you a super simple breakdown of how to get to St. Barts (or St. Barths, as it's sometimes spelled.) I've personally experienced all three of these options, so I've been able to carefully weigh the pros and cons of each.
HOW TO GET TO ST. BARTS:
Unless you are chartering a yacht or a plane (and if that's the case I WOULD VERY MUCH LIKE AN INVITATION) there are 3 ways to get to the island, and I've ranked them in order of my preference.
ONE TIP: You can now search and book NYC -> SBH (or whatever origin you're flying from) on Google Flights, Kayak, and other booking websites all in one reservation. This will make your trip more convenient and simplifies the baggage transfer process. Just note that any changes to the itinerary must be done through your travel agency or airline (Tradewind cannot make changes to their flights when booked this way).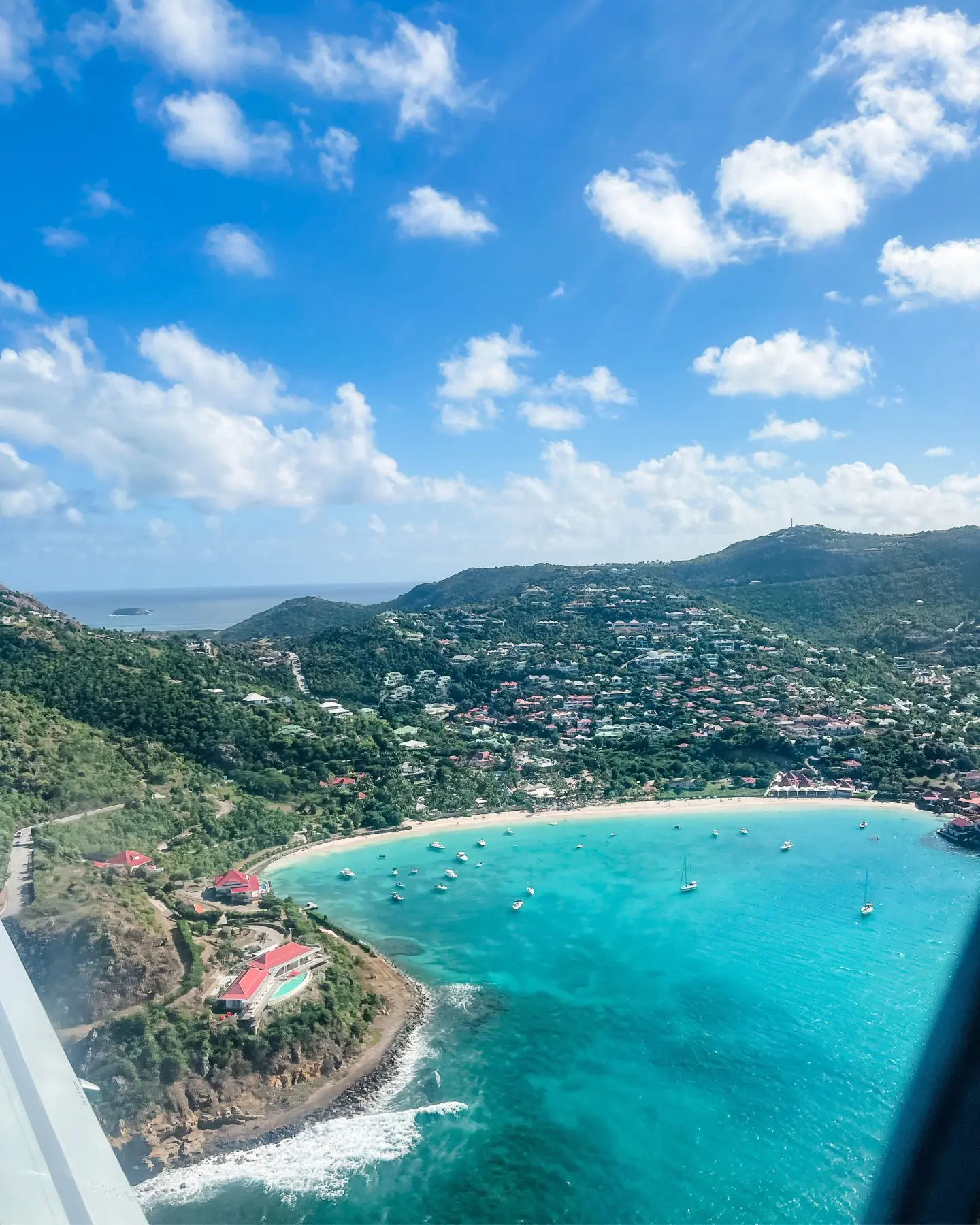 ---
---
OPTION 1:
Book a flight to San Juan. Then book a separate 1-hour flight to St Barths on Tradewind Aviation.

I prefer this route because it's the most efficient. It doesn't require clearing customs (since San Juan is a US territory). Plus, the Tradewind Aviation planes are nice, and the San Juan airport is more comfortable than Saint Martin. Also: Tradewind has a "lounge" (I use the term loosely) for guests to sit and wait during their layovers before boarding. It has Wifi & a fridge stocked with cold wine and beer. No frills, but what more could you ask for?
To browse flight times, you'll want to go directly to www.FlyTradewind.com. Scroll down to "scheduled shuttles" and then "book by the seat."
Flights are expensive. At the LEAST, you should expect to pay $600 round-trip, if not more.
OPTION 2:

Book a flight to Saint Martin (Princess Juliana Airport). Then book the 10-minute puddle jumper flight to St Barths on either: St Barths Commuter or WinAir.

This is what I had been doing before I discovered Tradewind. It's still a fine option, and if the flight prices are significantly cheaper (which they often are) I'd go this route. Be aware that the planes are SMALL, and some people find the landing to be….a little scary. Personally I don't mind it—the entire flight is legit 10 minutes! In fact, I think the landing is among the most beautiful I've experienced (except for the Maldives.)
In my experience, there's no major difference between St. Barths Commuter and WinAir, which are the two airlines that fly to St Barths from Saint Martin — look up the schedules for each at their respective websites, and go based on pricing/timing/availability.
OPTION 3:
Book a flight to Saint Martin. Then take a 30-45 minute ferry from Saint Martin to St. Barths.

This is what I would like to describe as my "last resort" option. You should choose the ferry if:

A) You're deathly terrified of small planes (and I don't mean 'slightly scared.' I mean…you physically can't bring yourself to get on a small plane without having a panic attack.)
B) You're trying to do St Barths on the "cheap" (good luck)
C) You booked last minute and all the flights are full.

There are two ferry companies—Voyager and Great Bay Express—and as far as I know, there's no major difference between them.
Matt & I took the ferry once as a result of option C. It wasn't the worst 45 minutes of my life (I'm not THAT much of a diva) but I think we both agreed we would prefer not to do it again. It can be VERY choppy and very uncomfortable. For some reason I have memories of sitting on the floor and getting soaked by waves. Or maybe I'm making that up. Either way…the ferry should be your last resort option.
That's pretty much it! I hope you found this helpful. If you're ready to start packing for your trip, I highly recommend checking out my "What to Wear" guide here.
Questions? Leave them in the comments below!