There's no denying that biker shorts have become insanely popular in recent years. They're truly a must-have for casual, comfortable looks. Plus, they're a versatile athleisure staple that can be worn with pretty much anything.
Plain black biker shorts are my go-to for busy days because they're so easy to style. But for those times when you want to mix things up, there are a ton of different colors and designs to choose from. 
Sure, it's easy to throw on your favorite sports bra with a pair of biker shorts and call it a day. But there are plenty of other ways to style biker shorts that are worth considering. That's exactly why I'm sharing a round-up of ways you can style biker shorts to look chic while staying comfortable. 

How to Style Biker Shorts
Find the right length for you
There are several different lengths of bike shorts to choose from. In terms of the latest fashion trends, 5-inch and 7-inch lengths seem to be the most popular. When deciding which length to go with, it comes down to your personal preferences. Your height and the length of your legs will play a role in how they fit as well. Generally, the longer the shorts, the more the coverage.
Mix solids and prints
When putting together an outfit with biker shorts, consider mixing solids and prints to create a stylish outfit. I love a monochromatic look, but wearing solids and prints together is a good way to spruce things up. The key to pulling off this look is to wear a solid shoe, like white sneakers.
Go with chunky shoes
Speaking of shoes, biker shorts are usually part of a casual outfit. If you want to put on a pair of heels to wear with them, more power to you. But when it comes to current style trends, chunky shoes are in. Opt for chunky athletic shoes or sneakers, block heels, and platform boots.
Don't forget the accessories
As fabulous as you look once you put your outfit together, don't forget to add a couple of accessories. You'll want to keep it casual with accessories that fit the vibe — nothing too fancy.
My favorite accessories to wear with biker shorts are sunglasses, a crossbody bag, a belt bag, or a baseball hat. 

8 Biker Shorts Outfits
Biker Shorts and a Plaid Flannel
Biker shorts paired with a plaid flannel or sherpa jacket is one of my favorite cozy fall looks. It's really doesn't get much cozier than that.
These bike shorts from Abercrombie are similar to the pair I have. Abercrombie also has the cutest sherpa jackets, like this cropped one. These cotton flannel shirts from H&M are another cozy option that's easy to throw on over bike shorts.
I like to wear sneakers with this outfit, like this pair that has been a tried and true #SilbSquad favorite for years.
Biker Shorts and an Oversized Sweatshirt
We can thank Princess Diana for turning oversized sweatshirts and bike shorts into a memorable fashion trend. People have been emulating her iconic style (biker shorts included) for years, and I'm especially grateful for this look.
If you ask me, these comfy shorts with an oversized sweatshirt is one of the best casual biker shorts outfits. Putting together this look is easy. Grab a pair of 7" bike shorts, throw on an oversized crewneck sweatshirt, then you'll be set.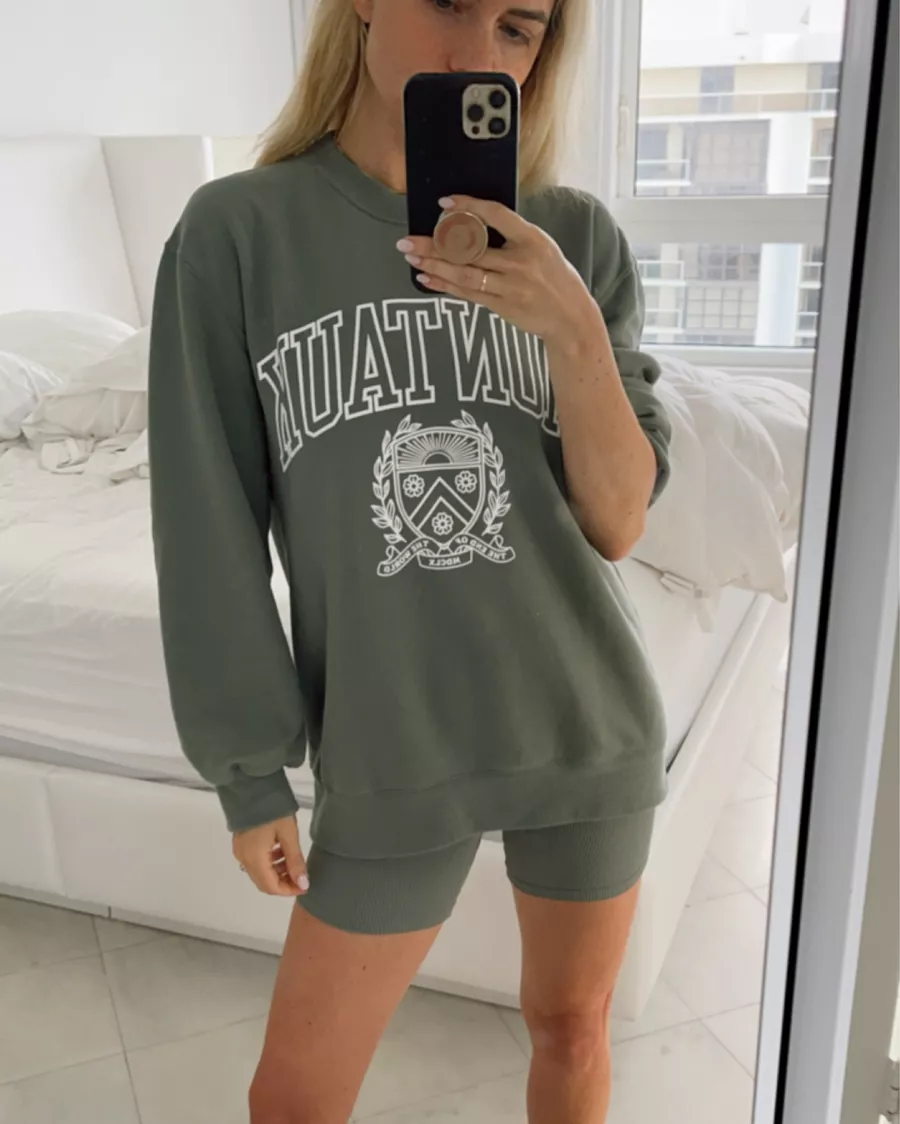 Biker Shorts and an Oversized Tee
Biker shorts with an oversized tee is another casual, comfy look that can be worn during spring, summer, or fall. For this look, try adding a baseball hat or a crewneck sweatshirt tied around your waist — both give it a more finished feel.
Also, you can just as easily switch out a pair of biker shorts for a pair of denim shorts and achieve the same casual vibe. You can also swap the short-sleeve tee for a long-sleeve tee on colder days.
Biker Shorts as a Matching Set
For arguably one of the easiest biker shorts outfit ideas on this list, opt for a matching set. I love comfy matching sets (see here, here, and here) because they require very little effort yet they still make you look put together.
A lot of my favorite matching sets are currently sold out, but there are plenty of newer pieces available that you can use to recreate the same looks I've linked above. 
This black crop top baby tee and these black biker shorts make an edgy matching set. Or there's this matching set from Amazon that's available in a ton of colors.
Biker Shorts and a Graphic Tee
Another one of my favorite casual outfits? A graphic tee paired with black biker shorts. I love the graphic shirts from Annie Bing — they're really great quality and they look cute with everything (I wear them with jeans and shorts often).
Biker Shorts and a Cropped Hoodie
Whether you're having a lazy day at home or you're running errands, one of the best outfits to wear is biker shorts with a hoodie. Add your favorite pair of chunky white sneakers and you'll be ready to take on the day.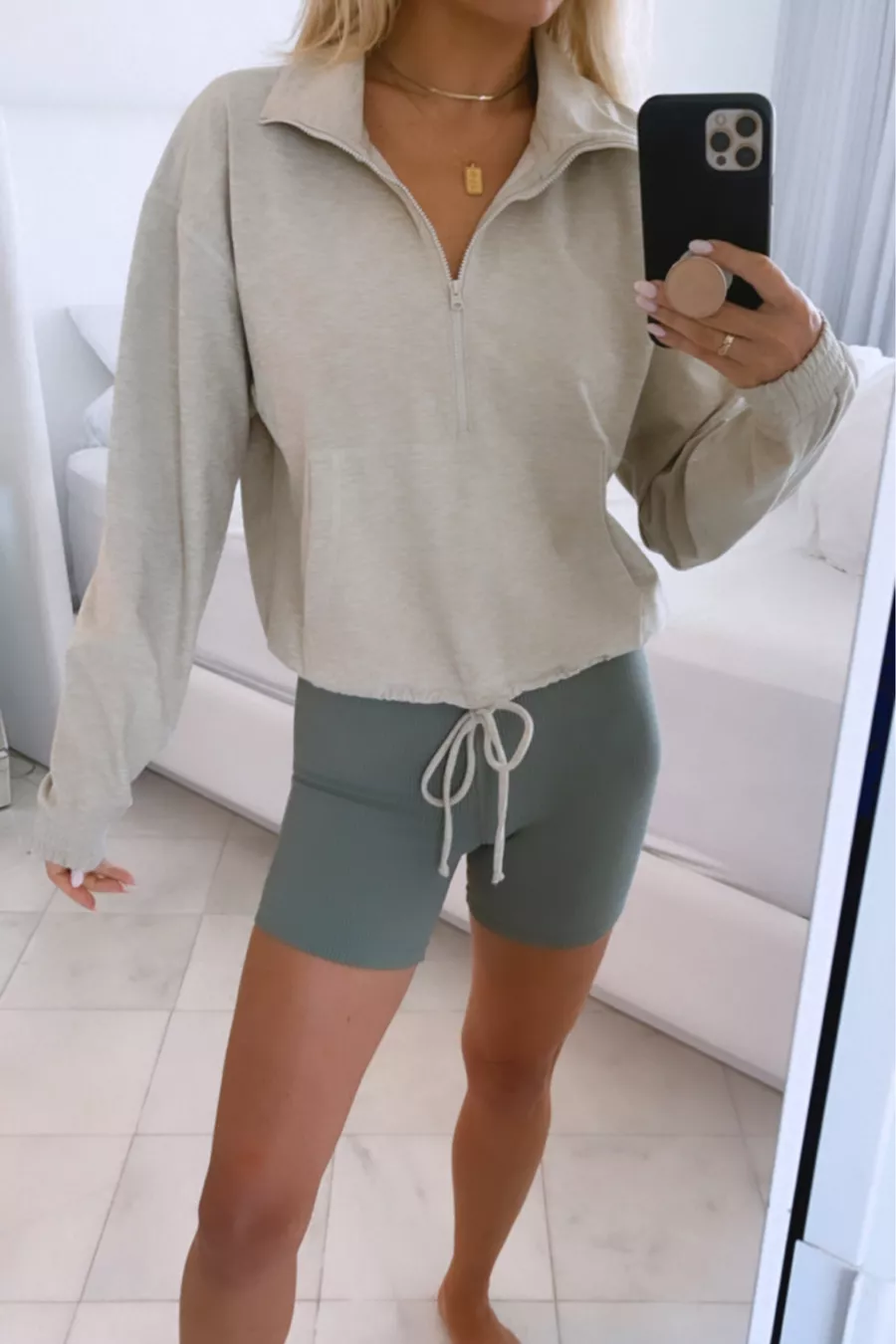 Biker Shorts and a Blazer
For a more elevated way to style biker shorts, consider pairing them with a blazer. For me, a blazer is a wardrobe staple. But what I especially love is when you find a blazer like this one that you can simply throw on over a pair of biker shorts and a tank top to instantly elevate your outfit. 
Add a crossbody bag and some black lug sole boots and you're in business.
Biker Shorts and a Leather Jacket
I love a chic leather jacket. It's a must-have in every closet for the fall, winter, and spring. You can style a leather jacket with a pair of black biker shorts for an edgy and trendy look. I'd also add a black tank underneath.

What's your favorite way to wear bike shorts?
I'd love to hear from you! Share your favorite way to style bike shorts in the comment section below. Then, head over to the blog for more of my favorite outfit ideas.