As much as I love summer, part of me still gets excited when cooler weather rolls in. Mostly, I'm thrilled to spend my days in sweatpants, but I also love the look of a good sweater, comfy jeans, and boots. 
Since crop tops are super on-trend right now, it's no wonder why cropped sweaters are a go-to choice for cold weather. They're chic and versatile enough to wear just about anywhere and with practically anything. 
If you're looking for ways to incorporate cropped sweaters into more of your looks, I've got you covered. This post will make it easy to put together a stylish outfit featuring a chic cropped sweater.

How to Wear Cropped Sweaters
Over a Dress
For a stylish and trendy look, try wearing a sweater over a dress. A crew-neck sweater in a neutral color can breathe new life into a fun, floral dress. Wear a belt or tuck your sweater under your belt to accentuate your waistline. Add a pair of chunky white sneakers to finish off the look.
With a Skirt
The perfect fall uniform? A cropped sweater with a pencil skirt, mini skirt, or maxi skirt. Although I'm not wearing a cropped sweater, the picture below shows a fun way to wear a sweater with a classic mini skirt. Or, you can pair a silk maxi skirt with a cropped sweater for a more elevated look.
As a Layered Look
One of my go-to outfits for moody weather is a button-down top with a sweater thrown over my shoulders. Not only is it practical, but it also looks chic. Sweaters, even cropped ones, are great for layering.
As a Matching Set
I love a good matching set. A comfy pair of sweatpants with a matching cropped sweater or pullover is one of my go-to travel outfits. The key is to choose lightweight fabrics and loose-fitting pieces to ensure you'll be comfortable traveling from one place to the next.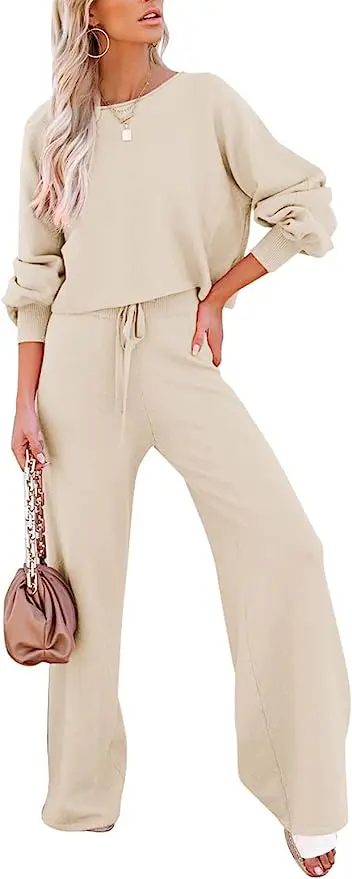 Styling Tip: Pay Attention to Material
For women with big boobs, like me, to wear a cropped sweater, it's especially important to pay attention to the material. The thick material and loose hems of many cropped sweaters can make your top half look larger and wider than it really is.
Choose sweaters made of thinner materials and pair your cropped sweater with high-waisted pants or form-fitting bottoms that accentuate your figure. You can also tuck in the sweater or wear a belt around your waist to create a more balanced shape. 
5 Cropped Sweater Outfit Ideas
1. A Mini Dress With a Cropped Sweater
I adore this linen mini dress. For a fun way to transition this dress from summer to fall, I swapped the button-down top in this outfit for a white cropped sweater. Just add nude heels and you're ready to go.

2. An All-Black Cropped Sweater Outfit
If you're feeling something edgier, try an all-black, monochromatic look.
Style leather pants or high-waisted black jeans with a black long-sleeved cropped sweater. Then, add a pair of black booties and you have a look that easily transitions from day to night. 
(Looking for more ways to style black jeans? Check out my post on what to wear with black jeans!)

3. A Casual Cropped Sweater Outfit
For a casual look, I like to start with my favorite straight-leg jeans. If you're used to skinny jeans, I highly recommend giving straight-leg jeans a try. They're comfortable, versatile, and flattering on almost any body type.
To create one of my favorite cropped sweater outfits, I paired straight-leg jeans with a cropped mock-neck sweater. I also love these jeans with my cropped ribbed NAADAM cashmere cardigan, but unfortunately, that exact cropped cardigan isn't available anymore. You get the idea, though!

4. A Cropped Sweater With Tall Boots
Thigh-high boots are a cold-weather must-have. To mix things up and create a new outfit with pieces you already have, try adding a long coat or different shoes. One way to do this is to pair a cropped sweater with a long coat, tall boots, and a rancher hat. It's a unique outfit that will create a whole new look with a pair of basic jeans.
(Traveling with your hat? Here are my tips on how exactly to pack your hat for travel!)

5. White Wide-Leg Jeans With a Cropped Cardigan
Here's another fabulous way to refresh your wardrobe. Opt for white wide-leg jeans instead of the traditional blue, then tuck a black shelf-bra tank and layer a cropped cardigan for a chic, timeless vibe. Don't forget these classic black mules. 
This look is one that you can easily wear any time of the year.

Cropped sweaters are versatile pieces that can breathe new life into a variety of outfits.
A stylish wardrobe isn't complete without at least a couple of cropped sweaters. From jeans and skirts to faux leather pants, you can wear a cropped sweater with just about anything.
For more fashion inspiration and style ideas, check out my blog.