Boots are hands-down my favorite shoe to wear throughout the fall and winter. If my post on the best fall boots was any indication, it's impossible to pick a favorite. That said, as much as I adore sleek knee-high boots, ankle boots are so versatile that I find myself reaching for them time and time again.
Ankle boots are a classic staple for the cool season. Of course, you can also wear them in the warmer weather, but a fall outfit almost feels incomplete without them. Speaking of outfits, there are so many different looks that go great with ankle boots. Not to mention the sheer number of types of ankle boots!
It's no wonder that figuring out how to wear ankle boots feels like an impossible task. If you're struggling to put together an outfit, here are 12 different ways you can style ankle boots.
Ankle Boots Outfits

How To Wear Ankle Boots 12 Different Ways
Taupe Suede Ankle Boots + Rolled Straight-Leg Jeans
This is one of my favorite ways to wear ankle boots in the fall. These taupe suede ankle boots are one of my favorite pairs of booties. I like to wear them with straight-leg jeans cropped by rolling them to create a small cuff. I roll them just enough to show 1-2 inches of skin.
For a chic look that's right on trend this fall, I styled a white blouse with a plaid blazer and a wide brim hat. In this outfit, you'll be ready for drinks with friends, dinner with your husband, solo shopping, and more.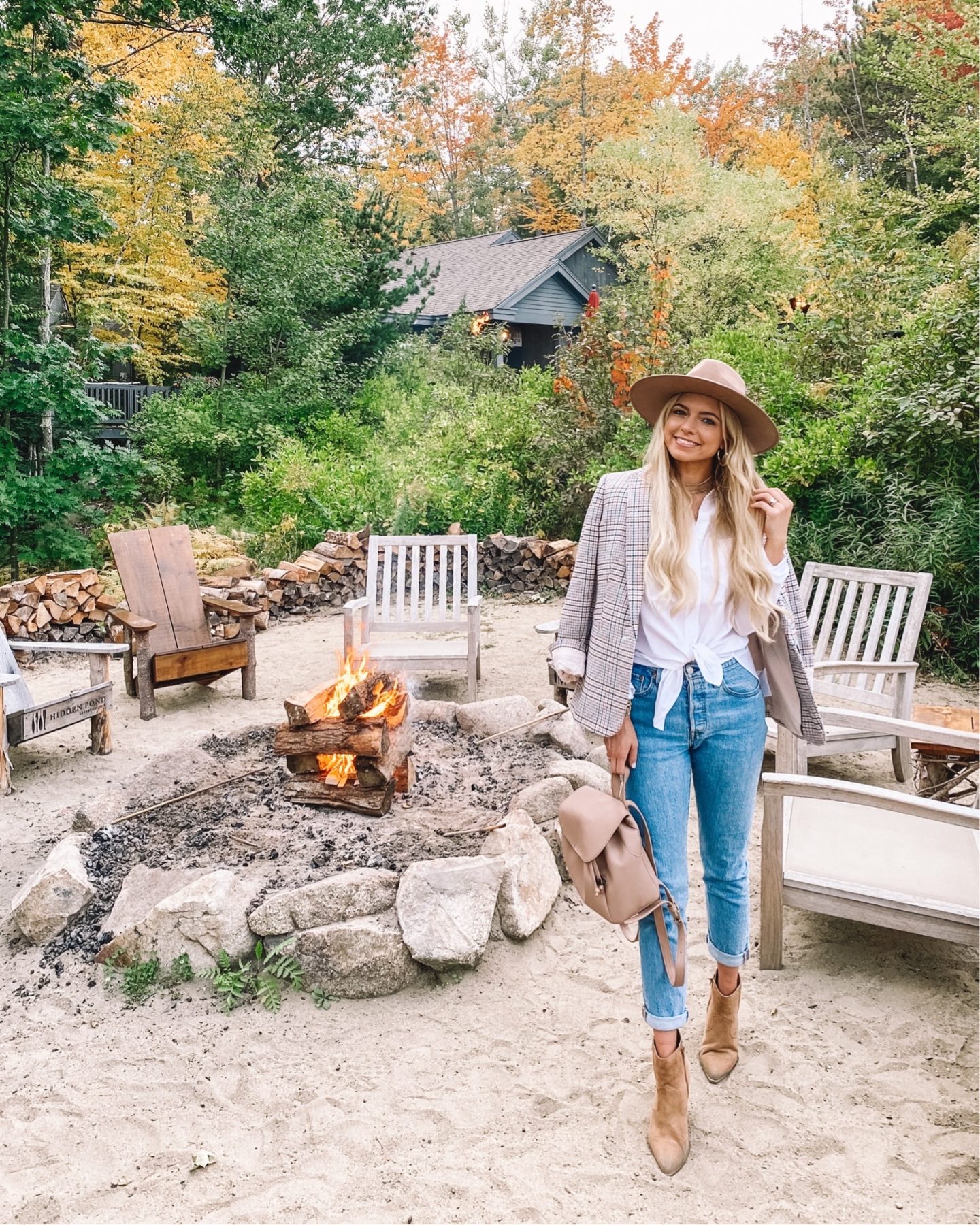 Snake Skin Ankle Boots + White Tee + Black Straight-Leg Jeans
It's no secret that I love straight-leg jeans. Honestly, I've just found them to be more versatile than any other style of jeans. One of my favorite ways to style them is to wear a black pair with a white tee (tucked in). Then, I just add a leather moto jacket and a pair of block heel snakeskin ankle boots.
If you've been looking for a snake print ankle boots outfit, this is the one I'd go with! I would definitely go with light-colored booties, though, because it plays off the crisp white tee perfectly.
Black Chelsea Boots + Black Jeans + Hoodie
Here's a great outfit if you're looking for a more casual way to wear ankle boots. Since I love playing with proportions, I like to style an oversized hoodie with slim-fit jeans. You can throw on your favorite baggy hoodie or, if you need an excuse to go shopping, grab a new one.
A pair of ankle boots like black Chelsea boots is the perfect shoe for keeping this whole look low-key. It's everyday wear that looks simple yet chic. This is one of my favorite casual ankle boot outfits because it's just as comfy as it is stylish.
Black Lace Up Boots + Black Skinny Jeans + Plaid Blazer
Here's another great way to wear lug-soled boots or black lace-up boots. Just slip on a white bodysuit and a pair of black skinny jeans, then throw on this amazing plaid blazer.

Black Wide Leg Denim + Sweater + Ankle Boots
Wide-leg jeans are really hot right now. I knew I had to create an ankle boots outfit to show that you can wear the two pieces together. These black wide-legged jeans look on point with this cozy wool sweater. These classic ankle boots and a dainty shoulder bag pull the whole look together.
Black Leather Ankle Boots + Leather Leggings + Black Turtleneck
Have you been looking for an excuse to wear leather leggings? I've got you covered.
If you ask me, there are few looks are as chic as leather leggings paired with a fitted black turtleneck. Add a pair of black leather ankle boots and a wool hat to complete the look. This is what I call the NYC uniform — ideal for wearing when you're running around the city.
Ankle Boots + Pleated Midi Skirt + White Tee + Leather Jacket
Here's an elegant way to dress up a pair of ankle boots. Start with a pleated satin skirt as a stylish statement piece, then add a white tee – tucked in – and then a leather moto jacket. A black bag completes the look.
Ankle Boots + Sweater Dress
One of my favorite ways to add personality to a sweater dress is to pair it with ankle boots. It's edgy and stylish, especially when you add a leather jacket.
The key to pulling off this look is to opt for a neutral-colored midi or maxi knit dress and black leather ankle boots. This is a great outfit that effortlessly transitions from day to night.

Black Ankle Boots + Black Leather Shorts + Black Tights + Black Sweater
Nothing says edgy-chic like an all-black outfit. Especially when you kick it up a notch with leather. To create this look, start with black leather ankle boots and a pair of black leather shorts. Then, for a fall outfit that's more cold weather-friendly, add some sheer black tights and a black sweater.
This look is ultra-flattering and right on trend.
White Ankle Boots + Straight Leg Jeans + Cream Sweater
To make a fashion statement, slip on a pair of white ankle boots with a pointed toe. They instantly dress up a pair of straight-leg jeans. Then add a cream sweater for a stylish fall look.
This outfit also stands out among the best flat ankle boots outfit ideas. Just swap the heeled ankle boots for a lug-sole ankle boot.
Ankle Boots + Leggings + Oversized Sweater
This is another versatile look that can be worn just about anywhere. The black leggings give it a casual, comfy vibe, while the beige oversized turtleneck sweater and black suede ankle boots or combat boots make the look seem polished. A black crossbody bag is the ideal finishing accessory.
Heeled Ankle Boots + Cropped Wide-Legged Pants + Sweater
Here's a great heeled ankle boots outfit, as long as you're not against wearing white after Labor Day (I'm certainly not). Start with these fabulous brown embossed leather ankle boots and a pair of white cropped wide-leg jeans. To keep this look on trend for fall, add an oatmeal sweater or a deep burgundy sweater.

What's your favorite way to wear ankle boots?
I want to hear from you! Which outfit can you see yourself wearing this fall? Do you have a favorite pair of ankle boots? Give me all the details!
Then, head over to the blog for more outfit ideas and style inspiration, as well as tips and tricks on skincare, traveling, and so much more!