This in-depth Ilia Skin Tint review includes honest unsponsored feedback from three women with three different skin tones and skin types. Read on to hear our thoughts!
When it comes to my everyday makeup—and more specifically my foundation—I tend to stay loyal to products that I already know and love. (My regular rotation includes IT Cosmetics CC+ Cream Illumination, Armani Luminous Silk, and Bobbi Brown Longwear Weightless Foundation.)
But after hearing so much about Ilia Skin Tint, and seeing so many of their refreshingly unfiltered Facebook ads featuring real women applying the product, I was curious about trying it out for myself.
Below you'll find my honest thoughts, as well as some before and after photos.
I also decided to enlist two fellow beauty lovers (Kristin Smith of KrispxKristin, and Danielle Cohen of Yellow Sweats) to share their reviews, because I think it's helpful to have different perspectives from women with different skin types, tones, and textures.
---
Ilia Skin Tint: The Facts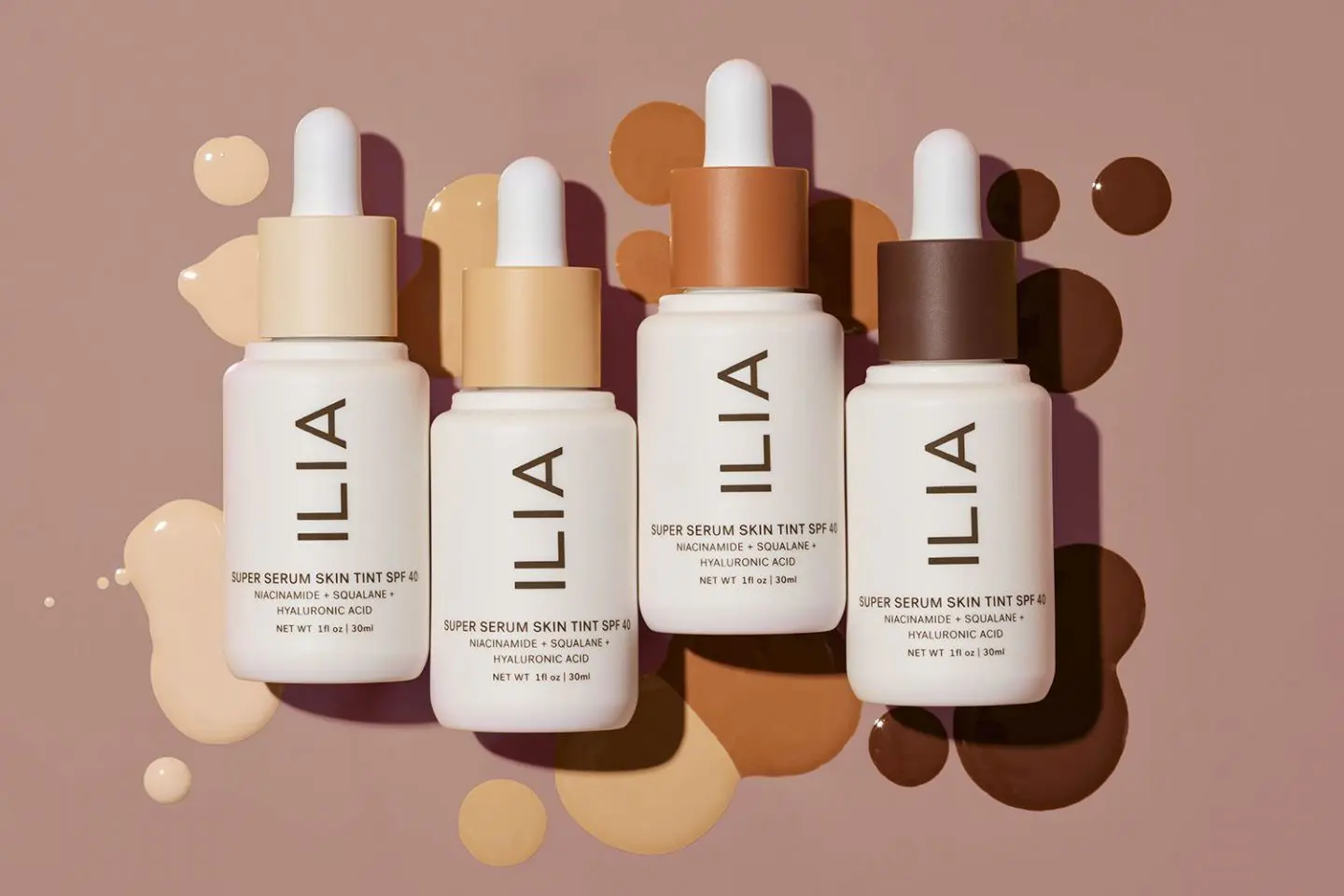 What is it?
A clean, tinted serum that provides light, dewy coverage with mineral SPF and active levels of skincare ingredients like squalane, niacinamide, and hyaluronic acid.
How much coverage does it offer?
Light coverage.
Price?
$48
Is Ilia Skin Tint clean?
It's vegan, gluten-free, cruelty-free, and comes in recyclable packaging.
Shade Range?
Comes in 30 shades.
How to Use Ilia Skin Tint
First, it's advised to shake the product before applying. Ilia Skin Tint can then be applied with your fingertips, a makeup sponge, or with your favorite brush.
The formula appears lighter upon initial application—the brand says that it will dry down to its true tone after 30 to 60 seconds.
Ilia Super Serum Skin Tint Review
Lindsay's Ilia Skin Tint Before and After
Skin Type
Normal / combination. My biggest skin concern is hyperpigmentation and sun spots (from too many years of being in the sun without SPF. UGH!)
Shade Used
Ilia Super Serum Skin Tint Swatches
In general, I tend to avoid sheer coverage products because I like to cover and even out my freckles and hyperpigmentation. But I figured if there was any product worth expanding my horizons for, it would be this one.
When I first removed the dropper from the bottle and dispensed a bit of product on my hand, I definitely noticed that the consistency was a lot thinner than most of the foundations I'm used to.
Even though I knew what I was signing up for—a light coverage serum foundation—I was nervous by how liquid-y and sheer it was!
After putting on my moisturizer and SPF (I still wear SPF even when I use a product that has it) I applied the skin tint using a damp beauty blender.
At first, I was positive it was too sheer. But after I blended it in a bit more, all I could focus on was how dewy and radiant my complexion looked.
While it definitely allowed a bit more "skin" to show through than what I'm used to (I could still see a hint of my freckles underneath the product) I was shocked by how much I liked it!
It gave me that natural, glowy finish that I never thought I would be able to pull off.
Final Thoughts
Even as someone who prefers full coverage products, I was surprised by how Ilia Skin Tint managed to smooth out the unevenness of complexion, while still being sheer.
It's VERY dewy and glowy (which I personally love) but I would say that if you have oily skin, or you don't really like the dewy/wet look, this might not be the product for you.
I'm honestly so happy that skin tint got me over my fear of sheer (LOL). I'll definitely continue to use it on days when I'm craving that "no makeup makeup" look.
---
Kristin's Ilia Skin Tint Before and After
Favorite Foundations
My regular rotation includes fuller-coverage foundations like Lancôme Teint Idole Ultra Long Wear Foundation, Cle de Peau Radiant Fluid Foundation, and Clinique Even Better Glow Light Reflecting Foundation.
Skin Type
Normal / dry. My skin bounces between normal and dry so I try to give my skin an extra boost to combat any dehydrated, dull appearance.
Shade Used
Kamari ST13 (in the summer) & Kokkini ST12 (in the winter).
I started using skin tint last summer when I was a bit more tan, and Kamari was perfect for me.
Once winter hit and my tan began to fade, I needed a slightly lighter shade and was uncertain which of their 30 shades to choose from.
I found out you can email Ilia a photo of yourself to receive their recommended shade. Xandy quickly responded with my shade recommendation (Kokkini ST12) and a direct link for my next purchase! It was the perfect fit.
First Impressions:
When Lindsay first asked me to review Ilia Skin Tint, I immediately ran to my bathroom, pulled out my stockpile of Ilia products, snapped a pic, and texted her back 'yes, I love their stuff!'
I first came across Ilia the way most of us discover new brands these days: Instagram. Last summer, as I scrolled through my feed, I vividly remember the sight of a woman's face dripping with the silkiest product I've ever seen.
I was immediately hypnotized by all its promises of dewy, lush skin that the next thing I knew I was already punching in my credit card number.
It showed up a few days later and I must admit, I was equal parts excited and skeptical. Would it really make my skin look as plump and hydrated as the woman in the photo?
I shortly found out the answer was yes!
Finally, a fresh, light, no-makeup- makeup look that I had been trying to achieve for a long time. I've been hooked ever since. Plus, it has SPF 40 in the formula so an added bonus to have that extra protection.
Final Thoughts:
I definitely recommend Ilia to anyone looking for something light that you can wear every day. It gives the appearance that you're not wearing a lot of makeup but still somehow naturally maintain flawless, plump skin. Plus, it's nice to have a clean beauty option that actually works.
---
Dani's Ilia Skin Tint Before and After
Favorite Foundations
My faves include Armani Luminous Silk and It Cosmetics Your Skin But Better Foundation.
Skin Type
Dry & dehydrated. Hyperpigmentation & occasional acne,
Shade Used
Diaz ST7.
First Impressions:
I've been on a bit of a no-foundation kick (humble brag), so I was hesitant to give this a try, but I'm always curious about makeup-skincare hybrid products.
I assumed it'd be super thin and barely-there sheer, like Glossier's Skin Tint, or runny and separated, like Kosas' tinted oil. I am pleased to report that it was none of those things.
Ilia's Skin Tint is thicker than expected, with a true serum feel—not too thin, not too occlusive. It provides real (albeit light) coverage without feeling cakey or heavy. Best of all, my skin felt absolutely nourished—and looked absolutely flawless—with this on.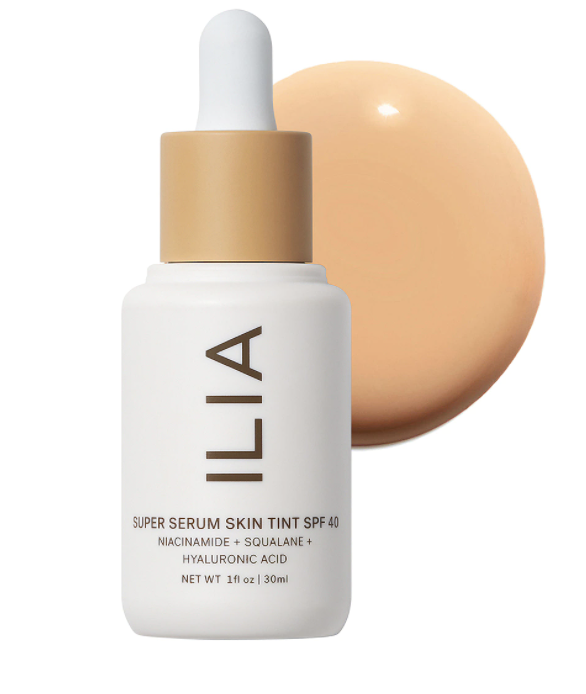 I can't exactly explain why, but this is just so damn easy to apply. I feel like it gives me a serious bang for my buck, eliminating the need for separate SPF, hyaluronic acid serum, oil, niacinamide serum, and foundation steps.
And I had an incredibly easy time finding my shade, buffing in product, and blending any harsh lines (of which there were few). The tint had serious lasting-power and didn't pill whatsoever. 
Also, it comes in 30 shades, which certainly appears to be inclusive (though I can't speak on the quality of the darker and lighter shade range).
Final Thoughts
To me, this is skincare-makeup done right. I think the key lies in it being a great serum (sans tint) and a great skin tint (sans serum), if that makes sense.
If you're looking to cut down your AM skincare and makeup routine without sacrificing any of the benefits (and who isn't?), I highly suggest this product.
---
Have you tried Ilia Skin Tint? What other foundations are you obsessed with? Would love to hear your feedback in the comments below!