When Matt & I decided we wanted to do a safari this year, I literally didn't know where to start. We had no idea where in Africa we even wanted to go, how long we should go for, which airport to fly into, which camp to book, what time of year was best, etc etc. I spent hours and hours on research that ultimately left me even more confused. We ended up choosing a safari in Kenya, and it was one of the most memorable experiences we've ever had.
Below is a guide that will help you make sense of everything beforehand. It's something I wish I had when we were planning ours!
---
HOW TO APPLY FOR A KENYA VISA
US citizens will need to get a Kenyan visa prior to visiting, and you can apply online without having to visit a consulate. Be sure to have a copy of your hotel confirmation and flight info ready, as you'll need to attach the documents to the online e-visa form. The cost (including a processing fee) is $51 per person.
We checked in on our applications about two weeks later and saw that our visas were approved. You don't receive anything physical in the mail, so be sure to print out the receipt and confirmation of your approval and have it with you at the airport. We didn't realize we'd need a print-out, so when immigration asked for it, we were scrambling to pull it up on our phones.
It's also possible to apply for a visa at the airport when you arrive in Nairobi (and the cost is only $21) but most people prefer to avoid the headache by doing it in advance. 
---
QUICK TIP: Apply for your visa online—it'll save you the hassle of having to do it at the airport.
---
VACCINATIONS FOR KENYA
One of the most confusing aspects of preparing for the trip was vaccinations. We needed the yellow fever vaccine—but only because we were heading to the Seychelles after Kenya, and the Seychelles requires it for visitors coming from Kenya. We also got malaria pills, antibiotics (to have on hand in case we got sick during Safari), and shots for Hepatitis A&B. Passport Health is a fantastic resource for travel immunization information—the site breaks down every vaccination that's needed for each country, and can even assist with booking appointments in your area. Best of all, they'll create an itemized print-out for you to submit to your insurance company for reimbursement.
---
Quick Tip: Confused about vaccinations? Passport Health makes the process seamless.
---
WHAT TO PACK FOR YOUR SAFARI
Check out my EXHAUSTIVE safari packing guide here.
---
OVERNIGHT IN NAIROBI + GIRAFFE MANOR
Depending on when you arrive, you'll typically fly into Nairobi and spend the night before heading to your destination first thing the next morning.
Close to the city center and not far from Nairobi airport is Fairmont Norfolk, a historic British colonial hotel that feels like a journey to a bygone era. The accommodations are perfect—rooms are centered around a quaint courtyard, there are Le Labo amenities, and a phenomenal morning breakfast spread. At the bar, musicians play live music, while locals and businesspeople have wine, cocktails, and (surprisingly delicious) tapas. We stayed here and we loved it—plus, they stored our bags for us so we didn't have to worry about baggage weight requirements for the safari (more on that below.)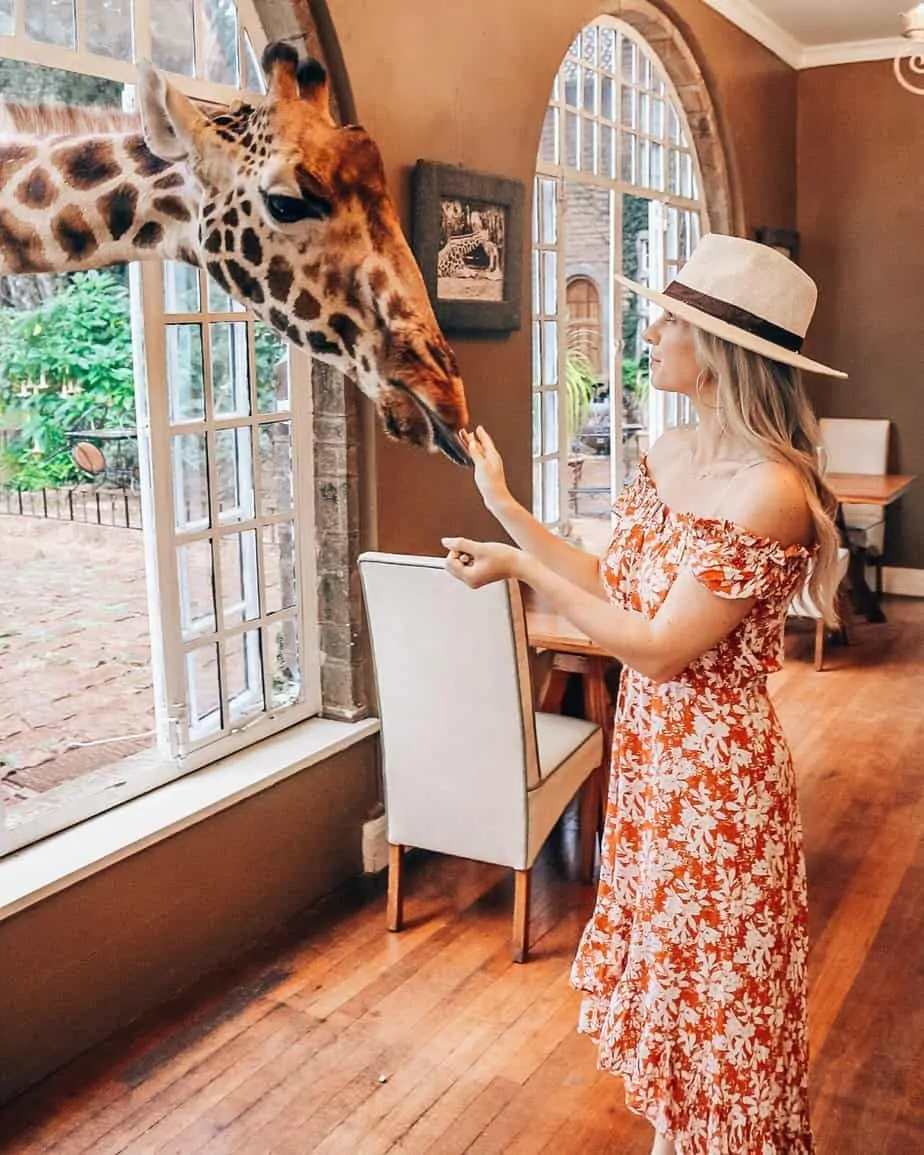 If you choose to spend extra time in Nairobi, I would also recommend checking out Hemingways—or you might consider extending your stay at Instagram favorite Giraffe Manor. It's definitely pricey…rooms at Giraffe Manor typically start at $620 per person, per day (all inclusive) and they're usually booked out more than six months in advance, but if you have the budget and want a truly once-in-a-lifetime experience, I would absolutely recommend it. Personally I don't think you need more than one night; two at the most. You can check out their rate sheet here for more details.
Full disclosure: We didn't plan far enough in advance to book a night, so I emailed them to ask if we could just come by for a meal—I offered to post on my IG feed, pay full price, etc.—and they still said no. Apparently it's against their policy to allow non-guests onto the property. However, after a lot of begging, they agreed to let us come for tea, but only because I was able to cover their other properties in a magazine. All of this is to say…if you *really* want to go, you'll have to book a room. It's an annoying policy, but I get it—it's their way of preserving the intimacy of the experience for guests that are paying a lot of money to stay there.
---
TRANSFERRING TO YOUR FLIGHT
After your overnight, you'll be transferred to Wilson Airport, a smaller, regional airport where most of the safari flights depart from. Bear in mind that the planes are small, so you'll likely be told to bring only one duffel bag per person that weighs no more than 15 pounds. (Most camps and luxury lodges provide daily laundry service, which helps when you're forced to pack minimally.) Flight times vary depending on where you're headed and how many drop-offs the plane makes, but they can be anywhere from 45 minutes to over an hour. In my experience, the 15lb rule wasn't strictly enforced, but it's probably not worth taking your chances. (More on this under "FAQ's".)
---
CHOOSING A CAMP + COST
One of the most difficult aspects of planning a safari is choosing which camp to stay at. They truly run the gamut—from posh five-star lodges to rugged tented retreats. In general, properties fall into two categories: lodge-style and tent-style. There are some pretty incredible and luxurious tented camps (& Beyond and Angama are two of the best) but I knew I was more of a lodge person. 
I'd heard incredible things about Sanctuary Retreats Olonana, which is where we chose to stay, and it truly exceeded expectations. Rates include everything—food, wine, tours, private guide, spa treatments, daily laundry and even gratuity. They start at $350/night per person and can go as high as $1,000/night per person depending on the time of year. It's definitely pricey, but I really believe you get what you pay for. (They have full price list on their website here.)
The resort was completely redone in July so everything is brand new. Daily meals take place during specific times and there are set menus, but the property was totally willing to make adjustments according to your personal preferences.
---
Quick Tip: Decide whether you want a traditional "tented camp" experience, or if you'd be more comfortable in a lodge.
---
Rooms are stunning (see above – do you die?!) and have every amenity imaginable: Wifi, filtered water bottles, french press coffee, bathrobes, toiletries, and a minibar. The 14 suites are situated on the Mara River, so you're able to see some pretty crazy things right outside of your window—we watched hippos splash around in the water from the comfort of our bed.
---
TYPICAL GAME DRIVE SCHEDULE
Upon arrival at the airstrip, we met our guide who would be with us throughout the trip, and did our first game drive for a few hours before sundown that day. The next morning, we went out from 7am – 10am, and then again from 4pm – 7pm. Since it tends to get extremely hot during the day, drives often take place in the morning and before sunset, but full-day drives are also an option for those who prefer it.
During our downtime, we rested, had leisurely lunches and cocktails, and visited a local school and Masai village nearby, which, to be honest, was possibly my favorite part of the entire trip. (You can learn more about the charity efforts that help support local Masai communities here.) Of course, each camp is different, but the staff at Sanctuary Olonana worked with us to set up activities according to what we were interested in. They also took special requests, like having coffee carafes in the van for the morning drives, beer and wine in a cooler for sunset cocktails, and even a picnic lunch for our last day.
---
THE WILDLIFE
If you visit during The Great Migration (which descends upon the Mara in July and lasts until October), you can expect to see thousands upon thousands of zebra and wildebeest en route to the Serengeti. Lions, giraffes, hippopotamus, and impalas are also fairly common, while rhinoceros and cheetahs are decidedly more rare to spot. Our guide told us that although certain seasons are rainier others, there truly isn't a bad time of year for a Kenyan safari.
---
Quick Tip: Ask your camp/hotel staff what other activities or special arrangements they can arrange beyond safari—like seeing a local school or visiting a nearby village.
---
WHAT TO BRING WITH YOU FOR YOUR GAME DRIVE
I had a tote packed for each ride with the following items:
Scarf (it can get cold and dusty)
Hairbrush (the wind really did a number on my hair & I obviously want to look FRESH for my pics)
External battery & charging cord
Deet wipes (these came highly recommended – in a resealable pack. Only got bit once)
Powder sunscreen (to reapply to my face; I hate putting liquid sunscreen on top of makeup)
Jacket (for early in the morning and after the sun went down)
Hand sanitizer or wet wipes

---
SAFARI FAQ's:
Q: Do you recommend using a travel agent or tour operator?
A: 100%. There are so many moving parts and logistics (with flights, baggage rules, locations, etc) that it's almost impossible to figure everything out on your own—throughout our safari, Matt & I kept saying "thank GOD we didn't try to do this ourselves." We used Abercrombie & Kent, a company that I'd worked with before through Town & Country. (They have a team that specializes in Africa, and Kenya more specifically.) They were incredible and answered all of our questions + came up with a loose itinerary within 24 hours of our call.

Q: Is the baggage weight requirement for real?
A: They didn't weigh our bags when we checked in, but that's probably because we only had duffels with us—we left our other luggage at the hotel. Even if your hotel doesn't offer it, the airports have luggage storage facilities for your extra stuff. I know it seems impossible to keep it to 15 pounds, but it honestly wasn't as bad as I thought it would be!
Q: How many days do you recommend?
A: My advice is to think long and hard about how many days you'll actually need for your safari. I had initially assumed we'd want at least 5 days, but our travel agent insisted that 3-4 days would be plenty. She was right. What I didn't realize is that while the game drives are incredible, they can also be extremely long, hot, and exhausting—we spent around 6-8 hours a day driving through the desert. Our experience was AMAZING, but by the last day of our trip, I felt like it had been the perfect amount of time.
Q: Would you recommend going on safari for a honeymoon?
A: My answer is unequivocally yes. I have a lot of thoughts about honeymoons (you can check out my guide to honeymoon planning here) but I do think a safari is one of the most surreal, once-in-a-lifetime experiences that is wildly cool to have as a newly married couple. My ONLY caveat is that you should pair the safari with a second, more relaxing destination. Going on safari isn't what I would call leisurely—it requires waking up at 6am and long afternoons in the heat. In an ideal scenario, I'd suggest starting your honeymoon with a safari and ending with a relaxing beach destination. Popular combinations include Krueger National Park in South Africa + Cape Town + Winelands; Kenya + Seychelles; Tanzania + Mozambique; Sri Lanka + Maldives.