So… let's talk RETINOL. In my past life as a magazine editor who covered beauty, I had the opportunity to interview A LOT of very fancy dermatologists. In just about every interview, I would ask the same question: "What advice do you have for people who want youthful-looking skin?"
I would almost always get the same response.
"Wear sunscreen. And use retinol!"
Because of that, I started using retinol in my late 20s. And now that I'm in my 30s, I feel like it's more important than ever in terms of targeting fine lines and wrinkles.
Over the years I've tried a number of different retinol products—everything from retinol eye creams and drugstore brands of retinol, to over-the-counter retinols, as well as a (way too strong) prescription retinol from a derm that caused a major skin flare up.
Many people tend to give up on retinol before it works its magic because it can cause irritation, redness, and dryness. The key is finding a product that gives you all the benefits without the side effects.
Enter: Kiehl's Retinol Skin-Renewing Daily Micro-Dose Serum. This is the one I've been using consistently for the past two months, and have recommended to a lot of friends and followers.
Here's everything you need to know about Kiehl's Retinol Skin-Renewing Daily Micro-Dose Serum—a product that I've dubbed "the perfect serum for retinol newbies."
Kiehl's Retinol Skin-Renewing Daily Micro-Dose Serum Review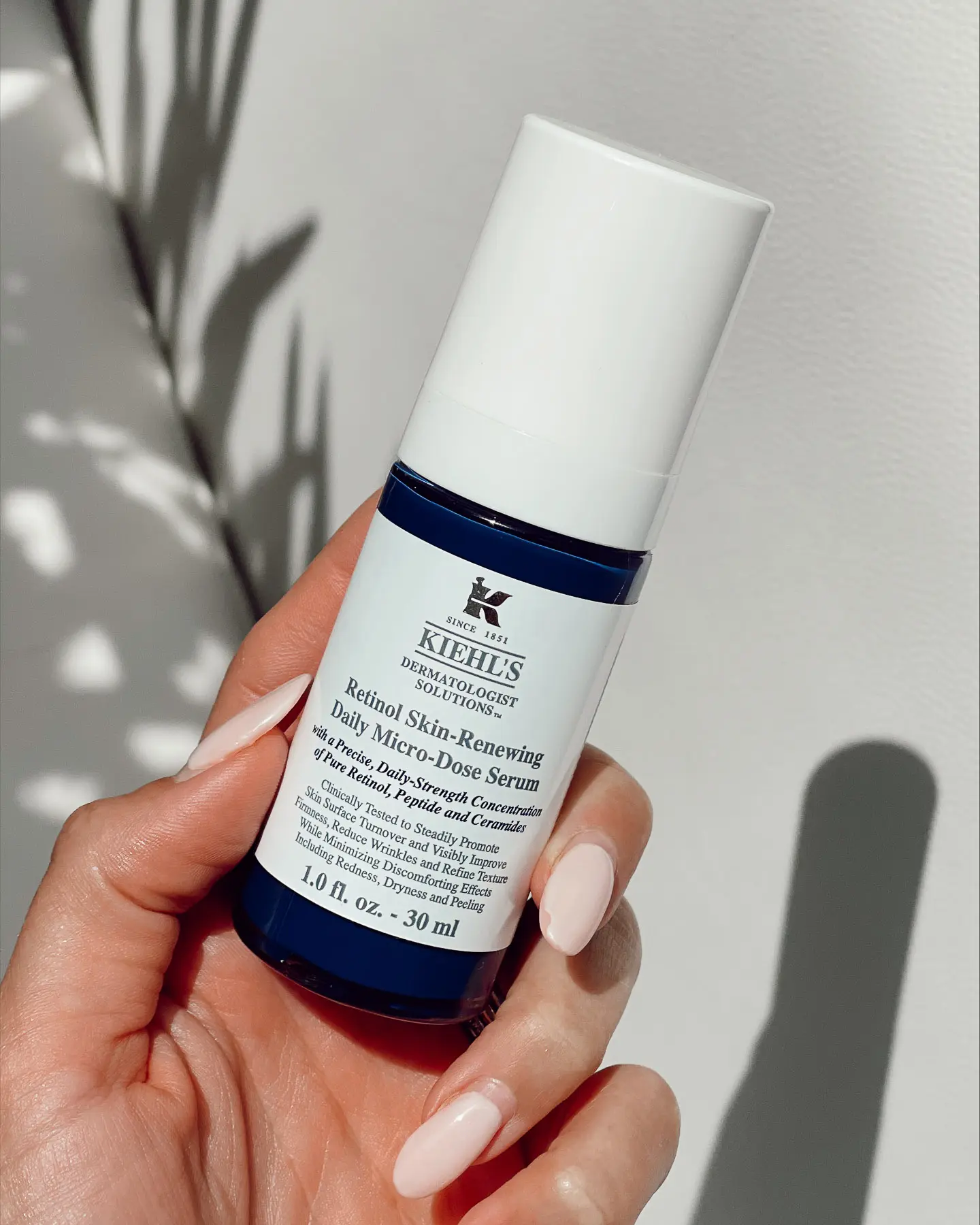 What Is It?
Kiehls' new retinol product is a creamy serum that has small but potent "microdoses" of pure retinol.
What Does It Do?
The serum (which is Kiehls' first-ever retinol) delivers all the benefits of retinol (like cell turnover, visibly reducing the appearance of wrinkles, and visibly softening fine lines) without side effects people typically associate with retinol, such as irritation and dryness.
Who is It Recommended For?
Retinol newbies or anyone with sensitive skin.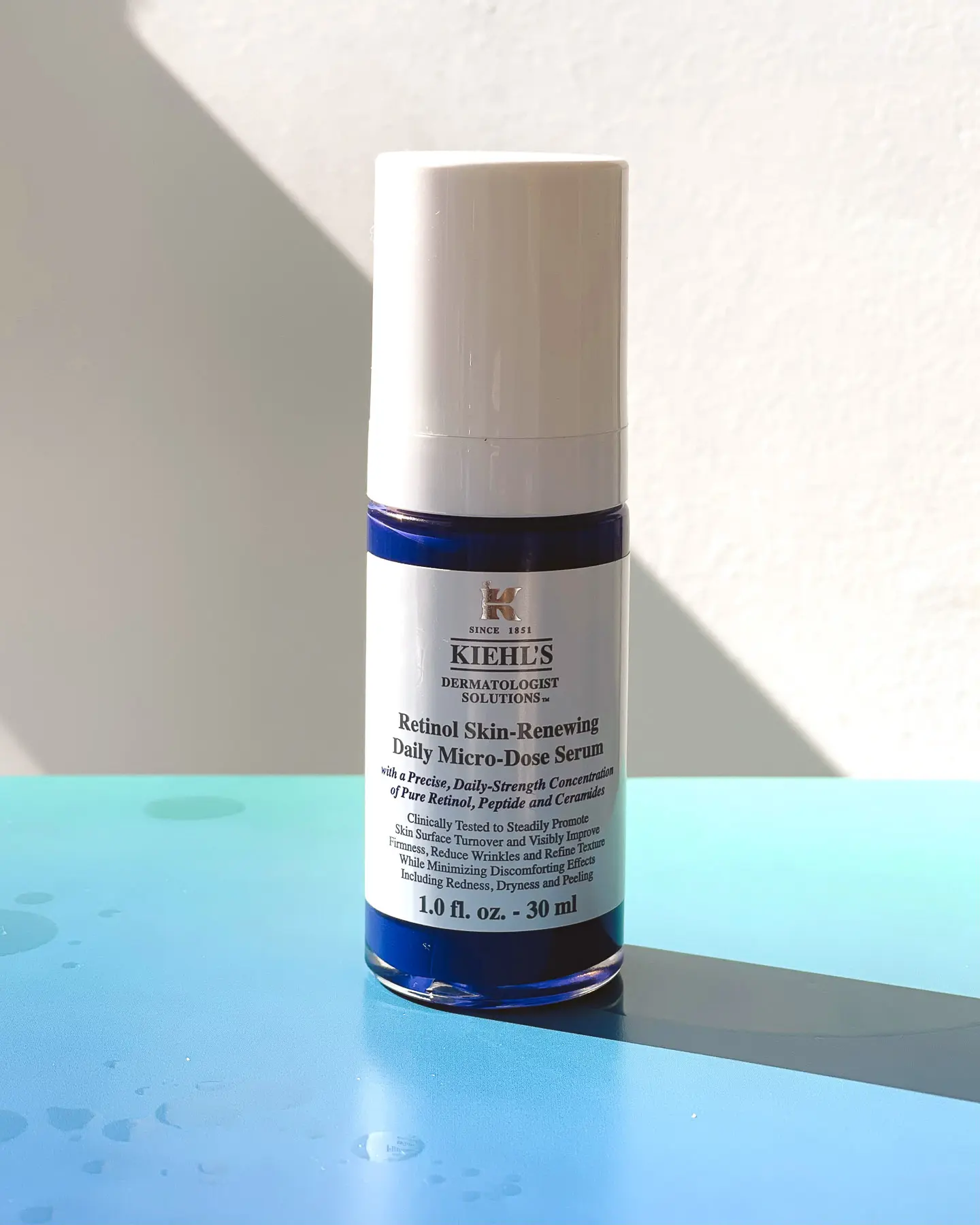 When to Use Kiehl's Retinol Serum
The nice thing about this particular retinol is that it's gentle enough for daily use.
Depending on your preference, it can be used in the morning or in the evening (but not both!)
As with incorporating any retinol into your routine, you should always apply an SPF in the morning.
Here's an example of where it would fit into both an AM skincare routine or a PM skincare routine.
Sample AM Skincare Routine:
Splash of water (or cleanser)
Moisturizer
Sample PM Skincare Routine:
Remove makeup (I recommend using a balm or oil-based product)
Toner (optional)
Night Cream
Eye Cream
How to Use Kiehl's Retinol Serum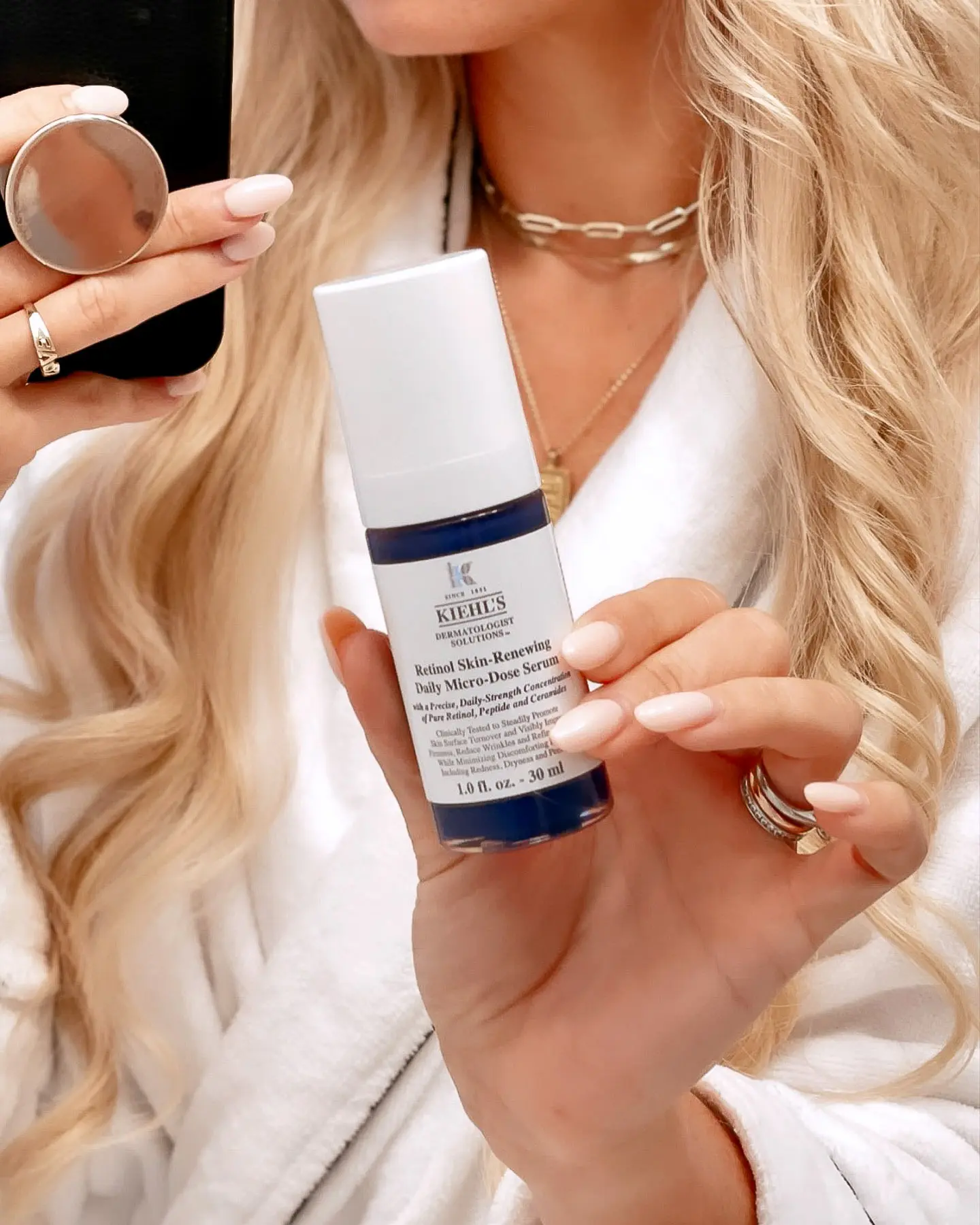 Dispense one pump of the serum onto your fingertips and gently apply to your cheeks, forehead, chin, and under-eye area (avoiding your eyes and eyelids.)
To ensure the serum is applied evenly, I like to dot it in 9 spots across my face: three across my forehead, three across my mid-face (cheeks & nose), and three across my jawline/chin.
Ingredients
Pure Retinol: the hero ingredient that supports healthy cell turnover, and helps to reduce the appearance of fine lines and wrinkles
Ceramides: these are naturally occurring lipids (found in our skin and hair); they help protect our skin's moisture barrier from external damage
Peptide: the formula includes a peptide that helps to support skin integrity
Final Verdict: Is Kiehl's Retinol Serum Worth It?
Yes, I definitely think so. I don't consider myself to have particularly sensitive skin, but I've still experienced harsh and unpleasant reactions from too-potent retinols.
This is one of the first retinol products I've tried that my skin tolerated really well, and after two months of daily use, I'm noticing an overall improvement in skin texture, and a subtle difference in the appearance of fine lines.
I also find the consistency of the serum itself to be really creamy, and not drying, which is super important to me. Overall, I would absolutely repurchase and recommend to other people.
Price
$60; available now at Sephora. (If you're confused about how to choose a retinol serum, be sure about to stop into a Sephora to find the right retinol product for you!)
This post was created in partnership with Sephora. All opinions are my own!
---
If you make a purchase through one of the links included in this post, I may make a small commission. As you know, I only feature products that I genuinely love.