As someone who typically focuses on quality over quantity when it comes to fashion, I've been admittedly skeptical every time I see someone post their "Amazon Fall Fashion Finds" on Instagram.
But after relying on the online retailer more than usual this past year, I've come across so many amazing Amazon finds. If you're looking for budget-friendly clothing or if you're scrambling to order some cool-weather pieces in time for the season, Amazon is certainly the place to shop.

I feel like there's a bit of strategy required for buying clothes on Amazon. You really need to scrutinize the reviews and see if there are photos from real women wearing the item (so you'll know what it looks like on).
I spent a few hours going down Amazon rabbit holes on the hunt for cute blazer coats, cozy plaid fleeces, turtleneck sweater dresses, ankle booties, and gold jewelry.
I also looked at LiketoKnow.It and checked out some bloggers who I know post a lot of Amazon stuff, and found good options there as well.
Much to my surprise, when all of my purchases arrived, I liked almost EVERYTHING, so I felt inclined to share my finds with you.
Truly, I imagined I would end up returning 99% of what I ordered, but I think I only sent back one or two items because the sizing was off.
Here's what I ended up with!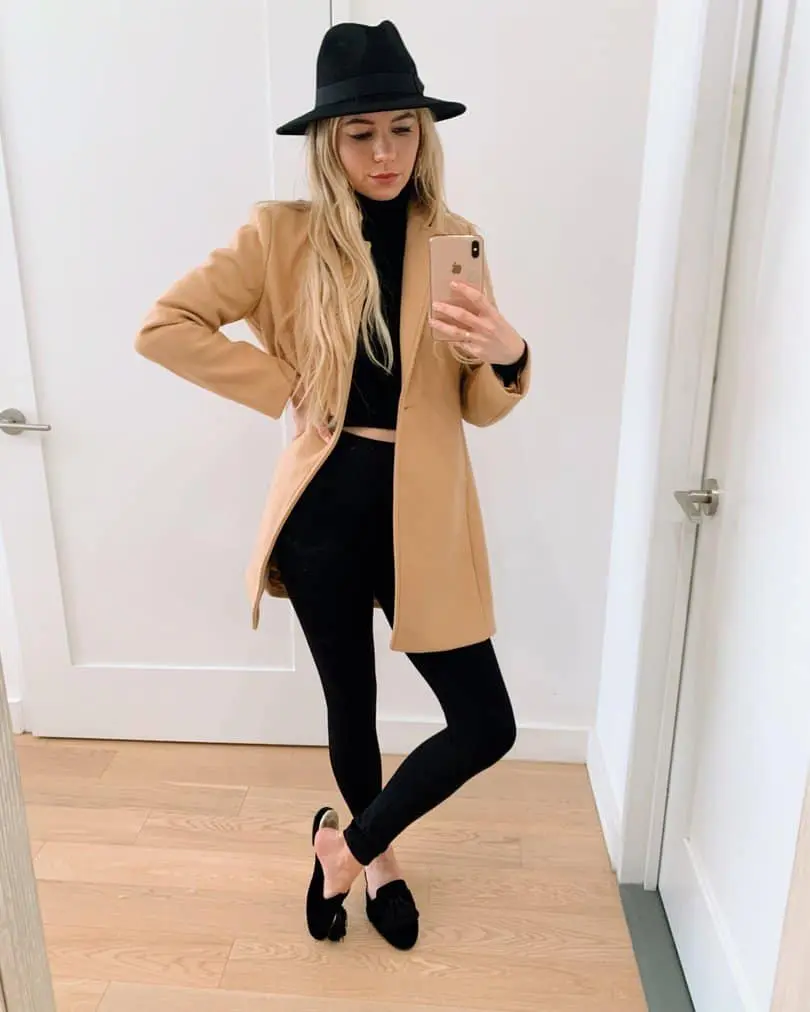 This camel blazer coat was one of my best Amazon finds to date. (The velvet slides are these Birdies. Highly highly recommend. They're some of my most comfortable shoes—feels like walking on pillows.)
I've been trying to find a hat like this on Amazon but I'm not a fan of anything I've seen. This one is from J.Crew.
Need more ideas on how to style your black jeans? I've got a blog post on it.
---
This knit turtleneck sweater was SUCH a pleasant surprise. I expected it to be gross and itchy, and it's not at all.
It also held up surprisingly well in the wash. Wearing it with my favorite Levi's (also avail on Amazon) and the ankle booties (yep, they're Amazon too.)
---
Another winner: this teddy-bear-soft fleece zip up.
---
You need this $24.99 t-shirt dress. I assumed it would be paper-thin, but it's actually double-lined and super flattering.
I love that it's basically a blank canvas and can be styled however you want.
Sadly the boots aren't available on Amazon (I got them from Stuart Weitzman a few years ago) but there's a similar dupe here.
Check out my blog post on the cutest fall and winter boot styles for women if you're in the market for a new pair!
Here's the t-shirt dress again, styled with my favorite white sneakers.
---
I've been wearing this plaid fleece pullover all. the. time.
---
Here are some other things I bought and loved that I don't have photos of me wearing!
Clockwise from top left:
Gold Beaded Bracelets | Fuzzy Slippers | Plaid Fleece Pullover (runs true to size) | White ruched t-shirt dress (runs true to size) | Pointed toe ankle booties (I had to order a half size down in these) | Fleece Fuzzy Faux Shearling Zipper Coat (runs true to size, but fit is oversize) | Gold layered necklaces
Clockwise from top left:
Oversize chunky knit turtleneck sweater (this is probably my favorite Amazon find out of everything I purchased) | Fuzzy Slippers | Knit turtleneck sweater dress (this ran big; I ordered my usual size but I was swimming it in, so I exchanged it and sized down!) | Pointed toe ankle booties (I had to order a half size down in these) | Sherpa Full-Zip Fur Coat | Plaid Fleece Pullover (runs true to size) | Long Sleeve Buttoned Blazer Coat (this was was second favorite!)
If there's anything you've found on Amazon recently and loved, drop the link below so I can check it out!

Pin this post for later:
Disclosure: This post contains affiliate links. If you use these links to make a purchase, I may earn a small commission. As always, I only recommend products that I truly love and would use myself.
If you make a purchase through one of the links included in this post, I may make a small commission. As you know, I only feature products that I genuinely love.