I've spent more time than I'd care to admit in search of swimsuits for big boobs, and if you're reading this, I would imagine that you feel my pain. Why must it be so difficult?! Traditional "small, medium, large" sizing is an actual JOKE if you're larger than a D cup. As a 32DD (sometimes 32F) "large" tops might as well be nipple covers on me, so I no longer even bother to try them on. However, after a LOT of trial and error, I've found several brands that design supportive fuller bust bikinis, swimwear with underwire, swimsuits by cup size (the DREAM), D cup swimsuits, and labels that specifically cater to us chesty ladies.
The fuller bust bikinis on my list are almost all sized as separates (thank GOD) so you no longer have to worry about whether your top and bottom are the same size. Spoiler alert: they never are.
I also turned to my fellow busty followers on Instagram for their input on swim brands for fuller chests, and I've included many of their suggestions here as well. I'll continue to add to this list as I discover new boob-friendly brands.
THE BEST SWIMSUITS FOR BIG BOOBS

---
SUMMERSALT
I own both of these styles and can personally vouch for how incredible they are. The fabric is unlike any other fabric I've ever experienced—it's almost like Spanx material, which means you're DEFINITELY going to get the support you need.
SHOP: Summersalt Sidestroke Bikini Top
SHOP: Summersalt Sidestroke One Piece
---
ASOS
I can't tell you how much I love Asos' swim selection. They have an entire category dedicated to swimsuits for big boobs (which you can easily filter on their site by choosing "fuller bust" in the dropdown menu) and almost all of the suits are available in cup sizes ranging from 32DD to 36I. Not to mention, the bathing suits are CHEAP. I'm talking under $50. I've always associated "cheap" with "unsupportive" but Asos has truly proved me wrong time and time again.
In my experience the sizing can sometimes be a little off, so I'll usually order a few different sizes and return whatever doesn't fit since they have a generous return policy (and free return shipping.)

SHOP: ASOS Peek & Beau Fuller Bust Floral Padded Bandeau Bikini Top
SHOP: ASOS DESIGN Crinkle V Front Crop Bikini Top
SHOP: ASOS Pour Moi Fuller Bust Lace Up Bikini Top
SHOP: ASOS Peek & Beau Fuller Bust Exclusive Floral Bikini Top
---
MONDAY SWIMWEAR
This brand was started by influencers Devin Brugman (pictured below) and Natasha Oakley, after they discovered a need for swimsuits that accommodate fuller chests and girls with curves.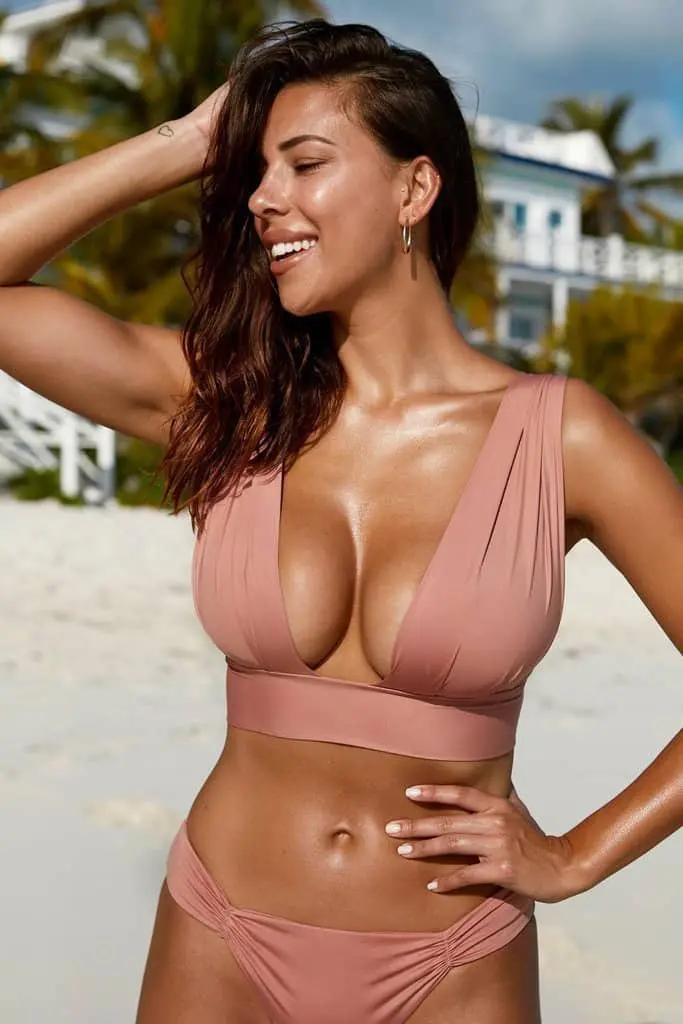 SHOP: Monday Swimwear Aruba Top
SHOP: Monday Swimwear Clovelly Top
SHOP: Monday Swimwear Bahamas One Piece
SHOP: Monday Swimwear Portofino One Piece
---
---
FREYA
SHOP: Freya Totally Stripe Ruffles Bikini Top
SHOP:  Freya Sundance Underwire Bandless Halter Top
SHOP: Freya Sundance Tankini Top
---
VIX
SHOP:  ViX by Paula Hermanny
---
---
BECCA
SHOP: Becca by Rebecca Virtue Loreto Bikini
---
MARYSIA
SHOP: Marysia Palm Springs Bikini Top
---
LA BLANCA
SHOP: La Blanca Solid Multistrap Cross Back One Piece
---
WAVE BABE
I currently own this suit in 3 colors and can't recommend it enough. I wear a size medium. The fabric gives you the extra lift and support that you need. It's worth noting that the bottoms are fairly skimpy, so if you prefer something more full coverage, this might not be the suit for you.
SHOP: Wave Babe Swimwear Havana Top
---
MIRACLESUIT
SHOP: Miraclesuit Illusionist Crossover One-Piece
---
ELOMI
SHOP: Elomi Plus Size Tropical Plunge Bikini Top
---
HELEN JON
SHOP: Helen Jon x Draper James Ruffle Wrap One-Piece
---
ATHLETA
SHOP: Athleta Desert Geo High Neck Bikini Top
---
RAQ APPAREL

SHOP: Raq Apparel Green Top
---
SWIMSUITS FOR ALL
SHOP: Swimsuits For All
---
Have recommendations for other fuller bust swimsuits? Leave them in the comments below!
Pin This for Later: