There's nothing I love more than discovering a new skincare brand—particularly when the brand has a unique differentiator separating it from others on the market.
As you know, I get sent a LOT of skincare products. (In fact, I have an entire beauty closet dedicated to them.) And because I'm only one person—with only one face—it's impossible for me to try everything that gets sent my way.
When the brand LOUM Beauty reached out to me and asked if I'd be interested in testing out their products, I did what I always do: I went straight to their website and started snooping around.
I perused their "about us" page and browsed through their products so I could try and get an understanding of the concept behind the brand. I like to know who started it, what kind of ingredients they're using, the science and testing that went into each product, etc.
Right off the bat, I noticed an "Our Science" tab on their homepage. BINGO. The page did a really great job of explaining the ethos of LOUM Beauty, and also the science that went into developing it.
While most of us know that factors like genetics, sun exposure, hormones, and diet can all have an impact on the health of our skin, there's another factor that's responsible for causing some of the most hard-to-solve skin issues: stress.
LOUM was designed to address that. The concept is quite simple: products that aim to undo the effects of stress on your skin by incorporating three of nature's most powerful stress-relieving ingredients.
So, essentially, it is a skincare line for people who are chronically stressed out. WHERE DO I SIGN??
I was immediately impressed by the fact that this wasn't just a marketing gimmick: in order to develop the line, LOUM worked with a top psycho-dermatologist (which is a derm who specializes in the interaction between mind & skin) and leveraged years of clinical research to develop its core formula.
It's also cruelty-free, vegan, responsibly-sourced, and the products are certified as 97-99% natural.
Needless to say, I was on board—and then it came time to put the products to the test.
*NOTE: Loum Beauty is having a sitewide sale for Black Friday/Cyber Weds from 11/24 – 11/29.
LOUM BEAUTY REVIEW
Loum Beauty Vitamin C Serum
I was definitely most intrigued to try the Pure Serenity Golden Vitamin C Serum, which is Loum's best seller.
For the uninitiated, the benefits of vitamin c are plentiful: we're talking brightness, reduced fine lines and wrinkles, lightening of dark spots, improvement in skin tone and texture, and more.
But—without getting too nerdy here—the problem with vitamin c (and consequently, most vitamin c serums) is that it's a very unstable, temperamental ingredient. If it's exposed to sunlight, it oxidizes (and breaks down) very quickly. It also doesn't penetrate the skin very easily.
That's why vitamin c serums need to be packaged and formulated in a very specific way in order to be effective. The Loum Beauty Vitamin C serum has the vitamin c suspended in teeny tiny golden droplets—thus protecting the highly unstable ingredient and maximizing its potency.
The texture and feel of the serum is really different from every other vitamin c serum I've tried previously. It's thick—almost gel-like—but glides onto the skin when applied. It's not sticky, it doesn't leave my skin tight or dry, and (perhaps best of all) it doesn't smell like hot dog water.
In short: my skin feels great and more radiant when I use it. Since it's still fairly new to my routine, I'll definitely check back in with an update on what results I noticed once I'm finished with my bottle.
I will note that Loum Beauty's vitamin c serum is pricey—but to me, it's one of the steps of my routine that I don't think it worth skimping on.
---
Loum Beauty Mask
The second product I was most looking forward to testing was the Tranquil Radiance Nutrient Mask. Loum describes it as an "instant refresh for tired, stressed out skin," which is something that I've so desperately needed.
My first impression was that I really liked the thick, creamy texture. It was easy to apply and didn't have that hardening/tightening/painful effect that some treatment masks have.
I also like the fact that you only need to leave it on for 3-5 minutes in order to get the benefits. That made it SO incredibly easy for me to incorporate it into my routine.
At night, I cleansed my face and applied the mask. Then I let it sit while I brushed my teeth, went to the bathroom, washed my hands, and brushed and braided my hair. (I always sleep with my hair in a loose braid and a silk scrunchie.)
By the time I was done, the 4 minutes were up. It didn't even require a second trip to the bathroom to remove. I rinsed it off with warm water and a damp cloth, and noticed the slightest bit of redness in my skin, but that went away a few minutes later.
Each time after I use it, my skin feels hydrated and bouncy. If you're like me, and can't seem to find the time to dedicate to a 20-30 minute mask, I would definitely recommend this one.
---
Loum Beauty Stress Detox Cleanser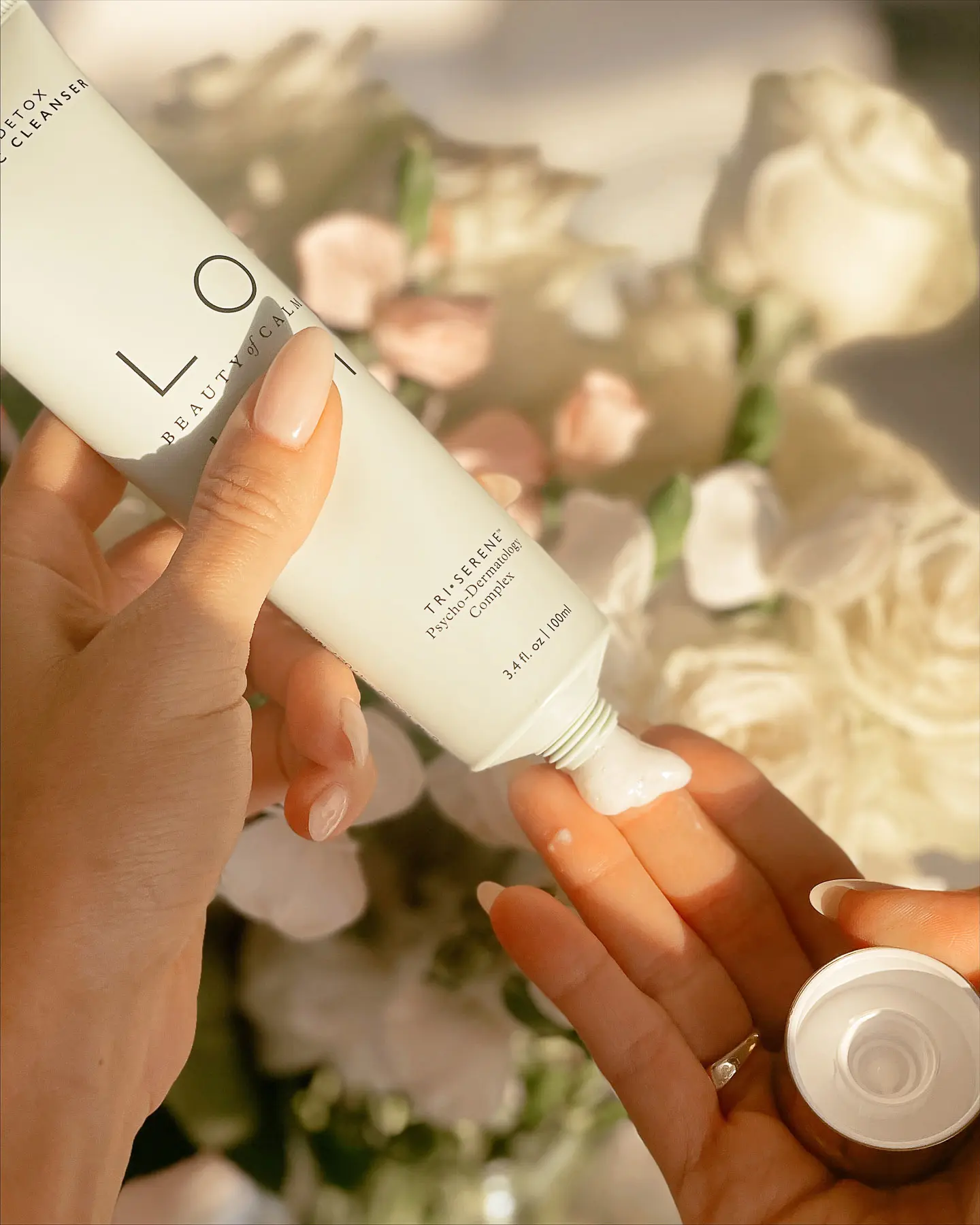 After reading about the stress detox enzymatic cleanser, I was really curious about trying it.
It combines gentle exfoliants—like vitamin A and vitamin C—to help unblock clogged pores, with mandelic acid (an AHA) to help address oil production. Since I don't typically use a cleanser with active ingredients in it, this was a first for me.
Based on the product description, this cleanser would be incredible for someone with oily or acne-prone skin. Since I tend to be on the dryer side, I'm not 100% sure that I'm able to appreciate the benefits as dramatically, but I'm planning to stick with it to see if I notice any changes (particularly on the clogged pore issue.)
I did really like how it felt on my skin, and the fact that it didn't leave my face feeling tight after I washed it off. (You know how that sometimes happens with other cleaners? I hate it.)
---
Loum Beauty Founder
Loum Beauty is co-founded by Daphne Oz (the Emmy-winning TV host & NY Times Bestselling Author who you likely follow on Instagram) and Kat Bryce, a former Unilever executive.
It was also developed in partnership with leading Psycho-Dermatologist Francisco Tausk, who has spent his career studying the effects that stress has on the skin.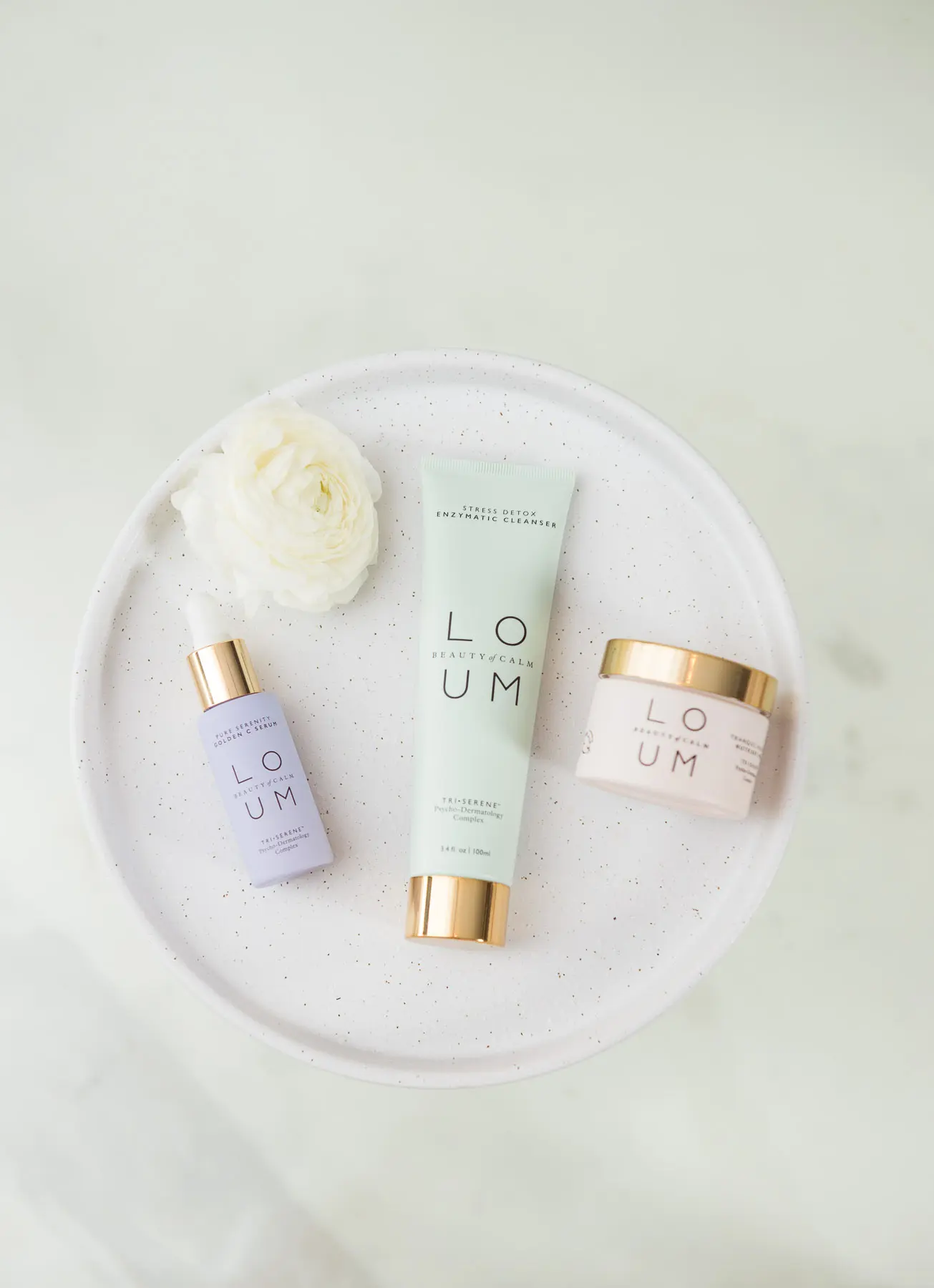 ---
Loum Beauty Final Thoughts
All in all, I'm super impressed with the three products I tried from Loum, and I would totally recommend them! I love their transparency on ingredients and the process that went into developing the line.
While the products are pricey, in my opinion, they're the kind of skincare items I think are worth splurging on.
---
This post was created in partnership with Loum. As always, I only partner with brands that I love!