If you've been dreaming about planning a Maldives honeymoon or a Maldives vacation, I don't blame you—it is truly an other-worldly paradise, with sugar-fine sand, crystal clear water, and villas with views to-die-for. I fell so in love after my own Maldives honeymoon two years ago, I've been back twice since, and I'm excited to share EVERYTHING I've learned with you.
Here's the thing about planning a Maldives vacation though: it can be VERY overwhelming if you've never been before. Every resort looks better than the next, so it's hard to differentiate and make a decision about where to stay.
And then there's the fact that everything seems insanely expensive, so if you're going to be splurging on a once-in-a-lifetime trip, you want to make sure you're getting the best value, right?
Well, you're in good hands. In this post, I'll be covering everything you need to know about planning a Maldives honeymoon or vacation, and answering some of the most common questions, like how much does a trip to the Maldives cost, when is the best time of the year to visit the Maldives, and which hotels I would personally recommend.
---
MALDIVES HONEYMOON PLANNING GUIDE
---
Best Time of Year to Visit the Maldives
Technically the Maldives are warm and sunny year-round, with temperatures ranging from the low 70s to the high 80s, but there are slight differences (and pros and cons) for each season. Here's a breakdown that makes it easy for you:
November – April: dry season aka the best time to visit the Maldives; December to March is considered "peak" season and you'll likely see higher rates during this time of year, particularly around the holidays
May – October: wet season aka monsoon season, with the height of the rain coming in June
That being said, if you're willing to take your chances and are on a tight budget, you can get some pretty incredible deals during low season. More on that in the 'Maldives on a Budget' section!
---
How Much Does a Maldives Vacation Cost?
I'm not going to sugarcoat it—the Maldives are very expensive. By and large, it is considered a "luxury" destination dominated by five-star hotels, and the prices reflect that. When you consider how remote the islands are, and how costly it is for hotels to source and transport everything, it's no surprise that you're going to be paying a premium.
For most resorts, you should expect a minimum of $600/night, and many top-rated hotels will be much higher than that. Still, there are ways to get discounted room rates—by using points, taking advantage of packages, or finding off-season deals—which I'll get into a bit later.
One thing to keep in mind is that the food at most resorts is also pricey, and since each resort is on its own island, your options are limited to the restaurants on-property. Almost all of the hotels I've stayed at include breakfast in the rate, and some have the option for "half board" (breakfast, dinner and non-alcoholic drinks included) and "full board" (all meals and non-alcoholic drinks).
Before pulling the trigger on a meal plan, look into menu prices at your hotel and crunch the numbers to see if a package makes more sense than going a la carte.
Also: if you haven't read my blog post all about honeymoon planning tips and tricks, I recommend checking that for more general advice and different ways to get the most value for your money.
---
How to Choose a Hotel in the Maldives
There are a few important things to understand about the Maldives before you choose where to stay, all of which I didn't realize until I was planning my first trip.
1. Each resort is on its own private island. Except for a few rare instances, it's not possible to hop from one island to another since they are so spread out. Be prepared to stay put for the duration of your trip, unless you decide to switch hotels.
2. Hotels are essentially broken down into two categories: "boat transfer" and "plane transfer."
– Boat transfer hotels are closer to the main airport, can be reached via boat (arranged by your hotel), and are less remote (i.e. you'll likely be able to see other islands in the distance from where you're staying.)
– Plane transfer hotels are further away, very remote, and require a seaplane or domestic flight transfer. These properties are truly "in the middle of nowhere" and are considered by some to be more exclusive, but they are also more difficult and pricey to get to.
Seaplanes (also arranged via your hotel) only fly during daylight hours, from 6am – 6pm, so keep that in mind when booking your flights into Male (the capital city where the airport is located.)
For ex: if I were staying at the St. Regis and my flight into Male landed at 10pm, I would have to spend the night at an airport hotel and wait to take the first seaplane the next morning.
3. Rooms can usually be broken down into two basic categories as well: "beach villas" and "overwater villas."
Beach villas are (obviously) on the beach. They tend to be slightly less expensive than overwater villas and are definitely a better option for anyone traveling with young children.
Overwater villas are the huts on stilts you've seen in all of my photos. They tend to be more expensive because they're generally considered more desirable (but I've seen a few occasions where they were cheaper, so it's always worth checking.)
---
PRO TIP: I often recommend booking an overwater villa for two nights so that you're able to get the experience, and then switching to a beach villa for the rest of your trip (or vice versa.) That way you're able to get two different experiences, and save (a little) money in the process.
---
The Best Hotels and Resorts in the Maldives
Now, let's talk about actually choosing a hotel. The first factor to consider, of course, is budget. Below is a list of the hotels that I've stayed at, plus a handful of others that I've heard good things about.
They are all mid-to-high-end price-wise, but I've included tips in the "Maldives on a Budget" section that will help make some of these more affordable. ("Affordable" being a relative term—the reality is that even the cheapest resorts are still very expensive.)
Eventually I plan on doing individual posts about each hotel, but for now, here's a brief rundown:
Luxe = Over $1,000/night (on average)
Mid-Range = Between $500 – $1000/night (on average)
Budget= Between $250 – $500/night
Baros (mid-range)
Best For: Honeymooners or couples (it's adults-only) who want an intimate and understated luxury experience
Highlights: Baros was one of the very first luxury hotels to open in the Maldives more than three decades ago, and it has since amassed a loyal following of guests who return year after year.
The island is small, easy to navigate, and feels like "home" almost immediately. Unlike some of the other resorts, there are no bikes, golf carts, or motorized water sports—which is all part of the hotel's effort to keep the experience as peaceful as possible.
It is just a 20 minute boat transfer from the main airport, making it super convenient—and the hotel's speedboat will pick you up the second you land, so there's no time wasted.
Best For: Couples or families who want plenty of activities/things to do
Highlights: The set-up of Niyama is extremely unique—the resort is split between two islands called "Play" (family-friendly) and "Chill" (for adults). The property feels much more expansive than some of the others I stayed at, and has a lot to offer—from surfing lessons and a surf shack, to an underwater restaurant and nightclub, as well as a 24 hour spa.
Best For: Those with a generous budget who want the absolute best of the best and lots of privacy
Highlights: I stayed in a luxury overwater villa during my visit to Joali, and I can confidently say it was the nicest hotel room I have ever experienced. (Considering I write about luxury hotels for a living, that should tell you a lot.)
The attention to detail at Joali is on another level, and the entire resort is jaw-droppingly beautiful. From the staff (each room has its own butler) to the meals, it was a 10/10 all around.
We even noticed an A-list celebrity couple sitting next to us at breakfast, which is indicative of the clientele Joali attracts.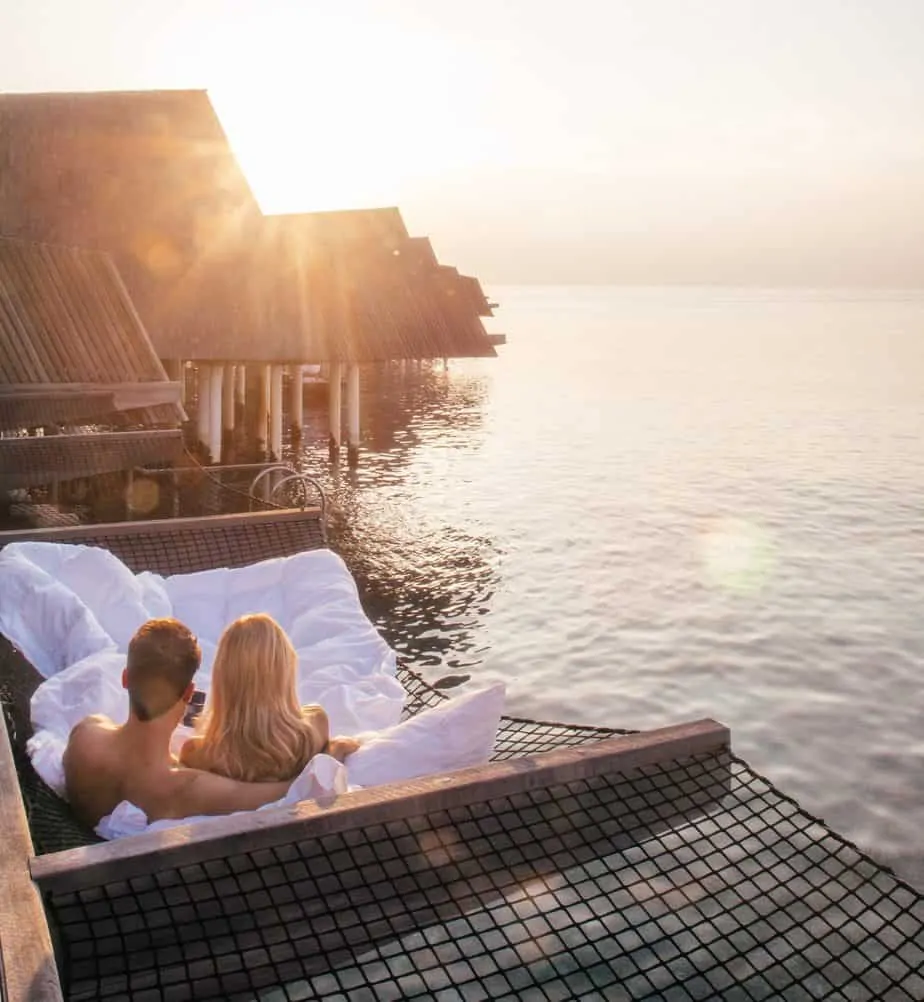 Best For: Luxury travelers who don't want to lift a finger, or anyone who can afford to splurge on a once-in-a-lifetime hotel
Highlights: I've stayed at the St. Regis twice, and it was consistently incredible across the board. Each room has a dedicated butler that will do EVERYTHING for you—pack, unpack, press your clothes, pick up your snorkeling equipment—you name it, they'll gladly get it done within minutes.
One of my favorite things about the St. Regis, beyond the spacious rooms, is the fact that all the guests convene each evening for sunset at Whale Bar.
It's a sprawling outdoor deck with the most insane vantage point, and live music every night. Also: the breakfast spread is among the most impressive I've ever seen.
Best For: Hip honeymooners or couples with young children (we saw quite a few families) who like a buzzy atmosphere
Highlights: Unlike some of the other resorts, where you could go for an entire day without seeing another guest, the W has a more lively vibe. Breakfast is bustling (the buffet is incredible); there's a DJ by the pool every afternoon and also during the evenings at Sip Bar for sunset.
Villas don't have dedicated butlers, but the staff is fantastic and eager to bend over backwards for any request.
The property recently suffered damage due to a fire so it is currently under construction, but it is one of the most unique and special places I've ever stayed. I'll update this post with details when the property re-opens.
Places I didn't stay, but have heard good things about:
---
Curious how the Maldives compare to Bora Bora?
Read my reviews of St. Regis Bora Bora and Four Seasons Bora Bora.
---
How Many Days Should You Spend in the Maldives?
This really depends on your budget and your travel schedule (i.e. will you be stopping anywhere else before or after the Maldives?) I'd say anywhere between 5 and 8 nights is a sweet spot, depending on how far you're coming from. For an 8-night trip, I'd recommend switching hotels halfway through for a change of scenery.
---
How to Do the Maldives on a Budget
To be completely frank—the Maldives (unfortunately) is not a place that caters to budget-conscious travelers. That's not to say it can't be done. Here are a few ways to shave hundreds of dollars off of your trip.
Book During the Off-Season.
During low occupancy periods, many resorts—even the luxury properties—will deeply discount their rates, in addition to offering upgrades, complimentary meals and transfers, or even throw in free room nights. Here's a message I recently received from a follower:
"We are going in September for our honeymoon and doing a 'stay 7 nights for the price of 4' deal that includes breakfast and transfers. It's an off-season offering most hotels do that time of year. We're staying at Huvafen Fushi, but I believe Maalifushi, Six Senses, and One&Only along with others also did this promo."
These deals can take a little digging to track down online, so I often recommend using an in-the-know travel agent to assist in your booking.
Pay with Credit Card Points.
I am a HUGE proponent of points travel, and with the right cards, the right strategy, and a little patience, it's entirely possible to get free room nights at some of the best five-star properties in the Maldives by using points. (If you're new to the game and need the basics of how it all works, check out my Beginner's Guide to Traveling on Points.)
Here are a few examples:
The St. Regis Maldives (owned by Marriott – luxe)
85,000 points/night
The W Retreat (owned by Marriott – luxe)
85,000 points/night
The Westin (owned by Marriott – mid-range)
60,000 points/night
The Sheraton (owned by Marriott – budget)
50,000 points/night
Park Hyatt (owned by Hyatt – luxe)
30,000 points/per night
Conrad Maldives (owned by Hilton – luxe)
95,000 points/per night
Many credit cards offer a generous sign-up bonus of anywhere from 50,000 to 75,000 points just for opening the card once you hit the minimum spend.
(I have a list of my favorite credit cards for points travel here.) When my husband & I went on our honeymoon, we both opened a Chase Sapphire about a year prior—between the sign-up bonuses and our wedding expenses, we were able to pool enough points to fly first class round-trip for free.
Had we used our points on hotels instead, we would have had enough points for free nights at many of the hotels listed above.
Go local.
I can't speak from personal experience because I've never done this, but there are local islands, such as Maafushi, Fulidhoo, and Guraidhoo, that have low-cost guesthouses and hostels for under $150 per night.
Keep in mind that (assuming you're coming from the US) it's a really really long way to travel—and your dollar could be stretched much further in other beachy destinations like Thailand and Bali. (Also of note: it is illegal for alcohol to be served on these local islands because The Maldives are an Islamic nation; resorts avoid this issue because they're privately-owned.)
Read this article that's filled with money-saving travel hacks.
---
Things to Do in the Maldives
I explained this earlier, but ICYMI: each resort is located on its own private island, which means you will basically stay put at the resort for the entire duration of your trip. This might be a turn-off for anyone who gets antsy during beach vacations, as there is no city to explore or activities beyond what's available at the resort.
But what I will say is that in my experience, I've never felt even remotely "bored"—and I'm the kind of person who likes big cities as much as beaches. (One of my trips to the Maldives was with my best friend for a girls getaway, and we had a BLAST.)
Maldives hotels are used to having guests stay for a week at a time, and most of them have plenty of things on offer—yoga classes, movie nights, water sports (kayaks, jet skis, paddle boards, kite surfing, diving, snorkeling), cocktail-making classes, wine tastings, spa facilities, sunset cruises, dolphin watching, surf expeditions, etc.
While some hotels include non-motorized water sports complimentary, be prepared to pay additional for other activities.
---
How Do You Get to the Maldives from the US?
While there are no direct flights from the US to Male (which is the capital city where the airport is located) you'll find a decent number of easy connecting flights. I'll use NYC as an example:
Cathay Pacific
NYC –> HONG KONG –> MALE
Emirates
NYC –> DUBAI –> MALE
Etihad
NYC –> ABU DHABI –> MALE
Qatar Airways
NYC –> DOHA –> MALE
Turkish Airlines
NYC –> ISTANBUL –> MALE
Swiss Airlines
NYC –> ZURICH –> MALE
Lufthansa
NYC –> FRANKFURT –> MALE
Speaking of flights, if the idea of 25+ hours of travel freaks you out, be sure to read my tips for surviving a long-haul flight like a pro, and the most comfortable airplane outfits for long trips.
---
Maldives Packing List
Packing for the Maldives is actually pretty straightforward!
I have a detailed beach vacation packing checklist, which covers everything you'd possibly need to know.
But in a nutshell: you'll want to pack a ton of swimsuits, beach cover ups, comfortable shoes, sweat-proof makeup, lots of SPF (here's a list of my favorite sunscreens!), some lightweight dresses for night time, and of course, a sturdy toiletry bag.
Below are a few examples of outfits I packed for my Maldives honeymoon:
One quick tip: swap out your everyday wallet in lieu of a good travel wallet instead. It'll make your life 1000x easier, since there's extra room for plane tickets and foreign currency.
It's also worth noting that even though you might be taking small puddle-jumper flights, you're still able to bring a checked bag as well as a carry-on suitcase.
If you're still reading at this point, God bless. I hope you found this helpful!
Please feel free to leave questions or comments below—I'm happy to answer more specific questions about the hotels I experienced. And, as always, you can slide into my DMs on Instagram whenever.
---
Pin this for later: