There's one thing you should know about Maui if you're in the midst of planning your first trip: the island is all it's cracked up to be…and more.
Between the unique Hawaiian culture, stunning beaches, and breathtaking views, you'll feel as though you've been transported to an exotic, otherworldly destination—even though you're still in the United States. (FYI if you're stressing about the flight, check out my post on long-haul flight survival tips.)
I spent a lot of time researching the best things to do in Maui prior to my trip, and I also tapped into the expertise of my Instagram followers—many of whom live locally, or have been traveling to the island for years.
Here's a brief recap of what you'll find below:
Maui Overview (to help you get a lay of the land)
A 4-Day Maui Itinerary
The Best Restaurants in Maui
The 15 Best Things to Do in Maui
What to Pack for Maui
---
MAUI OVERVIEW
Before I dive into the itinerary, I thought it might be helpful to give you a super quick overview of the island. It's also worth noting that you should ABSOLUTELY rent a car, which we almost didn't do—and it would have been the biggest mistake of the trip. Part of what makes Maui so incredible is being able to explore all the different areas of the island (outlined below), and you will 1000% want a car to take advantage of that.
West Side: This is where you'll find the towns of Lahaina and Ka'anapali, as well as Kapalua (a resort development that includes hotels like the Montage and The Ritz Carlton, where I stayed.) There are a ton of beaches, hotels, and high-end condos here—it is beautiful, albeit a bit far removed from the rest of the island.
We personally didn't mind, as we enjoyed the little road trips we took throughout our stay. If you're booking a hotel on the West Side of the island, you might consider flying into Kapalua Airport in Laihana (which is much closer than Maui's main airport.)
Central: This is where you'll find Kahului Airport (Maui's main airport.) The area is more of a "pass through" for tourists, as it's primarily occupied by businesses.
South Side: The South Side is where you'll find Wailea, which is the area that's home to a number of Maui's most popular hotels: Grand Wailea, Four Seasons, Wailea Beach Resort, Fairmont, Andaz, etc. The beachfront here is absolutely beautiful, and there are plenty of amazing restaurants and shops as well.
North Shore/Upcountry: If you're looking for an authentic and decidedly "local" Maui experience, you'll want to check out the North Shore and Upcountry. Drive through towns like Paia, Haiku, Makawao, and Kula for the quirky boutiques, quiet dirt roads, art galleries, and unique bohemian vibe.
East Maui: Here is where you'll find The Road to Hana (complete with jungles and waterfalls along the way.) It typically requires a full-day trip, since the area is somewhat remote.
---
4 DAY MAUI ITINERARY
---
DAY 1: GET SETTLED.
Arrive in Maui and rent your car. Drive to your hotel. Relax on the beach order a Mai Tai. Take all of the sunset photos. (Editor's note: I stayed at the Ritz Carlton in Kapalua Bay and really enjoyed it, and I think it's a great property for families or large groups. Couples or honeymooners might prefer something a bit more intimate.)
---
DAY 2: HAWAIIAN FOOD, SMALL TOWNS, & SEA TURTLES
– Make your way to Paia, and have lunch at Paia Fish Market or Mama's Fish House.* (I'm partial to Mama's because it was truly the most special memorable dining experience I had during my trip. We didn't have time to eat at Paia Fish Market but everyone says it is equally as incredible.)
I won't tell you much more about it because I think it's best to experience it for yourself…
*Be sure to make your reservations 8 weeks in advance by booking on OpenTable or calling the restaurant directly. They book up fast!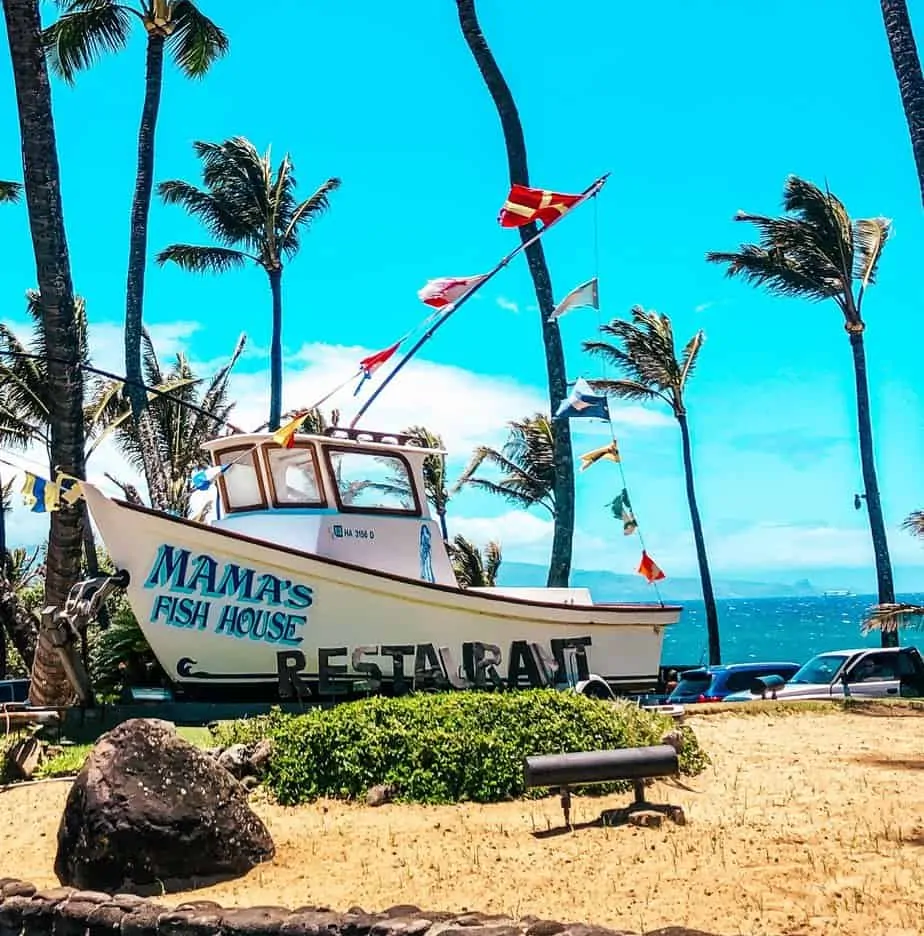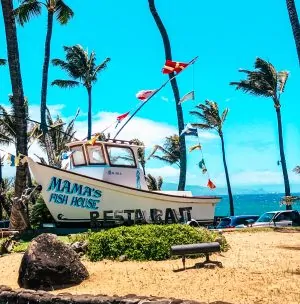 – Either before or after lunch, drive along Baldwin Avenue to check out all the cute small towns (see: North Shore/Upcountry section above.) Then head to Ho'okipa Beach Park for sunset, where you'll find an insane population of sea turtles splashing around and hanging out ashore.
– Head back to your hotel area for dinner. If you're staying on the West Side of the island, great restaurants include: Merrimen's, Sansei Sushi & Seafood Bar, Laihana Grill (and others, noted under "restaurants" below.)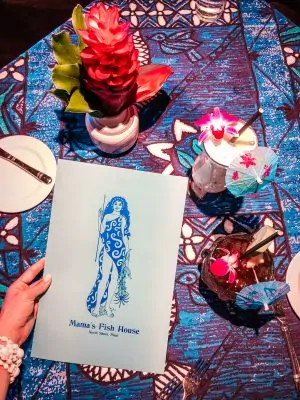 ---
DAY 3: THE ROAD TO HANA
– Prep an amazing road trip playlist and embark upon The Road to Hana. Some people prefer to arrange a pre-booked tour, but I personally think driving adds to the adventure.
– You'll start in Paia Town—mile marker #1—be sure to grab some snacks for the road at Mana Foods. The trip is quite long, so you'll want to pace yourself—do a bit of research before so you can plan what places to visit since you won't be able to see them all.
– A few can't-miss things to see? The Red Sand Beach, the Black Sand Beach (Wai'anapanapa State Park, mile marker #32), and the Seven Sacred Pools (last stop.)
– Head back toward your hotel and ask the concierge to recommend a great local, casual spot for poke.
---
DAY 4: BEACH HOPPING
– Get your day started early and head to Kihei Caffe for breakfast (FYI it's cash-only.)
– Hit up a market nearby and grab some snacks before heading to Kamaole Beach Park (there are grassy areas for picnics.) Then make your way down to Wailea Beach, and eventually end up at the Big Beach at Makuna State Park. In between, stop on the side of the road at a coconut stand or food truck for fish tacos or shaved ice.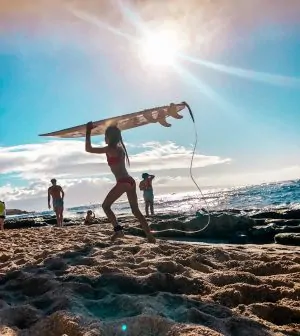 – On your way back to the hotel, stop at the iconic Leoda's Kitchen and Pie Shop for a casual dinner (and dessert, of course.)
---
THE BEST RESTAURANTS IN MAUI
While I didn't have the opportunity to eat at all of these delicious options, they each came highly recommended. These are great places to keep in mind as you're fleshing out your Maui itinerary.
Mama's Fish House. Go for lunch during the day to take full advantage of the beachfront view, or go for sunset. (Editor's note: Whatever you decide, make your reservations in advance – the restaurant typically books up 8-10 weeks out. If you're not able to snag a reservation, check OpenTable the day before or the day of to see if there are any cancellations.)
Paia Fish Market
Leoda's Kitchen and Pie Shop
Mill House for dinner/drinks
Merriman's for drinks/dinner
Monkeypod Kitchen for dinner. (Editor's note: this was the second most highly recommended place that people told me to visit during my trip—Mama's was the first. While the food at Monkeypod was DELICIOUS, I found the setting to be somewhat underwhelming. It is essentially in a shopping mall/outdoor strip mall. I would have preferred something a bit more rustic and less commercial, but like I said, it was delicious and considered to be a local favorite. Plus, they have amazing happy hour specials. If you go, get their signature Mai Tai and the lobster truffle pizza.)
Drink on the roof at Fleetwood's on Front Street
Coconuts Fish Cafe for lunch (order the fish tacos)
Sansei Sushi (near Ritz Carlton Kapalua Bay)
Spago (at the Four Seasons). Order the tuna cones.
Kihei Cafe for breakfast.
Dinner at Hali'imaile General Store
Lahaina Grill
Down the Hatch
Banyan Tree at the Ritz Carlton
Star Noodle Restaurant
Da Kitchen
The Gazebo (Go for breakfast and order banana and pineapple pancakes with coconut syrup.)
Slappy Cakes (Go for breakfast and make your own pancakes at a table with built in griddles.)
---
MORE: The Best Girls Trip Destinations for Your Next Friendcation
---
THE BEST THINGS TO DO IN MAUI
Searching for things to further flesh out your Maui itinerary? Check out these suggested activities.
Drive the road Hana.
Stop by the black sand beach, and find the seven sacred pools.
Watch the sunrise or sunset at Haleakala.
Visit the Olivine Pools.
Hike the Pipiwai Trail.
Take a surf lesson at Goofy Food Surfing.
Maui Wine Tastings. Try the pineapple wine.
Relax at the Ho'Omana Spa.
Hike to see the Nakalele Blow Hole and jump off of the black rock.
Walk around the Lahaina town center.
Go on a helicopter tour.
Go snorkeling at the Molokini crater.
Go ziplining.
Go on a Trilogo sailboat tour, specifically the one that sails to Lanai.
Go horseback riding.
Is there anything else I missed that you'd recommend? Leave your suggestions in the comments!
---
WHAT TO PACK FOR MAUI
Now that your Maui itinerary is taken care of, it's time to think about what to pack. Below is a little inspo from my trip. For a more in-depth guide, check out my Beach Vacation Packing Checklist. (Oh, and if you happen to be busty like me, my guide to the best swimsuits for large chests will be a lifesaver.)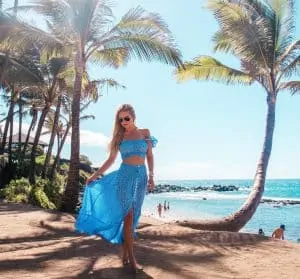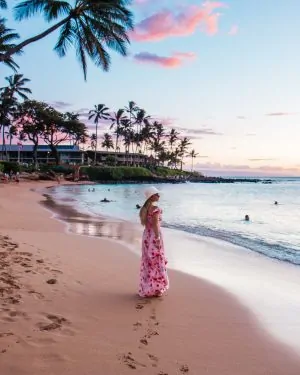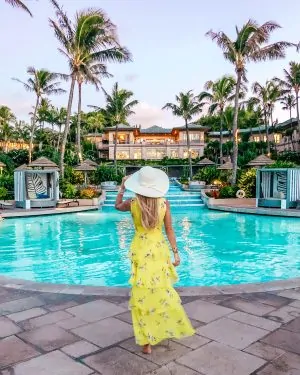 Pin this post for later: