It's no secret that I'm borderline obsessed with all things skincare. If there's a cream, serum, or ingredient that is shown to improve skin texture or help with anti-aging, you better believe that I'm the first person to try it.
As much as I wish it was as simple as applying one magic product to keep your skin dewy, radiant, and wrinkle-free, it's undoubtedly a bit more involved than that.
Having a well-rounded morning and nighttime skincare routine is essential for maintaining a clear and healthy complexion. It's also the perfect excuse to carve in some self-care time at the start and end of your day.
Whether you're a skincare junkie or you've been neglecting to care for your skin, this post will help you nail down a routine that will work for you.
As with anything new, it might take some time to get into the habit of doing these steps twice a day. However, with time, I wouldn't be surprised if you start to look forward to washing your face, applying serums, and slathering on sunscreen on the regular. Trust me, you'll thank me for this years down the road.

Morning and Night Skincare Routine
I'm not just saying this because I'm a big fan of skincare, but if you don't have a routine yet, this is your sign to create one. I cannot recommend having a well thought out skincare routine enough. It truthfully will set the groundwork for the way your complexion looks for the rest of your life.
A quality routine can greatly improve your overall appearance, which is why I'm walking you through the ideal morning and night skincare routine in this post.
What is a Skincare Routine?
A skincare routine is exactly what it sounds like: a consistent way to keep your skin glowing, clean, and overall healthy. Every step in a skincare routine works differently and can offer various benefits to your complexion.
Throughout your life, you will likely have to switch up your skincare routine and incorporate different products. For example, there are some products that shouldn't be used during pregnancy and there are others that are better to introduce when you are a more mature age.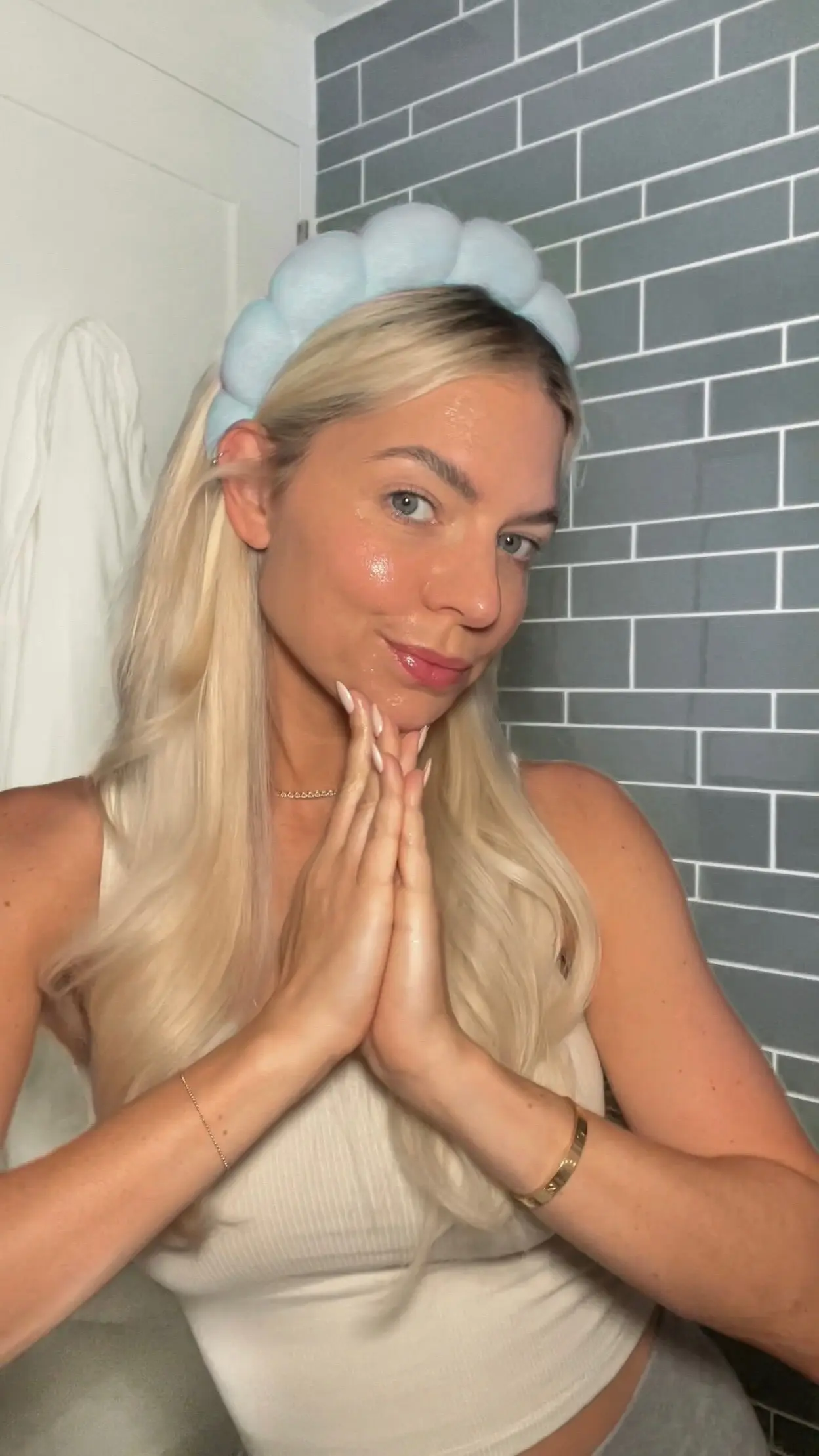 One great thing about having a skincare routine (aside from all the visible perks) is that you can make it as elaborate and involved as you want. If you're someone who thrives off of simplicity, you can certainly still have (and should have) a regimen.
My best advice is to start slowly and then gradually increase the types of products you're using, depending on your skincare concerns and goals.
The Importance of a Skincare Routine
I probably don't have to tell you this, but there are numerous benefits to following a consistent skincare routine. Here are some of the top reasons you should establish and maintain a regular regimen:
It keeps your skin free of blemish-causing bacteria
It helps your skin stay in healthy condition
It can make your skin look more radiant and youthful
It allows you to focus on prevention (from wrinkles, dark spots, etc.)
It carves in some self-care time

The Main Differences Between a Morning and Night Skincare Routine
You might think that just having one solid skincare routine is enough to keep your complexion glowing, but your skin will benefit from different products at different times of the day. Plus, there are some products that should only be applied in the evenings because they may increase your sensitivity to sun exposure.
The key differences between a morning and a nighttime skincare routine are centered around the products and ingredients you're using. Here's a list of common products used in a basic skincare regimen, as well as when to apply them.
Skincare Products to Use During the Day:
Cleanser
Eye cream
Vitamin C
Moisturizer
Sunscreen
Skincare Products to Use at Night:
Makeup remover/Cleansing balm
Cleanser
Toner
Serums
Eye cream
Moisturizer
Retinol
Active Skincare Ingredients You Can Use Day or Night:
Niacinamide
Vitamin E
Hyaluronic acid
Salicylic acid
Benzoyl peroxide
Hydroquinone
Peptides
Lactic acid (with a strong SPF)
Glycolic acid (with a strong SPF)
My Morning Skincare Routine
Step 1: Wash Your Face With a Cleanser.
Washing your face is a major non-negotiable. Throughout the day (and while you sleep) dirt and bacteria accumulate on your skin. If you aren't washing it regularly, those little particles can build up over time and cause issues like acne.
Fortunately, most dermatologists will admit that the type of cleanser you use is the least important aspect of your skincare routine. This is because you're simply washing the product off rather than letting it sit on your skin.
Personally, I stick with cream cleansers vs foams or gels because I've found that they are less likely to strip your skin. Whatever cleanser you like should do the trick, even Cetaphil or anything you find at the drugstore will work just fine. For a higher-end option, I'm a long-time fan of this hydrating cleanser from Fresh.

Step 2: Apply Eye Cream.
There's a lot of debate out there about whether or not eye creams really *do* anything. Let me give it to you straight: Anyone who tells you that eye cream will "completely get rid of dark circles" is, like, definitely lying to you. However, there are still numerous benefits to incorporating one into your skincare routine.
The right eye cream can help with depuffing (crucial after you wake up in the morning) and can have some major anti-aging benefits. Plus, there's something about applying it that feels extra luxe. This one is a tried-and-true favorite that has some brightening benefits, and this one is great for dark circles.
Step 3: Apply Your Serums.
Morning is the optimal time to apply certain serums, including vitamin C, niacinamide, and hyaluronic acid. I wouldn't recommend going overboard with serums, especially if you're new to establishing a skincare routine. It's best to stick to two to three serums max, but this all will depend on your skin type and goals.
With that being said, vitamin C, niacinamide, and hyaluronic acid are all three powerhouse ingredients that I would consider incorporating into your regimen. They can each offer different benefits to your skin, ranging from reducing fine lines to fading dark spots.
You can read more about how to introduce and find the right vitamin C serum in this blog post. I also have a post on how to use niacinamide.
Step 4: Apply Moisturizer.
After you gently pat your serums into your skin, it's time to moisturize. I have tried hundreds of moisturizers over the years and honestly think that finding the "best" one just comes down to personal preference. Just like with face cleansers, some people prefer a drugstore moisturizer while others swear by something a bit more bougie. It's all about finding what works best for your skin.
Below, I'm linking some highly-rated moisturizers that might be good for your skin type.

Step 5: Apply Sunscreen.
If I had to pick the *most important* step in a skincare routine, it would absolutely be to wear sunscreen. I cannot emphasize this point enough.
The beautiful thing about skincare is that it can (and should) be used as a preventative measure. If your goal is to keep your complexion as youthful looking as possible, then you'd be silly not to wear sunscreen on a daily basis.
You can rub on all of the serums and creams you want, but if you aren't protecting your skin with SPF every single day, then it doesn't really matter what your skincare routine is.
Sunscreen should always be the last product you apply to your skin before you put on makeup.

My Night Skincare Routine
Step 1: Remove Your Makeup.
Before you wash your face, it's crucial that you take off all of your makeup. I like using the Elemis Cleansing Balm or micellar water to slough off foundation, mascara, blush, etc.
One thing to be mindful of is that you don't rub your skin too harshly (especially near your eyes) so find a product that easily lifts the makeup off of your skin.
Step 2: Wash Your Face With a Cleanser.
You know what's next — washing your face! Repeat the same process as you did in the morning to ensure your skin is fresh and clean.
Step 3: Use a Toner.
I would consider this step optional since some people feel that toners are too harsh on their sensitive skin. If you do incorporate a toner into your routine, you'll be surprised by how much dirt still comes off of your skin, even after removing your makeup and washing your face.
Step 4: Exfoliate (2-3 times per week)
I have sworn by this step for years. Exfoliating is so important because it can help ensure that the products you're using are actually penetrating into your skin. It helps to remove dead skin cells and can improve the overall texture and look of your complexion.
One of my holy grail skincare products for exfoliating are these Dr. Dennis Gross Peel Pads. I think they're worth every penny and then some. Everyone I recommend them to tells me that they notice a difference in their skin after using them just one time. I use them twice a week at night, after I cleanse but before I apply my creams and serums.
Step 5: Apply Retinol.
Retinol has the power to do so many incredible things for your skin, from softening wrinkles to lightening sun damage.
If you haven't tried adding it to your skincare lineup, I'd suggest chatting with a dermatologist about it. There are also plenty of over-the-counter retinols on the market that make for a good starting point for most people. Just be sure to choose one with a low percentage when you're first introducing it to your skin.
If you don't want to use retinol, you can apply any other serums you use at this time.
Step 6: Apply Eye Cream.
Apply your eye cream just as you do in the morning. You can use the same cream for morning and night — it's best to keep it simple!
Step 7: Apply Moisturizer.
Last but not least, lather on some moisturizer and you're all set. Sweet, skincare-filled dreams lie ahead.