If you're anything like me then you probably have a love/hate relationship with jeans. While I love wearing my go-to pairs, the process of finding the right fit can certainly be daunting. It's quite literally a process of elimination (hello, return labels!)
I'll also admit that I'm guilty of keeping piles of jeans in my closet when in all reality I wear just a handful (don't tell Matt). It feels like I've hit the jackpot when I come across a comfy pair that are both cute and quality.
It's a challenge to find denim that fits your body type just right—and that stays fitting well after several washes.
Whether you're tall, short, petite, curvy, or somewhere in between, I've done the leg work to source the most flattering jeans for women of every body type. Here's to less stressful shopping!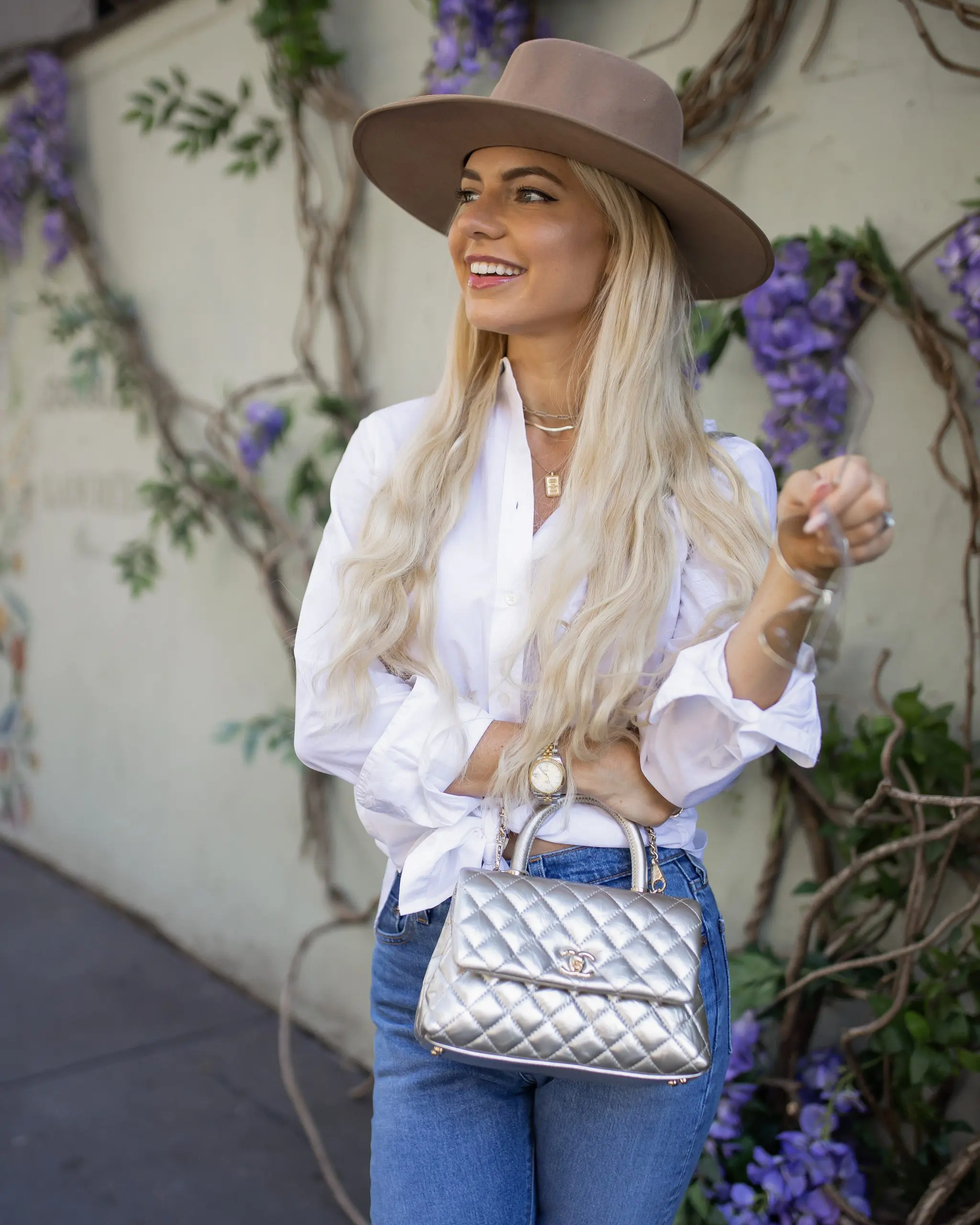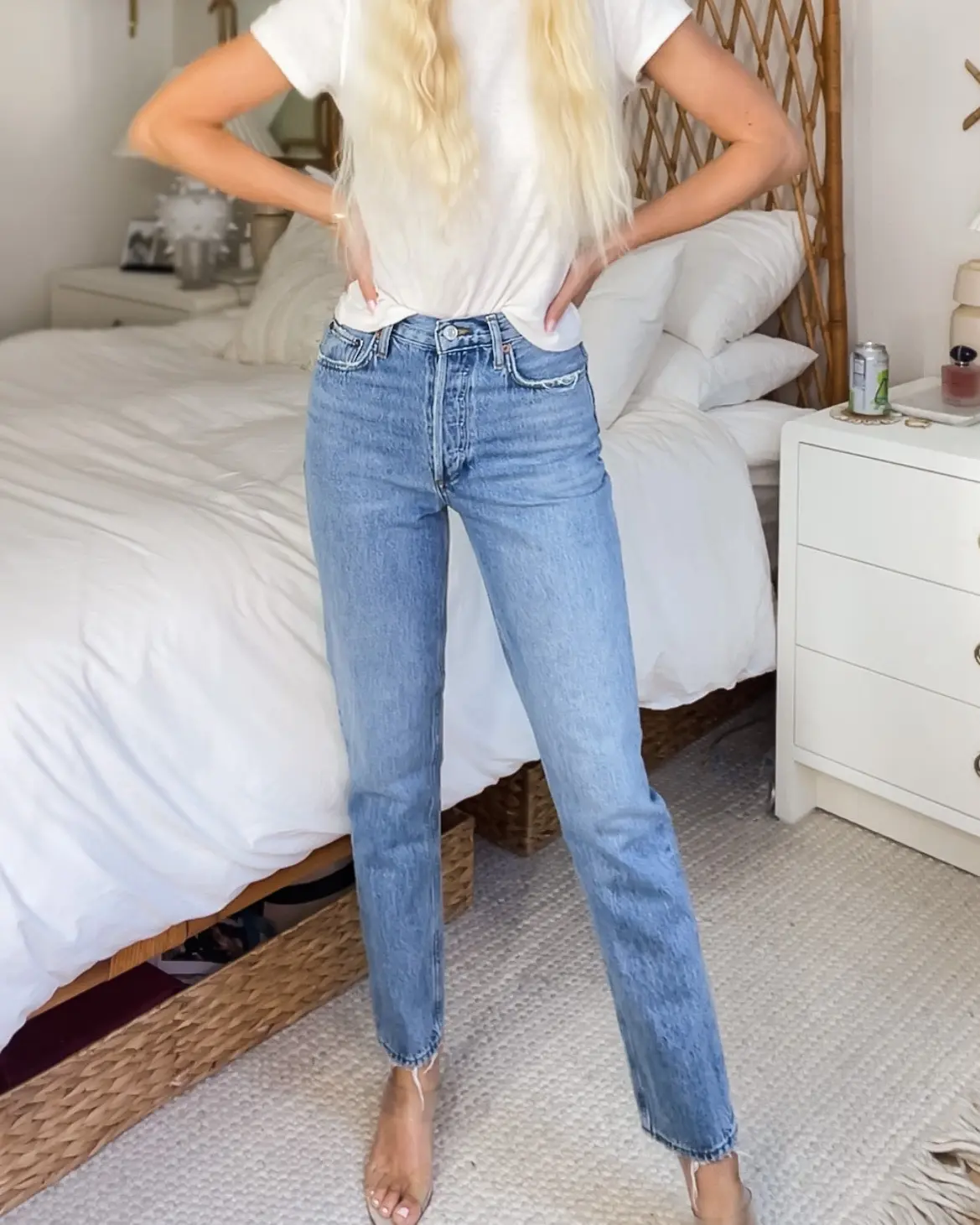 The Most Flattering Jeans for Women

These are constantly selling out and with good reason. They're beloved by women of all body types—especially because they come in an impressive size range (23W to 37W) and various lengths (extra short, short, regular, long, and extra long.) They even have a Curve Love cut, which is specifically designed for women who are blessed with a booty. I love them so much, I've purchased them in two washes—one with rips, one without.
To those who say that skinny jeans are dead, I say… I do not care. I love my Levi 501 skinny's, and no trend will ever change my mind about them! I've had mine for YEARS and also own them in a light and dark wash. I personally order mine one size down because I find that they stretch out and mold to my body. (However, they will be VERY tight for the first few wears.)
I'm a huge fan of Agolde denim shorts, so I had a feeling I would like their jeans as well—but I was totally overwhelmed by all of the different styles. So, I did my due diligence… and ordered ALL OF THEM. It turns out, there was one clear winner: the Fen High Rise Relaxed Taper. They look perfect with sneakers, boots, and heels, and somehow feel like a "dressier" jean to me. I take my regular size in these.
High-waisted jeans can be particularly flattering on petite women because they create the illusion of a hiked up wasitline, elongating your legs in the process. One tip when shopping for the right pair is to take note of the inseam, which tells you the actual length of the pants. By paying attention to the inseam, you'll know whether or not you're going to be drowning in length. This pair comes in a 27.5″ and 29.5″ inseam to accommodate different heights. Reviewers say that they do a good job holding you in without making you feel uncomfortable and restricted. I love that they're available in 9 different washes.
If you're on the taller side, you'll want to gravitate more towards jeans with lengthier inseams—think 30″ and above. This high-waisted pair clocks out at 33″ which is just generous enough for taller gals. The straight leg look is so on trend right now and would be cute paired with heels (as shown) or with white sneakers for a more casual look.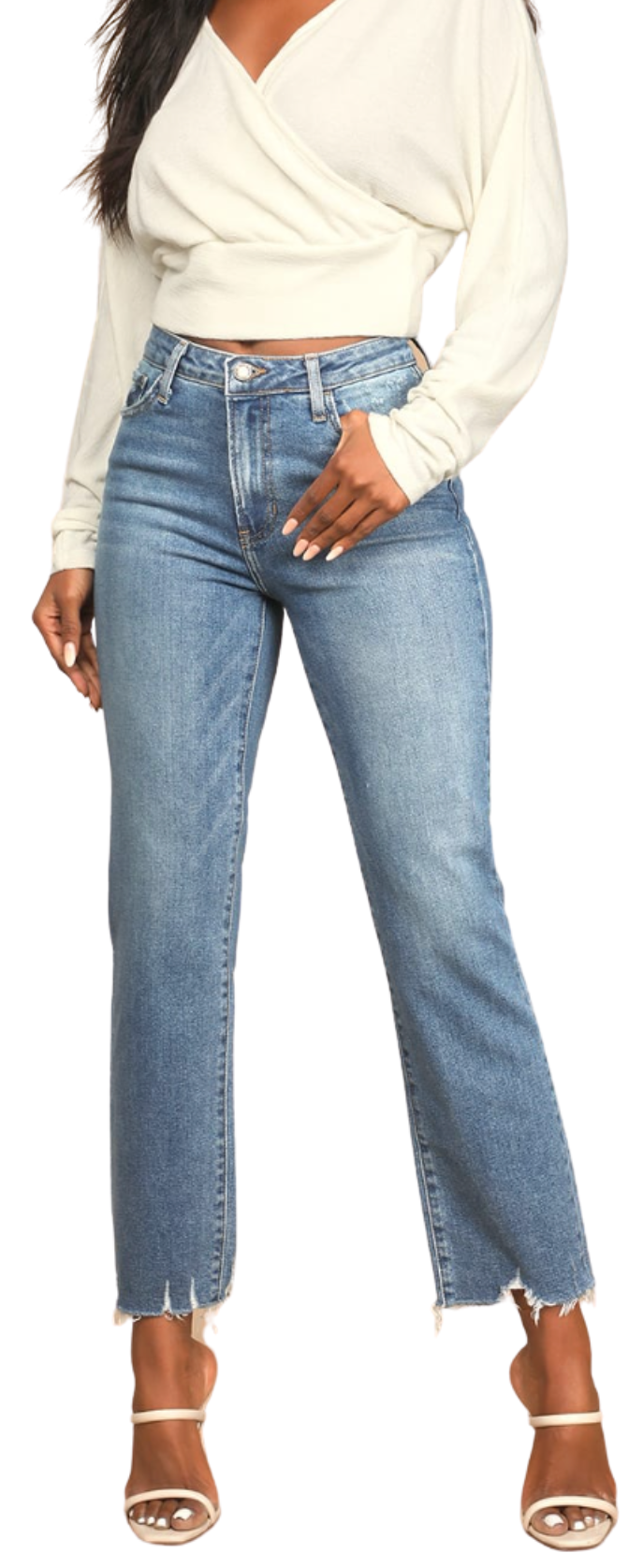 I've heard such great things about Just Black denim but haven't had a chance to personally test them out yet. One of my friends swears that they're the comfiest jeans she has ever owned. Here's her review: "I've never liked jeans because I've always thought they were so uncomfortable— needless to say that I'm extremely picky about wearing denim. I came across this brand at a boutique in Malibu and I'm so glad that I tried them on. This particular pair has the perfect amount of stretch without getting too baggy throughout the day. They're so comfy that I find myself putting them on even on WFH days. I don't think I'll ever wear another brand of jeans!"
Madewell jeans have always been a trusted, comfy go-to. This pair was recommended by someone in the #SilbSquad. She mentioned that she has a smaller waist but a larger butt/thighs and these jeans don't leave the dreaded waist gap. She also noted: "I get the 'tall' style and I'm 5'8" and I can cuff the bottoms. The regular length looked a little too highwater-y for me. They are skinny jeans but I am not trendy enough to jump on the baggy jean trend. The stretch they have is very forgiving, too."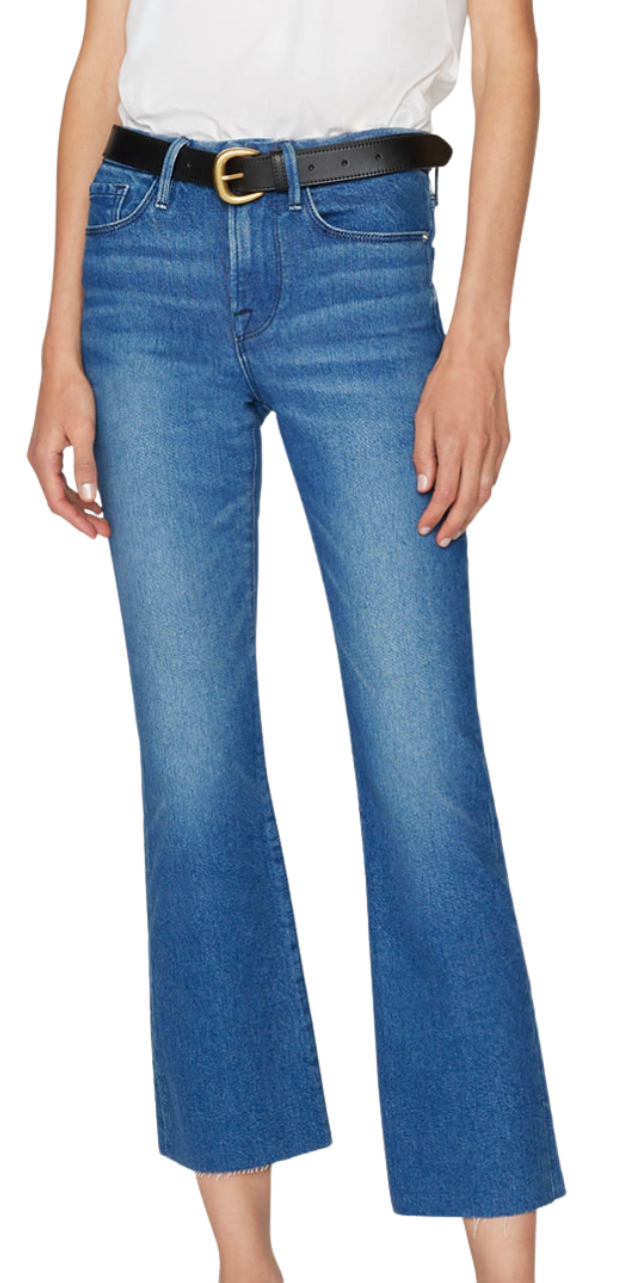 The quality of Frame denim is unmatched—and the brand has such a large variety of sizes, styles, and fits. This particular pair is one of the brand's best-sellers. They have a mid-rise fit and a medium level of stretch. With a 26.5″ inseam they fall at just the right spot on your calf if you're on the shorter side—and they come in so many different washes.
These stretchy jeans came highly recommended by a #SilbSquad member. Her review: "I'm two months postpartum and just got a pair of Good American's Always Fits in classic black. The pair I got work for sizes 6 through 12, so they fit now and will continue to work with my changing body. It was nice not to have to mentally deal with purchasing a larger size of my regular jeans."
Paige jeans are known to be comfy without sacrificing good shape. They also hold up really well over time and wash and dry nicely for a long-lasting fit. This cropped style is made with just the right amount of spandex to conform to your body while giving your booty some good lift.