From the iconic Hollywood sign to the hotels where every major celebrity has dined (like the Sunset Tower Hotel and the Beverly Hills Hotel) there is certainly no shortage of amazingly Instagrammable places in LA.
The photo opportunities in Los Angeles are endless, so rather than spending your whole vacation scouting these locations, we've done the work for you.
Just remember: LA traffic is insane, so make sure to plan accordingly. Here are some of our favorite spots to photograph. Let's check them out!
– By Nicole Cueto
---
21 Best Instagram Spots in LA
1. Micheltorena Stairs
Just off Sunset Boulevard, these vibrant stairs are a must-see when in LA. Come to exercise or take some snaps, either way, a stop here provides the perfect mini escape from all the celeb-fueled madness.
---
2. Hollywood Sign
Arguably the most famous structure in all of Los Angeles, the Hollywood sign is the quintessential LA backdrop, and a definite must for any IG-worthy post.
You can hike to it, but the best place to get a shot of it is from Griffith Park.
---
3. Griffith Observatory
Speaking of Griffith Park, the Griffith Observatory is another one of those classic art deco buildings and museums you just can't pass up, and the views of LA from above are simply amazing.
---
4. Delilah
Despite how understated it appears from the outside, when you walk into Delilah you'll feel immediately transported to the 1920's and 30's. And while there's a no-picture policy, if you go on one of their off-nights, you can try to sneak in an IG shot or two.
---
5. Nobu Malibu
This stunning restaurant sits right on the water's edge. Make sure to dress your best and prep yourself to be patient, you'll be waiting a while to eat and drink if you don't have a reservation. But in the meantime, go ahead and get your Instagram on. It's worth it!
---
While you're in Malibu, pull over on the famous "PCH" (aka Pacific Coast Highway) and find a spot to venture down to the sandy beach. Anywhere in Malibu makes for a dreamy backdrop for all your beach-inspired IG needs.
---
7. Palm Lined Streets
The famous palm-lined streets of Beverly Hills are a fixture of California living. The great thing is these towering trees are everywhere and aren't hard to find. Pick your street and snap away!
---
8. Pink Wall at Paul Smith
I never met a pink wall I didn't like and the one at Paul Smith is no different. The center of many bloggers' photos, this colorful wall is the perfect backdrop for all your girly IG dreams.
---
9. Runyon Canyon
Ever seen photos of people on a hike overlooking the most epic view of LA? That's Runyon Canyon. Throw on your cutest workout outfit, head for the hills, and score a cool picture.
---
10. Rodeo Drive
Do you have your best Vivian Ward outfit on? You better! Rodeo Drive is the land of all things fancy and fabulous. It's nothing more than a collection of high end shops, but if you want the typical LA/Hollywood experience, then this is a must!
---
11. Santa Monica Pier
If you love carnival rides, games, and food, then the Santa Monica Pier is for you. If that's not your thing, head over for some beautiful beach and pier shots, and then head right back out.
It's always recommended to go either sunrise or sunset for the best lighting and picture opps.
---
12. The Getty Center
This stunning masterpiece is part of the Getty Campus and includes beautiful architecture, lush gardens, and sick views overlooking LA. You won't be disappointed!
---
13. Urban Lights at LACMA
This outdoor art exhibit at the Los Angeles County Museum of Art (also known as LACMA), is a collection of vintage lamp posts from the 1920's and 1930's. Created by artist Chris Burden in 2008, this installation of closely stacked lamps creates an optical illusion and one of the most well-known outdoor art exhibits in Los Angeles.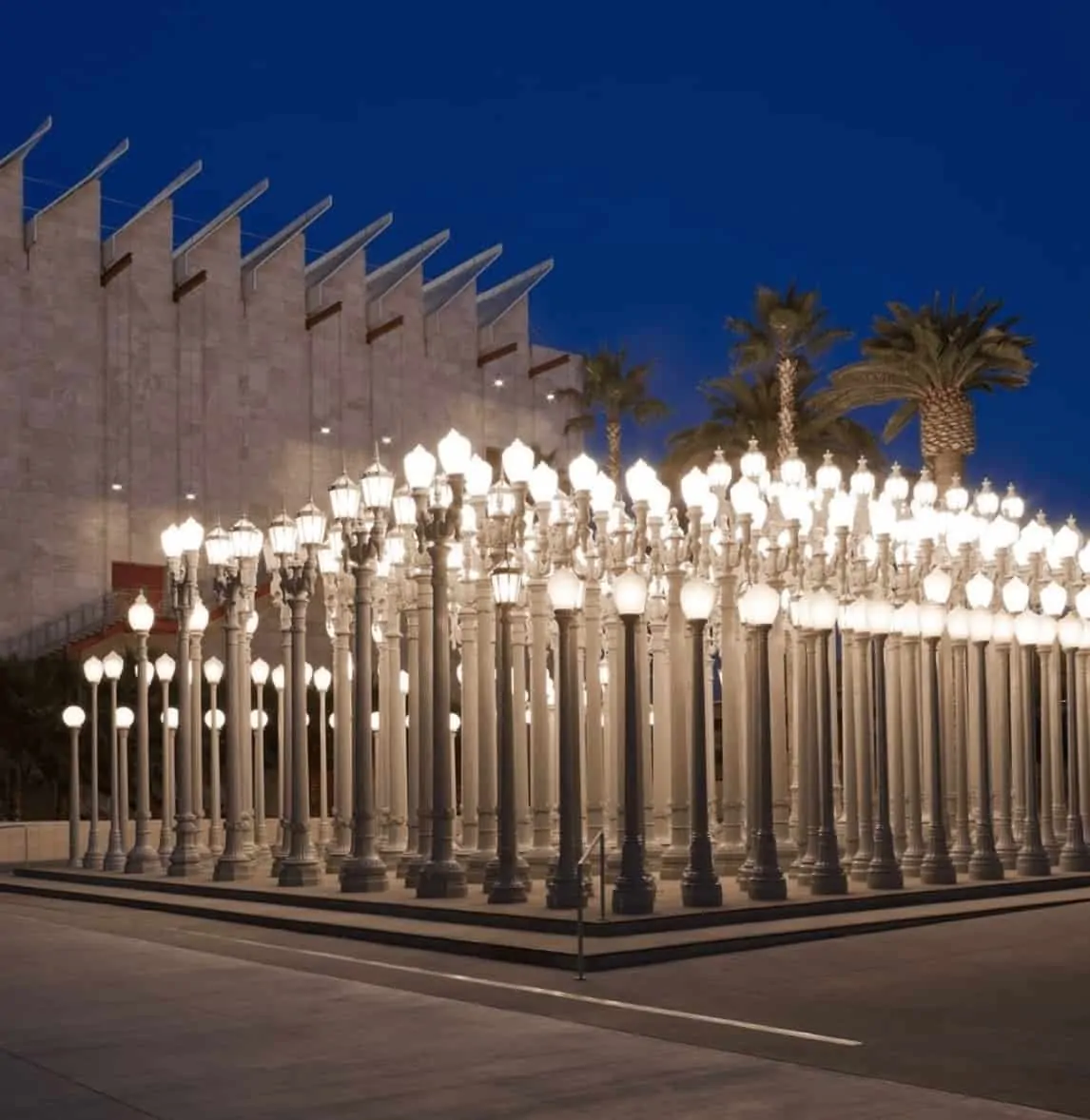 ---
14. Venice
For quintessential Cali vibes, head to Venice for a little skater and street art action. The famous Venice crosswalk, Venice boardwalk, and Venice Canals are three definite IG-worthy spots to stop at on your route.
The Most Instagrammable Hotels in LA
If you've ever wanted to live like a celebrity, these historic hotels have just what you're looking for. Full of all the old-school LA vibes and stunning decor (and views!), photos at any one of these hotels will make you look like you're a celeb for the day.
15. The Beverly Hills Hotel
---
16. Sunset Tower
---
17. The Standard
---
18. Chateau Marmont
---
19. The Roosevelt
---
20. Hotel Bel Air
---
21. The Beverly Wilshire
---
Pin this for later:
Nikki Marie, a Cuban American Miami native, moved to her dream city, NYC, in 2015. Her penchant for adventure and travel have taken her to more than 30 countries. A PR pro 9-5, Nikki Marie uses her free time to share her travel hacks and high-lo fashion inspo via her instagram @TheCubanCarrie – a play on words of her all-time favorite character, Carrie Bradshaw.