No one knows about New York City's most Instagrammable spots better than a professional Instagrammer… who also happens to live here (me!)
Below, you'll find a list of the best places for street photography in NYC, the best places for outdoor photos in NYC, a handful of hidden gems, and NYC Instagram spots that'll make you the envy of all your followers.
Whether you're using a camera with a wide angle lens or you're snapping pics with your trusted iPhone, there's a photo-worthy opportunity just about everywhere you go in this city.
Also, for what it's worth: NYC is one of my favorite places to recommend for a girls trip—and this is the exact list that I tell everyone to use as a guide.
This is by no means a comprehensive list, but it's a few "must-visit" locations for a first timer.
p.s. I also have a guide to the most Instagrammable spots in LA, in case you're planning a trip there.
The Most Instagrammable Places in NYC
1. Chacha Matcha
Even if you're not a fan of matcha, you're going to want to check this place out immediately—but prepare to wait (there's almost always a line.)
Beyond matcha lattes, they also have fab matcha ice cream.
Two locations:
Nolita – 373 Broome
Nomad – 1158 Broadway
Stalk it on Instagram:
@chachamatcha
---
2. Pietro Nolita
The healthy Italian restaurant describes itself as a "unique pink jewel box in the heart of Nolita," which it definitely is.
They don't take reservations, unfortunately, and there's always a wait…but I'd recommend taking a photo on the super cute pink bench outside of the restaurant. If you're in NYC for a girls getaway, Pietro Nolita is a must.
Need a little assistance editing your pics after you take them here? Here's exactly how I edit my photos for Instagram.
Location:
174 Elizabeth Street
Stalk it on Instagram:
@PietroNolita
---
3. Flatiron Building
A New York City institution. You can't be in the city without getting a shot of the triangular 22-story, 285-foot building. To get the best angle, go closer to 23rd street on the sliver of sidewalk area.
Location:
175 5th Ave
Stalk it on Instagram:
@Flatironny
---
4. Washington Street in Dumbo
Dumbo is quickly becoming one of Brooklyn's hottest neighborhoods. To get the perfect shot, stand at the intersection of Water Street and Washington Street in Dumbo—you'll notice the two buildings perfectly frame the Manhattan Bridge overpass.
Then, head to Cecconi's for dinner and drinks right under the bridge. Such a chic spot. Also not far: 1 Hotel Brooklyn Bridge. They have a great rooftop bar for drinks and one of my favorite lobbies of all time.
Location:
Washington Street and Water Street, Brooklyn
Stalk it on Instagram:
DUMBO, Brooklyn
---
5. Top of the Rock
Visiting the "top of the rock" (aka the top of Rockefeller Center) requires tickets, but for a photo like this, it's worth it.
You'll get the best light early in the morning or just before sunset.
Location:
Enter at 30 Rockefeller Plaza
Stalk it on Instagram:
@rockcenternyc
---
6. One World Trade Center Observatory
If you've never been to New York, I can't recommend the 1WTC Observatory enough. I live here, and I was still blown away by the views and the experience.
The building has a three-story "observation deck" that's located on floors 100–102—so, if you have a fear of heights…you might want to think twice.
Location:
285 Fulton Street
Stalk it on Instagram:
@oneworldnyc
---
7. The St Regis Hotel
The hotel is a true New York icon—and so is its awning. Pop in to the King Cole Bar for a Bloody Mary, which is where the cocktail was first invented.
Location:
2 East 55th St.
Stalk it on Instagram:
@stregisnewyork
---
8. Grand Central Station
Unlike other mass transportation areas of the city (namely Penn Station and Port Authority) Grand Central terminal isn't a cess pool of filth.
In fact, it's one of the most beautiful structures in all of Manhattan. (Pro Tip: if you need an emergency Apple repair, the Apple store within Grand Central is a dream.)
Location:
89 E 42nd St
Stalk it on Instagram:
@grandcentralnyc
---
9. Ralph's Coffee Shop
If you're looking for a charming coffee shop to stop by during your visit, don't miss out on Ralph's! It's part of the Ralph Lauren store but has a separate entrance and both the inside and outside make for an Insta-worthy backdrop.
Location:
888 Madison Ave
Stalk it on Instagram:
@ralphscoffee
---
10. The Brooklyn Bridge
There is arguably nothing better than walking along the Brooklyn Bridge on a gorgeous sunny day. I mean, I'll be honest—I haven't done it in years—but I remember it being really lovely.
Have you seen how beautiful these photos are? Just a warning…the bridge gets insanely busy during the summer (and I mean bumper-to-bumper foot traffic) so if you want a shot like this, you probably won't get it midday.
Location:
The Brooklyn Bridge Pedestrian Walkway begins at the intersection of Tillary Street & Boerum Place.
Stalk it on Instagram:
@brooklynbridgeig
---
11. The Oculus at the World Trade Center
Would you believe me if I told you this was a subway station? It's also flanked by some pretty amazing stores on either side (check out Sugarfina for more Instagram candy.)
Now a highly recognized building in New York City, this place is so symmetrically stunning, it's nearly impossible not to take a great photo.
Hyperlapse or fast-motion videos also work really well here, particularly on the second level overlooking the chaos below.
Location:
185 Greenwich St (if you're from out of town and take a taxi, make sure you specifically say Greenwich STREET and not AVENUE—those are two completely different places.)
Stalk it on Instagram:
The Oculus
---
12. The Upper East Side
If you stroll around the Upper East Side, I can practically guarantee that you'll find several dreamy stoops and apartment buildings to pose in front of.
Location:
There are lots of cute spots between Second Ave and Madison Ave.
---
13. The Vessel at Hudson Yards
The newly-opened structure—inside of Hudson Yards, a fancy development on the West side of Manhattan—has become one of the most instagrammable places in NYC in recent years.
So what is it, exactly? The Vessel is a public art installation that soars 15-stories high, consisting of stairwells and 80 viewing platforms.
If you're ambitious, climb to the top for an out-of-this-world vantage point of the city.
Location:
20 Hudson Yards
Stalk it on Instagram:
@thevesselnyc
---
14. Roman and Williams Guild
When the New York City-based interior design firm Roman and Williams decided to open a restaurant-slash-home goods store in Soho last year, the design world lost their minds.
Inside, you can indulge in a quintessential French meal at Le Mercerie (the café) or peruse fancy home decor at the Guild.
Needless to say, the photo opps are endless. Need a little inspo? Check out this stunning shot by my friend @AGuyNamedPatrick.
Location:
53 Howard St
Stalk it on Instagram:
@rwguild
---
15. NOMO Soho
I used to say that if I hadn't done a destination wedding in Mexico (after getting legally hitched at City Hall first) I would have wanted to get married at NOMO Soho.
This uber-chic hotel, and its equally chic outdoor restaurant, is what Instagram dreams are made of, particularly on sunny days.
Location:
9 Crosby Street
Stalk it on Instagram:
@thenomosoho
---
16. 1 Hotel Brooklyn Bridge Lobby
Here's a little insider secret: you don't have to actually be staying at the 1 Hotel Brooklyn Bridge to hang out in its picturesque lobby. With lush greenery, cozy couches, and rustic wooden furniture, it's truly one of my favorite places to spend an afternoon in Brooklyn. (If you go and enjoy the scent—it's intoxicating—we'd recommend checking out Hotel Lobby Candle, which sells similar fragrances!)
There's also a fab rooftop bar, chic cafe on the ground floor, plus a rooftop pool and restaurant. It's also walking distance from the Washington Street photo op in DUMBO I mentioned above, so I recommend making an afternoon of it—and then heading to Shake Shack around the corner.
Location:
60 Furman Street, Brooklyn
Stalk it on Instagram:
@1Hotels
---
17. The Edge
Giving you a 360 degree view of NYC, the Edge is the highest outdoor sky deck in the Western Hemisphere.
While you're 100 stories above ground level, you can snap some dreamy Instagram pictures that will arguably show off the best views of Manhattan.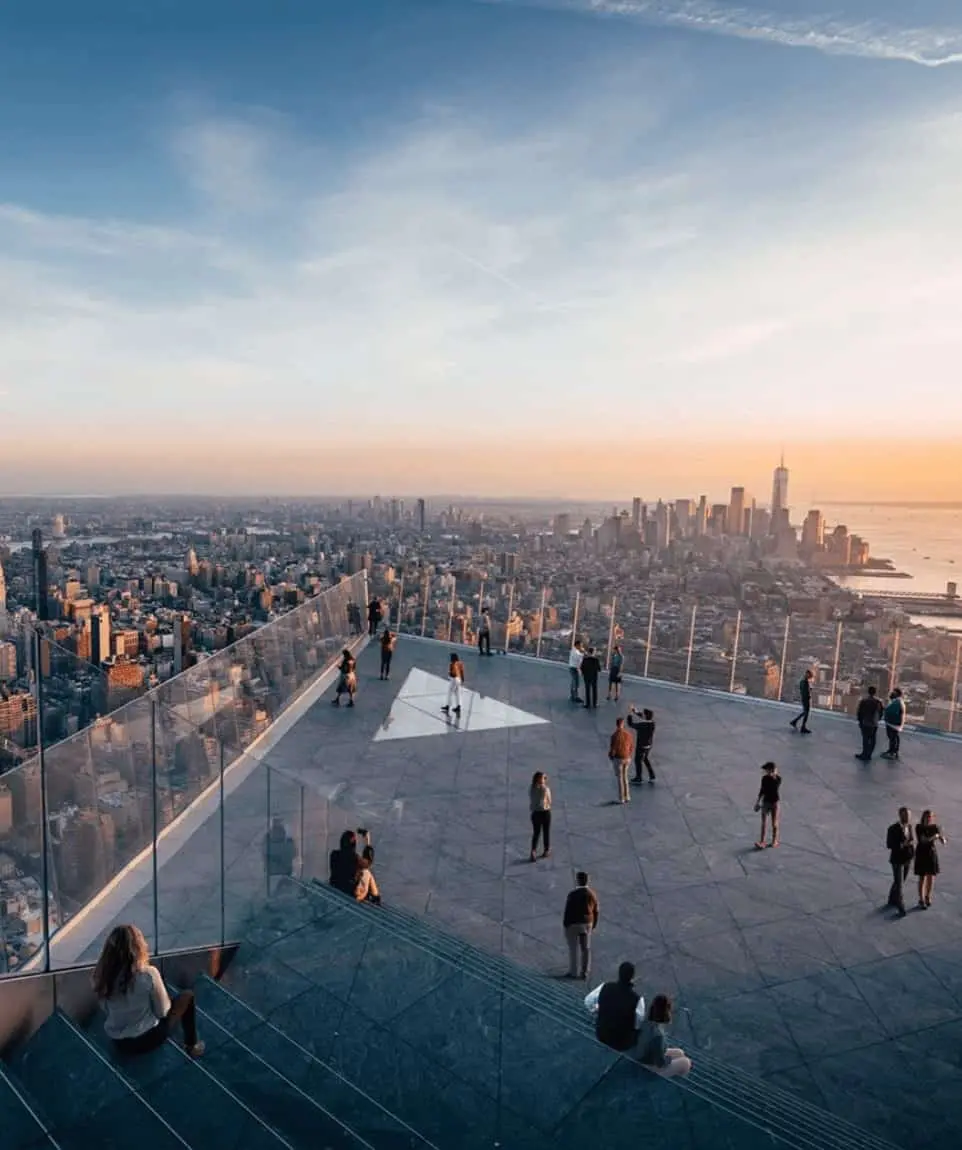 Location:
30 Hudson Yards
Stalk it on Instagram:
@Edgenyc
---
18. Guggenheim Museum
You won't want to miss stopping by this art museum, which is located on the dreamy Upper East Side. The unique, modern architecture looks equally as stunning inside as it does from the street.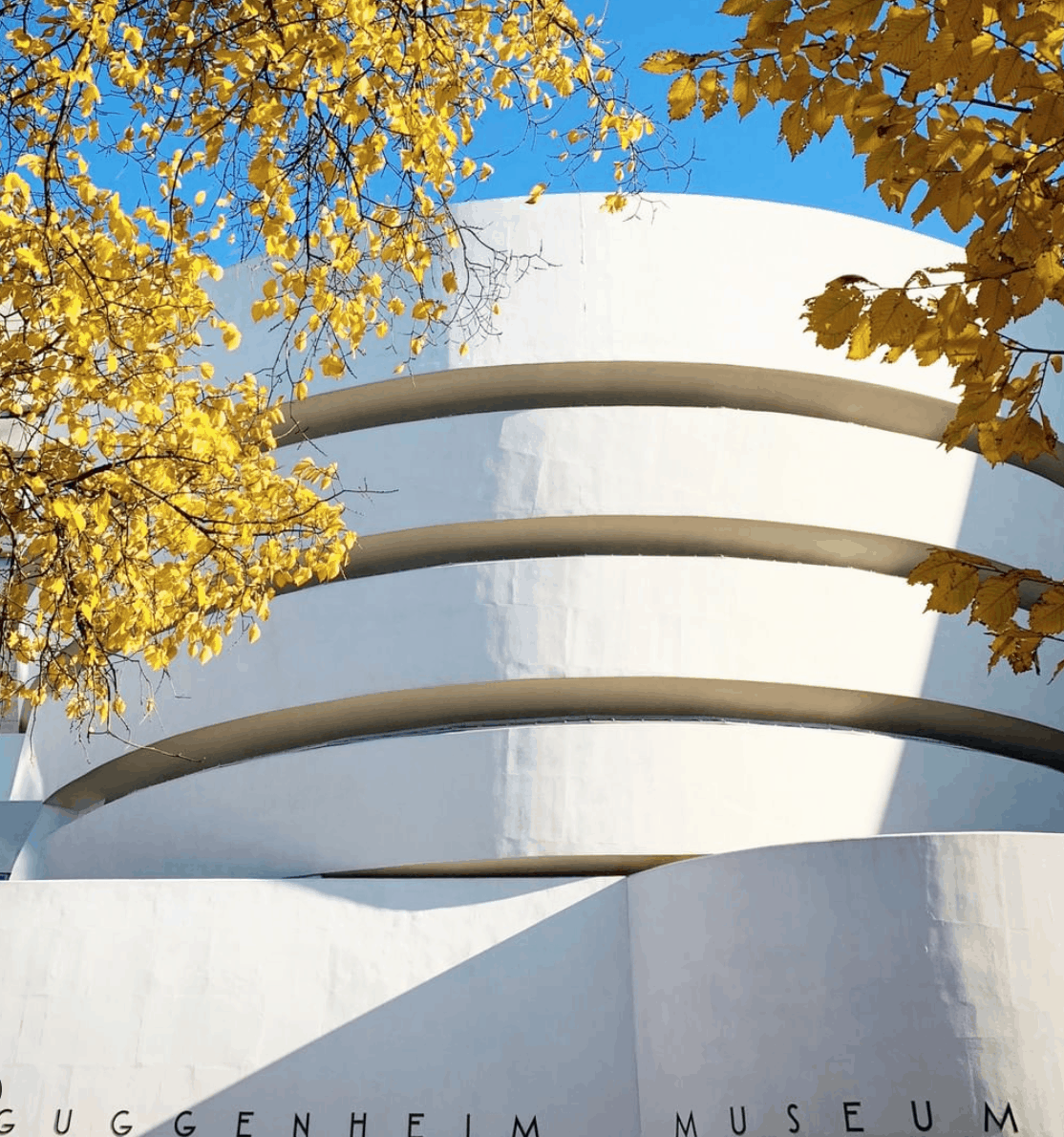 Location:
1071 5th Ave
Stalk it on Instagram:
@Guggenheim
---
19. Sézane
This French-inspired women's boutique is packed full of dresses, handbags, and heels that you'll certainly want to splurge on, but it also has a very Instagram-worthy storefront.
Decorated with a variety of colorful flowers, classic white and black awnings, and an adorable little bench, there are plenty of opportunities for cute Instagram shots.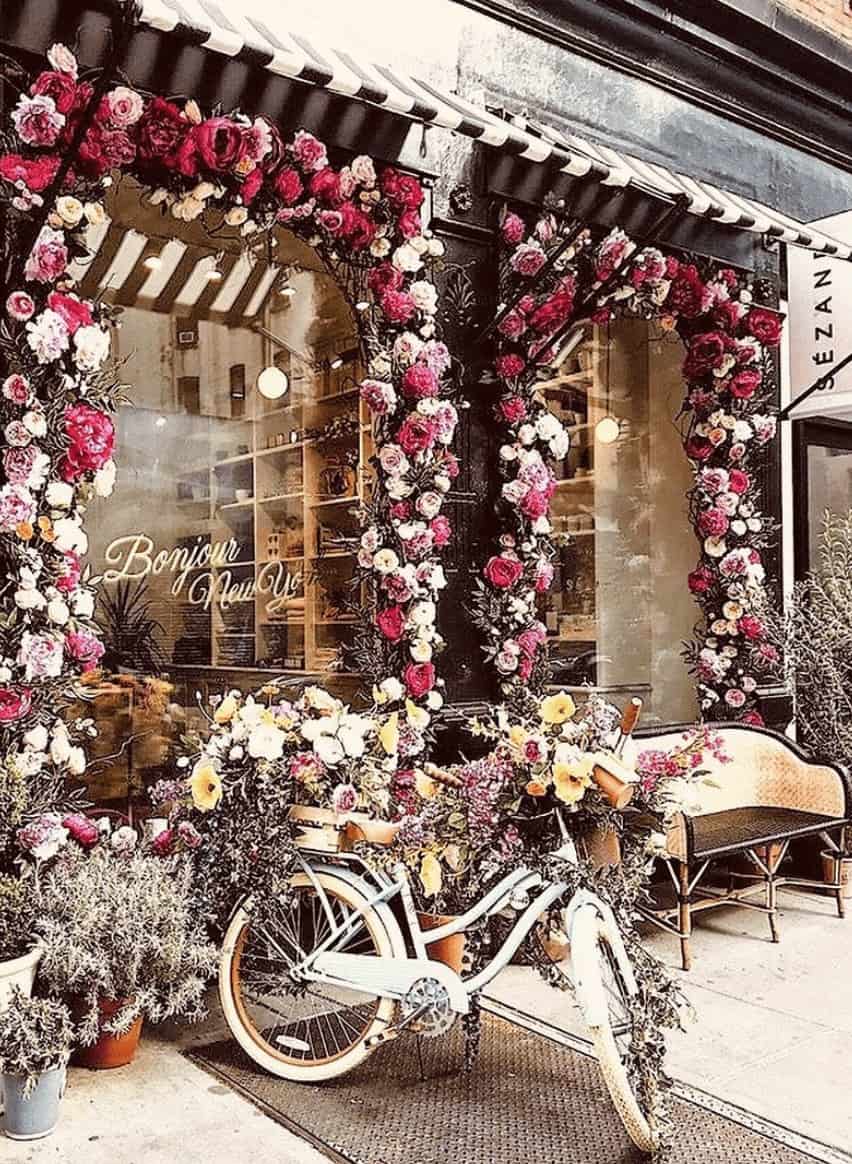 Location:
254 Elizabeth St
Stalk it on Instagram:
@Sezane
---
20. Washington Square Park
A lot of magic happens in this iconic NYC park—cotton candy sunsets, thrilling street performances, and unlimited sightings of French Bulldogs.
Plus, you can pose for a pic in front of the Washington Square Arch, a common yet underrated tourist spot.
Location:
Greenwich Village Neighborhood
---
21. The High Line
The high line is a nearly 1.5-mile elevated walkway in the trendy New York neighborhood Chelsea. It offers up the city views you likely came to Manhattan for in the first place.
Grab a coffee at Blue Bottle Coffee (located at 450 W 15th Street!) before you venture off on your walk. (Pro Tip: Having something to hold in your hands for photos makes them feel less awkward.)
Location:
Enter on Gansevoort Street and Washington Street
Stalk it on Instagram:
@highlinenyc
---
22. Sheep Meadow
Just about every inch of Central Park is worthy of a photo op, but Sheep Meadow in particular is a good spot to get a solo or group shot.
Bring a blanket and a bottle of wine for some props.
Location:
Lower section of Central Park
---
23. Bow Bridge
Another good place to get a picture in Central Park is Bow Bridge. It's usually pretty crowded but just be patient and you'll get a good pic!
(Pro Tip: If you're visiting in the fall, this photo op is a must. The fall foliage is stunning in Central Park.)
Location:
Central Park
---
24. The Met Steps
Calling all Gossip Girl fans! You can finally feel like Blair Waldorf for the day by stopping by the Metropolitan Museum of Art and snapping a picture on the famous steps.
Try to get there earlier in the morning to avoid having tons of people in the background of your photo.
Location:
1000 5th Ave
Stalk it on Instagram:
@metmuseum
---
25. Times Square
Times Square isn't really a place where you'll want to hang out, but if you're in the area, it's worth seeing.
The complete chaos of this section of Manhattan can make for a vibrant and very NYC Instagram post.
Location:
Midtown Manhattan (Seventh Avenue and 42nd Street)
Stalk it on Instagram:
@timessquarenyc
---
26. The Plaza Hotel
Who remembers Eloise? The picture-perfect hotel she grew up in is a must-see in New York.
You can get a stunning picture of the iconic building from across the street or from Central Park—which is just steps away.
Location:
5th Avenue at Central Park S
Stalk it on Instagram:
@theplazahotel
---
27. Mr. Purple
During the warmer months, the rooftop bar at Hotel Indigo, Mr. Purple is the perfect place to scope out the Manhattan skyline. Order a drink and pose for a photo by the pool.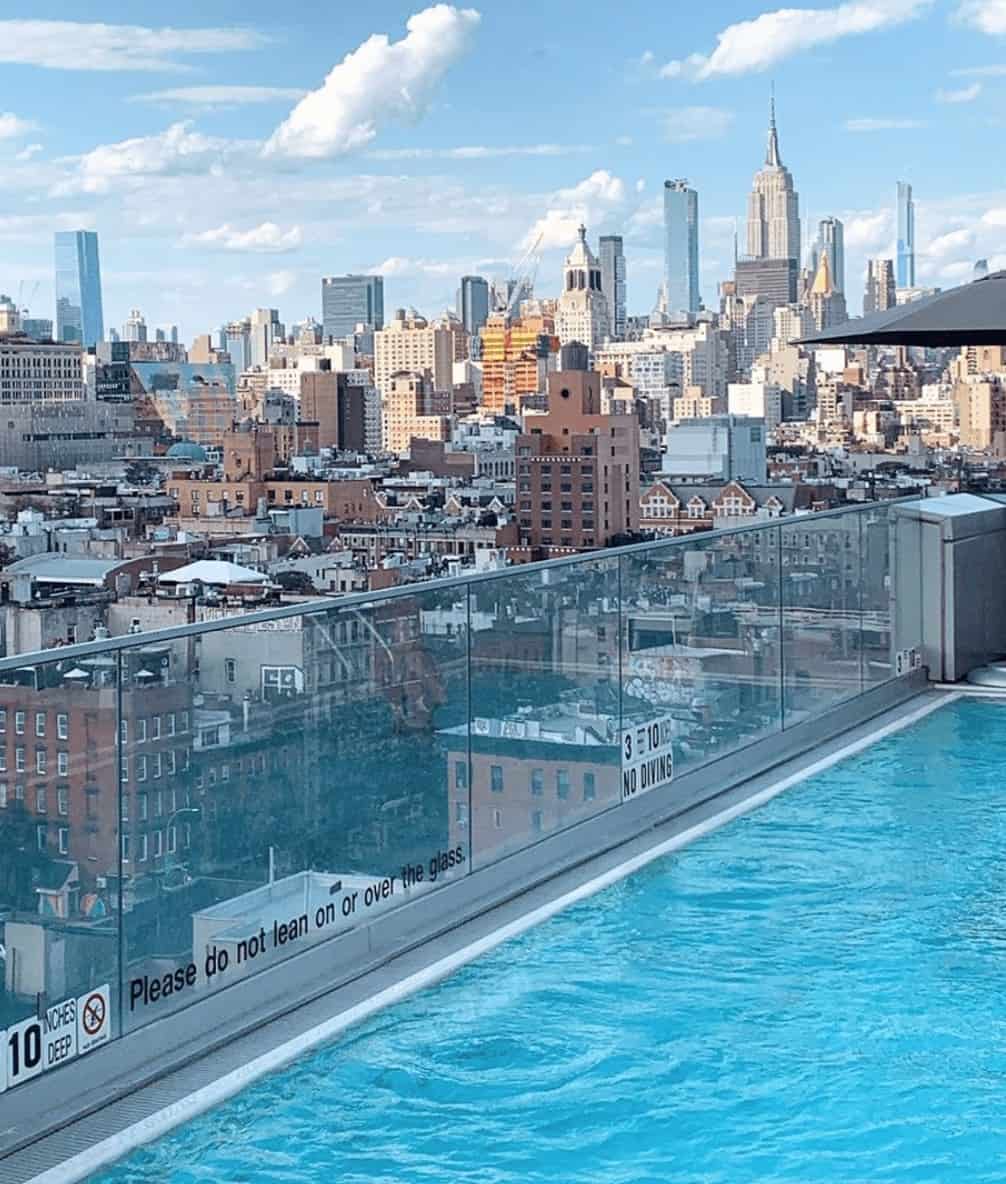 Location:
180 Orchard St
Stalk it on Instagram:
@mrpurplenyc
---
28. RH Rooftop Restaurant
Somewhat new to the city is the Restoration Hardware rooftop restaurant and bar.
As one would expect, the space looks like it was torn out from a magazine spread, and any interior design lover should certainly dine here and get some pics.
Location:
9 9th Ave
---
29. Lotte New York Palace
The much-loved New York Palace is located in a dreamy area on Madison Avenue.
Stop by at sunset or sundown to get a pretty picture in front of the hotel's entrance, then have a drink at Trouble's Trust, which is located just inside.
Location:
455 Madison Ave
Stalk it on Instagram:
@newyorkpalace
---
30. Tiny's and the Bar Upstairs
Pictures of Tiny's speak for themselves. This adorable little restaurant and bar has so much character. Pose outside before going in for a bite to eat.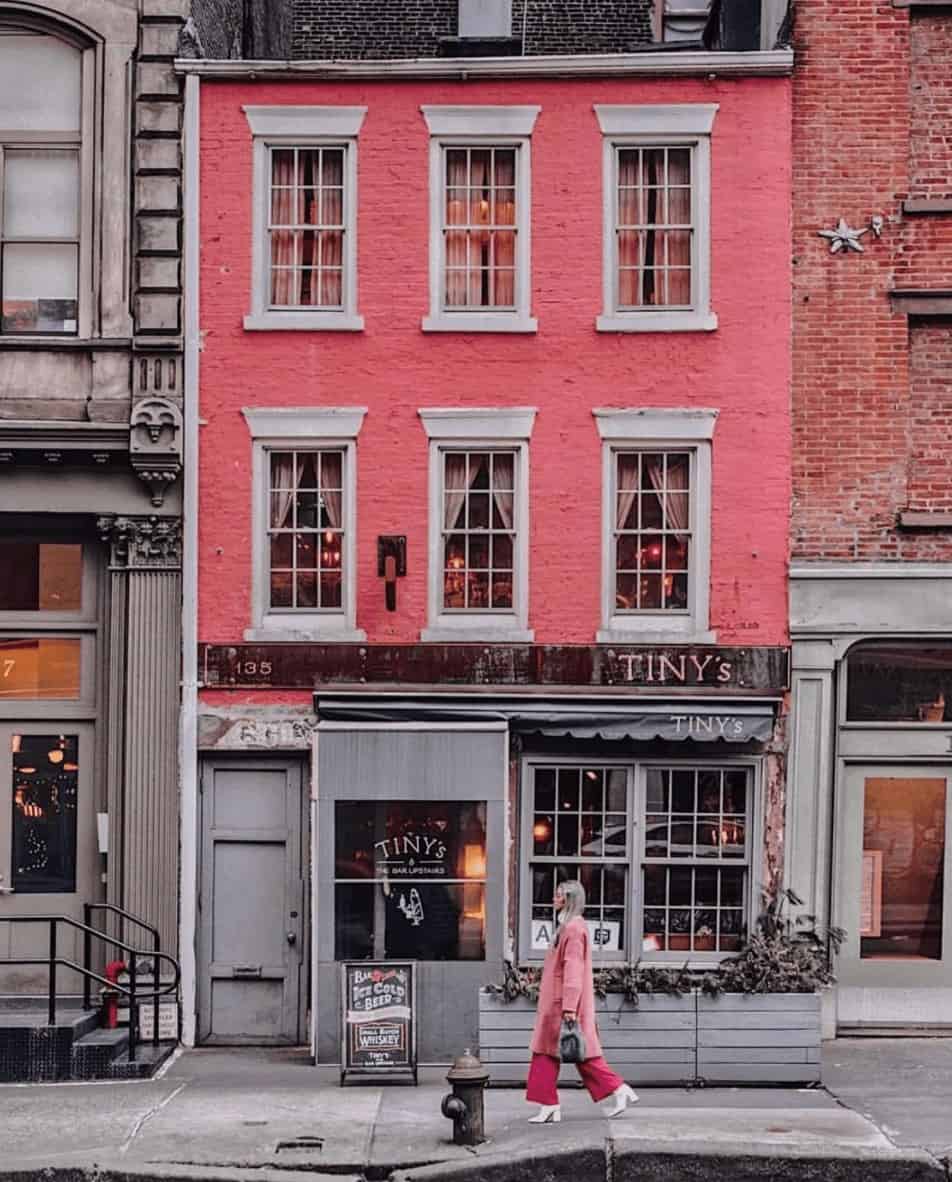 Location:
135 W Broadway
Stalk it on Instagram:
@tinysnyc
---
31. Pebble Beach
Located in DUMBO, Pebble Beach is the ideal place to go for a sunset picnic or walk.
You'll get gorgeous views of Manhattan without too much of a crowd.
Location:
65 Plymouth St, Brooklyn
32. Empire State Building
I know that most people who are visiting Manhattan already have the Empire State Building on their bucket list but I couldn't publish this post without including it.
The key to getting a good photo in front of the skyscraper is to stand near Madison Square Park — this way you can get a full view of the building.
Location:
20 W 34th St., New York, NY
33. Radio City Music Hall
A photo opp in front of Radio City Music Hall is a classic NYC tourist move, for good reason. The building has rich history and looks so pretty when it's lit at night.
This area also looks particularly festive and celebratory during Christmastime, so if you happen to be visiting during the holidays, you're in for a treat!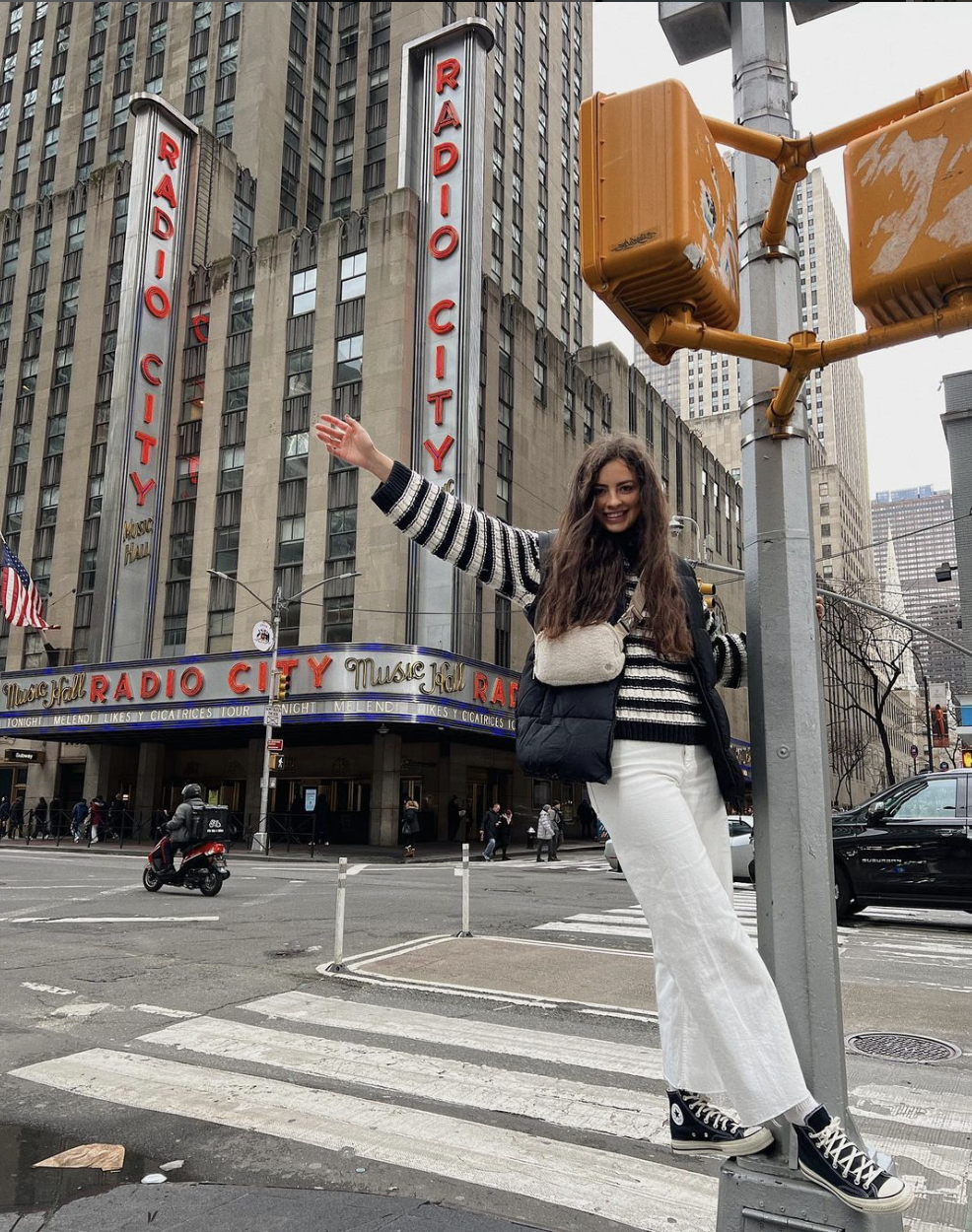 Location:
1260 6th Ave, New York, NY
---
The Most Instagrammable Places to Eat in NYC
Here's a quick hit-list of some Instagram-worthy restaurants!
34. Grand Banks
Grand Banks is an oyster bar on the water in Tribeca. Climb aboard the historic boat and enjoy nautically-inspired cocktails and eats while scoping out amazing views.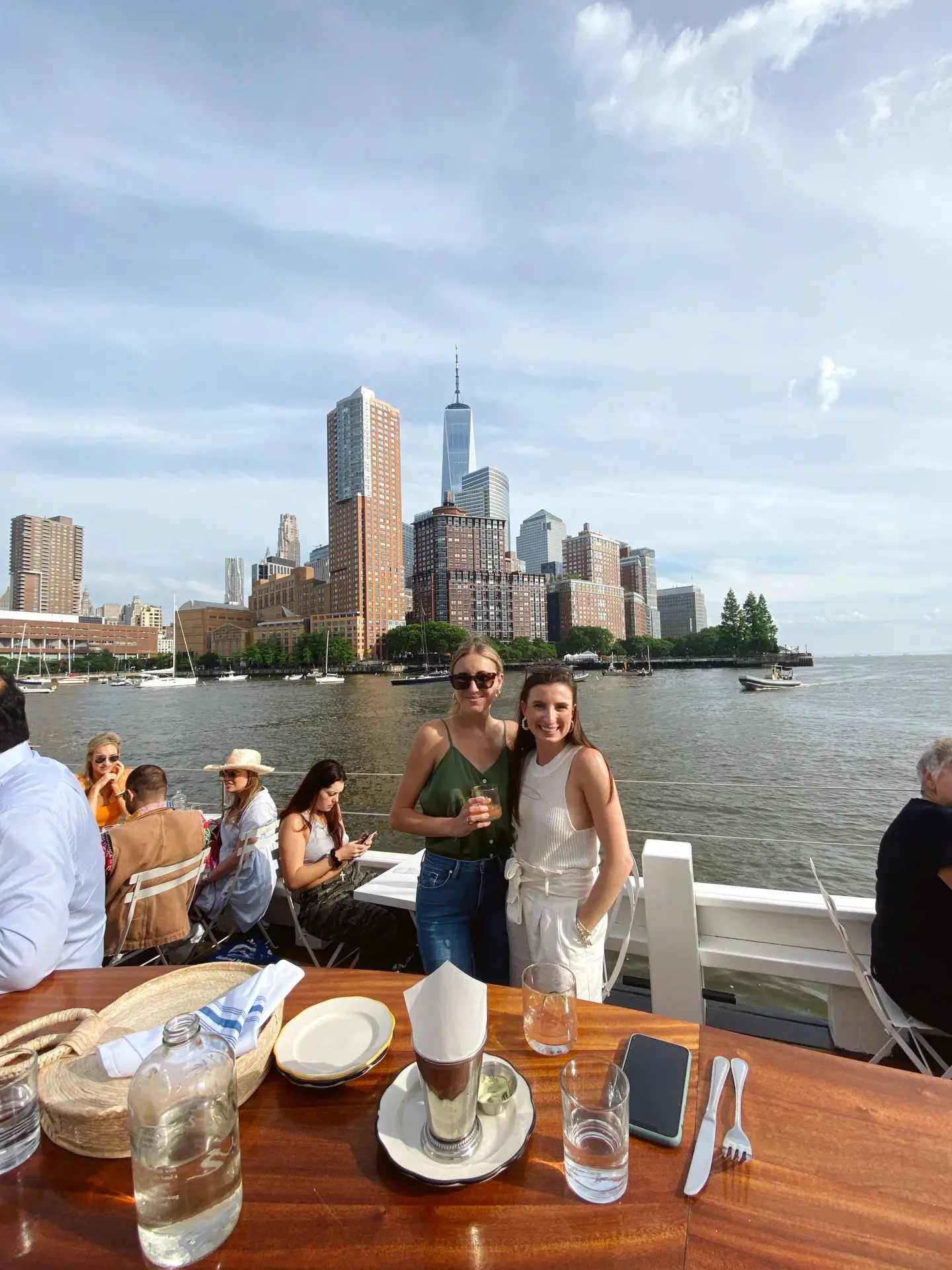 Location:
Hudson River Park's Pier 25
Stalk it on Instagram:
@Grandbanksnyc
---
35. Sweet Moment
This delicious dessert spot is known for their cute latte art that's made with La Colombe coffee and Korean Bingsoos (shaved ice).
Location:
106 Mott Street, Chinatown
Stalk it on Instagram:
@Sweetmomentnyc
---
36. Black Tap
I wouldn't be surprised if you've already seen these over-the-top milkshakes on your Instagram feed.
Black Tap is known for their giant and uniquely flavored milkshakes, as well as their burgers and beer.
Location:
Multiple Locations
Stalk it on Instagram:
@Blacktapnyc
---
37. Drunken Dumpling
Located in the East Village, the food mecca of NYC, Drunken Dumpling is the place to go for quirky and colorful soup dumplings.
Location:
137 First Avenue
Stalk it on Instagram:
@Drunkendumpling
---
38. Serra by Birreria
With a rooftop spot at Eataly, this festive restaurant features an ever-changing theme based on the seasons—and it doesn't hurt that the food is great!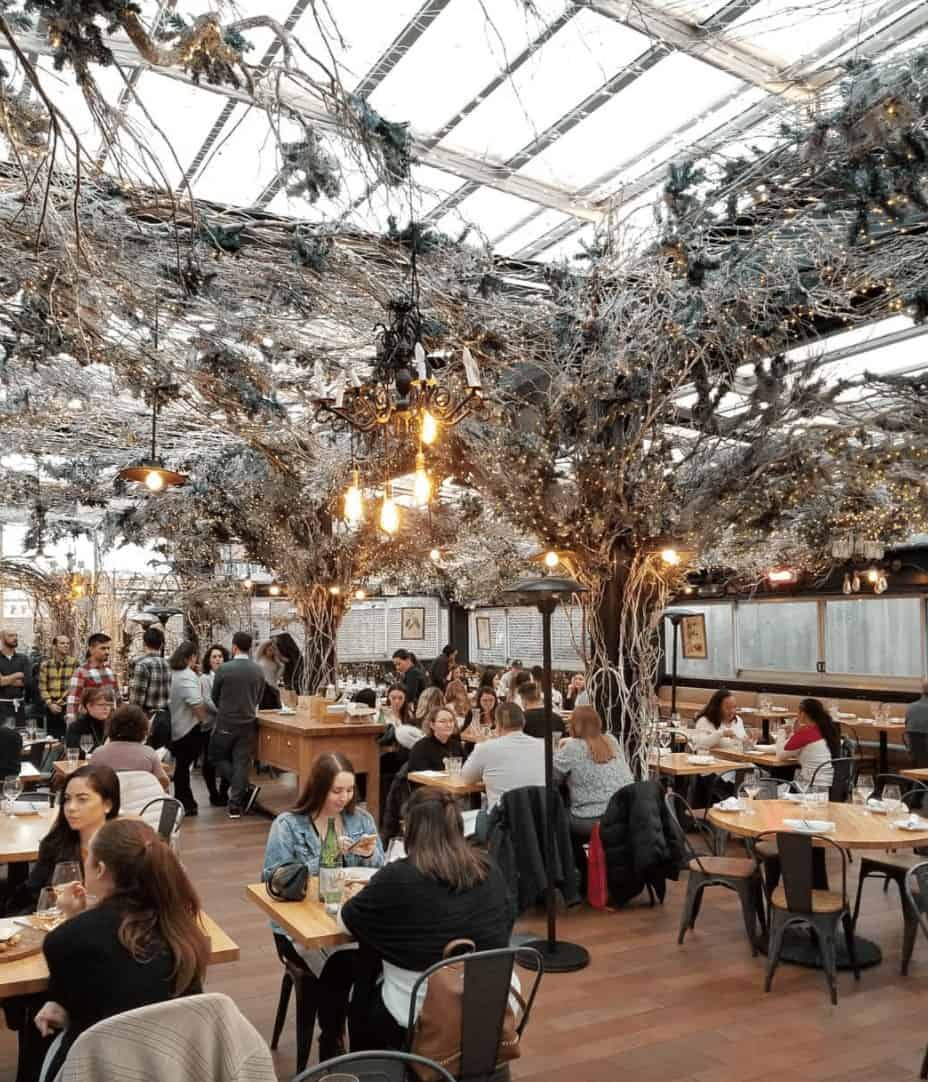 Location:
200 Fifth Avenue
Stalk it on Instagram:
@Serrabybirreria
---
39. LRoom Cafe
Step inside LRoom Cafe and you'll be in Instagram heaven as you find yourself surrounded by uber-feminine pink decor. This restaurant is also known for their penchant for food and pretty flowers.
Location:
41 West 14th St
Stalk it on Instagram:
@Lroomcafe
40. Maman
Not only is the ambience inviting, but the food is to die for. The entrance is beautiful and the inside of each location is cozy and feminine.
Location:
Several throughout the city
Stalk it on Instagram:
@_mamannyc_
---
What are your favorite places to take Instagram photos in NYC?
Since the city is always changing and new places continuously pop up, it's easy to miss out on some snap-worthy spots. While I've done my best to put together this lengthy list, I'd love to hear what your favorite Instagram spots in NYC are. I love finding new places to shoot content so any tips are appreciated. Let me know in the comment section below!