I was first introduced to NAADAM a few years ago after seeing one of their clever campaigns on the subway during a morning commute to work (when people still went into offices).
The cozy-looking sweater in the ad piqued my interest, so I checked out their website, and ended up ordering one of their best-selling $75 cashmere sweaters. I loved it so much, that I bought one for my husband too—and after that, we were hooked.
Now that we've amassed what is essentially an entire NAADAM wardrobe, I figured it was time to share my official NAADAM cashmere review with you guys.
Below, you'll find info on sizing, fit, my favorite styles, and what's on my wishlist!

NAADAM: Behind the Brand
Founded In: 2013
Price Point: $75 and up
Brand Backstory: NAADAM prides itself on being "the world's fairest cashmere." The company cuts out the middleman by working directly with Mongolian herders, which means customers pay a fraction of the price for cashmere—and NAADAM is able to pay its herders substantially more.
What They Sell: sweaters, joggers, dresses, hoodies, t-shirts, and accessories like wraps, scarves, beanies, and socks
Is NAADAM Ethical? Yes. The company uses ethical and sustainable production processes for all of its products.
NAADAM Cashmere Review
As you can probably tell, I absolutely love NAADAM cashmere, and have yet to find another brand that has better, long-lasting cashmere for the price.
The sweaters really do stand the test of time.
They don't get pilly or loose their luster after you wear them consistently for months on end. They're super cozy, super soft, and super breathable—aka they won't make you feel like you're going to sweat to death when you have one on.
So if you're wondering whether NAADAM cashmere is worth it, the answer is unequivocally yes.
The Essential $75 cashmere sweater (which I'm wearing here!) is a best-seller for a reason. TRUST!
---
NAADAM Sizing and Fit
Women's
In general, I've found all of their sweaters and joggers run true to size. And in terms of fit, everything is cut PERFECTLY.
My husband and I were actually just saying that the way the clothes lay on your body is part of what makes them so awesome.
They're beyond flattering, and seem to be perfectly tailored—no boxiness, or weird seams.
My Measurements
Height: 5'6
Dress Size: 2
Jean Size: 26
Bra Size: 32DD
NAADAM Sizing: I wear size small in everything I've bought from NAADAM. However, if you prefer an oversize fit, you may consider sizing up
Men's
My husband finds that the shirts and sweaters run true to size.
The pants come in XS – XXL and Matt wasn't sure what his "true" size would be, but he ended up with a small. See below for his exact measurements.
Matt's Measurements
Height: 5'10
Pant Size: 31 x 30
Shirt Size: Medium
NAADAM Sizing: Matt is a medium in the sweaters and is a small in the pants. For men who aren't sure of their XS – XXL pants sizing, he suggests looking at his measurements, as well as the model's measurements, for a point of reference.
Favorite NAADAM Cashmere Styles
Below you'll find a selection of my favorite NAADAM cashmere styles, as well as Matt's. Of course, we haven't tried everything (yet!) but these are the standouts to us!
WOMENS

NAADAM Cashmere Hoodie & Cashmere Joggers
If you're going to invest in one cozy cashmere set from NAADAM, this is the one it should be. It's like the brand's gateway drug.
You'll wear it all fall with your go-to denim and white sneakers, and all winter with winter boots. I have it in several colors, but would highly recommend the black and granite.
I ordered a small in the hoodies and a medium in the joggers because I wanted them to have a looser fit. (My true size in these would definitely be a small.) These were my first foray into cashmere sweatpants, and I can't endorse them enough.
Both the hoodie and joggers are available in sizes XXS – 3X.
P.S. The set is an AMAZING cozy gift idea for someone who might not think to splurge on it themselves.
---
NAADAM Ribbed Cropped Cashmere Cardigan
This ribbed cashmere cardigan is a piece that I got from NAADAM's fall collection, and I think it might be my favorite. This exact cardigan isn't available anymore but the one I linked is extremely similar!
When I felt like "dressing up" last week, I wore it for three days in a row. (Now I'm back in my loungewear.)
The neckline and buttons hit at the *perfect* spot, so you can wear the sweater with just a bra underneath, or you can add a base layer like a tank if you prefer.
I love that it's fitted but not tight! I'm wearing a size small.
---
NAADAM Structured Shoulder Cable Knit Sweater
This is the first time a "power shoulder" didn't make me look like I was wearing football pads. This exact sweater is low in stock but Naadam makes a variety of cable-knit styles that I'm eyeing (like this turtleneck).
The puff shoulder is a super subtle but beautiful detail that makes it feel unique. I'm wearing a size small.
---
NAADAM Cropped Cashmere Turtleneck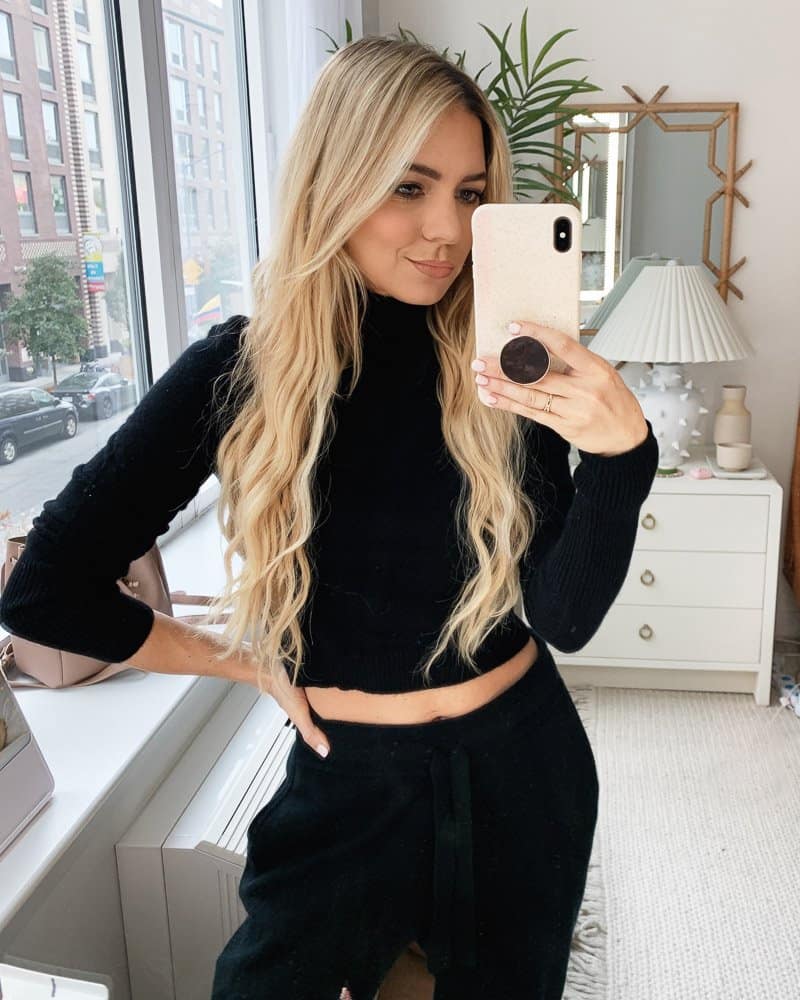 Finding the perfect turtleneck sweater is no easy task, but let me tell you—NAADAM has nailed theirs.
I absolutely love the cropped one I have, but it's sadly not available anymore. The brand has introduced several turtleneck styles since I first ordered from them, and this high-low turtleneck sweater is super similar.
If you're not comfortable with a little midriff showing, I would recommend the oversize turtleneck style instead!
I'm wearing a size small.
---
NAADAM $75 Cashmere Sweater
There's a reason why the NAADAM $75 cashmere sweater has such a cult following.
I still find it mind-boggling that they can produce such an incredible soft, well-made cashmere sweater for such an approachable price, but I'm not asking any questions.
I wear either a small or a medium depending on how I want the sweater to fit. Small will be more fitted, a medium will feel more oversize.
This sweater looks great when styled with black skinny jeans and over-the-knee boots (these are my favorite!)
---
NAADAM Crewneck Cardigan
This crewneck sweater is a newer style from the brand and I'm completely obsessed with it. It would look so cute with a simple pair of jeans and some white sneakers or booties.
I love that it buttons up so you can wear it a variety of ways. It's essentially the perfect closet staple to get you through the changing seasons.
---
NAADAM Lightweight V-Neck Sweater
I love a good v-neck sweater for the fall and winter months. The slight dip in the neckline allows you to cool off a bit if needed, but you can also layer a shirt underneath or wrap a scarf around your neck if you need some extra coverage.
This moss green color is stunning (and so unique!) but the sweater also comes in tan and dark gray if you want something more neutral.
---
MENS

NAADAM Cashmere Sweatpant
My stay-at-home wardrobe has been completely taken over by NAADAM's line of cashmere and fleece sweats.
I love to mix and match the colors like I did here with the sweatpants in sage green and cashmere sweatshirt in black.
Wearing a medium in the sweatshirt and a small in the pants.
Wondering what shoes to pair them with? Check out my list of the best white sneakers for men.
---
NAADAM Ultralight Button Up Shirt
One thing I love about NAADAM is that the line now goes beyond just sweaters.
Here I'm wearing an ultra lightweight button up shirt in black which is perfect for a low-key night out, a casual business meeting, or a zoom call from the comfort of your home.
I definitely consider it one of my must-have men's style essentials.
---
NAADAM Cashmere Turtleneck Sweater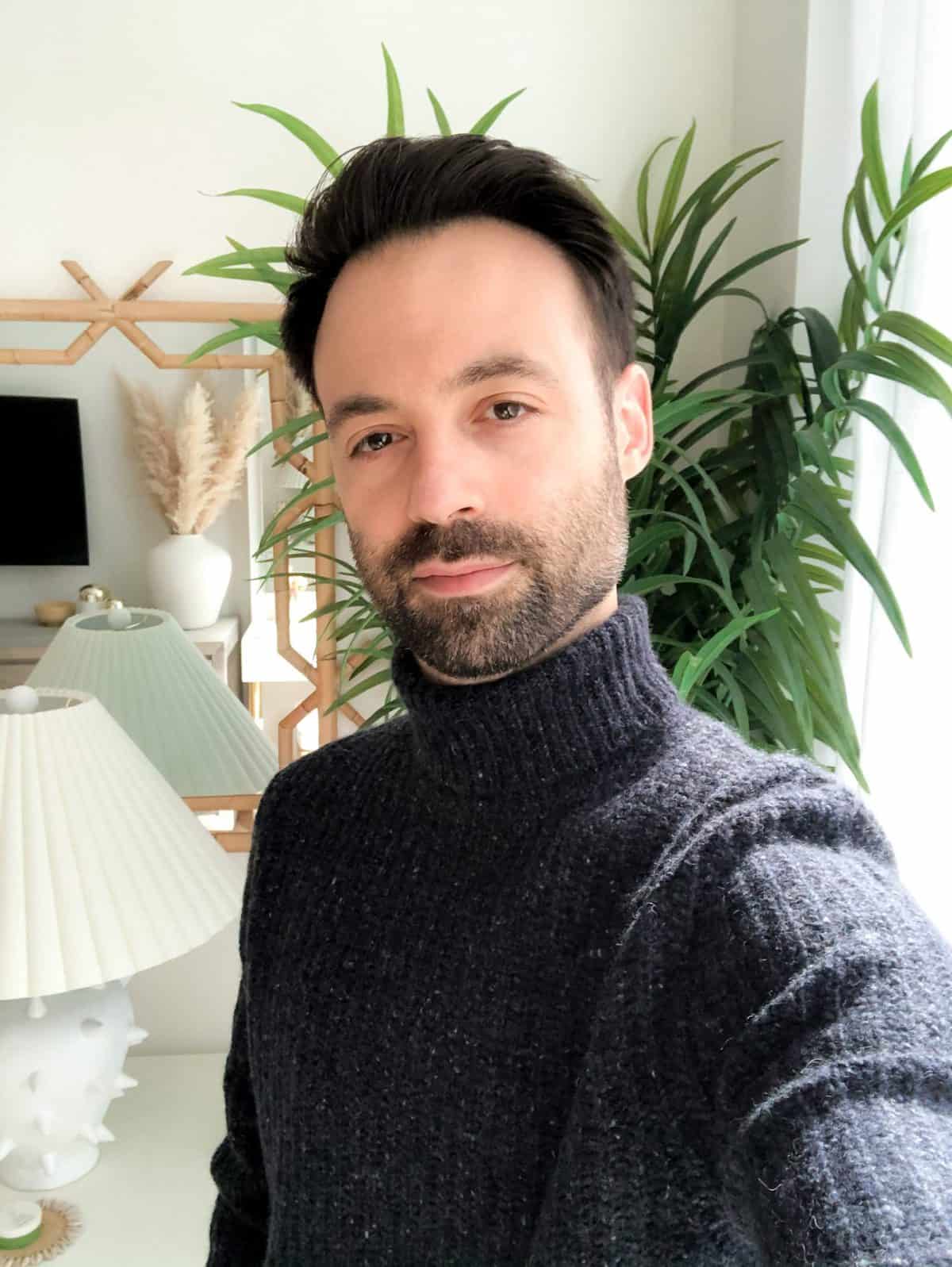 I was never really a turtleneck kind of guy until I found this one from NAADAM.
I never really believed that I could pull off the look because they tended to be body-tight and I'm not exactly the most athletic body type.
This particular sweater is bigger and thicker than most giving me a more balanced look.
---
(Thank you to NAADAM for sponsoring this post! I've been a fan of the brand long before we decided to work together, which is a dream scenario! For more details on how partnerships work, read my Influencer Secrets blog post.)