Packing for a trip to Europe can be stressful in general, but when you add unpredictable winter weather into the mix? Forget it. You're left riddled with questions: what's the temperature going to be like there? And how do I not overpack? To help streamline the process, I created a detailed winter packing list for Europe that has everything you need to know.  Below I'll explain all about how to pack for a winter vacation in Europe, touching on the following categories:
What European Winter Weather is Like
Best Luggage To Take to Europe
Cold Weather Clothing Guide / How to Layer for Warmth
My Fool-Proof Winter Vacation Packing List 
[Also: if you haven't read my secrets to surviving a long-haul flight, be sure to check that out here.]

---
What to Expect from European Winters
Of course, the temperature and conditions vary depending on which countries you're visiting. Some places will get lots of snow, and others will just get lots of rain.  But one thing you can count on no matter where you're headed in Europe over the winter? Freezing cold weather. (FYI the warmest European country during winter is Monaco, where it can get as warm as 50 degrees!) In popular destinations like London, Germany, and Paris, you can expect temperatures ranging from 45 degrees to 31 degrees, with the coldest and snowiest month being January.
The coldest European countries with the most snow are: 
Austria
Belgium
Germany
Liechtenstein
Luxembourg
Switzerland
---
Best Luggage to Take To Europe
Choosing the right luggage depends on a number of factors: how much are you willing to spend? Do you prefer hardside luggage or soft? Do you care about aesthetics or functionality? Over the course of my travels, I've tested just about every luggage brand on the market, and if there's one thing that I can recommend as a non-negotiable, it's 360-degree wheels.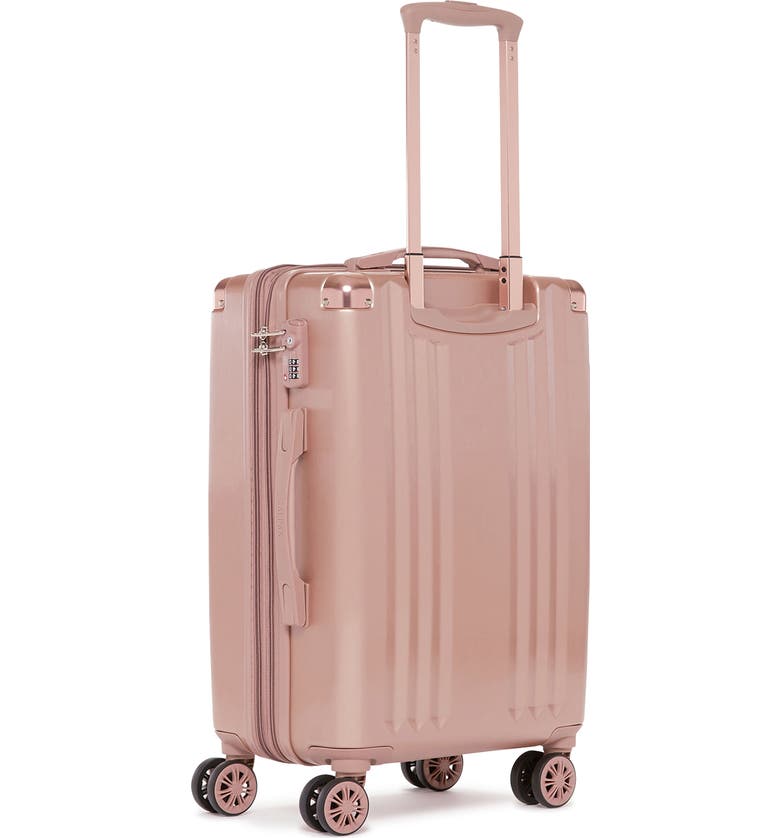 I have a full carry-on luggage guide that breaks down my thoughts on every single major luggage brand, as well as different styles of recommend bags based on how you travel. In terms of aesthetics, Calpak's rose gold carry-on is pretty fab. (I dubbed it the "Instagram suitcase" because if you scroll through any IG travel influencer, chances are you'll see this beauty.)
If you're looking for something a bit sturdier that will last you a lifetime, I'm a big fan of Tumi's Tegra Lite line. When you are traveling to Europe, you really want something that will be durable and last multiple trips across the ocean.  What's nice about Tegra Lite is that the luggage is—you guessed it—super light-weight. So if you're concerned about overweight baggage fees, it's a great option.
The hardshell exterior is also made of a material that doesn't show scratches easily, which I appreciate. For more detailed luggage advice (including a SUPER affordable & highly rated option from Amazon) check out my suitcase guide here.
---
How to Layer for Cold Weather 
My biggest piece of advice when traveling to Europe in the winter (or traveling anywhere that's cold, quite frankly) is to wear layers. Layers give you options: you can be bundled up outdoors one minute, and chilling in a turtleneck indoors the next.  The key to winter layering involves 3 main parts—a base layer, a mid-layer, and an outer layer.

BASE LAYER:
The base layer, of course, is the piece of clothing that you wear closest to your body. It's the first thing you put on. An ideal base layer won't just keep you warm—it will also help wick away moisture from your skin, ultimately making you feeling warmer.

Typically my "base layer" consists of:
MID-LAYER:
The purpose of your mid-layers is insulation—it retains the heat that is radiating from your body. But it doesn't have to be unsightly.  Since this is the layer that will be peaking out from underneath your coat, you'll want to choose something that's both cute and cozy.

In terms of fabrics, wool is excellent at keeping you warm, as are synthetic fabrics like polyester blends. For pants, any type of thick denim will do. Parts of mid-layers include:
Denim, fleece-lined pants, or black jeans 
Sweaters: For my recent cold-weather trip, I got a TON of really cute sweaters here
Cardigans
Fleece jackets: This highly-rated fleece from Nordstrom is affordable and cozy
Flannel shirts: I love how this flannel button-down looks with a pair of black skinny jeans
OUTER LATER:
Finally, the outer layer (your coat!) defends and protects you from the elements—wind, rain, and snow. If there's a chance of rain or snow at your destination, opt for a coat that is treated with a durable water repellent (DWR) finish. That way the water will bead up and fall off your coat, rather than soaking into the fabric. For a cute, cozy and budget-friendly option, I highly recommend this hybrid down ultra warm coat. (I wore it for a recent trip where the weather was below freezing, and it kept me warm the entire time. I love that it has a fleece-lined hood and fleece-lined pockets.

For more of a splurge, Canada Goose is obviously the holy grail in terms of the best cold-weather coats. This style is a favorite because the bodice is a bit more tailored and flattering (compared to some of their other coats that look wide and boxy.) You'll find more of my top winter coat picks for a winter trip to Europe below.
---
Winter in Europe Packing List
It's entirely possible to look stylish and stay warm at the same time. Below I'll show you the best clothes to pack in each category.  I recommend pinning this post on Pinterest, or screenshotting the list below so you can reference it while you're packing.
Clothes to Pack for Europe in the Winter
Tights
Leggings
Long-sleeved shirts (base layer)
Turtleneck or sweater
Pants or denim
Heavy Socks
Sweaters
Down coat
Tank top
Cardigan
Bras and underwear
Warm, comfortable boots
Warm, long-sleeved pajamas
Accessories
Winter hats
Scarves
Gloves
Sunglasses
Umbrella
Essential Beauty Products For European Winters
---
Detailed Packing List Breakdown
Underwear
Obviously you need to wear something breathable as your base layer. Wearing a pair of thick tights or Spanx underneath your jeans will keep you warm and comfy.
Pants
For pants, pack something with a thicker material. Below are a few of my favorite styles of denim.
Shirts
A classic turtleneck or crewneck sweater is a great option, because you'll look chic enough for afternoon tea at Fortnum and Mason, but you'll also be warm enough to brave the elements. Nothing keeps you toasty quite like wool sweaters. (The thick fibers are seriously reminiscent of a cozy blanket.) And while I typically love wool, I'm also a sucker for cashmere—especially if I'm headed somewhere fancy, like London or Paris.  My favorites are:
For the more casual destinations (like skiing), heat-tech long-sleeve shirts are a dependable choice. So are turtlenecks. Uniqlo has the best selection of long-sleeved shirts. I love them because of their reasonable prices, warm fabrics and stunning color varieties.
---
What To Wear at Night in Europe in the Winter
When it's snowing and freezing out, you want to choose something classic and pretty that also keeps you warm. Which is to say…leave your little black dress at home. I love pairing a sweater with faux leather pants, my favorite Spanx leggings, or skinny jeans with heavy socks and knee-high boots or combat boots. If you're going to brave the cold in a dress,  choose one made out of thicker fabrics. Layer a thin long sleeve shirt underneath, as well as thick tights.
---
Best Shoes for Winter In Europe
Forget cute flats or mules—for a winter vacation to Europe, you're going to need boots. Luckily, there are a ton of great options that will keep you warm while also looking chic.  Of course, depending on your itinerary, you might consider also packing something a bit more dressy, like over-the-knee leather boots or a pair with shearling lining.

These Nordic fur-lined boots from Sorel are fantastic. I'm also a big fan of these white, mid-calf boots by Columbia.  Looking for more ideas? Here's an entire guide to warm-but-stylish boots for winter.
---
Hats, Gloves, Socks, and Scarves
When the wind is blowing, you'll appreciate bundling up under warm hats, gloves, and scarves. Another pro tip? Pick up a few of these toe warmers before your trip. I love tucking them into my boots whenever I'm skiing or exploring a European city in the winter.

HATS: Protect your ears from the wind and elements with a thick and cute hat,

Wool beanies are always a great option—and they look super cute in photos.
SOCKS: If the weather is calling for below-freezing temps, I'd recommend insulated socks like these. You'll be shocked at how warm your entire body feels when you protect your feet correctly.
SCARF: Opt for a blanket scarf rather than something thinner. All that soft, thick fabric will keep your neck and entire body toasty, and it can be draped over your shoulder indoors once you've taken your jacket off.
---
Best Coats for European Winters
If possible, go for a coat that is treated to be water-resistant. Also: if you're headed somewhere with wind chill, you're definitely going to want a jacket with a hood. Here are my favorite coats for winter trips to Europe. I'm sure you'll find one you love too.

Winter in Europe Packing List
Now you know everything you need to pack! When you are creating a winter Europe packing list, always check the weather a week ahead of time, and then plan for it to change. Winter can be unpredictable. Remember: layers are your best friend.  What other vacations are you planning?  Check out what to pack when you go on an African Safari and my beach vacation packing list for additional packing inspo!

Pin these posts for later: