Few places in the world are as beautiful as the village of Positano, and if you're reading this post, I'm guessing you're lucky enough to be considering a trip there. However, because there are so many things to do in Positano, trying to figure out how best to plan your time can feel overwhelming.
But not to worry! You've come to the right place. This guide has EVERYTHING you need to know, and more.
First things first: The cliffside village, located on Italy's Amalfi Coast, is often referred to as the "vertical city," due to its steep, cascading landscape—which means that no matter what you do during your trip, it will likely involve a lot of walking. Comfortable shoes are a must. VERY IMPORTANT!
Now that we got that out of the way… onto the fun stuff. Over the past year, I've received hundreds of messages from people asking me about the best things to do Positano, so this post is a loooong time coming.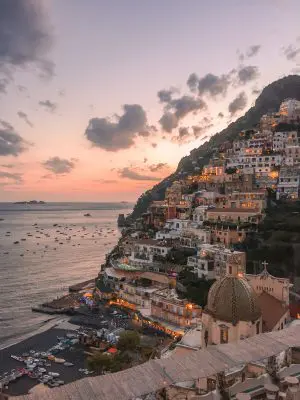 Like all of my recommendations, this is by no means comprehensive—but that being said, I did a TON of research before we went, so I think it represents a good overview of places that my husband & I experienced, as well as things we didn't have time for (aka things I would have done if we were there for longer.)
If you're new to this blog, one thing you should know about me is that I am CRAZY when it comes to researching destinations before I visit. So you can rest assured that whatever is included in my list below truly represents the best of the best. (I also spent many years as a travel editor for various magazines, so I have a lot of insider intel!)
Whether you're planning your honeymoon or doing a bucket list-worthy girlfriends getaway, this guide will have you covered.
It goes into detail about the restaurants we ate at, the hotels we stayed at, and other miscellaneous things you should know before planning your trip.
The Best Things to Do in Positano
1. Hit Marina Grande Beach.
Easily the most vibrant of Positano's beaches, Marina Grande is known for its signature orange and red striped umbrellas.
2. Load up on lemon-centric souvenirs.
You'll find lemons just about everywhere in Positano (and the same goes for Capri) but if you're looking for something special to bring home, don't miss Sapori di Positano on Via dei Mulini.
At the "Lemon Shop" you'll find Limoncello, jams, biscuits, candies, chocolate, honey, bath and body products, and more.
3. Eat ALL the pasta.
More on the best restaurants in Positano below—and a note on the most overrated ones as well.
4. Spend the afternoon at a beach club.
Da Adolfo, located on Laurito Beach, is a gorgeous beachfront eatery and club where you can relax with an aperol spritz while sunbathing.
5. Have a cocktail at sunset with a breathtaking view.
One of the absolute best things I did in Positano was drinks at Franco's in Le Sirenuse. More on that below (plus how to secure the best table!)
6. Peruse the boutiques for caftans, linen dresses, and leather sandals.
There's no shortage of shoping in Positano, and you'll definitely want to check out all of the beachy boutiques during your trip. For a high-end curated selection, head to Emporio Sirenuse; for handmade custom sandals, check out Safari (a teeny tiny shop); for dresses, I recommend Luisa Moda.
7. Hike The Path of the Gods.
"Sentiero degli Dei" is among the most iconic spots on the Amalfi Coast, for scenic vistas and endless photo opps.
8. Take incredible photos.
It's nearly impossible to take a bad photo in Positano—even if you happen to be there during a torrential three-day downpour like I was!
9. Go out on the town.
Even if you're not the "nightlife" type, I highly recommend checking out On the Rocks. We had THE BEST time there (more info on when to go below!)
10. Have breakfast on a gorgeous hotel terrace.
Even if booking a room at one of Positano's swanky hotels is out of your price range, I'd recommend going for breakfast or brunch. A few of my recommended properties are mentioned below.
11. Indulge in the best pizza in Positano.
A delicious pie certainly isn't hard to come by here, but if you're looking for Positano's best pizza, you'll find it at the brasserie underneath the Hotel Covo Dei Saraceno.
The brasserie serves wood-fired, Neopolitan-style pies, and it's definitely a hidden gem. (I heard about it from a local when I asked people to recommend the best pizza in Positano.)
12. Take a day trip to Capri.
You'd be remiss if you didn't experience Capri while visiting the Amalfi Coast, considering just how close it is to Positano. (I would actually recommend spending several days in Capri, but if you don't have the time, visiting for a few hours is a must!)
There are 3 ways to go about planning a day trip to Capri:
Take the ferry!

This is the cheapest option, and will get you to Capri in just about an hour. I'd recommend buying tickets online in advance. During peak season (June – August) there are 3 ferries that leave each morning from Positano and return in the evening. In April and May, there are only two.

Do a shared group tour.

There are a number of fabulous group tour options—you can take a shared Gozzo (wooden boat), which includes stops for swimming and lunch and costs around 80 euros/pp; or you can take a mini-cruise, which does a quick sail around the island before dropping you off in Capri, and costs around 35 euros/pp.

Charter a boat for the day.

If you're looking for a super private, custom-tailored experience, I would highly recommend booking a private charter with a skipper. Though it doesn't come cheap (expect to pay around 600 euros total for a full-day) it's truly a once-in-a-lifetime experience, with a tour that's designed specifically for you.
---
---
Where to Stay in Positano
Let's cut right to the chase—hotels in Positano are expensive. Like, really expensive. If you plan on going during peak season, you need to be OK with forking over a good chunk of change for a room…especially if you want a room with a view.
I would imagine that renting something through AirBnB or VRBO would be a more budget-friendly option, so if you've rented an awesome one, drop the name in the comments and I'll link it here!
Anyway, we stayed at a boutique called Villa Franca, which was gorgeous and chic and perfect for what we were looking for. Considering how pricey it was, I did think the room was small, but that's pretty standard for Positano, and we were fine with it since we didn't spend much time indoors.
Location-wise it was ideal and it had a stunning restaurant called Li Galli, which I would recommend for breakfast or dinner even if you're not staying there.
As far as other properties: Le Sirenuse is the grande dame and with good reason. You should go for dinner or drinks (more on that below) even if you're not staying here, just to snoop around and experience it.
Sirenuse is also one of the most expensive (same goes for Il San Pietro and Villa TreVille) but if I was going on my honeymoon or looking to *really* splurge, I would have stayed at either of these three.
One other suggestion: While it's technically in Praiano, which is a nearby village just 15 minutes from Positano, I have heard absolutely incredible things about Casa Angelina from multiple people. It's super romantic (and great for honeymooners)—plus, it's adults-only, and rates are less than the aforementioned luxury properties.
---
Top Restaurants & Bars in Positano
People who have been to Positano have VERY strong opinions about restaurants. (If you need proof, check out the comments on this Instagram I posted asking for Positano restaurant recommendations.)
Below is a list of places we went, and some that we didn't get to, but came highly recommended.
Chez Black: People will either tell you it's the MOST AMAZING place ever, or that they think it's totally overhyped. I'm part of the latter camp. I personally don't think it lives up to the buzz, and I'm glad we didn't go here for dinner, BUT we did stop by for some pizza, appetizers, and rose one afternoon—which in my opinion, is really the move.
It's located right on the main drag of beach, so you can sit outside in the front and people watch for HOURS. The food was just OK (tbh I've had better pizza in New York) but I think it's worth going for the experience. I just wouldn't recommend spending a full-blown dinner here.
Next2: Italian / Mediterranean fusion. A bunch of people recommended it and we had a fab meal. Chic, modern vibe and lots of pretty people.
La Tagliata: Highly recommend. Super unique. It's up in the mountains in an area called Montepertuso that's a 20 minute drive or so from town, but the restaurant sends a van to pick you up. There's no menu—they bring out whatever it is they decide to cook that day (but from what I've heard, it tends to be the same for the most part.)
You get an insane amount of food and unlimited wine for around 40 euros per person (plus tip). My only piece of advice is that it's not great for vegetarians or non-meat eaters, since most of the main courses are meat, and they won't do substitutions.
Reservations can be made via a form on their website or through your hotel.
Franco's: I can not say enough good things about Franco's—it was probably the highlight of our trip. It's the new(ish) outdoor bar at Le Sireneuse, the fancy shmancy hotel mentioned above.
You absolutely *must* go for sunset. They open at 6pm, but if you start hovering outside of the entrance a bit before 6pm, you'll be one of the first people in and you can snag a table by the ledge, which is CRUCIAL.
Also, it's fairly small so the space fills up fast, and there ends up being a decent wait on most nights. Order an aperol spritz and eat as many giant green olives (truly the best I've ever had) and almonds as you can.
On the Rocks: I may not be a partier like I was in my early 20s, but you better believe I'm all about going to a club to check out the local scene when I'm visiting a new place for the first time. Enter: On the Rocks.
As far as I know, it's really the only "club" in Positano. And it's sick! Basically it's a club carved into the side of the mountain—hence the name "on the rocks."
In true European fashion, it doesn't get going until super late—I think we went on a Saturday after midnight, at like 12:30/12:45—and we had SO much fun. It's eurotrashy in the best way possible. Things got slightly blurry for me toward the end, but I do recall confetti, smoke machines, tequila, and an amazing DJ.
I'll leave it at that. I read a bunch of reviews before we went and heard that the bouncers can be assholes at times, but I think if you look presentable and are polite, you should be fine. Can't remember if we paid a cover or not. If we did, it was worth it.
Places that we didn't get to (but TONS of people recommended):
Da Vincenzo
Max
Conca del Sogno
La Sponda
---
What to Wear on the Amalfi Coast
In general, you'll find people to be pretty well-dressed in Positano, but there's no need to stress out about what to pack.
For Women

Daytime: During the day in Positano, women wear sundresses, flat sandals, caftans, beach cover-ups, short summery dresses, classy swimsuits. (I highly recommend Summersalt, Figleaves, and Asos for chic bikinis and one-pieces.)
Nighttime: At night, you'll be fine with a maxi dress, white jeans/jean shorts + a cute blouse, flat sandals, a light sweater or pashmina

For Men

Daytime: Depending on what you have planned, men can wear swim trunks and a t-shirt with sandals or sneakers, linens shirts, or other lightweight fabrics, khaki shorts
Nighttime: Short-sleeve button down shirts, loafers, jeans or chinos, linen shirts/pants
For more outfit inspo, check out my beach vacation packing guide!
---
Random Tips
Don't wear heels unless you're taking a cab directly to or from dinner. The streets are cobblestone and there are a million steps (my thighs were literally so sore after three days I could barely walk.) On the bright side, you'll burn off all of the carbs you eat by walking so much
Expect it to be touristy. I think it's important to realize before you go that Positano is a tourist-heavy destination. Don't expect a super authentic local experience. The majority of the people around you aren't locals—and that's fine because it's so gorg and chic! But just be mindful of it ahead of time.
Pin this post for later: