I have a love / hate relationship with shopping. On one hand, I love getting new pieces and finding new ways to style them; but on the other hand, I hate the amount of time it takes for me to find things that I actually like.
I'll waste hours upon hours in a "scroll hole" shopping online, obsessing over every detail of a blouse or dress before deciding to pull the trigger. And then, once I do, I'll receive it and inevitably hate it. (Because, you know, things rarely look the same way on a normal human body as they do on a model. I'm a 32DD and finding things that fit big boobs is harder than you would think.)
And we all know what comes next: returns! Did I miss the 30 day return window? Do I print out the label online or was it somewhere in the box I threw out? This vicious cycle of "browse, buy, return, repeat" had become a MAJOR time-suck for me, and quite frankly, I was tired of it.
This was about 4 months ago. I had all but thrown in the towel on shopping when I received an email from Rent the Runway, asking me if I'd like to test one of their memberships. Honestly, I wasn't even sure that I was going to use it, but I agreed to it because they offered me a trial for free. Plus, I figured it would be worth testing even if I just borrowed a dress or two.
After posting about it on my Instagram story to see what people thought of the service, I was flooded with DMs from women raving about how RTR "changed their lives." It sounded a bit dramatic, but it obviously piqued my curiosity, so that night I decided to dive into the app and see what all of the fuss was about.
Read on for my full (and very detailed) Rent the Runway Review. [If you're just here for my promo code, that's cool too! It's "RTRLINDSAYS" and you can enter it at check-out.]
How Does Rent the Runway Work?
The way is works is very simple. You get to rent four pieces at once, and can swap them out multiple times per month (depending on which plan you choose.)
Think of it as a rotating closet with four hangers. As soon as you decide to send any one of your four items back, the hanger opens up, allowing you to choose something else.
So you essentially have the option to:
A) Empty all of your hangers at once, and get four new items
B) Send things back individually as you wear them
C) Or hang on to all four items for your entire membership
How Long Does Rent the Runway Take to Ship?
If you place your order before 1pm EST, the item will ship the same day. Otherwise, it takes two days to receive your shipment after your order is placed.
How Much Does Rent the Runway Cost?
A 4-item membership is $89/month, an 8-item membership is $99/month (for 2 months), and a 16-item membership is $139/month (for 2 months) and you can cancel at any time.
I have a Rent the Runway promo code for 40% off your first 2 months of an 8-item or 16-item plan: RTRLINDSAYS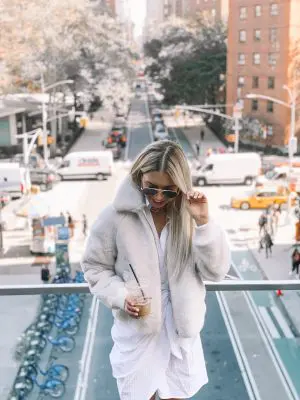 Is Rent the Runway Worth It?
In my mind, the fee is kind of a no-brainer when you consider that, for the cost of buying one dress or a pair of jeans, you could theoretically borrow a dozen dresses or pairs of jeans over the course of the month. (As well as blouses, coats, bags, earrings, sunglasses, etc.)
And while I think it's a smart decision financially, I find value in Rent the Runway beyond just the money. Here are a few of the things I like most about it:
1. Seeing what clothes look like on women who are my size.
This is, hands down, the number one selling point as far as I'm concerned. When you sign up for RTR, you input your "fit preferences" — height, weight, bust size, body type, primary size and back-up size.
Then, when you start browsing through the app and find something you like, you can click on "Reviews" to see a photo of how it fits someone with similar measurements as you. Users can submit pictures + detailed fit feedback, which helps IMMENSELY.
For example, reviewers will write things like: "If you're busty, I would recommend sizing up" or "I wouldn't suggest these jeans if you're bottom heavy because they gape at the waist." I have a larger chest that makes certain things difficult for me to wear, so it's really amazing to see what other busty gals are loving and hating.
(FYI: if you're part of the fuller-bust struggle bus, I recommend reading my posts on strapless bras for large chests, swimsuits for big boobs, and sports bras that are actually supportive.)
Here's an example of a dress I ordered, and the review that helped me decide on sizing and fit:
Being able to see the way something fits on a real (non-model) body has saved me SO. MUCH. TIME. I can tell almost immediately whether or not I'll like something, rather than chancing it.
I looked back at all of my orders, and out of 40 items that I've received since joining, I'd estimate that 35 of them fit perfectly. By comparison, if I were to order 40 things from an online retailer…I'd be lucky if I loved 10 of them.
2. Having a refreshed wardrobe whenever I want.
My closet typically consists of 5-10 items that I wear constantly, and then 50 things that I rarely touch. I get bored easily. So being able to try out new pieces (without committing to owning them) has been a game-changer.
3. Not spending money on dry cleaning.
After you wear a piece from Rent the Runway, you send it back in their garment bag with a pre-paid label—no washing or dry cleaning required. Even if you get a stain on something, they'll take care of it. (The cost of shipping + dry cleaning is included in the service.)
I've found this particularly appealing for vacations, because I hate unpacking. Now I just order my vacation wardrobe from Rent the Runway, and when I get home, I ship it all back. THE DREAM.
4. Access to occasion-specific "one time wear" pieces.
I've taken advantage of RTR for travel (as I mentioned above) because I got tired of packing for vacations and spending money on trendy cover-ups that I'd wear once (maybe twice) a year.
Same goes for weddings, special events, holiday parties, job interviews—even if you're looking for something to wear to a concert.
It is VERY liberating knowing that I no longer have to shell out $350+ on a black tie gown for someone's wedding that I probably don't want to go to in the first place. Also: being able to borrow a super expensive sparkly dress for New Year's Eve. Think about it.
Another thing that I've heard people mention is how amazing RTR is for pregnant women. While I haven't personally browsed it, apparently they have a great maternity selection.
5. Taking risks with things I wouldn't ordinarily wear.
During my "scroll hole" days of excessive online shopping, I found myself going back to the same tried-and-true styles and brands that I knew I loved, because taking a "risk" on something outside of my comfort zone just didn't seem worth it.
But since I started using Rent the Runway, I'm much more likely to try a print, color, or cut that I would never have previously considered. And I've been pleasantly surprised almost every single time.
6. The sustainability aspect (plus extra space in your closet.)
Listen — I am by no means the posterchild for sustainability. I indulge in fast-fashion from time to time and (apologies in advance) but I occasionally use plastic straws.
However, I do think that it feels super wasteful to have a closet filled with cheap clothes you'll wear once, then toss and replace with something new next season.
Rent the Runway not only fills the void of "needing something new" since you have a constantly rotating closet, but it also helps eliminate unnecessary waste, pollution, etc.
Rent the Runway Hacks
Now that I'm on my fifth month, I've learned a TON of great strategies for getting the most out of your RTR membership. I'll probably do that as a separate blog post (if you're interested, comment below!) but a few quick tips I have are:
Make use of the "lists" feature and create categories like "Special Events," "Weddings," "Fall Outfits," etc.
Leave feedback on how things fit. The more feedback you give about your orders, the better the algorithm is at predicting what sizing will work best for you.
Find a few designers that you love, and filter your searches by that designer.
Give things a chance even if they don't have five star reviews! One of my favorite dresses had 3.5 stars because many people found the sizing to be off, but I decided to give it a chance and I loved it.

Are you thinking about pulling the trigger on an RTR membership? Or if you already have one, do you have any tips/tricks? Leave your thoughts and questions in the comments!
Pin this post for later:
This post was created in partnership with Rent the Runway. As always, I only partner with brands I am in love with.