One of the most highly requested reviews (and a question I see often in my DMs) is for me to share my thoughts on SKIMS. The brand has certainly done something right in terms of getting their products out there, which I guess you could credit to the Kardashian effect.
Before I ever personally ordered anything from the company, I saw people raving about their products on Instagram, so naturally, I was curious.
In my opinion, there was definitely a need for a more inclusive and well-rounded shapewear brand, and SKIMS seems to hit the mark on what was missing. The line puts a focus on creating products that are available to women of various body types and skin tones.
The company was founded by Kim Kardashian and Emma Grede in 2019, and there's really a lot to love about it all. If you're wondering if the brand's cult-favorite products are actually worth the hype, then you're in the right spot.
Below, I'm sharing my honest SKIMS shapewear review, as well as my thoughts on the brands most popular t-shirts, their best bodysuits, and more.

My Honest Review of SKIMS
My first impression of SKIMS products is always that the materials they use to make them are so insanely soft. That right there is enough to reel me in half the time, but I also look for shapewear that's supportive, high-quality, and of course cute.
Considering that I have a healthy collection of clothing items from SKIMS, you could venture to guess that the brand has impressed me. Here, I'll walk you through the best products I've tried, and what didn't quite make the cut.
The Best SKIMS Products
(In My Opinion)

Although this bodysuit looked like it was made for an American Girl doll, when I pulled it out of the package, this was clearly a definite keep. It's comfortable, fits true to size, and
It's perfect to wear with a pair of denim shorts or a simple pair of jeans on an everyday basis. I'd consider this a closet staple for every gal.
If you're looking for a bodysuit that will sculpt you in all the right places, this is it. I love the high level of compression, and the top is super supportive. It also gets bonus points for providing your cleavage with a good lift.
I wasn't totally sure if these boxer brief shorts were something I'd actually want to wear but they are so cute and comfortable! They're the perfect option if you're looking for some new shorts to sleep in.
I had heard amazing things about this cotton rib tank, and I'm happy to say it lives up to the expectations! I'm totally ordering this one in more colors, and love that I can wear it with pretty much everything in my closet.
I truly believe that you can never have too many basic tees. The key is to stock up on t-shirts that are quality — the difference between a well made shirt and an inexpensive one is huge.
I'm happy to report that the SKIMS Soft Smoothing T-Shirt is made with the most buttery fabric yet it holds up well after being washed.
This is another shirt that I'm planning on repurchasing in multiple colors. It's the perfect tee to wear with wide leg jeans or sweatpants.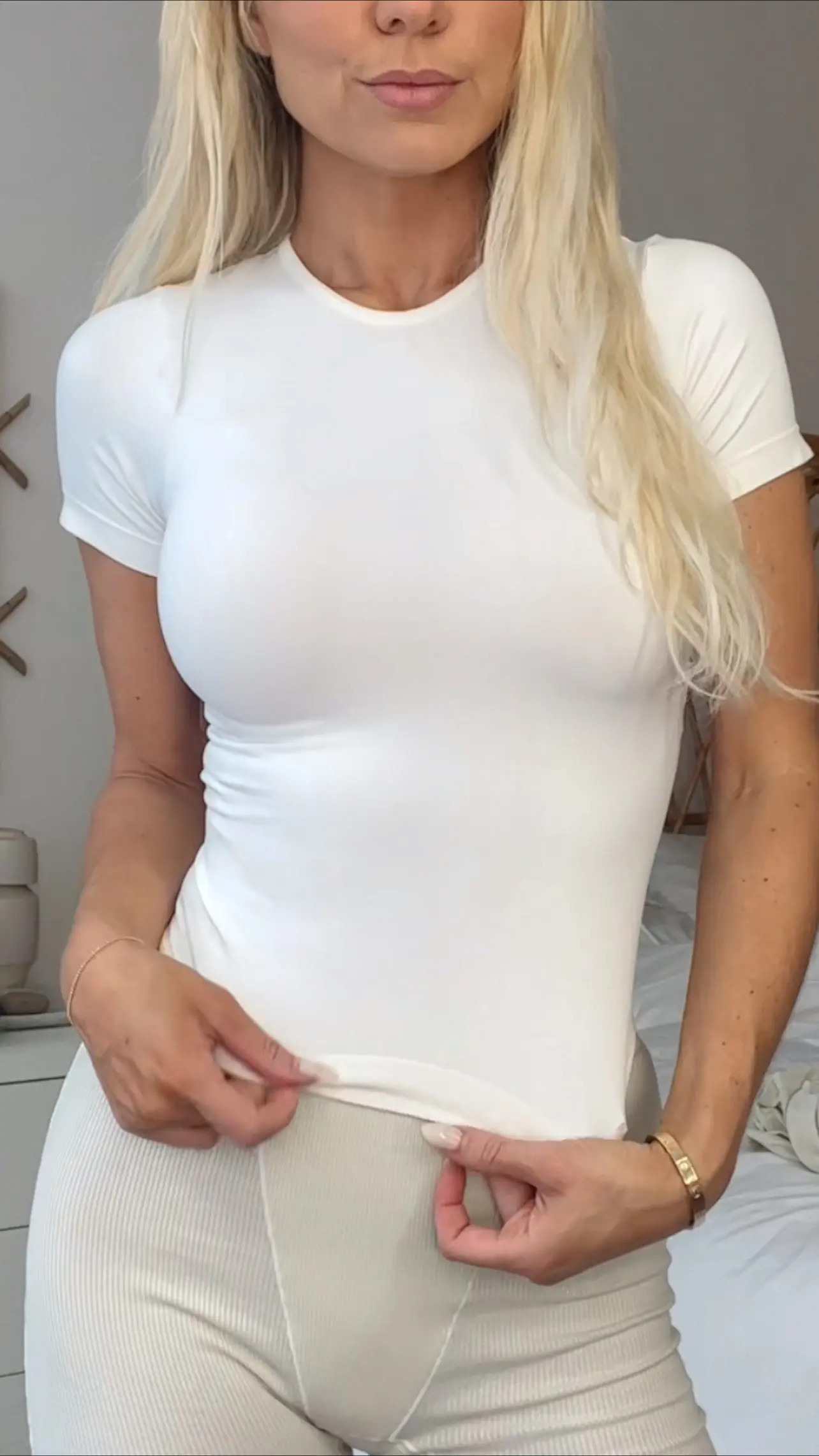 I'm a sucker for a vintage wash tee, so naturally I loved this shirt. The fabric is the ideal cotton/spandex stretchy blend. It keeps selling out, so grab your size if you see it!

The SKIMS Products I Returned
While I was a big fan of the compression, the butt lift, and the silicone band that prevents the shorts from rolling down, these shorts were ultimately a bit too long to wear under some of my favorite dresses.
I could see why people who wear longer dresses would like these. If you have a wedding or special event to attend, I do think these would make a good shapewear option.
I really wanted to love this bralette, but it honestly didn't provide a lot of support. Because I have a fuller chest, I can't really skimp out when it comes to support. I just couldn't think of a scenario in which I would wear this so I decided to send it back.
If you have a smaller chest or you don't need a lot of support, this could be a good option to lounge around the house in!
Although this jersey t-shirt has a lot of stretch and isn't see through like I was afraid (I ordered it in white), it wasn't as comfortable as the soft smoothing shirt. There's nothing *wrong* with this tee, but if you're debating between this one and the soft smoothing shirt, my advice would be to go with the latter.
I was dying to try the much-buzzed-about Fits Everybody T-Shirt and wanted to see how it compared to the other styles they have on the SKIMS website. While it was soft, this shirt was a little more sheer than I would have liked. I was quite bummed about this because the material is incredible, and it has a very flattering shape.
I actually really liked this strapless bralette, but I needed to return it and reorder it in a size up. If you're in between sizes at all, I'd learn from my mistake and go up a size.
Are SKIMS Worth It?
There's no denying that SKIMS is a luxury brand that comes along with a slightly higher price point. If you're at all hesitant to order something from a celebrity-founded brand, you might be wondering if the products are actually worth it.
Because I was overall impressed by the quality of clothing and shapewear from SKIMS, I would argue that the price tag is in fact worth it.
In some cases, an item might not be the right fit or style for your body, which is why it's smart to order a few things and then return whatever doesn't work.
In general, I have found that higher quality clothing comes with an elevated price tag, but all things considered, I do think that the SKIMS pricing is fair.

Where to Buy SKIMS
I know it's always a perk when you have multiple options/places you can buy something. Luckily, SKIMS can be found in a variety of department stores. Here's where to find the brand:
SKIMS Sizing Chart
One challenge with online shopping is that if you haven't ordered from the brand before, knowing how their sizing runs can be tricky. Plus, shapewear in general is hard to size yourself for because so many brands vary so greatly in how they size things.
I put together this sizing chart for you to refer to while you're shopping. Just zoom in or download the image to get a closer look!