As someone who absolutely LOVES to travel to Mexico, I've had my eye on Riviera Nayarit for a while. If you're not already familiar with the area, you might be wondering… what is Riviera Nayarit Mexico anyway?
Nayarit is a stunning 200-mile stretch of coastline on the Western border of Mexico, known for its stunning beaches, quaint small towns, and breathtaking views of the Sierra Madre Mountains.
Typically, when Matt & I plan our Mexico trips, we'll head to the East Coast—more specifically Riviera Maya, which is where we got married—since it's a fairly quick flight from NYC. I've also been to Cabo several times, and while I love it there, Riviera Nayarit (and more specifically Punta Mita) has piqued my curiosity for years.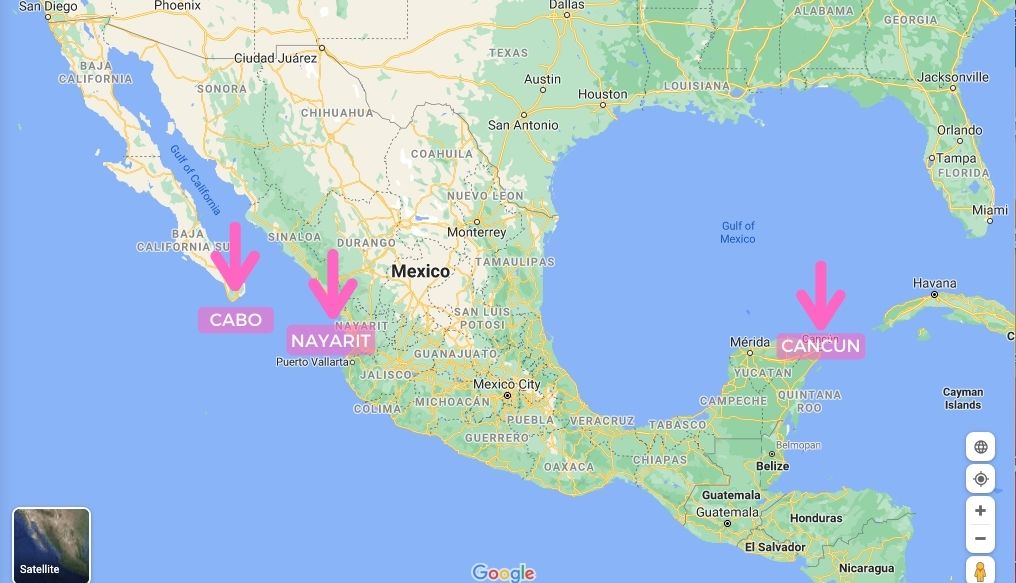 What We Loved About Riviera Nayarit:
In general, what appealed most to me about Nayarit is the proximity to cute towns (i.e. Sayulita), the gorgeous beaches, the incredible number of luxury resorts, absolutely fantastic service, and the fact that it felt more under-the-radar and slightly less touristy than a place like Riviera Maya/Playa del Carmen.
Also: it has a reputation for being extremely safe (which we definitely felt while we were there.)
We didn't get to experience whale watching season (more on that below) but many people say that's yet another awesome thing Nayarit has to offer. Matt & I did a boat trip during our vacation, and the guide told us that they typically see upwards of 800 whales in the bay where our hotel was located. Insanity.
Best Time to Go to Riviera Nayarit:
The weather in Nayarit is stunning year-round, with average temperatures in the high 70s and sunshine ~330 days a year.
For whale watching, you'll want to plan your trip between January and March.
April through June is generally considered the best time of year to visit Nayarit, as the weather is absolutely perfect, there's little (if any) rain, and it's slightly less crowded compared to winter and whale watching season.
We went in late April and the weather was PICTURE PERFECT. During our 10-day trip, it rained for just a few hours on one day. Otherwise, it was 79 and sunny the entire time.
June through August is considered the rainy season, which means you can expect showers in the late afternoon that last for a few hours.
July, August, and September are the hottest months of the year in Riviera Nayarit, with temps in the 90s. (You'll find the cheapest hotel rates during this period.)
October through April is dry season, so you'll get great weather—but keep in mind that things begin to get busier (and hotel rates more expensive) around the holidays and during whale watching.
How to Get to Riviera Nayarit:
Location-wise, Riviera Nayarit is on the West Coast of Mexico. If you know where Cabo is, Nayarit is southeast of that.
For those flying from New York like we did, there are occasional direct flights to Puerto Vallarta Airport on specific days of the week (when I last checked, there was a direct flight every Saturday on United)—this is just something to keep in mind when booking. If you do fly direct, you can expect travel time of approx:
NYC: 5 hrs 45 mins
Chicago: 4 hrs 40 mins
LA: 3 hrs
Dallas: 2 hrs 44 mins
Getting Around Riviera Nayarit:
We used a local transportation company (Tropical Incentives) to get to and from the airport, and in between hotels. We also used them for our day trip to Sayulita and they were excellent.
Car rental is an option as well, though if you plan to go to Sayulita, parking in town is virtually non-existent.
Other Things to Know:
Riviera Nayarit is a region that's comprised of several different towns/areas. We primarily stayed in Punta Mita (which is best known for luxury resorts), spent a few nights in Nuevo Vallarta, and did one day trip to Sayulita.
Truthfully, before we really got to know Riviera Nayarit, I was a bit confused about the difference between Riviera Nayarit and Puerto Vallarta (I assumed they were essentially the same thing.)
Though you fly into Puerto Vallarta International Airport, PV was actually about 45 mins south of our hotels in Punta Mita.
While it's totally possible to check out PV if you're staying in Nayarit, it's not as quick of a ride as I imagined! We didn't end up getting to Puerto Vallarta on our trip, so perhaps that'll give me an excuse to go back 😉
RIVIERA NAYARIT HOTELS
If you followed my trip on Instagram, you likely saw that Matt & I hopped around to four different properties during our visit. This was intentional—I worked with the Riviera Nayarit tourism board to put together an itinerary that showcased a bunch of different properties at different price points, so I would be able to create a thorough guide following my visit.
The properties we booked definitely skew more luxury, with rates ranging from $450/night – $1500/night, so that's something to keep in mind as you continue reading.
Grand Velas Riviera Nayarit
What We Loved About It:
Grand Velas was probably the biggest, most pleasant surprise of the trip. When they describe themselves as a luxury all-inclusive… that's not an exaggeration. I'm talking: 24/7 butlers, top-shelf booze, incredible food, amazing service.
I'll admit it—initially I was a bit skeptical about the all-inclusive thing, but I'm so so glad that we ended up staying here. It totally debunked every preconceived idea I had about all-inclusives not being "luxury."
The attention to detail at Velas was incredible. You may have seen my post on Instagram where I mentioned that our butler came to our beach bed every day to see if there was anything we wanted waiting for us in the room when we went back to shower (margaritas, a bottle of wine, a cheese plate, chips & salsa etc.) What a thoughtful touch!
Also, it was refreshing to know it didn't cost anything extra. That sort of thing makes a lasting impression.
We also loved that there was a wide variety of restaurants (Italian, French, Asian Fusion, and Mexican) because, believe it or not, after three days of eating tacos and ceviche, we definitely found ourselves in the mood to change it up.
Pro Tips:
DINING: While it goes without saying that the Mexican restaurant on-property (Frida) was awesome, we actually loved the Asian fusion restaurant Sen Lin most of all.
I've been to Thailand several times, and the Thai food tasted exactly like my memories of Thailand. Not what I would have expected at a resort in Mexico!
IN-ROOM HAPPY HOUR: We did a little in-room "happy hour" every night while we showered and got ready for dinner—highly recommend! (There was a great bottle of Sauvignon Blanc on the menu that we discovered, so our butler had a cold bottle of it chilling it our room for us with a plate of fresh fruit every day at 5pm.)
CHURROS-TO-GO: On our last night, we were too stuffed at dinner to think about dessert, but knew we'd probably regret it in an hour, so we had the restaurant give us a little to-go box of churros and ice cream (which we then proceeded to eat in bed.) The ultimate vacation indulgence.
Check Rates: Booking.com
---
Four Seasons Punta Mita
What We Loved About It:
Everything. I had heard from several people how amazing the Four Seasons Punta Mita here, so I had quite high expectations, but the hotel exceeded them and then some.
Our room might be one of my favorite hotel rooms of all time. I would have spent the entire time there, if I wasn't so tempted to do and see EVERYTHING else on the property.
Which brings me to my next point… there's A LOT to do! Matt and I kept saying we could have easily stayed for a week or two and never been bored.
So many different activities, pools, beach areas, restaurants, even a lazy river… and somehow it still felt intimate enough that the servers and staff knew our names everywhere we went!
I received a lot of messages asking if the Four Seasons Punta Mita would be good for a honeymoon and the answer is ABSOLUTELY, POSITIVELY yes! I would highly, highly recommend it for a honeymoon.
It feels very special, with a "once-in-a-lifetime" level of service and luxury. It's also super romantic, and like I said, you could stay for a week without getting bored. Check out my honeymoon planning guide if you're currently planning!
We had some of the best meals here of our entire trip at the FS Punta Mita. And the backdrop at every single restaurant is breathtaking. I can't even decide which of the eight or so places to eat on property was my favorite.
Pro Tip:
THE BEST SUITE: If you're going to splurge on a suite, I would highly recommend the room we stayed in—room 908 (Tortola).
We absolutely loved everything about this room, particularly the location—it was super private but still extremely close to everything at the resort. The best possible location, in my opinion!
CATCH OF THE DAY: When you check in, ask about the "Catch of the Day."
It's a special thing that the property does where the chef comes out onto the beach (at around 11am) and lets you choose a freshly caught fish for the kitchen to prepare for your lunch or dinner.
LAZY RIVER: It's completely tucked away on the property, but there's actually a lazy river at the Four Seasons Punta Mita! We tried to find it on our own and got completely lost—save yourself the trouble, and ask one of the staffers to give you a ride on a golf cart. Then order a cerveza, and enjoy…
Check Rates: Booking.com
---
St. Regis Punta Mita
What We Loved About It:
Matt & I are longtime St. Regis fans (the Maldives being our favorite property EVER)—there's something really nice about the consistency of knowing that the service will be over-the-top no matter which St. Regis we stay at.
The St. Regis Punta Mita definitely exceeded expectations on the service front. Similar to Velas, we were assigned a butler who we could text with requests for reservations, beach chairs, spa appointments, etc.
When you walk into the lobby, this property will take your breath away. See photo above for proof!
The food was absolutely incredible at every restaurant we tried, and I loved that dining was outside, on the beach, with gorgeous views. We enjoyed some seriously spectacular sunsets at the St. Regis Punta Mita.
We loved that the beach was HUGE, so you could have plenty of your own space without being around other guests. I will note that while the beach is technically swimmable, it was very rocky!
We both had an amazing spa treatment as well, which I would definitely recommend.
Pro Tip:
CASUAL DELICIOUS DINING: The Mita Mary Boat Bar & Bistro absolutely can not be missed. It was quite busy our first night there (a Saturday) and they don't technically take reservations, so be sure to check with your butler to see if they might be able to snag you a table (or at least tell you what time is best to arrive.)
THE MUST-HAVE COCKTAIL: Did you know that each @stregishotels property has their own signature Bloody Mary? (Matt & I are on a mission to try every single one of them.) The St. Regis Punta Mita's signature recipe is made tequila in lieu of vodka, and is garnished with avocado. It was DIVINE.
Check Rates: Booking.com
---
Conrad Punta de Mita
What We Loved About It:
There was something incredibly warm and welcoming about the staff here. From the moment we checked in, I felt like everyone was genuinely invested in making sure we had the absolute best experience.
From a design and aesthetic perspective, I was OBSESSED with the Conrad Punta de Mita. I felt like I was whipping out my phone to take photos every 30 seconds, because each little corner offered a stunning photo opp.
I liked the layout of the property and the fact that everything felt easily walkable. There are multiple pools and tons of options for different seating (beach beds, cabanas, lounge chairs, etc.)
As someone who despises being crammed next to other people at the pool or beach, the set-up here was ideal for me. Lots of privacy, lots of separation between chairs, and tons of small cabanas as well. I think this set up would work really well for a group trip like a family reunion, a girlfriend's getaway, and definitely a romantic weekend for a couple.
Also: there's a water slide at one of the pools, which is great for kids (or adults, like my husband.)
The breakfast here was BY FAR my favorite out of all the properties. I live for a big breakfast spread—and I will be dreaming about the Conrad's for a long time. They even had someone hand-making tortillas to-order (!) so you better believe I was eating tacos for breakfast every day.
We also absolutely loved our room—it was huge, in the perfect location, and everything felt super modern and brand new (which it is, because the property just opened in September!)
Even the bathroom was breathtaking, with double sinks and massive light-up mirrors, plus a separate vanity for makeup. (See below!)
Having stayed at many just-opened hotels in the past, I know that service can be a little dicey in the beginning, but I didn't find that at the Conrad Punta Mita AT ALL.
The staff all seemed like seasoned pros, were super confident, and there was no request that they weren't equipped to handle.
Since the hotel is new, there were fewer guests here than the other properties, so we often felt like we had entire areas to ourselves.
Pro Tip:
THE BEST SUITE: If you splurge on a suite, I'd highly recommend the Oceanfront Suite with Plunge Pool (we were in Casita 6, which was a perfectly location, and worth requesting.)
BEACH BAR: The beach bar, which is sort of the central focal point of the beach front area, was SO cute (if you go, tell Mario the bartender that Lindsay & Matt say hi!)
Some areas seemed like they were closed or not yet ready for guests, but it honestly didn't effect our experience.
Check Rates: Booking.com
---
Other luxury hotels in the area that we didn't experience:
One & Only Mandarina
W Punta de Mita
RIVIERA NAYARIT DAY TRIPS
Sayulita
If you visit Riviera Nayarit, you'd be remiss if you didn't take a day trip to Sayulita.
It's a quaint but bustling village known for its impeccable surfing and massive stretches of beach. You'll also find adorable shops, small outdoor markets, awesome outdoor restaurants, and cool hipster bars.
One absolute can't-miss while you're in Sayulita is a meal at Don Pedro's. The fish tacos here were honestly some of the best I've ever had in my life. Order a tamarind margarita and request a table close to the beach!
If you're interested in hitting the beach while you're in Sayulita, Don Pedro's actually offers beach chair service, where you can rent a chair + umbrella and order food/drinks on the beach.
We also grabbed at Attico (aka "Swing Bar") since it was recommended to us by friends, and I'm glad we did. The Swing Bar nickname comes from the swings that they have at the bar in lieu of stools.
Islas Marietas
Another absolute must while you're in Riviera Nayarit? Islas Marietas. This is more of a half-day trip (ours was about 2.5 hours.)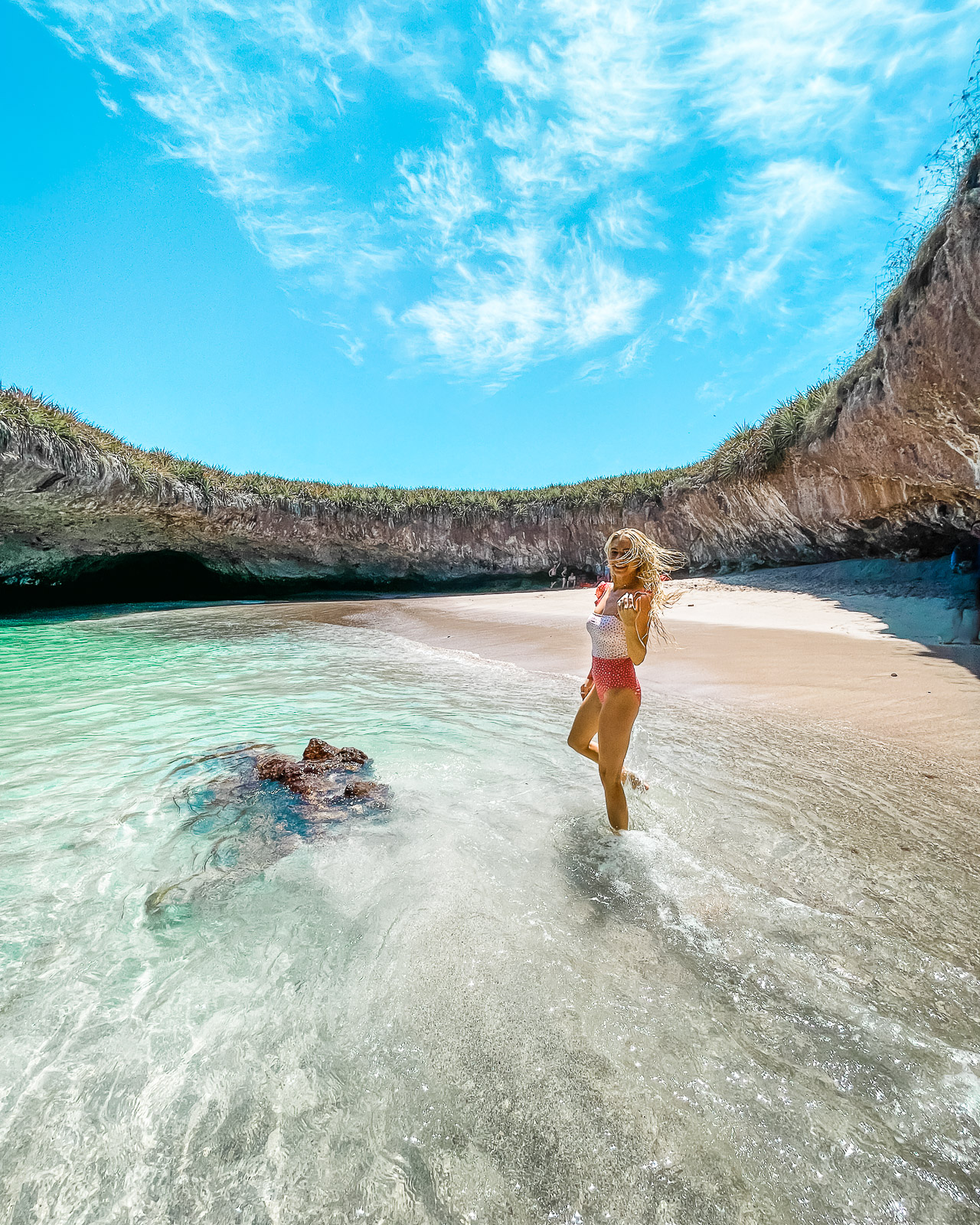 Islas Marietas are a group of islands a few miles off the coast of Nayarit, best known for two picturesque hidden beaches.
We booked our trip through a tour company called Punta Mita Adventures and they were incredible. We had a private boat that took us to the hidden beaches, and on a tour around the islands for snorkeling and dolphin spotting.
During whale season, this is where you'd have the opportunity for incredible whale watching.
Because the beach is actually not accessible by boat, you need to swim in order to get there—which was definitely part of the adventure. If you do this, be sure to bring a waterproof phone case, because you're definitely going to want pictures.
It was one of the most memorable highlights of our trip!
So, if you couldn't tell based on this extremely in-depth review… I'm a big fan of Riviera Nayarit. I hope you found my guide helpful! Questions about hotels or wondering anything that's not answered here? Drop me a note in the comments below!