If you've been following me for a while, you know that Miami—and more specifically South Beach—is my absolute favorite place to travel in the U.S. And while I love it pretty much year-round, it's particularly exciting to visit in late February, when the city plays host to the annual South Beach Wine & Food Festival.
Over the course of five days, more than 65,000 people—including celebrity chefs from around the world—descend upon Miami for star-studded events, chef-led demos, wine tastings, private dinners, cooking classes, and more.
I attended for the first time two years ago and swore that if I ever had the opportunity to experience it again, I'd do it in a heartbeat. So, when Capital One (the title sponsor of SOBEWFF) invited me to attend this year, I was obviously THRILLED.
It also felt like a really organic opportunity to show you guys the cool things that Capital One debit and credit cardholders get access to throughout the festival. [Spoiler alert: there were a lot of perks.]
If you're into food, wine, and warm weather, I'd highly recommend attending next year. And if you have any questions about how it all works—drop them in the comments below and I'll weigh in!
Here's a little recap of the experience.
---
Thursday:
BARILLA'S BITES ON THE BEACH hosted by Giada De Laurentiis
It was my first time attending this specific event, and I thought it was awesome—especially if you love Italian food.
Pro tip: if you're a Capital One credit or debit cardholder (and you purchased the Capital One Preview ticket), you received access to the event 45 minutes prior to General Admission.
I can not even begin to tell you how crucial this is. It's essentially getting a private preview of the event, with no lines, before everyone else.
We were able to enter at 6:15pm and had free rein of EVERYTHING without having to wait. By the time 7pm rolls around, it's not uncommon to see lines of 50+ people for some of the more desirable booths.
My food highlight: Chloe Coscarelli's Vegan Truffle Carbonara
---
Friday:
AMALFI-INSPIRED DINNER hosted by Bobby Flay
This was one of the hottest tickets of the weekend, and understandably so.
The dinner at Amare Ristorante was hosted by Bobby Flay and Tommaso De Simone, who is the executive chef of the iconic Lo Scoglio on the Amalfi Coast.
It was also a cardholder-only experience, which definitely made it feel more intimate. Check out the incredible menu (with wine pairings) below.
My food highlight: Tartare di Tonno Penna Gialla
---
Saturday:
PIE-MAKING MASTERCLASS hosted by Pink Pie
Even though I had previously attended the festival, this was my first time participating in a masterclass… and I loved it.
The class was held at the Miami Culinary Institute and led by Michael McGowan, the co-founder and Executive Chef of Pink Pie, which is an adorable pie shop in Wynwood that specializes in handmade miniature pies.
Throughout the course we learned how to make pie crusts by hand, and we helped prepare a few of their specialties, like the signature Key Lime Pie (it was delicious)—and Matt's favorite, the Banana Cream Pie.
My food highlight: Key Lime Pie
---
Saturday:
GRAND TASTING VILLAGE
Following the masterclass, we headed straight to the Grand Tasting Village, which is the main event of the entire weekend. It goes on from 12pm – 5pm on Friday, Saturday, and Sunday, and the set-up is completely insane.
It takes place on the beach and spans multiple city blocks, showcasing drinks and bites from a ton of big-name brands that you'd recognize—and a lot of cool local spots that you probably don't.
There was a priority entry for Capital One cardholders, and you also got a 15% discount on tickets. General admission tickets for non-cardholders were $225; cardholders get theirs for $191.25.
I'm not even exaggerating when I say that if I didn't already have the Venture Card, I would have opened one for this perk alone. SO. WORTH IT.
Another perk: there was a private VIP Capital One space that we got into by showing our card. They gave us adorable necklaces that held our wine glasses, so we could free up our hands for all the food. GENIUS!
My food (and drink!) highlight: the newly-launched rosé from Oyster Bay; an Octopus dish from a restaurant that I (regrettably) can't remember the name of!
---
A few important things to note about SOBEWFF:
Capital One cardholders got "preferred pricing" (15% off) if you purchased tickets two or more cardholder events.
The popular events do tend to sell out quickly, so it's recommended that you plan to buy tickets well in advance.
This year it wasn't terribly hot, but in the past it has been sweltering. I highly suggest wearing lightweight clothing and bringing sunscreen!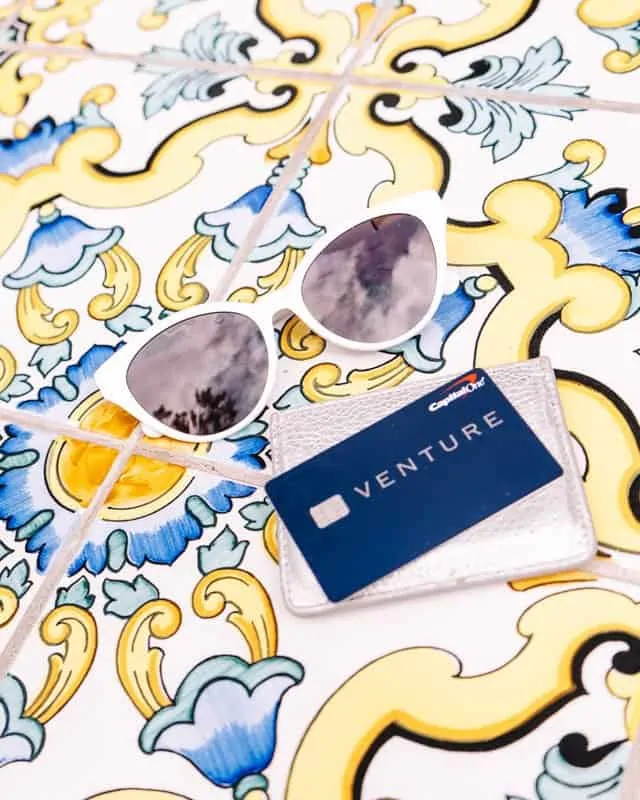 ---
Here's a cute video that Capital One put together featuring Matt & I hard at work on our pies:
Look at this mini masterpiece @LindsaySilb made during our cardholder exclusive @trypinkpie #SOBEWFF pie-making master class 🥧 pic.twitter.com/2NAM2mSTOK

— Capital One (@CapitalOne) February 22, 2020
Pin this post for later: