Whether you're cruising with the top down through the stunning wine country of Provence, or driving through the French Riviera along the sparkling coast (aka "The Côte d'Azur"), southern France is a region you'll want to absorb every last inch of. But because there's so much to do and see, planning your South of France itinerary can be quite overwhelming.
The good news? This guide—which was created as the result of some SERIOUS research prior to my own trip—will be the perfect outline for your road trip through the French Riviera and Provence. Whether you're planning on spending 7 days or 10 days in the South of France, you'll find the suggestions below to be the perfect road-trip itinerary for first-time visitors.
It hits every spot you'd want to see: Aix-en-Provence, Avignon, Marseille, Bormes-Les-Mimosas, Le Lavandou, St. Tropez, Nice, Cannes, Grasse, Antibes, Éze, and Monaco.
One thing to note before we dive in: the South of France is meant for exploring and discovering—a little bit of this, a little bit of that, and a whole lot of rosé along the way (not while driving), of course. For me, it definitely felt like more of an "on-the-go" trip than a relaxing vacation. Just something to keep in mind while you're planning your itinerary.
Here's an overview of exactly what the quintessential South of France road trip looks like. One of the best travel hacks, in my opinion, is using Google Maps Trip Planner to plot out your own specific itinerary once you decide on it! You can add a ton of additional details and points of interest based on your specific road trip.
The Perfect South of France Itinerary
How many days should you spend in the South of France?
The length of a trip to the South of France really depends on so many factors: your budget, your time, how quick of a pace you like to move at, where you're flying in from, and how many places you want to see.
I'm going to start off by recommending at least 5 days—but truthfully, in order to get the full experience, you'd probably want to dedicate a week or 10 days.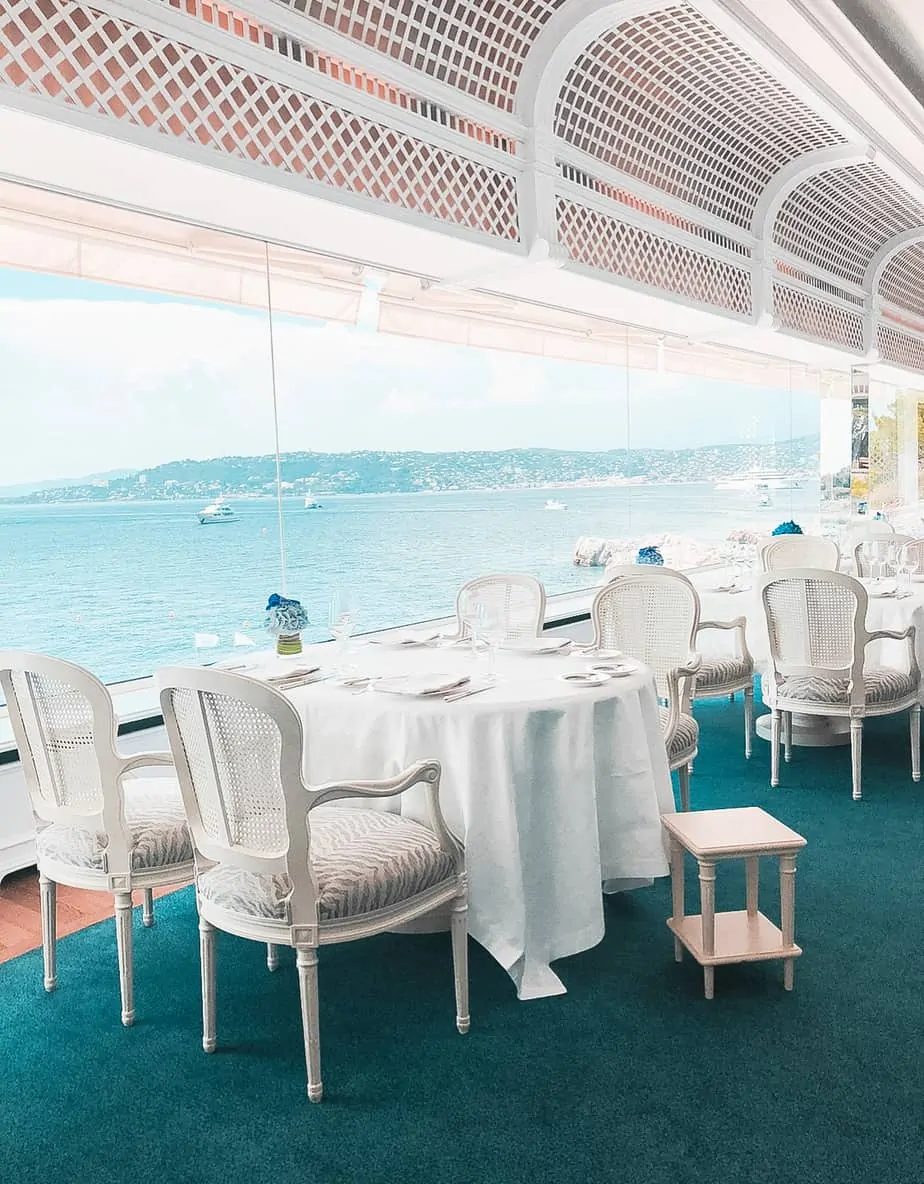 Day 1 – 2: Aix-en-Provence, Avignon and Marseille
Upon landing, pick up your rental car and kick off your South of France road-trip in Provence.
Sample Itinerary
8:00 AM – Visit Notre Dame de Sanaque (make sure you check the times it opens)
11:30 AM – Pope's Palace in Avignon (you could spend all day here, but if you want to cram in a bunch, you'll get the gist of the place by just touring around and taking it all in)
2:00 PM – Lunch (and a glass, or two, of rosé, of course)
3:30 PM – Cavaillon Synagogue (you can easily substitute this with a visit to a winery or another local attraction)
6:00 PM – Discover Port of Marseilles and eat at La Marine des Goudes (one of the best fresh seafood meals I've had in my life, overlooking the most stunning vista). Separately, you can find a restaurant where to eat Bouillabaisse, as this region is well-known for this traditional Provençal fish stew.
10:00 PM – Head back to the hotel.
Pro Tip: If you're dead set on seeing the lavender fields, make sure you time it right. When I went the lavender had just been harvested and I did not see one ounce of purple anywhere. The best time to see the lavender fields in Provence is from mid-June to mid-July.
Now, if you're hoping to add winery visits to your Provence itinerary, you'll notice that I didn't include that. Since I only had one day and there's so much to explore, I chose to skip the wineries in favor of seeing other aspects of the area. However, if I had more time, I would have spent the second day dedicated to seeing all of the different wineries.
For those looking to incorporate a winery or vineyard visit into their trip for Day 2, here's a quick list for you!
The Best Wineries to Visit in Provence
Chateau la Canorgue
Château de Berne
Chêne Bleu Winery
Domaine de Fontenille
Château Fontvert
Chateau D'Esclans
The Best Restaurants In Provence, France
Le Jardin du Quai
La Petite Maison de Cucuron
Le Pont de l'Orme
L'Agape, Avignon
L'Oustau de Baumanière, Les Baux de Provence
In order to get to the hotel, we drove through what was a seemingly industrial area, so I initially wasn't sure what to expect. However, once we turned off the main road and into the gates of this property, I knew it was a fantastic choice. At the end of a short, tree-lined gravel road was Le Pigonnet, a stunning boutique hotel in the middle of Aix-en-Provence.
With its old world charm and 18th century foundations, this stunner did not disappoint. Although small, the rooms were adorable, some with balconies overlooking the small, but unique pool set up. The staff was friendly and welcoming and it was a lovely start to our trip.
From here, it was easy to get around, even on foot. We were in the middle of Aix and could visit the town center, as well as easily drive out of town to the wineries and small surrounding villages we wanted to explore, including the lavender fields that everyone raves about.
(FYI: we initially decided on the property because it's a Chase Sapphire partner. If you're not using credit card benefits and points for travel, you're doing it wrong!)
---
Day 3: Bormes-Les-Mimosas, Le Lavandou, and St. Tropez
After a fruitful first day, we kept it moving. Waking up early, and having breakfast by our beautiful pool, we then hoped in our Fiat and rode down the scenic A52 autoroute toward St. Tropez—the epitome of a seaside French Riviera town (and the one you see in all those vintage posters of the Cote d'Azur).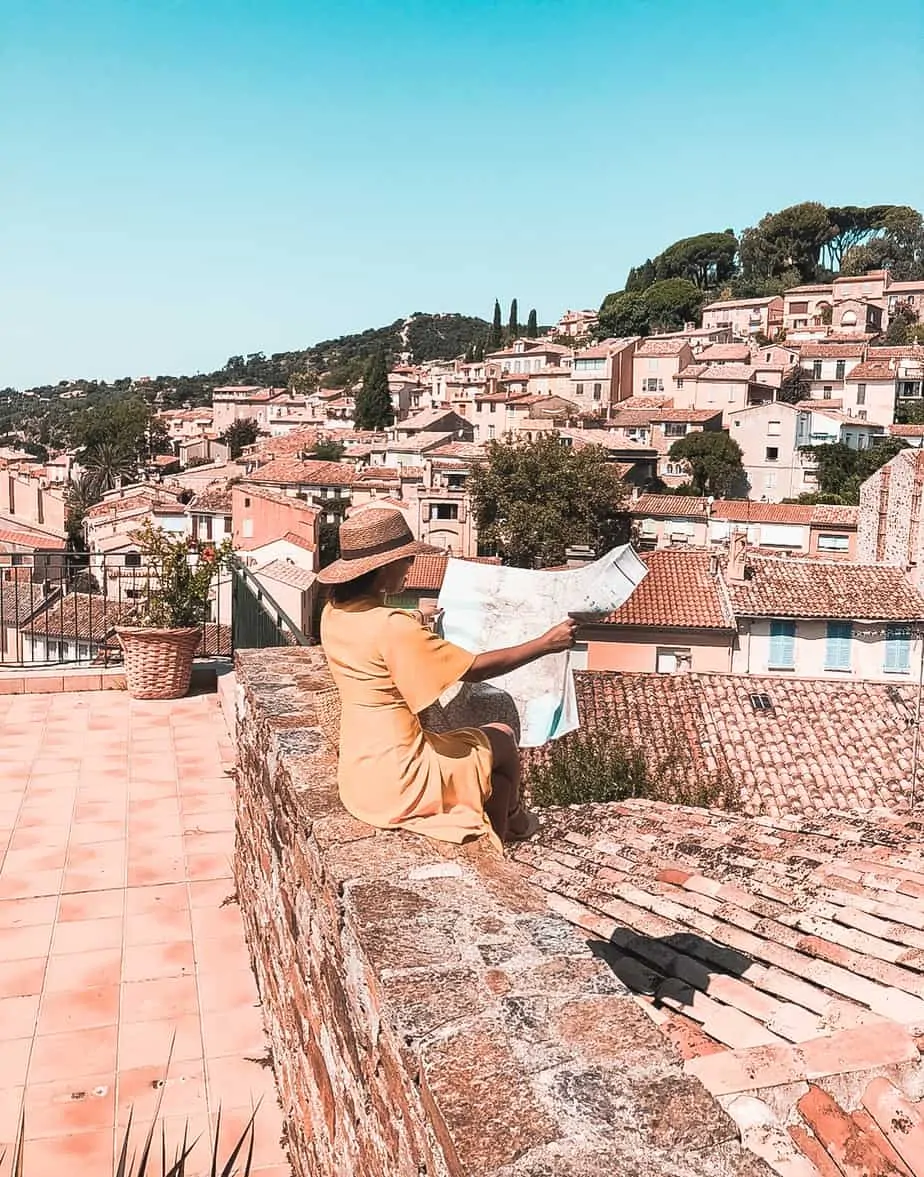 For this portion of your itinerary, you'll definitely want to explore all of the small villages including Bormes-Les-Mimosas and Le Lavandou on the way to the famed St. Tropez.
Sample Itinerary
9:00 AM – Light breakfast at the hotel; hit the road.
The drive is beautiful, and you'll find it hard not to pull over every 10 minutes. Definitely give yourself some extra time to wander around throughout your drive.
* Pro Tip: If you're not interested in hilltop villages, you can always head to Chateau D'Esclans (Whispering Angel winery) for a little early morning rosé tasting.
12:30 PM – Stop for lunch. We decided to stop at Bormes-Les-Mimosas for a quick lunch and a hurried peek to appreciate the perfect panorama along the many outlook points on this hilltop village.
Continue your drive and stop at other small villages and communes along the way. A few of the most beautiful towns in this area are Grimaud, Port Grimaud, and Le Lavandou.
Then head to St. Tropez.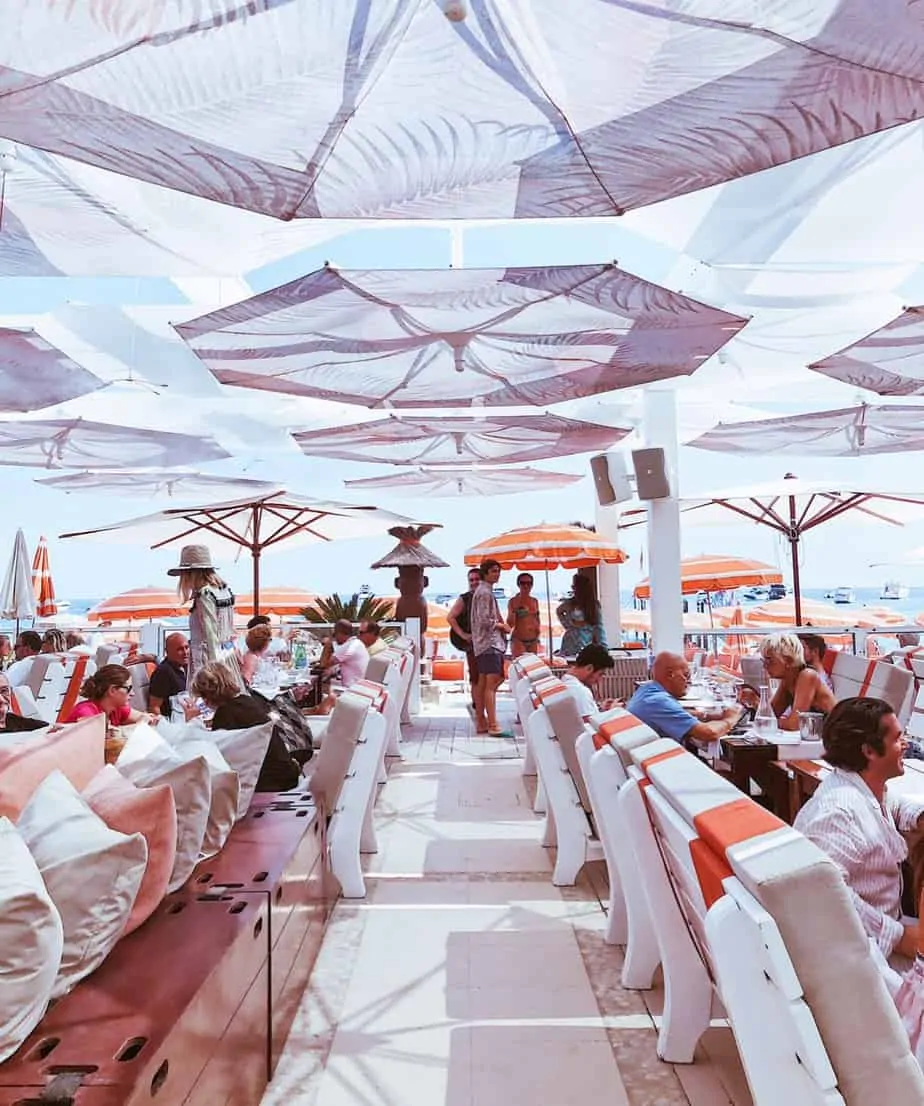 3:00 PM – Explore the Port de Saint-Tropez for shopping and an afternoon coffee. (Many of the items on our list of the best things to buy in Paris are available in Saint-Tropez as well, so keep an eye out!) Alternatively, if you're interested in wine, you should check out Château Minuty in Gassin, which is located right near St. Tropez. (The brand is known for making some of the best rosé wine in the world.)
10:30 PM – Dinner at L'Opera. One of the most quintessentially over-the-top experiences you can have while visiting St. Tropez is dinner at L'Opera. It's a restaurant, nightclub, and theatrical performance all wrapped into one. There are two main seatings—early and late—and as you might imagine, the later seating is when things really heat up. You can ask your hotel concierge to assist with making a reservation.
---
Day 4: St. Tropez
Sample Itinerary
9:00 AM – Have a leisurely morning at your hotel.
2:00 PM – Late lunch & beach club.
The celeb-fueled party location of St. Tropez was made famous during the 60's as the go-to destination for the jetsetting elite. Today, St. Tropez attracts an equally glamorous crowd, drawn to the area for its bustling beach clubs, mega-yachts, and high-end shopping.
Typically, if you walk along the beach, you'll find people dancing on tables, loud thumping house music, and fabulous people feasting on lavish meals while downing jeroboams of rose and champagne.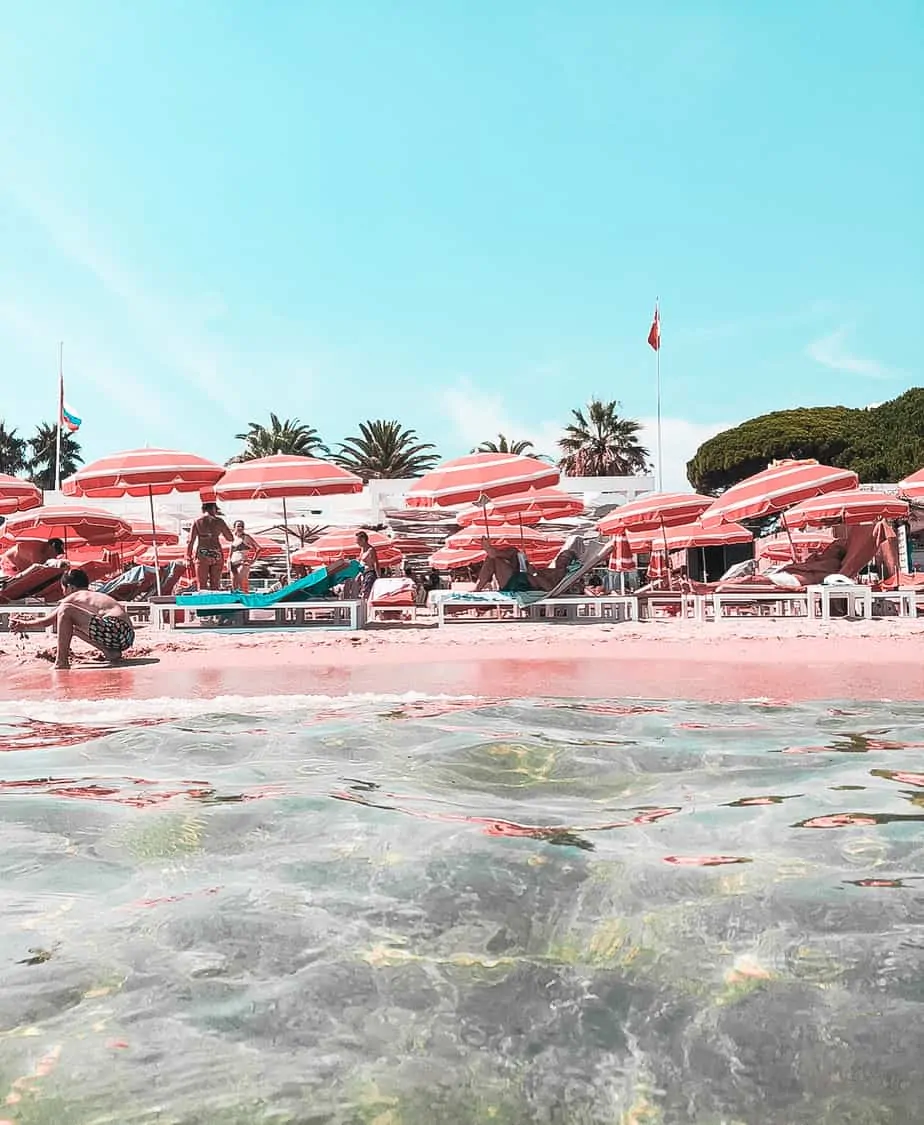 However—you won't find that if you go in August like we did. What we didn't realize was that August is the slow month, as mostly everyone in Europe leaves these towns for their own vacations. Aside from the waitstaff and a few stragglers, the town was dead. Just something to keep in mind and help manage expectations. Lesson learned! May, June, and July are far more lively.
There are so many different beach clubs to choose from, so here's a quick list of recommendations!
The Best Beach Clubs in St Tropez
Loulou Plage & Restaurant
Club 55 (a bit more low-key than the others)
Nikki Beach
Tahiti Plage
Pearl Beach
Bagatelle (perfect for a celebratory occasion or a bachelorette party)
La Réserve à la Plage (make sure you try the lobster salad)
Byblos Beach Club
Club Les Palmiers
7:00 PM – Enjoy sunset on the beach, then head back to your hotel. Grab a casual bite to eat near where you're staying.
Where to Stay in St. Tropez
Mid-range: La Ponche
Expensive: Lily of the Valley — If you're lucky enough to stay here, be sure to have breakfast on the terrace. You can reserve a beach villa if you're hoping for a getaway that feels super luxe and private. The property has a gorgeous spa and pool, and they serve really great food. I'm including some pics of the property below!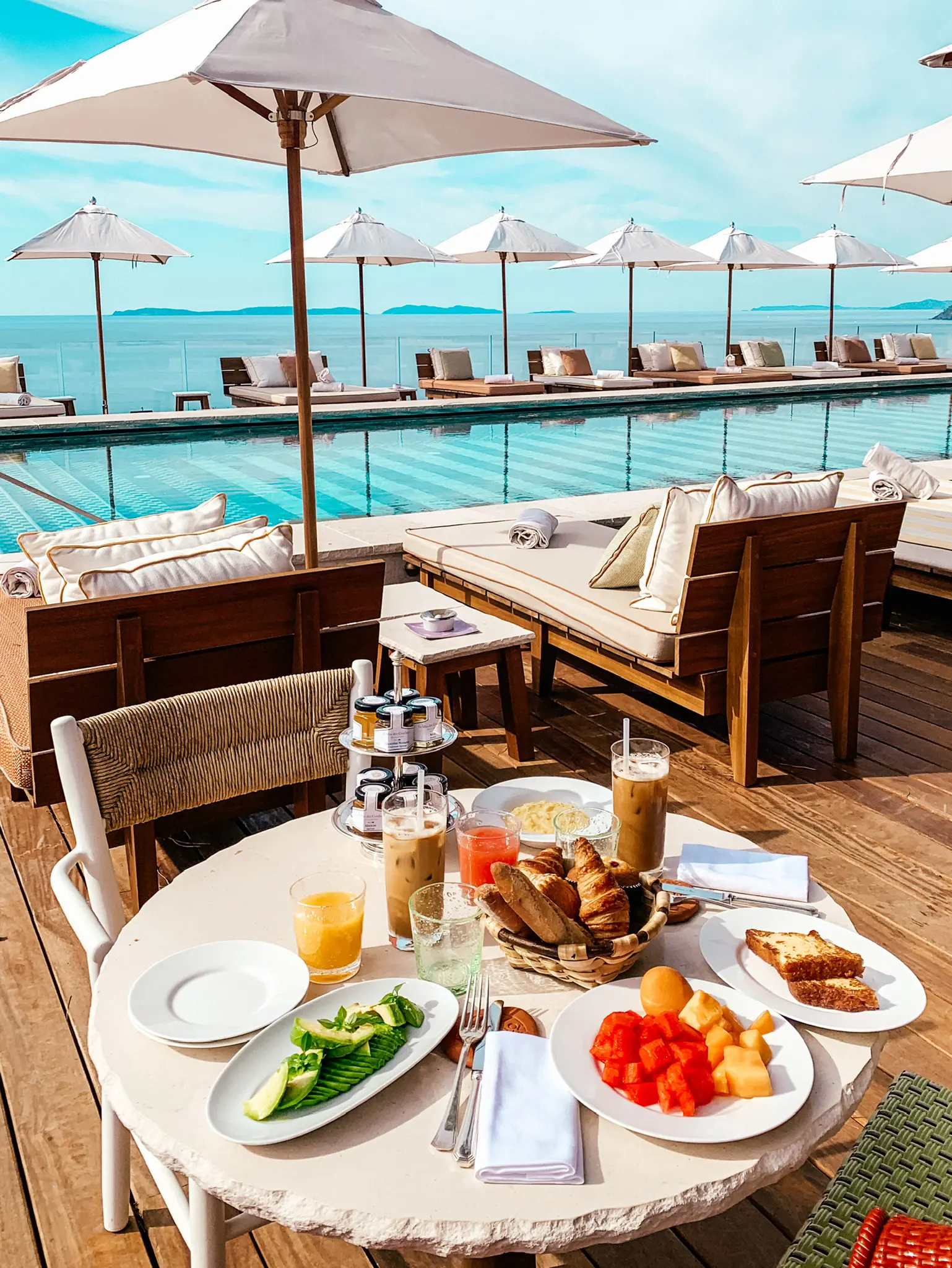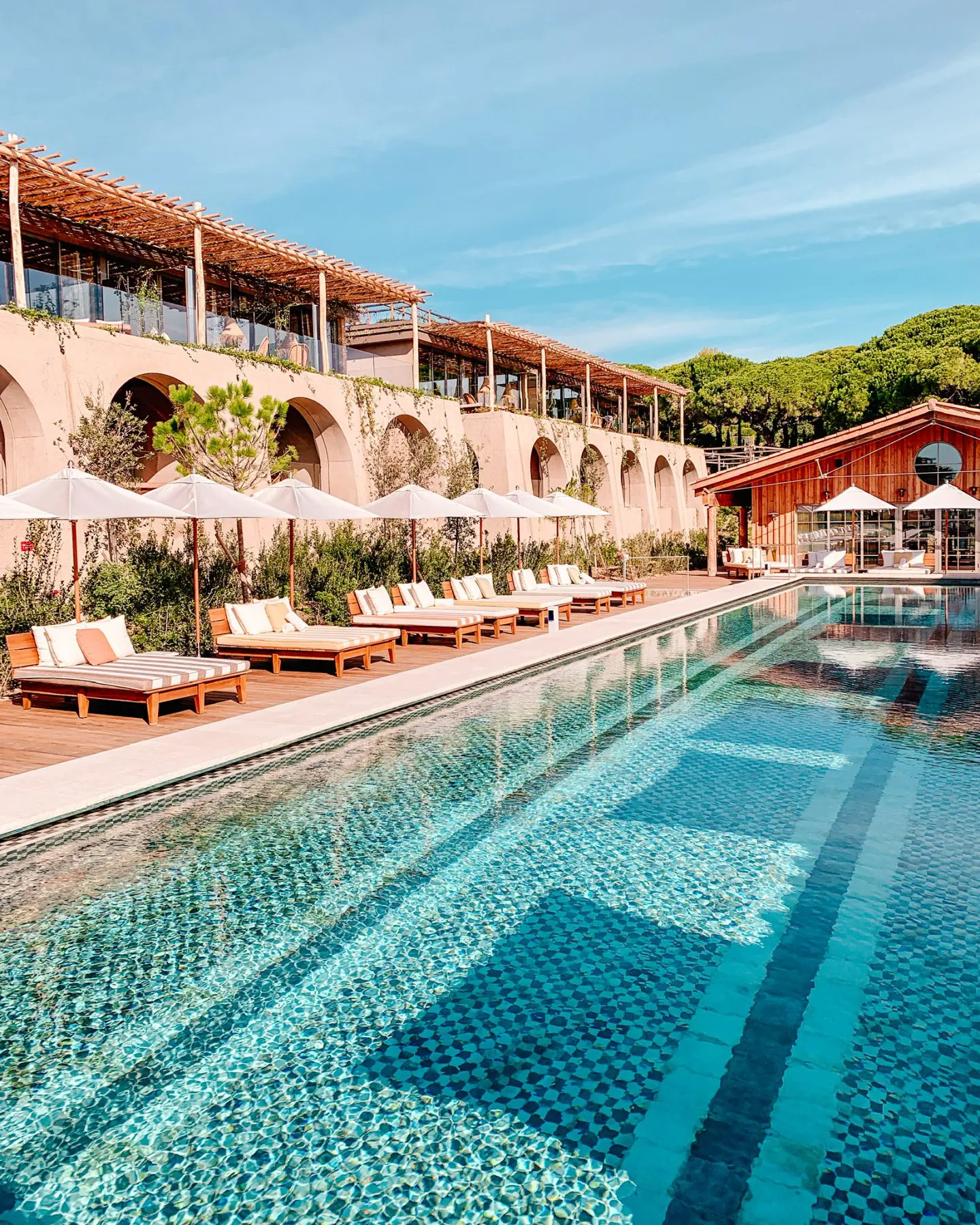 Best Restaurants in St. Tropez, France
L'Opéra Saint-Tropez (a full show/experience rather than just a dinner)
La Petit Plage
Le Salama
Cucina Byblos
La Sauvageonne (a fun spot for cocktails)
Le Tigrr
Dior des Lices (the best place to grab brunch)
---
Day 5: Nice
Sample Itinerary
8:00 AM – Make your way to Nice. The drive takes about an hour and a half without traffic.
10:00 AM – Food walking tour with A Taste of Nice.
2:30 PM – Explore Vieux Nice (Old Nice) and Lunch (tons of cute cafes, so pick your fave!)
Pro Tip: Booking AirBnB experiences is an excellent way to do things the way locals do. Whether its a bike tour, a food tour, a walking tour, or anything that suits your fancy, I always check these options wherever I travel.
4:30pm – Beach. During the summer, the sun stays out for a long time, so it's nice to take a little rest. But, the beaches in Nice are rocky, so just account for that. Alternatively, you can chose to go to the beach in Villefranche-Sur-Mer or Menton, the lemon capital of the world and the last French town before you reach Italy.
7:00pm – Climb Le Parc de la Colline du Château for sunset views and a stroll along Port Lympia. Alternatively, you could head down to Le Plongeoir (a local restaurant) for a really unique sunset watching experience.
9:30 PM – Dinner at La Roustide or Le Petit Maison.
Rather than staying in Nice proper, we chose instead to stay in nearby Cagnes-sur-Mer, and we're so glad we did. This real-life 15th century castle-turned-boutique hotel is perched on a hilltop overlooking the quaint village of Haut de Cagnes.
---
Day 6: Grasse and Antibes
Sample Itinerary
8:00 AM – Light breakfast and drive to Grasse (the perfume capital of the world.)
10:00 AM – Musee International de la Parfumerie. If you want to create your own fragrance, be sure to book that specific tour as it is about 4 hours long and requires advanced booking.
12:00 PM – Drive to the famous Hotel du Cap Eden Roc. (Alternatively, you could use this afternoon to explore Cannes. If that's what you choose, I recommend lunch at Restaurant La Palme d'Or or L'Alba.)
1:00 PM – Lunch, pool, and drinks at the Hotel du Cap Eden Roc. Try booking a day cabana and eat by the pool instead of the restaurant. It's pricey—but not as pricey as staying at the hotel—and gives you the same indulgent and relaxing experience that you'd have if you were a guest.
5:00 PM – Head out to Antibes and explore the unique charm of this underrated town.
7:30 PM – Dinner in Antibes at Le Figuier de Saint Esprit (another stunning little town on the Cote d'Azur you just can't miss!)
---
Day 7: Èze, Monaco
Next on the itinerary is the exquisite and fabulous village of Èze and the glitzy principality of Monaco. In reality, you could break these places up into two separate days, but for the sake of this itinerary, we have them included together.
Sample Itinerary
8:00 AM – Depart your hotel and drive to Èze for breakfast. It's approximately a 45-60 minute drive from the Cannes/Antibes area.
9:00 AM – Discover Èze. The Medieval hilltop village, which overlooks the Cote d'Azur, is stunning. Think quaint cobblestone streets, vibrant bougainvillea, and charming boutiques. Note that Èze requires a lot of walking at steep inclines, so you'll want to wear comfortable shoes.
3:00 PM – Drive to Monaco and check into your hotel.
There's certainly no shortage of opulence or fabulosity in this region. It's not for everyone. (Personally I found it very pretentious and it was a bit cheesy for my taste.) But there are certainly other areas, like the botanical gardens, that provide a more local experience.
8:00 PM – Dinner at Blue Bay, La Montgolfiere, Buddha Bar or Le Grill, followed by a round at the casino and a swing by the several bars, lounges and clubs to get the night going… if that's your thing, of course!
Where to Stay in Monte Carlo
We ended up getting a room at the Fairmont (where the famous "hairpin turn" is of the 24 Hours of Le Mans race every summer) because we wanted to enjoy the casino and nightlife of Monaco and didn't want to drive back to our hotel late at night.
Monaco vs. Monte Carlo
Now you're probably wondering: what's the difference between Monte Carlo and Monaco? The two are often used interchangeably so it can be a bit confusing. Monaco is the name of the country (principality), and Monte Carlo is a neighborhood within Monaco.
Monte-Carlo is where you'll find the famed Casino de Monte-Carlo and many luxury hotels.
Fun fact: Monaco is also the second smallest country in the world. (Only Vatican City is smaller.)
---
What to Wear in the South of France
One of the questions I get asked most often is about packing for a trip to the South of France—and more specifically, whether there's a "French Riviera dress code."
While the fashion here definitely skews a bit more polished than what you'd pack for a standard beach vacation or other European destinations like Santorini or Positano, there's no specific dress code, per se.
Below you'll find examples of several outfits I wore during my trip. Lots of sundresses, flat sandals, tasteful swimsuits, and sun-hats.
This packing guide for St Barths also provides additional inspo as the styles are very similar!
---
Hopefully you found this South of France itinerary helpful. Are there any recommendations you have that I didn't include here? Please leave them in the comments below!
Pin this post for later: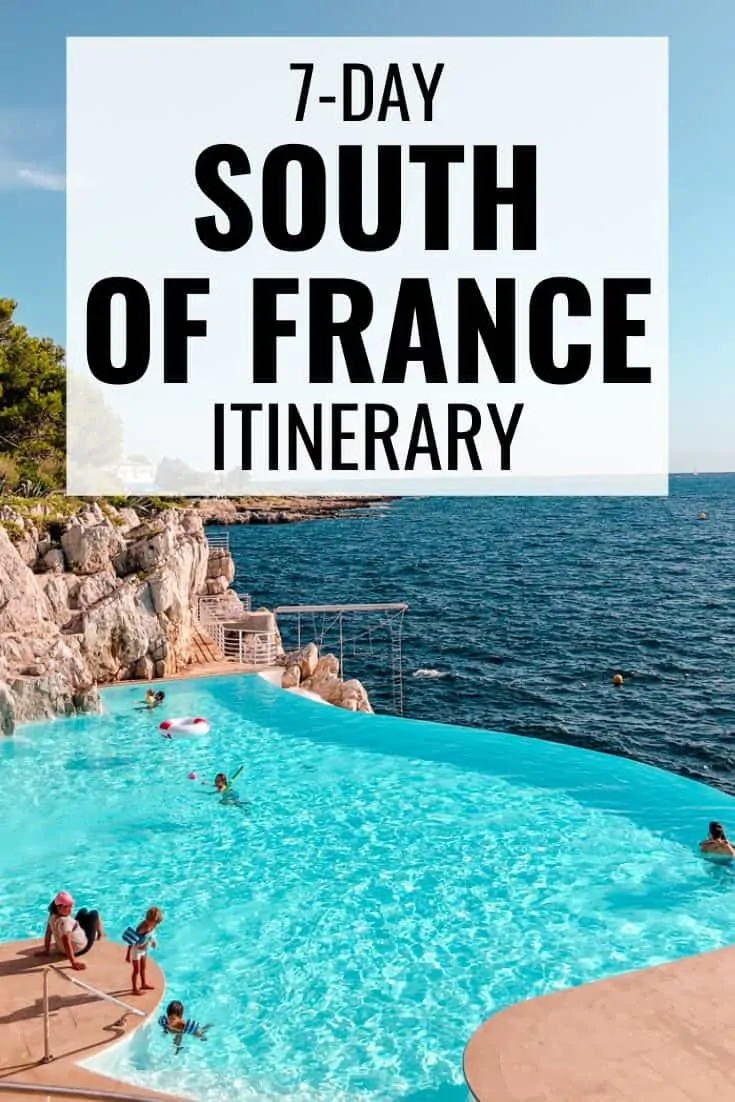 ---
Nikki Marie, a Cuban American Miami native, moved to her dream city, NYC, in 2015. Her penchant for adventure and travel have taken her to more than 30 countries. A PR pro 9-5, Nikki Marie uses her free time to share her travel hacks and high-lo fashion inspo via her instagram @TheCubanCarrie – a play on words of her all-time favorite character, Carrie Bradshaw.